Life is a Sojourn Pinot Noir
Plato said "Life is but a sojourn. Enjoy the best of it." Craig Haserot (wine taster) and Erich Bradley (winemaker) are two buddies who met on the tennis courts of Sonoma and decided to take Plato's advice. They formed Sojourn Cellars and released their first Pinot Noir and Cabernet Sauvignon in 2004. Their handcrafted wines have won considerable praise from the wine press.
The wines are made at the Audeless Estate Winery in Glen Ellen, California, where Erich is the fulltime winemaker. His winemaking is New World in style and the resulting wines are bold and expressive.
2005 Sojourn Cellars Sonoma Coast Pinot Noir
14.6% alc., 240 cases, $36. This wine is a blend of grapes from two Sangiacomo Vineyards - Roberts Road and Vella. · A medium-bodied Pinot Noir which needs air time to express itself. The nose is replete with rhubarb, exotic woods, toast and Xmas spice. The ripe Pinot fruits tend to the dark flavors and are rustic and tart. The finish delivers a little heat but it is not over the top.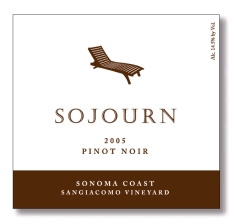 2005 Sojourn Cellars Sangiacomo Vineyard Sonoma Coast Pinot Noir
14.5% alc., 230 cases, $48. The Sangiacomo Vineyard that supplies the grapes for this wine in Cotati in the cool northern end of the Petaluma Gap. The wine is a blend of Dijon clones 115 and 777. · The nose is shy initially and needs plenty of swirling. Xmas spice, especially cinnamon, and leather become apparent. The flavors tend toward darker fruits with a hint of raisin. There is more richness in the mid-palate and the finish than the wine above and the alcohol is better integrated. The texture is smooth and the finish offers a nice soft landing.
Sojourn Cellars Pinot Noirs are available through a winery mailing list and also may be purchased by e-mail at orders@sojourncellars.com. The owners welcome visitors for private tasting and tours of the Sonoma Valley (707-933-9753). The website is www.sojourncellars.com.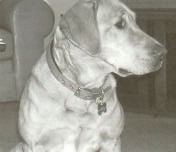 One side note of interest. In the winery's newsletter, Ziggy, the TCAsniffing dog is featured. Ziggy is a sweet-tempered yellow Labrador retriever who spent 18 months in training with Steve Sullivan who supplies oak products to the wine industry. She can now detect TCA in oak in amounts as small as four parts per trillion! Craig and Ellen Haserot have adopted Ziggy and she now works part-time for Stavin using her nose to detect TCA. She also likes to chase tennis balls.