Sebastopol Hills : Russian River Valley's Southernmost Pearl for Pinot Noir
Most visitors to the Russian River Valley congregate in three of the seven neighborhood sub regions of the Russian River Valley including the Middle Reach, the Santa Rosa Plain and the Laguna Ridge, drawn by the concentration of notable wineries in these areas. Less widely recognized among visitors is that many of these wineries reach beyond their own neighborhood to produce Pinot Noir and Chardonnay from the other four main Russian River Valley sub regions including the Sebastopol Hills, Green Valley, Freestone and Windsor Hills.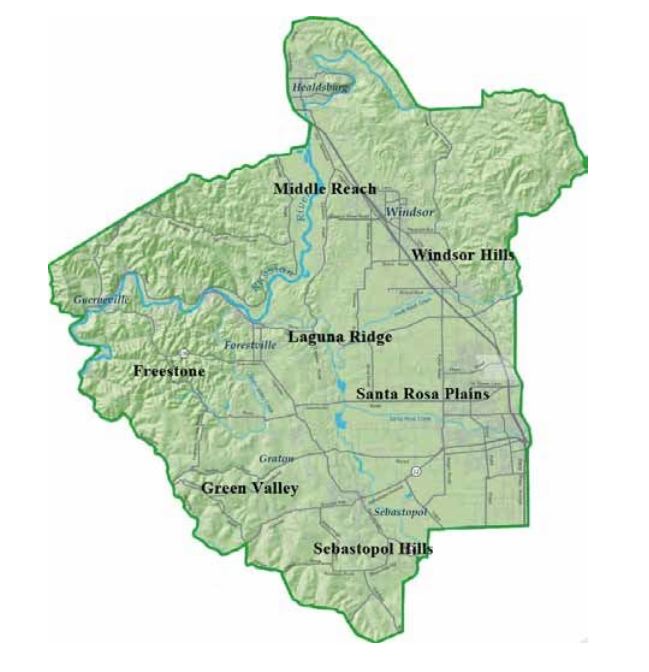 When the Russian River Valley appellation was established in 1983, the amount of Pinot Noir acreage was very small, and the notion that Pinot Noir made from grapes grown in the Russian River Valley expressed different nuances depending on where they were grown within the vast Russian River Valley appellation was not yet realized. As vineyard acreage increased, names for the sub regions assumed common usage. The Middle Reach was the area along the Russian River south of Healdsburg; the Santa Rosa Plain was a broad flood plane that once was the Laguna de Santa Rosa, a series of freshwater lakes that drained the valley from Cotati north to the Russian River; Green Valley became its own appellation also in 1983 as a very cool, foggy sub region in the southwest corner of the Russian River Valley; and the Laguna Ridge was a north to south line of hills situated between the Santa Rosa Plain to the East and Green Valley to the West.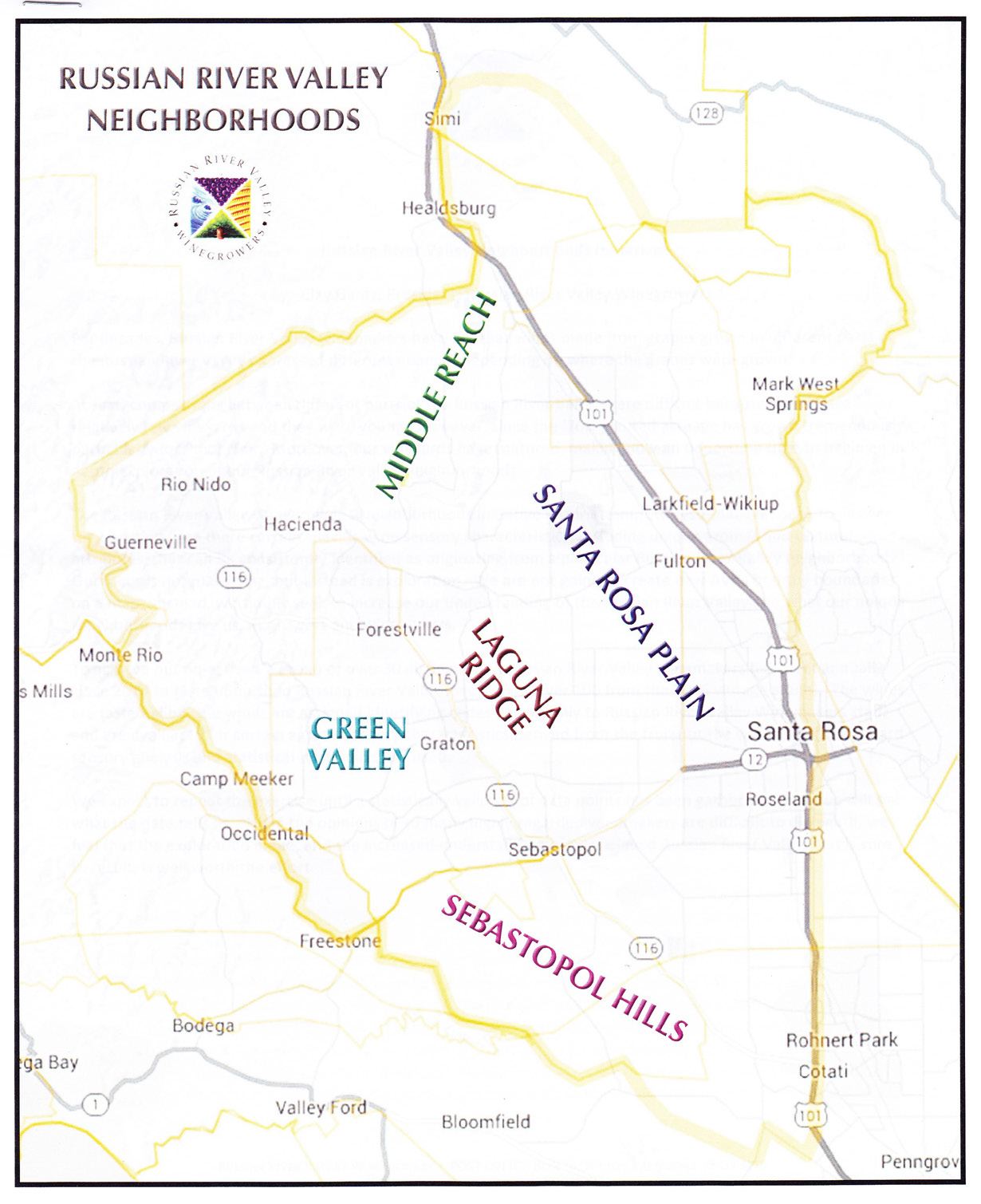 With the expansion of the Russian River Valley appellation in October of 2005, Sebastopol Hills was added as a sub region, and the neighborhoods of Freestone and Windsor Hills have been identified. These sub regions are not determined to receive an appellation designation, but rather represent different neighborhoods with distinctive microclimates and characteristic fruit profiles analogous to the villages of the Cote d'Or. The wines from each sub region carry an overall defining character of the Russian River Valley appellation as a whole, but each sub region offers variations on that theme, particularly for Pinot Noir, since the grape is transparent and a site can be tasted through the wine.
In 2014, the Russian River Valley Winegrowers Association organized a Neighborhood Initiative and Tasting Panel to determine if it was possible to identify what particular sub region Russian River Valley Pinot Noir came from. In this ongoing research study, Russian River Valley Pinot Noir is being evaluated for certain sensory characteristics derived from the grapes (linking them to a sub region) rather than the winemaking. Over a period of many years it is hoped that patterns will emerge to define the various neighborhoods by the similarities expressed in the wines.
One particular sub region of the Russian River Valley began to emerge from the mid 1990s as a "pearl" of the appellation because of the consistent quality of the Pinot Noir originating there and the realization among growers that this is one of the few promised lands for Pinot Noir in California. Located south of the small town of Sebastopol, the Sebastopol Hills has been described by John Winthrop Haeger as follows: "A triangular land of mostly northeast and southwest oriented ridges on the lee side of a transverse ridge that separates the Russian River Valley from the Petaluma Gap." The map below from a West of West event shows the outline of the Petaluma Gap region, proposed Petaluma Gap appellation (that overlaps the Sebastopol Hills), and the proximity of the Sebastopol Hills.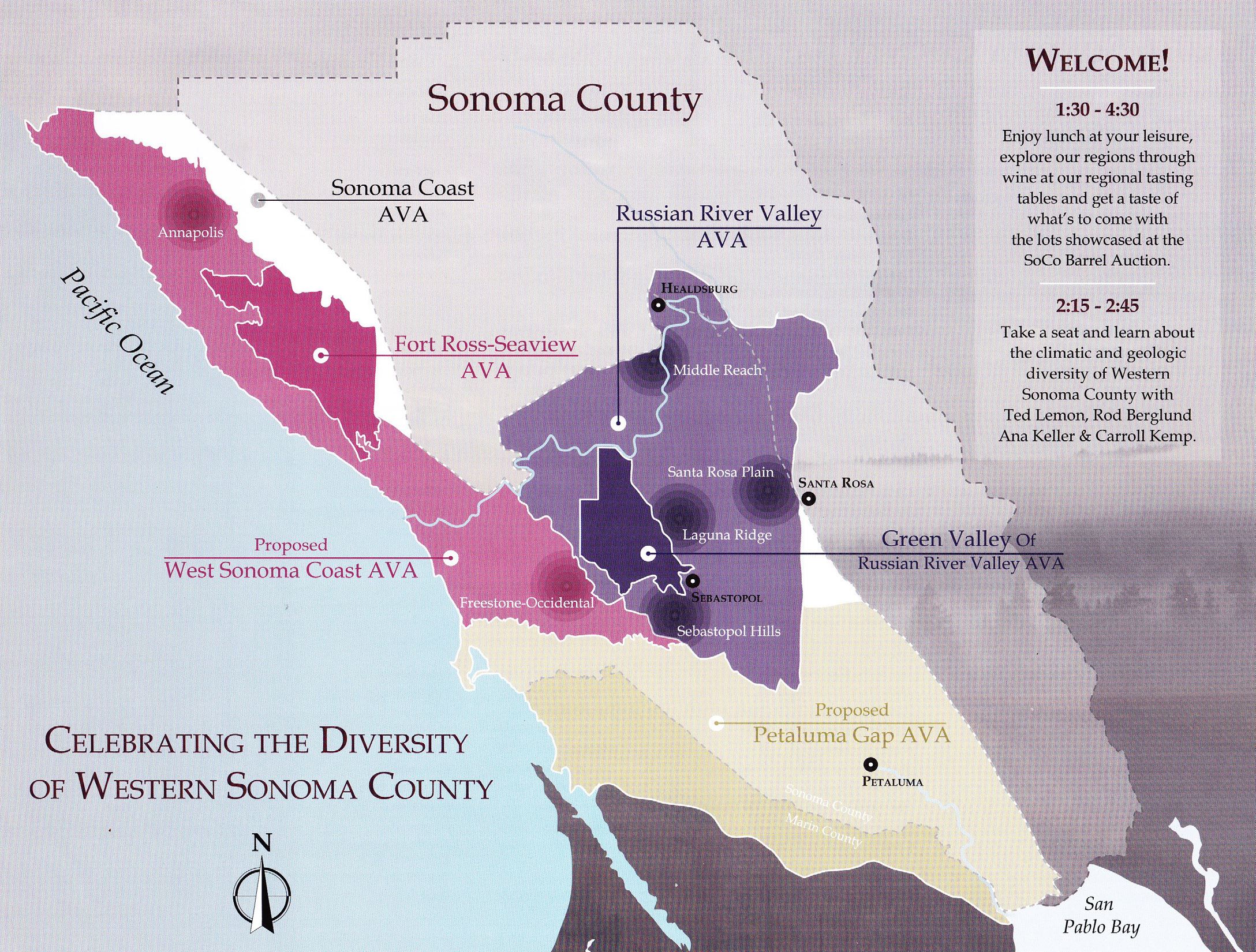 Historically, Sebastopol Hills was an area dedicated solely to Gravenstein apple growing, but apple orchards have now been replaced by vineyards. According to John Winthrop Haeger (http://www.sfgate.com/wine/article/Sebastopol-s-hilly-new-haven-for-Pinot-Noir-3197929.php), the first tiny vineyard in the sub region, barely three-quarters of an acre, was planted to Pinot Noir, Chardonnay, Gewurztraminer and field blends in 1972 by a professor at Santa Rosa Junior College as a backyard project. New owners later renovated the 1972 vineyard, located near the intersection of Burnside and Sexton roads, and converted it to Pinot Noir.
I spoke with apple grower Randy Peters who was most likely the first to exploit the Sebastopol Hills sub region for premium winegrowing. He had been leasing half of his father-in-law Tom Mukaida's apple orchard beginning in 1976. When he removed some old apple trees, he planted 2 acres of Chardonnay in 1984 that became Peters Vineyard. In 1986 he added Pinot Noir, initially planting Pommard and Wadenswil, the only Pinot Noir clones available at the time, and followed with additional plantings including Pommard, Dijon 115 and 777 at two-year intervals until he reached 36 acres in 1996. Initially, there was no interest among wineries in purchasing the grapes because of the southerly location. Gallo had developed the Frei Ranch seven miles to the north and showed interest in the grapes, particularly when Randy told them that apples ripened early in his ranch. Randy supplied both Pinot Noir and Chardonnay to Gallo through 1998, before acquiring a contract with Papapietro Perry. Subsequently, he has also sold Pinot Noir grapes to Kokomo, Jigar, Anthill Farms and the Peters Vineyard is synonymous with ultra premium Pinot Noir wines.
In 1994, Ross and Jennifer Halleck planted a 1-acre backyard Pinot Noir vineyard nearby named Halleck Vineyard. The following year, the noted western Sonoma County winegrower, Warren Dutton, was instrumental in encouraging John Balletto to plant in this relatively untested area of the Russian River Valley and Burnside Road Vineyard was established. Many other Pinot Noir plantings were to follow in the 1990s including, Ted Klopp (Thorn Ridge Vineyard, 1995), Stephen and Lynda Kanzler (Kanzler Vineyard,1996), David Umino (Umino Vineyard, 1996), Dutton family (Freestone Hill Vineyard, 1996 and 1997), John Balletto (Emerson Block, 1997), Lee Martinelli family (Bondi Home Ranch Water Trough Vineyard,1997), Jim Pratt (Pratt Sexton Road Vineyard, 1997), Merry Edwards (Meredith Estate, 1998), Rick and Diane DuNah (DuNah Vineyard, 1998), Mame Coggan and Debbie Friedenberg (Sonatera Vineyard, 1998), Eric Neal (Mes Filles Vineyard, 1998), and Tom and Rebecca Kisaichi, (Maboroshi Estate Vineyard, 1999).
Spurred by the popularity of Pinot Noir, the Sebastopol Hills had a number of significant vineyard plantings in the 2000s, including Suacci Family Vineyard (2001), Jenkins Ranch (early 2000s), Ted Lemon's The Pivot Vineyard (2004), English Hill Vineyard (2005), and Balletto's Mary's Vineyard (2006), Sexton Hill Vineyard (2009),Falstaff Road Vineyard (2009) and Cider Ridge Vineyard (2010). Other Pinot Noir vineyards in the Sebastopol Hills area include Bella-Vigna, Carinalli-Ross Ranch, Dutton-Wat, Freestone Hill, Hervey, Jennifer's, Pearlessence, Pennacchio, Raymondo, Rayhill, Rice-Spivak, Petersen, Sofia's and Watertrough. A Google map image of Sebastopol Hills vineyards is below.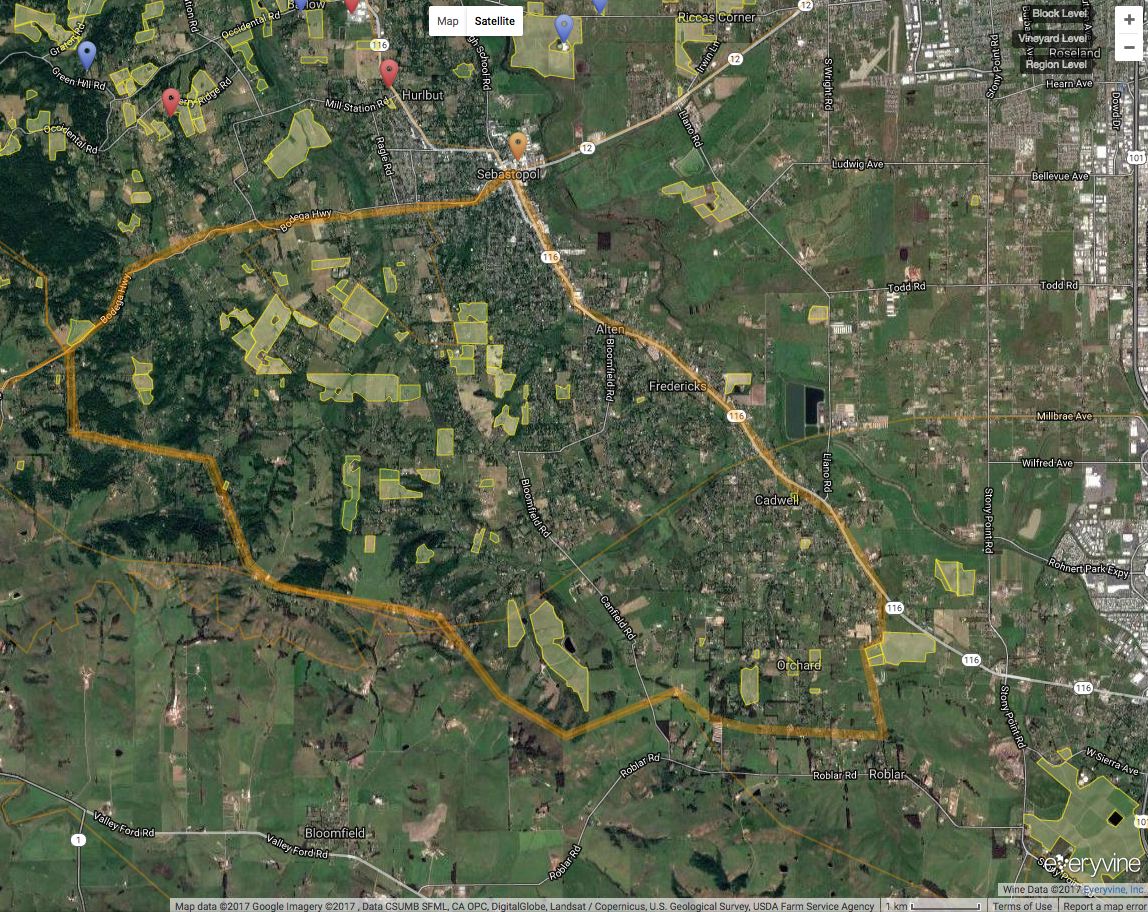 Initially grapes from the Sebastopol Hills were used in blends. Haeger said that the first commercial wine fashioned primarily from Sebastopol grapes was the 1998 Flowers Sonoma Coast Cuvee, made from grapes primarily from a Pratt Vineyard. A year later, winemaker Fred Scherrer bought Halleck's first commercially viable crop, blended with with lots from Hirsch Vineyard, and crafted a Sonoma Coast blend. Vineyard-designated Pinot Noirs soon followed. Some of Ted Klopp's first harvests at Thorn Ridge went to Scott Rich, who made vineyard-designated Pinot Noirs under his Talisman label. In 2002, the Hallecks launched their eponymous label, with wines first produced by Greg La Follette and later Rick Davis. The DuNahs followed in 2003 with their first estate grown DuNah Vineyard Pinot Noir, and Balletto made its first vineyard-designated Pinot Noir from Sebastopol Hills fruit in 2007.
The Sebastopol Hills is actually part of both the Russian River Valley and Sonoma Coast appellations with a few vineyards also in the Green Valley appellations (see map below). Sebastopol Hills is often referred to as part of the West Sonoma Coast that is not a true appellation but a marketing designation of the West Sonoma Coast Vintners. When the proposed Petaluma Gap appellation is approved, the more southern plantings will be in this appellation as well. Wineries bottling wines from the Sebastopol Hills do not put this sub region on the front labels since Sebastopol Hills is not an appellation, and use a Russian River Valley or Sonoma Coast appellation designation. Consumers must find it confusing and need to be well informed to know that a vineyard-designated Pinot Noir originated from grapes grown in the Sebastopol Hills sub region of the Russian River Valley. Regrettably, pinotphiles often fail to visit this beautiful area because there is only a few tasting opportunities among the many vineyards.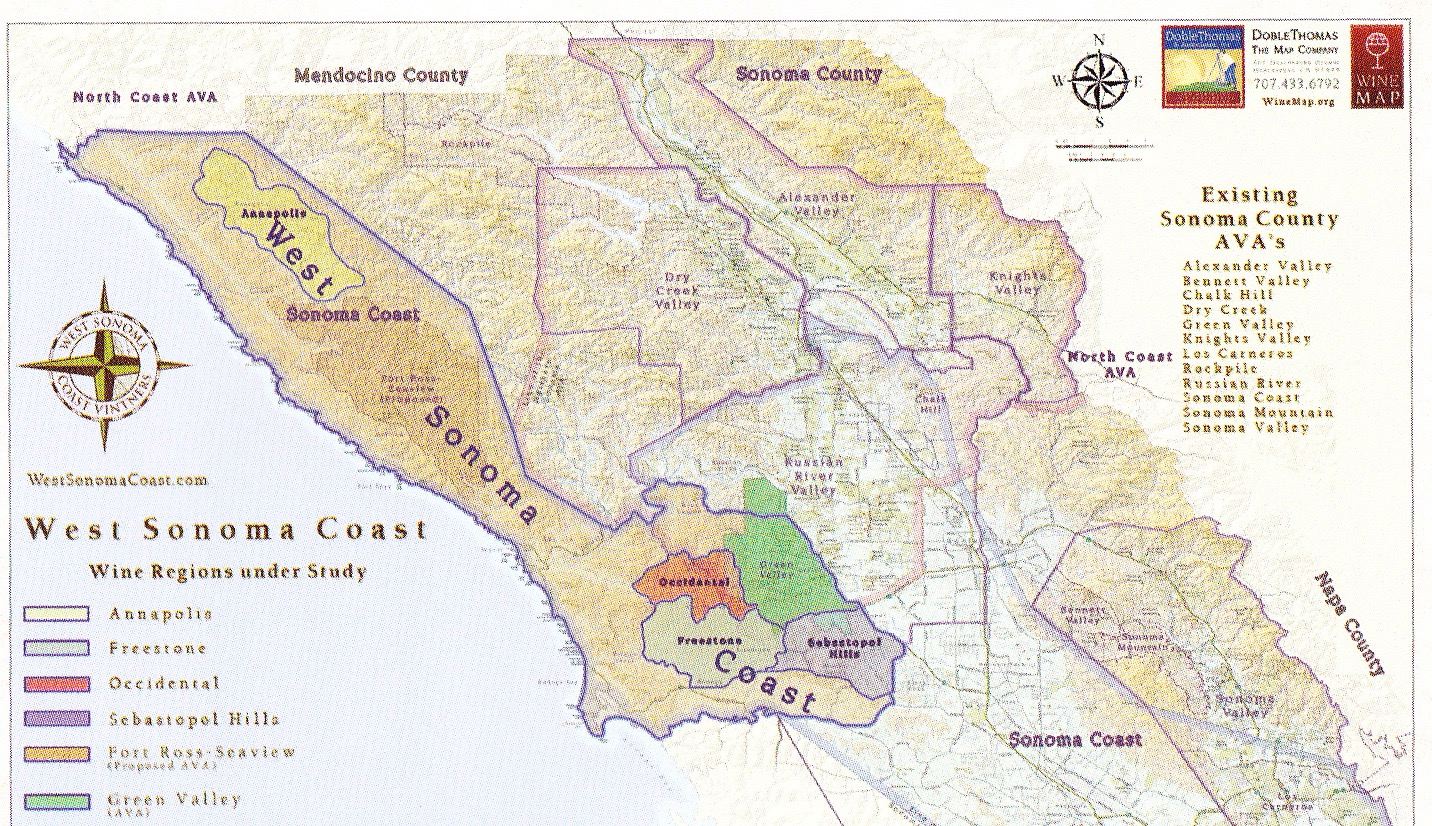 Although the boundaries of the Sebastopol Hills is not defined, according to www.everyvine.com, Sebastopol Hills makes up only 14,544 acres of the 169,029-acre Russian River Valley appellation. There are 859 planted vineyard acres among about 52 vineyards - 5.7% of the total Sebastopol Hills acreage. Ted Lemon's Littorai estate is the only winemaking facility in the sub region. Reichwage Winery has a winery facility in construction in 2017 adjacent Twin Hills Vineyard (a supplier of grapes to Peay Vineyards and Littorai). Elevations range from 118 to 646 feet with an average of 360 feet. Ground water availability is generally good.
Sebastopol Hills is the coolest region of the Russian River Valley, with gently rolling hills exposed to heavy summer fog intrusions from the adjacent Petaluma Gap, particularly the more southern grape plantings and those vineyards at lower elevations. Mid day heat is tempered by winds from the Petaluma Gap and evening and early mornings remain a little warmer than other nearby vineyards in the Russian River Valley. This sub region has 2707 growing degree days with temperatures ranging from 48F to 77.3F with a median of 62.6ºF. The moderate peak temperatures ensure good acidity in the wines. Annual rainfall is 43.1 inches with 6.03 inches during the growing season.
The soils are generally Goldridge sandy loam, a unique soil type not unique to the Sebastopol Hills but very prevalent as it is in the adjacent Green Valley. It is derived from the remains of an ancient inland sea that slowly emptied into the Pacific Ocean three to five million years ago.Ted Lemon of Littorai told me, "There is virtually no rock in Gold Ridge loam. Only the parent material, the Wilson Grove formation, that is, sandstones, might where sufficiently compressed by considered 'rock.' In winter, Gold Ridge is highly permeable and easily worked. The clay content of the subsoil can hold moisture for a long time. In summer, Gold Ridge soil basically turns to concrete unless you cultivate it and in that case it turns into a very fine powder. With some attention and care, it is a wonderful soil for dry farming grapes." The Goldridge soil has low fertility allowing grapes to be farmed initially in a low vigor milieu and adjusted as necessary with water and nutrition to achieve superb Pinot Noir quality.
The sensory characteristics of Pinot Noir from the Sebastopol Hills are not well defined. Winemakers have pointed out a few generalizations: ripe phenolics at relatively low Brix, good natural acidity, fine-grain tannins, typically earth, minerality and savory characters dominate, darker fruits are the rule, warm spice (nutmeg, clove) and floral notes common.
Notable wineries that either grow or have sourced grapes from vineyards in the Sebastopol Hills include Anthill Farms, A.P. Vin, Balletto, Banshee Wines, Bailiwick, Boheme, C. Donnatello, Capiaux Cellars, Cattleya, Chasseur, COBB, De Loach, Dutton-Goldfield, Eric Kent, Ernest Vineyards, Failla, Freeman Vineyard & Winery, Halleck Vineyard, Hartford Court, Inman Family, J Vineyards & Winery, Jigar, Kanzler, Kosta Brown, La Follette Wines, La Pitchoune, Landmark, LaRue, Littorai, Lynmar, MacPhail, MacRostie, Merry Edwards, Pali Wine Co., Papapietro Perry, Patz & Hall, Peay Vineyards, Pellegrini, Rhys, Rivers-Marie, Siduri, Soliste, Spell Estate, Suacci Carciere, Talisman, Vaughn Duffy, Von Holt, W.H. Smith, Withers, and Zepaltas.
I recently visited three wineries either located in the Sebastopol Hills (Halleck Vineyard and Kanzler Vineyards) or have significant vineyard holdings in the Sebastopol Hills (Balletto Vineyards). Here is background information on each winery and the results of my tastings.
Balletto Vineyards
John Balletto is a man of the earth, a farmer with a firm handshake and an endearing personality. He started farming vegetables in Sonoma County at the age of 17 in 1977 following the untimely death of his father from cancer. John started with $200 and 4 acres of land surrounding the family home. Along with his spouse Terri, he grew the family vegetable farming business into the largest in Northern California at its peak (over 700 acres). However, a number of factors played out including disastrous El Nino weather events that eventually made vegetable farming in Sonoma County unprofitable and John successfully transitioned to wine grape growing beginning in 1995. It is a remarkable story of fortitude that could make for an inspirational tale on its own.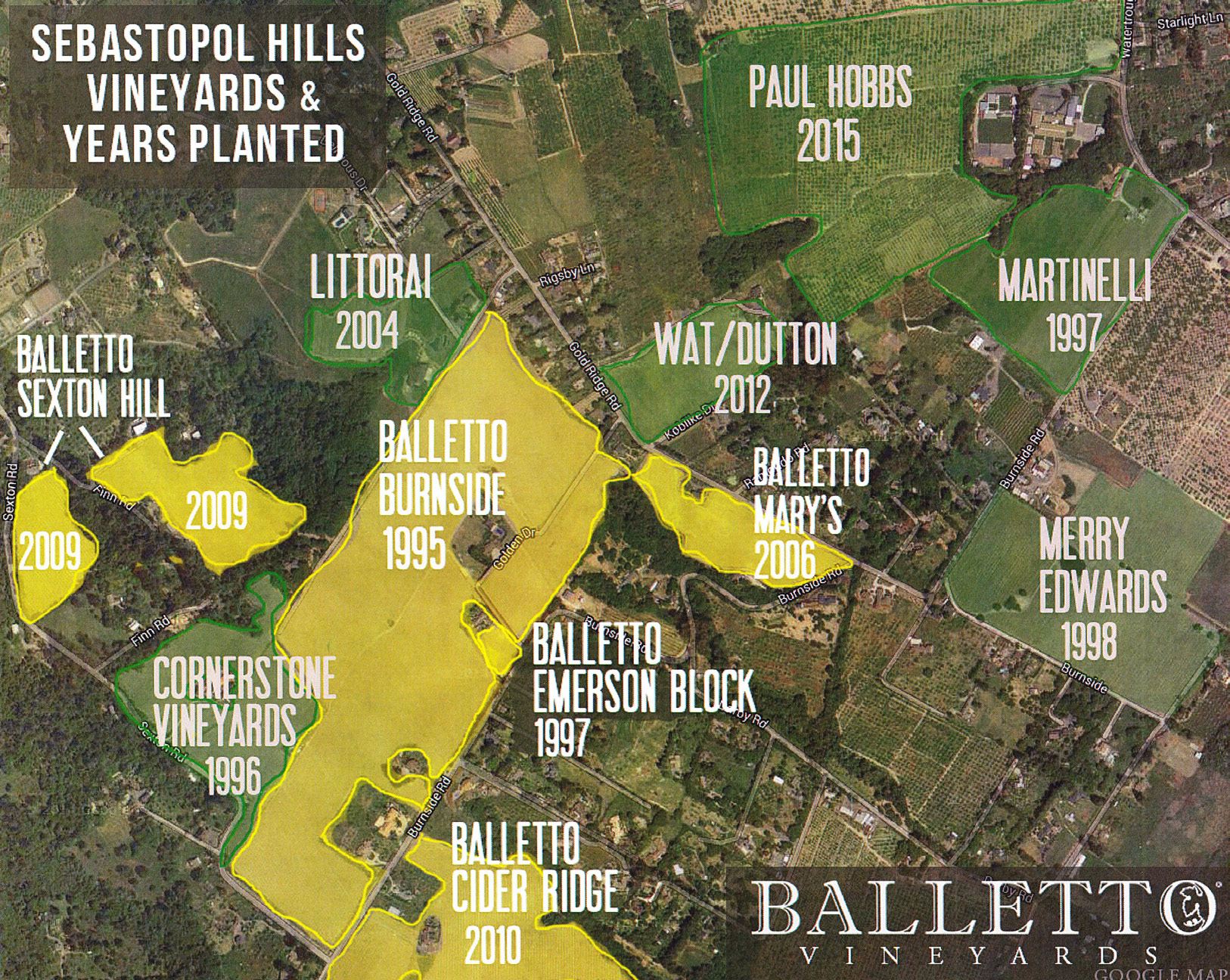 With the assistance of Cecile DeLoach, he planted Pinot Noir, Pinot Gris and Chardonnay in 1995 in the Santa Rosa Plain and expanded his plantings over the subsequent years. Today, the Balletto family has 700 vineyard acres spread over 18 different ranches in the Russian River Valley including 280 acres in western Sebastopol. More than 20 different clones of Pinot Noir are planted.The map above shows Balletto Estate vineyards in the Sebastopol Hills sub region of the Russian River Valley.
Balletto Vineyards is located at 5700 Occidental Road in Santa Rosa, a property that shares its western edges with the Laguna de Santa Rosa wetland habitat that is preserved lands. The first Balletto Vineyards wines were released in 2001 (1,000 cases), produced at the site of the current winery that had been converted from the vegetable farm's produce packaging and shipping building with its ideal 12-inch-thick walls. Today, Balletto Vineyards is one of the few 100 percent estate grown and bottled producers in the Russian River Valley.
Winemaker Anthony Beckman started at Belletto Vineyards as an enologist in 2007 and was promoted to winemaker two years later. His adept winemaking has pushed the quality of Balletto wines and many accolades have been forthcoming from wine competitions, wine critics and the wine press.
Most of the grapes from the Balletto vineyards is sold to renowned Sonoma County winemakers, with the top 10 percent of the fruit reserved for Balletto Vineyards' bottlings. Annual case production of Pinot Noir and Chardonnay has gradually increased over the years along with an expanding portfolio of single-vineyard Pinot Noir wines from a cluster of sites in the Sebastopol Hills including Burnside Road, Cider Ridge and Sexton Hill, and the estate BCD Vineyard and Winery Block Vineyard in the Santa Rosa Plain sub region of the Russian River Valley. Total wine production, including sparkling wine, Pinot Gris, Sauvignon Blanc, Gewürztraminer, Rose, Syrah and Zinfandel total 20,000 cases. A map of Balletto vineyard sites is below.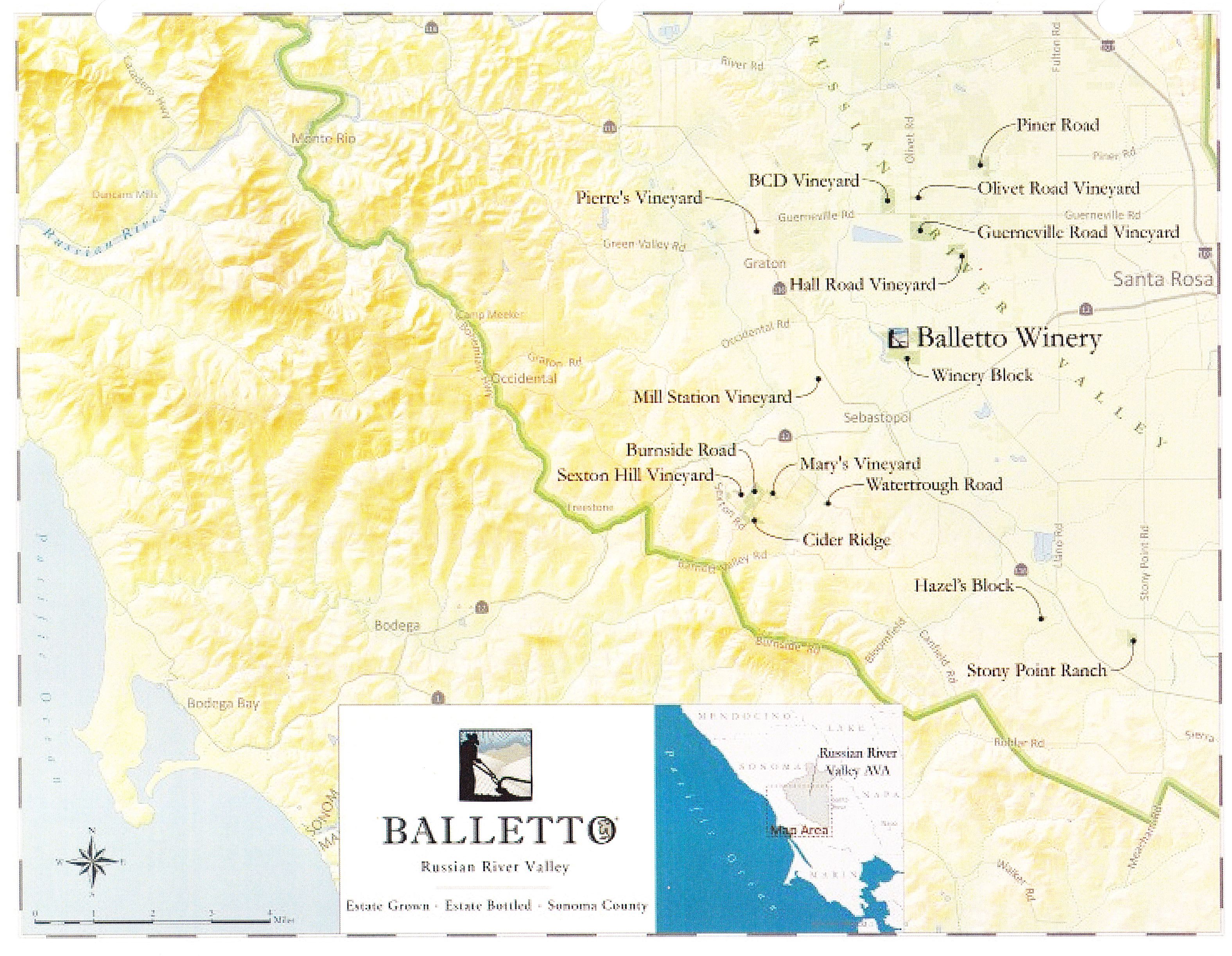 As a testament to the Balletto family's integrity, more than a dozen employees have worked with John and Terri Balletto for 20 or more years, and 18 families reside in local housing built and subsidized by the Ballettos. As a sign of commitment to employees, a regulation-sized "Field of Dreams" baseball field was built at Occidental Road Vineyard at the request of Balletto's vineyard workers as a place they could play and practice.
In 2010, the Ballettos were awarded the Sonoma County Farm Bureau Family of the Year. Photo below shows Terri and John Balletto along with daughters Caterina and Jacqueline.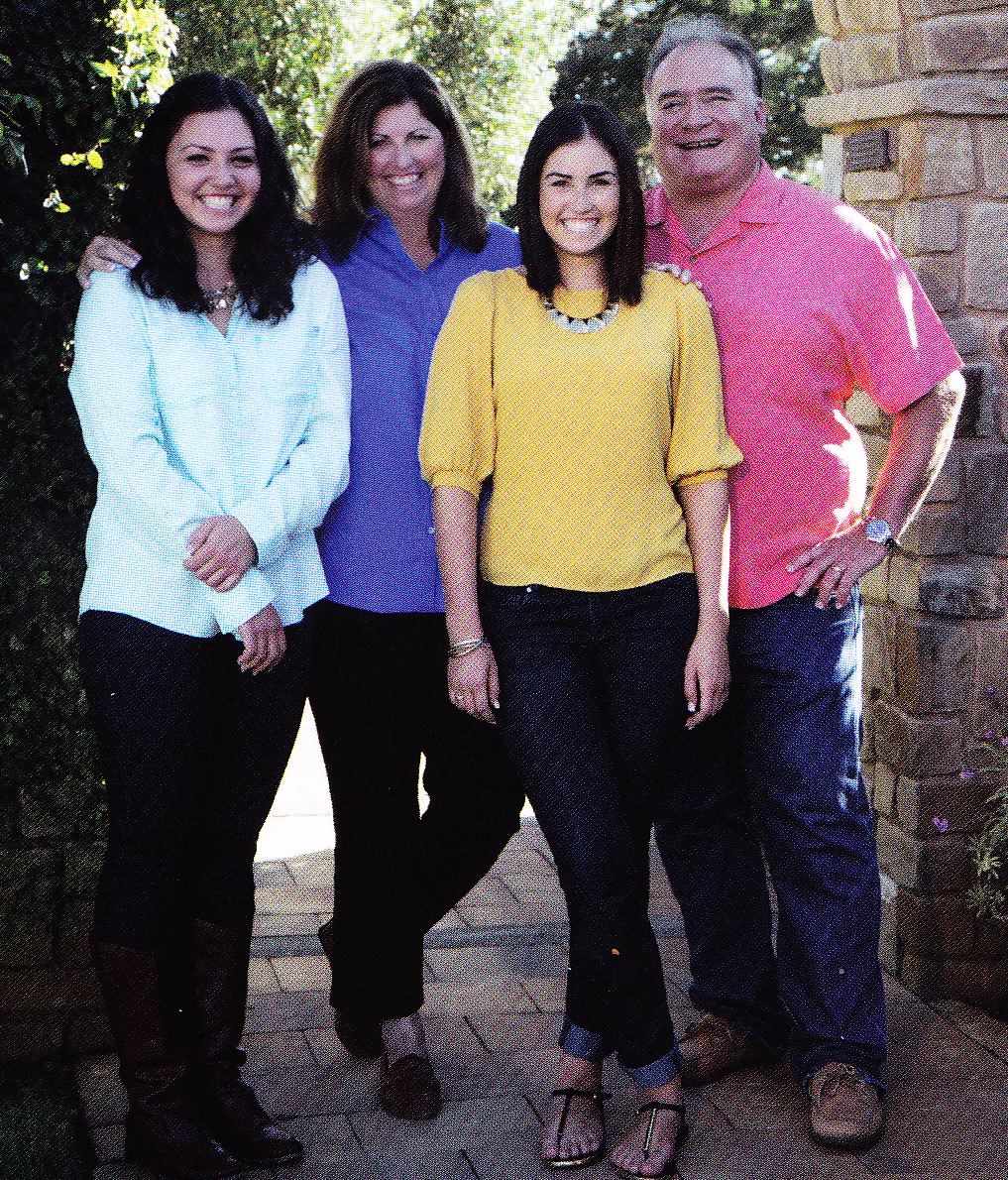 The Balletto Vineyards tasting room is open daily from 10:00 a.m. to 5:00 p.m.. The sensibly priced wines are also distributed to fine retailers and sold on the website at www.ballettovineyards.com. The 2012 sparkling wine and 2016 rose are currently available while the 2015 Pinot Noirs are fall 2017 releases with the BCD and Sexton Hill in pre-release. Eight Pinot Noirs are currently produced: 5 vineyard designates, an 18 Barrel reserve, an Estate bottling and a Russian River Valley blend.
I recently visited the winery and tasted with owner John Balletto and winemaker Anthony Beckman.
2016 Balletto Vineyards Russian River Valley Rosé of Pinot Noir See review in article on Rosé wines later in this issue. 92.
Balletto Vineyards wines tasted in my usual extensive fashion at my home office after my winery visit.
Halleck Vineyard
Both Ross and Jennifer Halleck had worked with the wine industry before moving to the Sebastopol Hills of Sonoma County in 1991. Ross's marketing agency, Halleck Design Group, was founded in 1980, and assisted the Silicon Valley high tech industry as well as the Northern California wine industry.
The Hallecks planted their backyard 1-acre vineyard to Pinot Noir in 1994 with the intention of setting aside profits from the vineyard for their three sons college educations. Planted to Dijon clones 115, 667 and 777, the vineyard was first harvested for a commercial wine in 1999.
Pinot Noir offerings under the Halleck Vineyard label were expanded in the ensuing years, produced from excellent vineyards in the nearby Sebastopol area within three miles and vinified by veteran winemaker Rick Davis. In the 2014 vintage, a unique Pinot Noir was offered from Napa Valley's Kuleto Estate Vineyard, the only Pinot Noir currently produced in the Russian River Valley from Napa Valley fruit. Noted restaurateur, Pat Kuleto, is a big fan of Halleck Vineyard Pinot Noir.
The Halleck Vineyard wines are in such low production that they are not offered at public tastings and the mailing list to join the Inner Circle Wine Club is currently full. That said, many of the wines can be sampled and purchased by appointment - book online at www.halleckvineyard.com - with personal tastings paired with local artisan foods conducted by Ross in his art-filled home adjacent Halleck Vineyard that commands sweeping views of Sonoma County (plan ahead as appointments are in great demand). Lodging is also available at this idyllic setting that can be booked through Airbnb.
The winery's current releases include 2014 Hillside Cuvee Sonoma Coast Pinot Noir, 2014 Three Sons Cuvée Russian River Valley Pinot Noir, 2014 Clone 828 Sonoma Coast Pinot Noir, 2013 Estate Grown Sonoma Coast Pinot Noir, 2015 Little Sister Russian River Valley Sauvignon Blanc, and 2016 Russian River Valley Dry Gewürztraminer. A few library wines are available for sale on the website.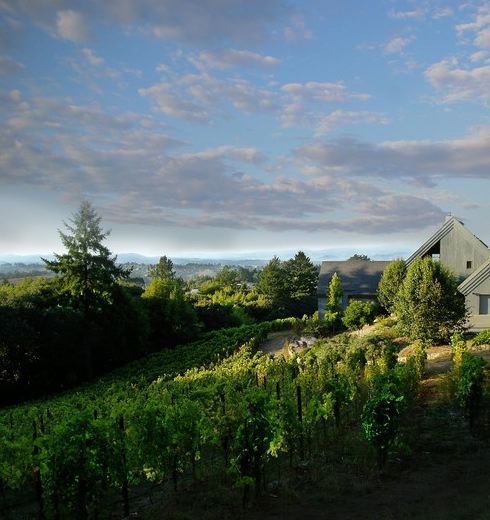 20% of production is sent to the finest restaurants in San Francisco (Farallon, Boulevard) and New York (Eleven Madison Avenue, Gramercy Tavern).
Education is a central theme of the Halleck's philanthropy and they have raised over $350,000 over the past dozen years toward education through special winery events. Ross is currently collaborating with noted music artist Josh Groban, who is a fan of Halleck Vineyard Pinot Noir, in the production of a Pinot Noir, with all profits going to Groban's Find Your Light Foundation founded in 2011 and dedicated to enriching the lives of young people through arts, education and cultural awareness.
Kanzler Family Vineyards
Kanzler Vineyards is a family affair that began with the establishment of a Pinot Noir vineyard in the Sebastopol Hills in 1996. The Kanzlers moved to the area in 1994 in hopes of raising their two children in the country. The property was the site of a very old, barely-producing apple orchard. In order to make better use of the land, the Kanzlers explored the possibility of planting wine grapes. In the early 1990s, many winegrowers thought the Sebastopol Hills was too cold and windy for vineyards. The Kanzlers turned out to be lucky wine grape farmers after consulting with a next door neighbor, Perry Kozlowski of Kozlowski Farms, whose family had grown berries and apples in Sonoma County since 1949. Perry told them to grow premium wine grapes.
Sonoma County Viticulture Advisor Rhonda Smith of the University of California at Davis also felt the area had potential for growing Pinot Noir. Steve then immersed himself in the study of viticulture and took classes at University of California at Davis and Santa Rosa Junior College. After contacting vineyard manager Eric Neil, the 14.5-acre Kanzler Vineyard was planted in the spring of 1996.
The vineyard is planted in Goldridge sandy loam on Wilson Grove formation. Pinot Noir clones 115, 667 and Pommard 4 are planted on 101-14, 1103P and 420A rootstocks. The vines are vertical shoot positioned and cane pruned.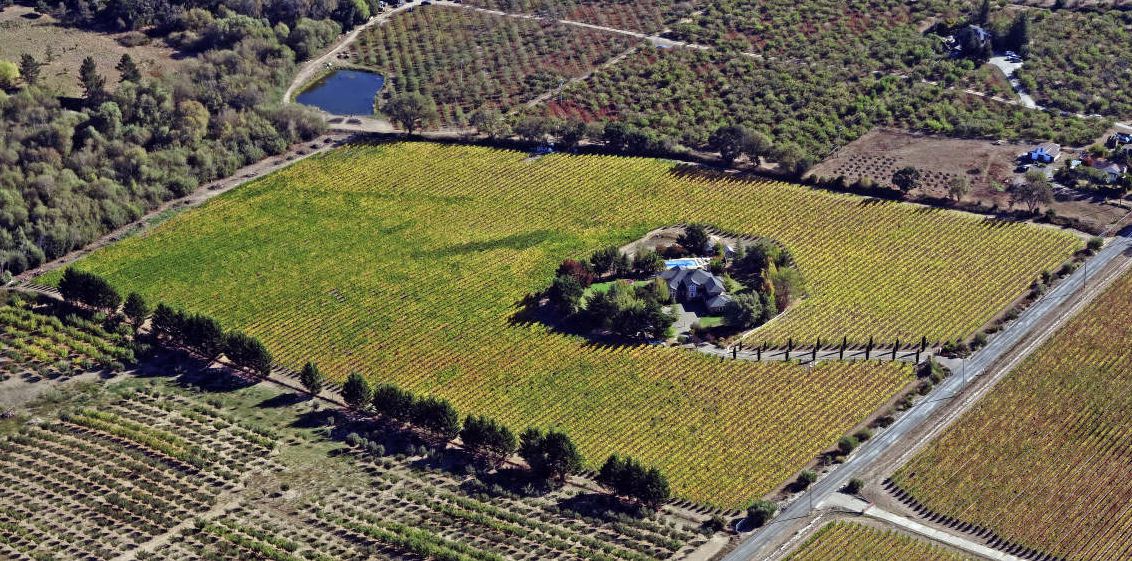 After the first harvest in 2000, grapes were sold to well-known wineries including Landmark Vineyards, Flowers Vineyard and Winery and Gary Farrell Vineyards and Winery. Little-known Kosta Browne realized the quality of the grapes and made a Kanzler Vineyard designated Pinot Noir every year since 2002. The 2004 Kosta Browne Kanzler Vineyard Pinot Noir was awarded a score of 98 points and both Kosta Browne and Kanzler Vineyards became well known to the Pinot Noir cognoscenti. As Kanzler Vineyards own wine production has grown, less grapes are sold to others but Kosta Browne and Lynmar Estate continue to receive an allocation.
The first successful wine made by Stephen and Landmark winemaker Greg Stach from the 2002 vintage was served to the 200 guests at daughter Melissa Kanzler's wedding. The wine was so well received, it was decided to produce Pinot Noir under the Kanzler Vineyards label. In 2004, they used four tons of fruit from the vineyard and crafted the first 250 cases of commercial Kanzler Vineyards Pinot Noir.
The winery is now in the hands of the second generation, Alex Kanzler. He was ten years old when the vineyard was planted and grew up working as a field hand. After college he pursued winemaking from Sonoma to New Zealand to Oregon and back to Sonoma. In 2011, he became the winemaker and in 2014 focused entirely on Kanzler Family Vineyards. Alex's spouse, Breauna, handles consumer sales. The harvest photo below is of Alex and Breauna Kanzler flanked by Stephen Kanzler and his current spouse.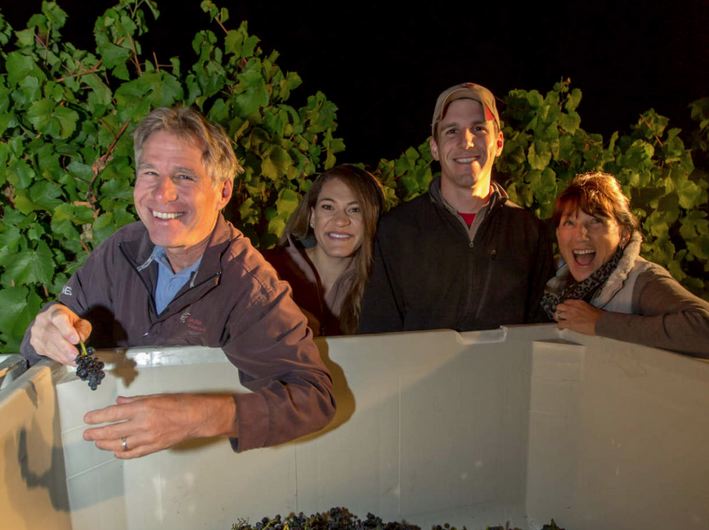 Current production is 3,500 to 5,000 cases annually from the Estate Vineyard and other vineyard sources. Walker Station Vineyard, located southwest of Forestville in the Russian River Valley is now leased by Kanzler Vineyards and is a reliable source of Pinot Noir and Chardonnay. Fruit is also sourced from other small, familyowned vineyards in the area including Lolita Ranch, Mes Filles Vineyard and Umino Vineyard. A Russian River Valley Rose and Walker Station Chardonnay have been added to the Pinot Noir lineup that includes the Kanzler Russian River Valley and Kanzler Estate Reserve bottlings.
The wines are primarily available to members of the winery's mailing list at www.kanzlervineyards.com. Labels have been updated and are designated Russian River Valley rather than Sonoma Coast beginning with the 2015 vintage since consumers can more readily identify with this winery's location in the Sebastopol Hills sub region of the Russian River Valley. The winery's label evolution: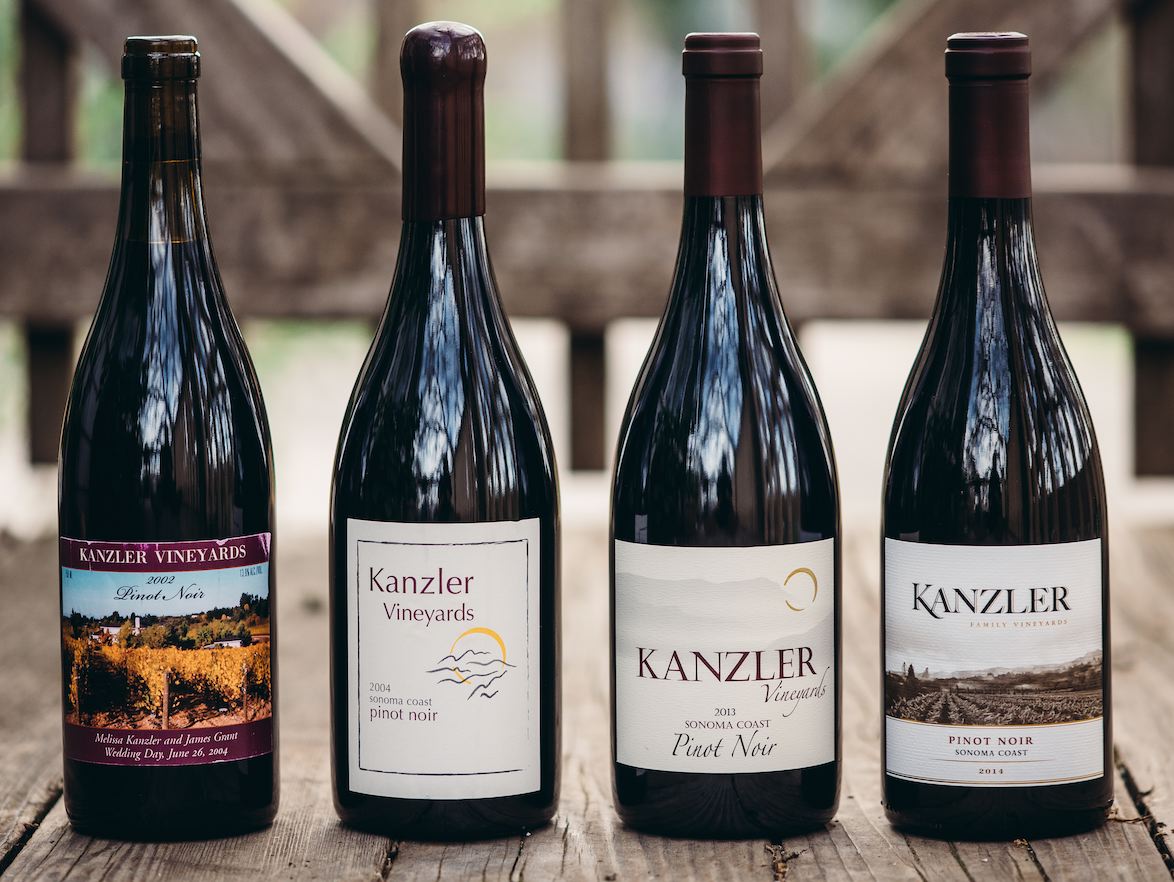 When I visited recently, I sat down with Alex Kanzler to taste a vertical of Kanzler Vineyards Estate Reserve Pinot Noirs. All Kanzler Vineyards wines are crafted using the same techniques and no wine is predestined or precluded from inclusion in the Estate Reserve bottling. The only requirement is that it must be grown on Kanzler's 20-acre ranch. The Estate Reserve wine is a barrel selection capturing the feel of the vintage.
Typically, the Reserve Pinot Noirs are aged in 40%-50% new French oak barrels and the Russian River Valley Pinot Noir is raised in 25%-30% new French oak barrels. The wines in this vertical tasting show a common thread, but each vintage is distinctly different.
Tasting is available by appointment at Kanzler Vineyards. Visit www.kanzlervineyards.com.