Pinot Briefs —Newsletter 11.4
Attention International Pinot Noir Celebration Attendees! Registration is now open for the University of Pinot seminars for full weekend registered guests. These courses promise to educate and expand your appreciation of Pinot Noir. Full course descriptions are included on the IPNC website at www.ipnc.org. Enroll in a class using your IPNC register number. Speakers include Patrick Comiskey, Allen Meadows, Josh Raynolds and Stuart Pigott. Register before the class of your choice is filled.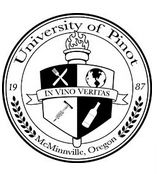 The Wines and Wineries of Oregon's Willamette Valley This is a recently published book written by Nick Wise and Linda Sunshine (authors of Celebrity Vineyards and California Celebrity Vineyards) profiling twenty wineries in a travelogue format. The book could easily have been titled Oregon's Celebrity Wineries because the wineries chosen for inclusion are among the highest typically profiled in Oregon: The Eyrie Vineyards, Ponzi Vineyard, Erath Winery, Adelsheim, Domaine Serene, Ken Wright Cellars, Argyle Winery, Cristom Vineyards, Archery Summit, Domaine Drouhin Oregon among others.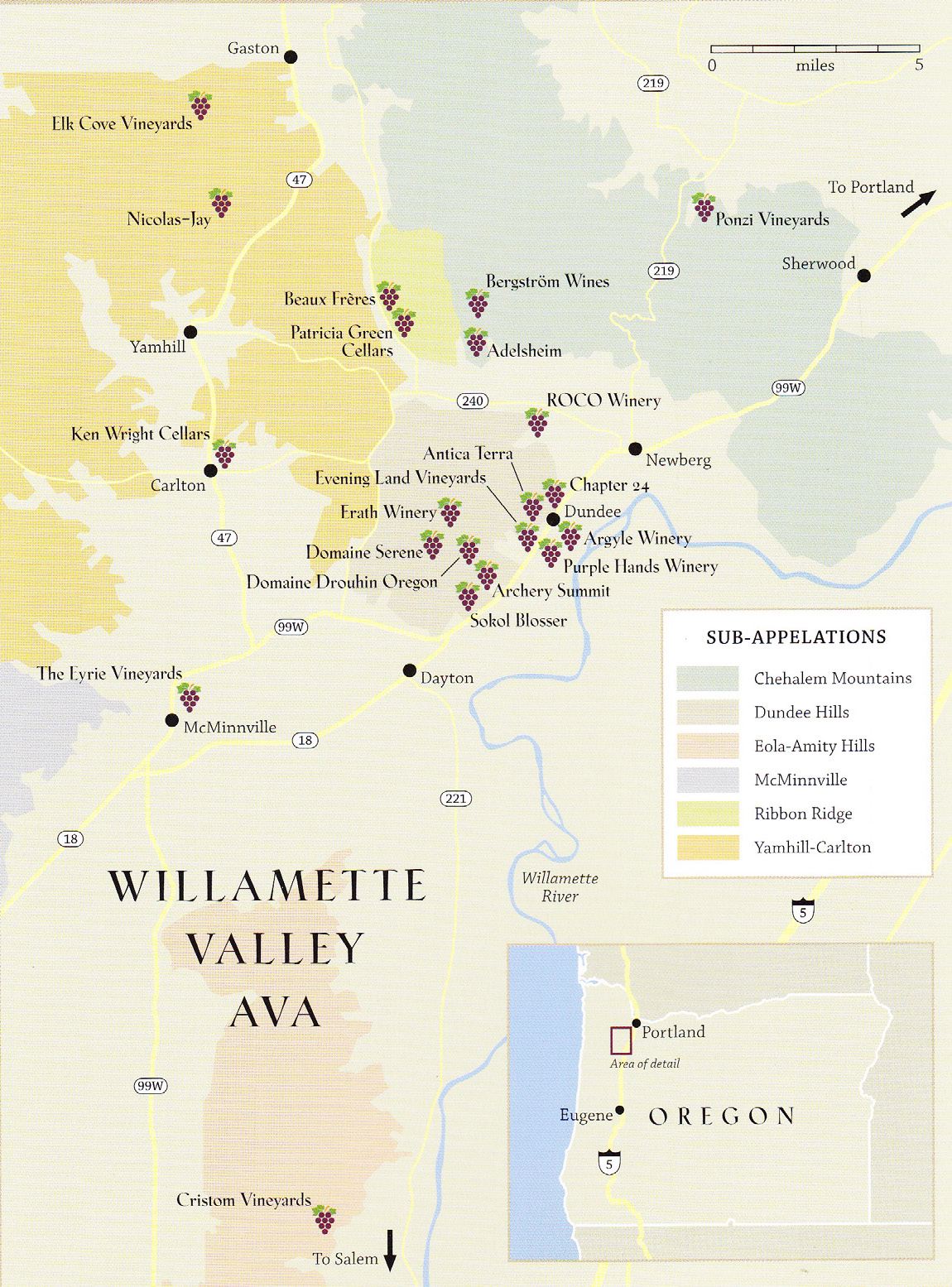 Winesong 2017 This year's charity Auction and Tasting is scheduled for September 8 & 9 in the Mendocino Coast. On Friday, September 8, "A Pinot Noir Celebration" will by hosted by Little River Inn and will feature a tasting of Pinot Noirs from Anderson Valley and other Pinot centric wine regions ($75). On the following day, September 9, the Charity Auction and Grand Tasting will be held on the grounds of the Mendocino Coast Botanical Gardens ($150, Reserve Ticket $250). Sample wines, beer, cider and spirits along with nibbles from chefs and caterers. This year's Honored Vintner is Nils Venge of Saddleback Cellars and Honored Auction Chairs are Dan Berger and George Rose. This philanthropic event benefits the Mendocino Coast Hospital Foundation. For information and tickets, visit www.winesong.org.
Shareholder Opportunity at Willamette Valley Vineyards Preferred Shares are now authorized for the new Bernau Estate vineyard and winery near Dundee that will produce méthode champenoise sparkling wines from biodynamically-grown grapes. The winery will offer Oregon-inspired hospitality with gardens and a wine cave. As an owner of Preferred Stock, an investor will earn Founder status, invitation to winery celebrations, and savings on wine. Shares are offered at $4.35 a share and offer a 5.1% dividend if a subscription is completed by June 30, 2017. For a prospectus, visit www.wvv.com/ownership.
Willamette Valley Wineries Association (WVWA) Trade Auction Willamette Valley can now consider itself in the same company as the Trade Auctions in Sonoma County and Napa County. The second WVWA Trade Pinot Noir Barrel Auction held in late March at The Allison Inn raised $472,000. 69 Oregon wineries contributed unique lots of Pinot Noir from the 2015 vintage for the auction and all wines were sold out in only 80 minutes. Each case averaged more than $1,100. The event drew more than 400 attendees. For more information, visit www.willamettewines.com.
Vineyard Tours at Seven Springs Vineyard Nothing informs the tasting experience more than kicking up some dirt in the iron-rich volcanic soils of the Eola-Amity Hills. Visitors are able to feel the cool wind of the Van Duzer corridor at their back exactly what the vines feel. Tours are available on the 1st and 3rd Saturdays of each month June through October. Reservations are required and the tour and tasting fee of $65 per person is processed at the time of booking. to book a vineyard tour of the historic Seven Springs Vineyard, email oregonhospitality@elvwines.com or call 503-538-4110.
Chehalem Donates $40,000 Worth of Wine to Charity Chehalem Winery is launching its inaugural Making a Case for Giving campaign to celebrate Oregon Wine Month. Chehalem plans to give away at least 100 cases of wine, worth up to $40,000 to charities. Applicants for receiving the wine donation must be a non-profit organization located in Oregon or greater Vancouver, WA metro area and submit their 501(c)(3) along with a completed application. Full details and a downloadable application are available at www.chehalemwines.com.
Carabella Winery Offering Vineyard Tours and Seated Tastings Experience beautiful Parrett Mountain while you stroll through the vineyard learning about the geology and sustainable growing practices. Enjoy a seated tasting paired with artisanal Willamette Valley hors d'oeurves with Carabella's finest wines including reserve and library bottlings. By appointment only from May to September. Cost is $40, refundable with a $100 wine purchase. Call 503-925-0972. Also, visit the Big Bottles page at www.carabellawine.com. Limited edition, etched 3-liter bottles inspired by the wildflowers of the Willamette Valley are featured.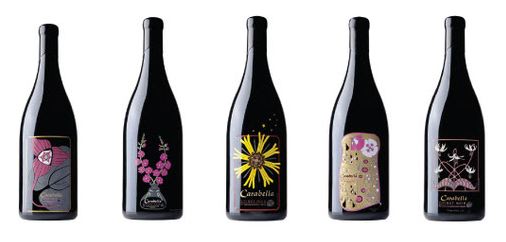 News from Et Fille Wines A followup to the untimely death of Howard Mozeico, the co-owner and winemaker of Et Fille Wines. Daughter Jessica has become the owner and winemaker and the winery's tasting room will continue to be open. She has assumed the honor and responsibility to carry Et Fille forward in a manner consistent with her Dad's vision, values and palate. Howard was a good man and I spent a number of sessions tasting his wines with him. Knowing Jessica also, I am certain she will be able to carry the family winery forward successfully. Et Fille is releasing the 2014 Willamette Valley Pinot Noir, 2014 Heredity Pinot Noir (a reserve blend), the 2014 Kalita Vineyard Pinot Noir and the 2014 Fairsing Vineyard Pinot Noir Memorial Day Weekend. Visit www.etfillewines.com.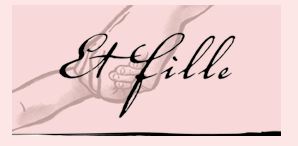 Third Annual Silicon Valley Wine Auction Raises $1 Million The Santa Cruz Mountains Winegrowers Education Foundation's Wine Auction on May 20 and 21, 2017, drew more than 1,000 guests to Runnymede Farm in Woodside, California. The event featured 50 local vintners from the Santa Cruz Mountains Winegrowers Association pouring their ultra premium wines. Over $1,000,000 was raised for the Silicon Valley Education Foundation's Elevate Math and STEM leadership Institute programs.
Taste of Mendocino More than 30 wineries will be pouring along with numerous Mendocino County artisanal food producers at Fort Mason Center in San Francisco on Saturday, June 10, from 1:00 p.m. to 5:00 p.m.. The event is sponsored by Mendocino WineGrowers, Inc., an alliance of grape growers and vintners working together to promote the grapes and wines from Mendocino County.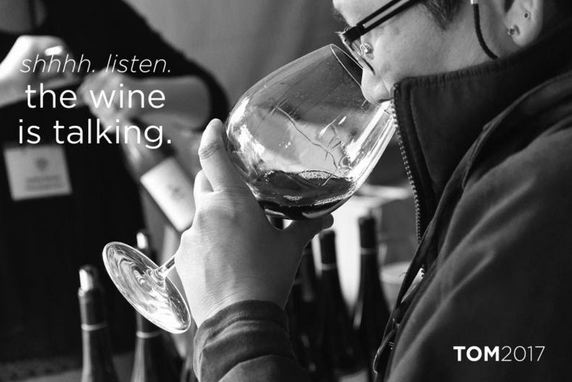 Brewer-Clifton Sold to Jackson Family As reported by the Wine Spectator on May 18, Jackson Family Wines has acquired Brewer-Clifton including the winery's second brand, Diatom, 60 acres of estate vineyards and a long-term lease on a winery and tasting room in Lompoc, California. Founder Greg Brewer sold his company shares but remains as the winemaker. Brewer and Steve Clifton started Brewer-Clifton in 1996 very modestly and built a reputation for outstanding Pinot Noir and Chardonnay from estate fruit. In 2015, Brewer-Clifton was sold to investors with Steve Clifton departing from the winery to focus on the La Voix and Palmina brands. Brewer then sold his shares as did the investors to Jackson Family wines. Brewer-Clifton now joins two other California Pinot Noir producers joining the Jackson Family Wines stable: Siduri and Copain.
Bacigalupi Vineyards is One of My Favs It has been remarkable to have followed Pam and John Bacigalupi and their twin daughters, Katey and Nicole, bring Bacigalupi Vineyards to the very top echelon of Russian River Valley wineries. These are truly genuine people producing genuine wines that are now stunning. Winemaker Ashley Herzberg has helped lead the way. With superb Bacigalupi grape sources, she vinifies wines with native yeast fermentations, bottling them unfined and unfiltered. I stopped in to visit with Nicole when I was in the Russian River Valley recently, and I was taken by the 2015 Bacigalupi Russian River Valley Goddard Ranch Pinot Noir and 2015 Bacigalupi Russian River Valley Chardonnay. The grapes for the Chardonnay ($60) were grafted from vines sourced for the legendary 1976 Paris Tasting Chardonnay and the wine is rated 96 points by me. The Goddard Ranch Pinot Noir ($72) comes from the Bacigalupi family's most established vineyard site acquired in 1956. I rated this wine 96 as well. The winery's Petite Sirah and Zinfandel are to die for as well. This is one of the select few wineries I buy wine from these days and I am happy to shout their praise.

Senders Wines Prepares for 2nd Surgical Outreach of 2017 Senders Wines' Dr. Craig Senders will travel with other medical professionals to perform cleft lip and palate repair in the Philippines in late May. The trip is part a surgical charity, Operation Restore Hope. Dr. Senders makes several such trips each year pro bono that are funded in part by the wine he makes. Dr. Senders' most recent trip took place last winter in Bohol, Philippines and resulted in 62 procedures on 54 patients. Senders wines has garnered numerous accolades and is about to join a downtown Napa tasting room, Feast it Forward. Dr. Senders specializes in Pinot Noir and Cabernet Sauvignon, and splits his time between commuting to Sacramento and Napa from Davis, California where he is the Director of the University of California at Davis Cleft and Crandiofacial Program. For information about Senders Wines, visit www.senderswines.com.
Noted Pinot Noir Winemaker, Richard Ward, of Saintsbury Has Passed Away Richard Ward was one of the first to make Pinot Noir in the Carneros region of Napa Valley. His business partner at Saintsbury said that Ward died from complications of a bone marrow transplant and was 67 years old. Ward and Graves founded Saintsbury Winery in 1981 and soon made a reputation for Carneros Pinot Noir and Chardonnay. The winery was among the first in California to plant Dijon clones of Pinot Noir.
Sta. Rita Hills Wine and Fire 2017 Tickets On Sale All three events sold out in 2016 so get your individual tickets no at https://www.eventbrite.com/o/the-sta-rita-hills-wine-alliance-3852698419. Organized by the Sta. Rita Hills Wine Alliance, Wine and Fire will be held August 18-20. Events include a Barn Party at Dierberg Star Lane in Lompoc, a Saturday Morning Focused Tasting and Lunch at El Jabali Vineyard and the Grand Tasting at La Purisima Mission in Lompoc. Early Bird pricing ends July 31. A Tasting Passport to participating member wineries is included in the purchase of event tickets.
Another Article Poses an Alcohol-linked Cancer Scare but Proves Nothing An article in the Wall Street Journal (WSJ) is titled, "Just One Drink Can Harm." That sensationalized title is a scary proposition that carries no weight and is misleading to the consumer. A review from the American Institute for Cancer Research Fund and the World Cancer Research Fund of 119 studies on the risks of developing breast cancer, concluded that a glass of wine or beer a day (about 10 grams of alcohol, close to a standard drink of 14 grams of alcohol) increases the risk of breast cancer by 5% in premenopausal women and 9% in postmenopausal women. There are a couple of caveats here. First, the review does not prove that alcohol causes breast cancer, only that there is an association. Secondly, the analysis of previous studies are always flawed by the fact that they involve asking women how much they drank, an imperfect way of collecting reliable data. It has been shown from years of retrospective studies that alcohol makes breast cancer slightly more likely, BUT it reduces heart attack risk. This fact was never mentioned in the WSJ article. The International Scientific Forum on Alcohol Research has concluded, "An individual will need to weight the modest risks of light to moderate alcohol use on breast cancer development against the beneficial effects on cardiovascular disease to make the best personal choice regarding alcohol consumption." The words of Richard A. Baxter, M.D. seem most reasonable regarding wine and breast cancer,"The smart choice favors having a glass of wine with dinner and not stressing over it." A better title for this article would have been, "Alcohol is Among Many Factors Possibly Putting Women at Small Risk for Breast Cancer."
Tidbits from My Last Visit to Russian River Valley
* Sonoma County plans to have all vineyards sustainable by 2020 and organically farmed by 2025.
* No surprise that McDonald's closed in Sebastopol - just didn't fit in with the community ethos.
* Can't rave enough about dinners I had at Campo Fina in Healdsburg, (Scopa by the same owners has closed), Spinster Sisters in Santa Rosa, Diavola in Geyserville and Drawing Board in Petaluma.
* Word is Single Thread restaurant is fantastic, especially if you are into Asian cuisine. Gorgeous decor, impeccable service and food to die for served in 11 courses of small courses featuring seasonal bounty from the owner's farm. Michelin 3 star quality. Prepaid reservations for 2-5 guests is $293.35 per person not including wine selection. Five suites for overnight. Visit www.singlethreadfarms.com.
* Larger wineries are providing housing for their farm workers to insure consistent and reliable employees.
* Many wineries are foregoing the traditional bottle capsule and simply closing bottles with cork only.
* Healdsburg plans to limit number of tasting rooms in future so as not to be overrun with them.
* 20 Sonoma County Farmers Markets now open. Healdsburg Certified Farmers Market is open Weds from 4.00 p.m. to 7:00 p.m. and Saturday from 8:30 a.m. to 12:00 p.m..
Kosta Browne 20th Anniversary Offerings To celebrate twenty years, Kosta Browne has set aside three special wines to mailing list customers: 2013 Estate Pinot Noir (first estate blend of fruit from Keefer Ranch and Gap's Crown vineyards- $100), 2014 Klopp Thorn Ridge Pinot Noir (a dry-farmed vineyard in the Sebastopol Hills - first and so far only time Kosta Browne has bottled a single vineyard designated wine from this site - aged in concrete tank - $100), and 2015 Bottlegger's Hill Chardonnay (aka "Special K" - Wente Hyde clone - 3 barrel production - aged 8 months in concrete egg - magnums only, $225). Offering goes live June 6 for mailing list members.