2014 COBB Pinot Noir: Whole Cluster Goodness Abounds
Ross Cobb probably knows as much as anyone about growing grapes and making wine on the far western Sonoma Coast. His exposure to the winegrowing potential of the region began when he was a child, when his father, marine biologist and ecologist David Cobb, wrote a paper while at the University of California at Berkeley about the opportunities for growing world-class Pinot Noir on the West Sonoma Coast.
In 1989, David moved beyond theory when he, his spouse Diane, and Ross planted 5 acres of the family's Coastlands Vineyard together. Coastlands was not the first Pinot Noir vineyard on the far Sonoma Coast, but it featured more than a few acres of vines and also included a Pinot Noir nursery spearheaded by Diane in conjunction with University of California at Davis that was designed to isolate the most suitable clones for the extreme coastal climate.
Ross attended University of California at Santa Cruz where he studied agroecology and sustainable agriculture, and began to take an interest in wine. He worked a few days at Williams-Selyem during harvest and then spent time at Ferrari-Carano and Boony Doon. Burt Williams called him because he needed a lab technician and Ross soon apprenticed under him and winemaker Bob Cabral. In 2000, he traveled to Burgundy and returned to eventually become the winemaker at Flowers Winery and subsequently Hirsch Vineyards. His roles at these wineries and his experience with his own Cobb Wines label established with his family in 2001, means he has worked with almost every vineyard of note on the West Sonoma Coast.
It has taken Ross well over 15 years of frequent visits to Burgundy and hands-on winemaking experience to perfect his vision for Cobb Wines. He has become a leader in using no-till and dry-farming techniques for better grape flavor development as well as canopy management techniques that encourage variability in ripeness that translates into more complexity in his wines. Over the years, he has moved to earlier picking and was one of the first wineries to make a sub-13.0% ABV Pinot Noir from the Western Sonoma Coast. He has progressed to even less new oak over the years, yet ages most of his Pinot Noirs for 20 months or more. He says, "If you lower the amount of new oak and the toast levels, more time in oak doesn't make the wines more oaky, it makes them more integrated. I am not using oak to add new flavors to the wines but use it to lift existing aromas so that the character of the sites we work with can be even more fully expressed."
The following 2014 Sonoma Coast Pinot Noirs represent the Cobb Wines October 2016 Fall Release.
2014 presented a long growing season on the Sonoma Coast, with modest yields of about 1.8 tons per acre, and ideal late-season weather allowing harvest with forethought and precision. Ross believes the 2014 vintage will be the most outstanding since 2007.
The Cobb Pinot Noirs are typical vinified with significant whole cluster inclusion and native yeasts. The grapes are picked early leading to relatively low alcohols. The wines are bottled unfiltered. The winery's calling card has been perfume, elegance and harmony from specially chosen vineyards in the West Sonoma Coast.
These limited production wines are allocated exclusively to the winery's mailing list at www.cobbwines.com.
The more recent 2017 Spring Release includes the 2014 Cobb Wines Diane Cobb: Coastlands Vineyard Sonoma Coast Pinot Noir, the 2014 Cobb Wines Coastlands Vineyard: 1906 Block Mt. Eden Clone Sonoma Coast Pinot Noir, and 2014 Cobb Wines Jack Hill Vineyard Sonoma Coast Pinot Noir. A 2015 Cobb Wines Mariani Vineyard Chardonnay was also released in the spring 2017 and
2014 Cobb Wines Coastlands Vineyard 1906 Block Pommard Clone Sonoma Coast Pinot Noir
12.5% alc., 200 cases, $80 ($175 per 1.5L magnum). This vineyard is located near the town of Occidental on a ridge. In 1998, Cobb's parents planted Pommard and Mt. Eden clones on a block just shy of 4 acres within their Coastlands Vineyard. They called it the 1906 Block because the original rancher who worked the land carved the date 1906 into an old oak tree overlooking the block at the time of the great San Francisco earthquake. The vines are planted on rocky, uplifted marine-terraced soils and produce wines that are the most dark and concentrated of Coastlands Vineyard. In 2014, both a Pommard clone and Mt. Eden clone bottling were produced. Aged 22 months in French oak barrels, 30% new. · Moderately light garnet color in the glass. Intoxicating perfume of pie cherry, raspberry and timber. Intense and sappy on the palate, featuring cherry, raspberry and red grape flavors with a subtle green thread in the background. Nicely balanced with suave tannins and a sweet cherry finish. While the fruit seems slightly underripe, the wine is delightful. Score: 93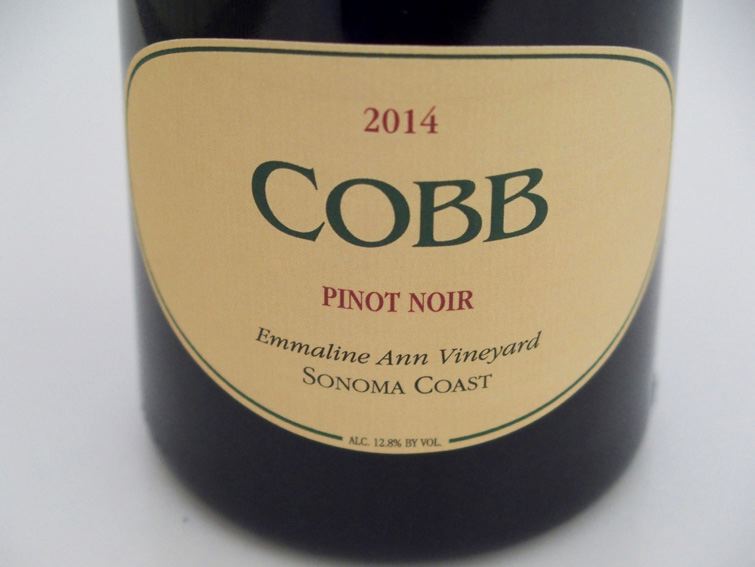 2014 Cobb Wines Emmaline Ann Vineyard Sonoma Coast Pinot Noir
12.8% alc., 310 cases, $75 ($160 per 1.5L magnum). This 3-acre vineyard gets the most fog of any of the vineyards Cobb works with leading to an appealing vibrancy. Located near the town of Occidental, this vineyard is planted to 2 Dijon clones in Goldridge soil. Aged 22 months in French oak barrels, 30% new. · Moderately light garnet color in the glass. Sensational aromas of burnished cherry, spice, pine sap and wilted rose lead to a middleweight core of delicious cherry fruit accented with spice and cola. Seamless, elegant and polished with a generous finish that is unusually persistent. This wine tugs at your heart strings. Score: 95
2014 Cobb Wines Rice-Spivak Vineyard Sonoma Coast Pinot Noir
13.3% alc., 310 cases, $75 ($160 per 1.5L magnum). Ross has worked with this vineyard since 2003 and has made a single-vineyard wine from its fruit since 2006. Ross directs all the farming and has first pick of the grapes. This is the most inland vineyard that Ross sources fruit from, yet it is only six miles from the Pacific Ocean and greatly influenced by the marine climate. Located in the Sebastopol Hills, this 6-acre vineyard is planted to Swan selection and Dijon clones grown in Goldridge soils. Aged 22 months in French oak barrels, 30% new. · Moderately light garnet color in the glass. Highly aromatic, with soaring aromas of black cherry, wilted rose, burnt tobacco, smoked game and earth. Deeply flavored with spiced cherry and cranberry fruit flavors, this mid weight wine has inviting lift, gentle tannins, and some finishing purpose. Score: 93