Results of Exclusive Press Tasting of Anderson Valley Pinot Noir (Mendocino Fairgrounds)
This is an opportunity for press to taste a variety of Anderson Valley Pinot Noirs. Not every Anderson Valley producer submits a wine for tasting and the vintages of wines offered for tasting varied from 2010 to 2015 making comparisons more challenging. Like the ambiance of the Anderson Valley, everything is laid back.
Located at 39 degrees latitude, the Anderson Valley appellation is located in northwestern Mendocino County along Highway 128. As the crow flies, the Anderson Valley is 10 miles from the Pacific Ocean and 15 miles in length, and opens to the Pacific Ocean via the Navarro River.
There are fourteen varieties of wine grapes grown in the Anderson Valley, primarily Pinot Noir, Chardonnay and Gewürztraminer. Approximately 2,500 acres are planted to wine grapes with 91 vineyard properties having a median vineyard size of 11.5 acres. The climate is mostly Winkler Region I (the coolest). Soils are bedrock Franciscan sandstone.
61 bonded wineries are members of the Anderson Valley Winegrowers Association, all using Anderson Valley fruit. There are 28 wineries with tasting rooms in the Anderson Valley.
Stylistically, the Pinot Noirs of Anderson Valley are difficult to get a fix on since the winemaker's imprint is on many wines and the resultant styles vary from low ABV and minimal to no new oak use, to ripe-fruited, high ABV wines with significant new oak use. Being a cool growing region, bright acidity, particularly if the grapes are harvested at lower Brix, is a prominent feature.
Regarding vintages:
2013 Ideal growing season with moderate temperatures and no rain or heat extremes. Growing season started early and ran about two weeks ahead of most previous years. Water for irrigation was scarce. Acidities were elevated at harvest.
2014 Third drought year in a row. Dry winter (driest on record) and warm spring with some storms, early bud break, early harvest, lower yields.
2015 Early bud break long flowering period during cold, rainy and windy weather reducing yields. Small crop of concentrated fruit. Early harvest in August.

2010 Harmonique Delicacé Anderson Valley Pinot Noir 14.1% alc., pH 3.68, TA 0.60, $46. 90.
2010 Harmonique Elegancé Anderson Valley Pinot Noir 14.1% alc., pH 3.70, TA 0.60, $48. 89.
2010 Harmonique The Noble One Anderson Valley Pinot Noir 14.2% alc., pH 3.68, TA 0.63, $39. 91.
Harmonique is unique among California wineries in that its current releases are from the 2010 vintage. Vineyard sources include Ferrington, Conzelman, Klindt and Oppenlander. The three wines offered for tasting at the Grand Tasting progress in extraction from Delicacé, the most elegant and red fruited, to The Noble One, the most concentrated and dark fruited. Veteran Robert Klindt is the winemaker. The wines are just beginning to show tertiary characters yet are still fresh and should maintain another five years at least. Moria Conzelman is a fresh face at every Anderson Valley Pinot Noir Festival and mans the winery's tasting room in Boonville. The 2011 vintage wines will be released in the fall 2017.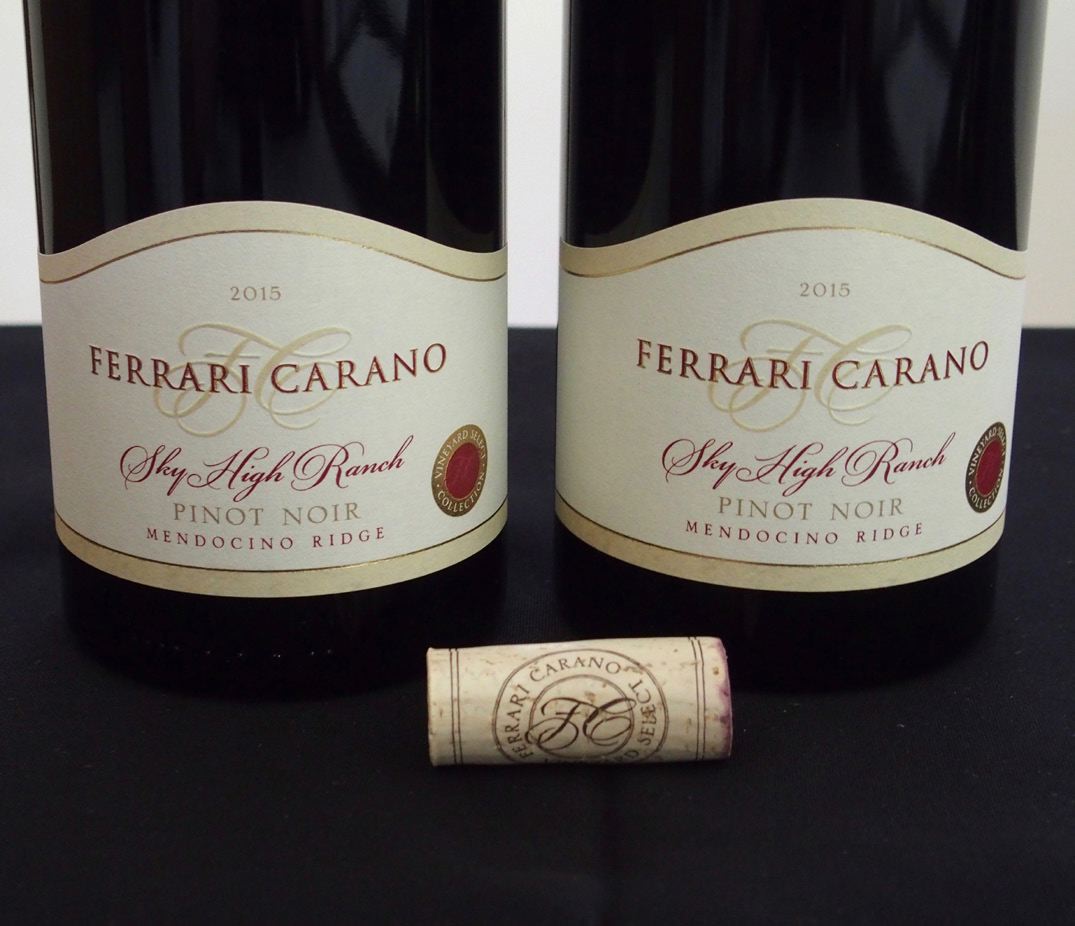 2014 Fathers & Daughters Ella's Reserve Ferrington Vineyard Anderson Valley Pinot Noir
13.8% alc., pH 3.45, TA 0.62,110 cases, $N/A (2013 vintage was $42). Pommard, "828," and 667. Grapes 70% destemmed, 30% whole cluster. Native yeast fermentation, punch downs for 19 days twice a day. Basket pressed, aged 18 months in neutral French oak barrels. Winemaker Phillip Baxter. · Moderately light ruby red color in the glass. Enticing aromas of cherry, spice and sandalwood draw your nose into the glass. Striking fruit presence with a deft touch of spice and oak. The wine finishes with good generosity. Well-structured for long term drinking. Score: 93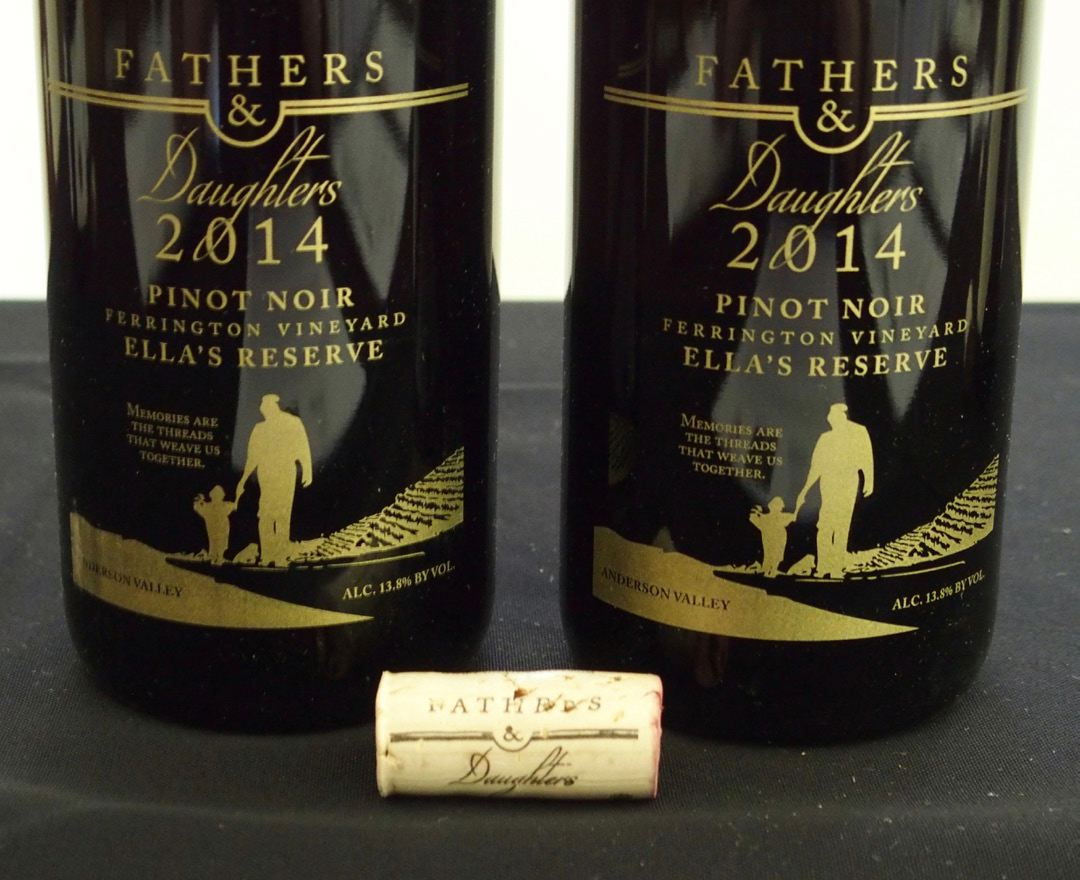 2015 Foursight Wines Charles Vineyard "Clone 05" Anderson Valley Pinot Noir
14.4% alc., pH 3.64, TA 0.60, 125 cases, $52. Released May 2017. 100% Pommard 05. 20% whole cluster, 80% de-stemmed. Native yeast fermentation. Bottled unfined and unfiltered. Aged in 60% new French oak barrels. · Light garnet color in the glass. Wealthy aromas of fresh berries, dark rose petal and baking spices. Gorgeous fruit core with some unresolved oak overlay. Noticeable mid palate intensity and finish with commendable balance. Score: 92
2014 Elke Donnelly Creek Vineyard Anderson Valley Pinot Noir
13.7% alc., pH 3.70, TA 0.61, 196 cases, $N/A. 18th vintage under the "Blue Diamond" family label. 20-year-old vines rooted just outside town of Boonville. 100% de-stemmed, brief cold soak, proprietary Burgundy yeast fermentation, aged 11 months in Francois Frères oak barrels, 35% new. Bottled unfined and unfiltered. · Light garnet color in the glass. The nose presents scents of purple grape, black raspberry and spice. Light to mid weight in style, with an array of purple fruit flavors encased in supportive tannins, and finishing modestly with good polish. Score: 89
2015 Drew Fashauer Vineyards Anderson Valley Pinot Noir
13.4% alc., $50. Anderson Valley and Mendocino Ridge appellation. Clones 115 and 667. Native yeast fermentation, 50% whole cluster, aged in French oak barrels, 30% new. · Moderately light ruby red color in the glass. Shy aromas of cherry, red berry, sous-bois and wooded path. A savory wine with some wildness, offering juicy, mid weight flavors of red fruits. Still young and not full engaged, but loaded with interest. Modest tannins, bright acidity and structured tannins. Score: 93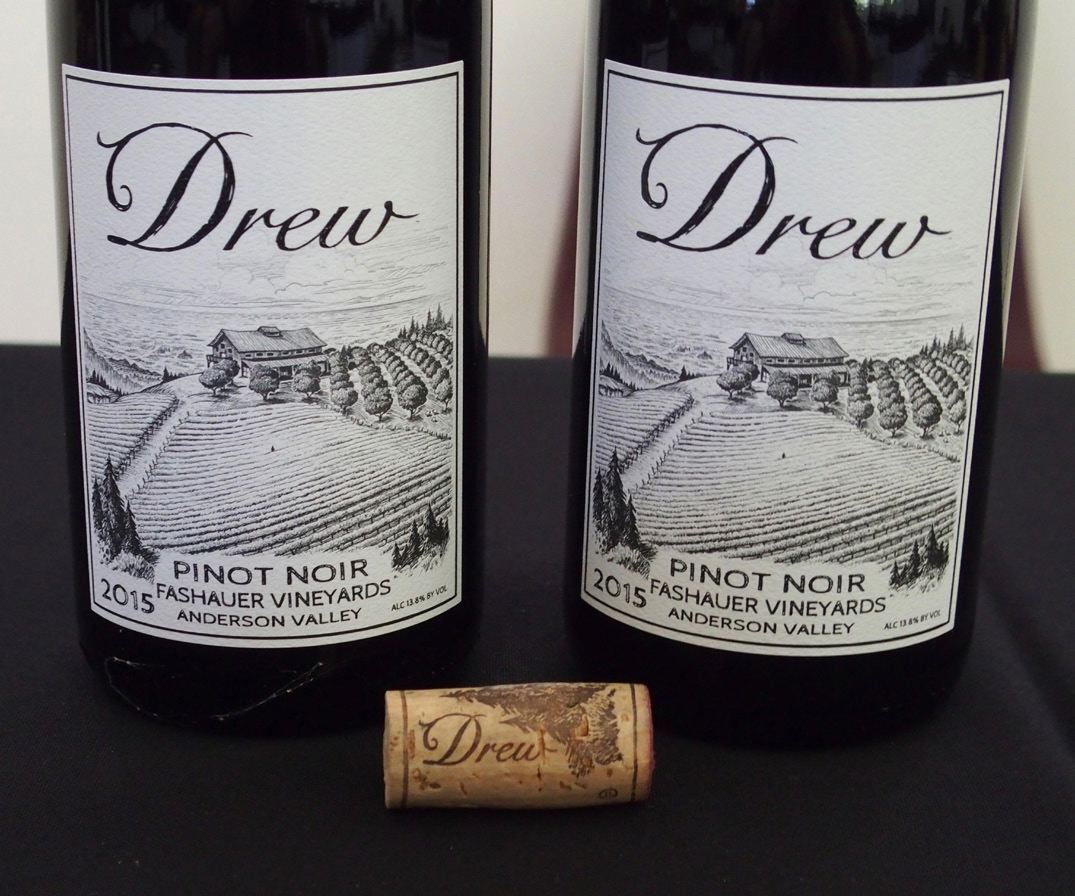 Other wineries participating in the 2017 Anderson Valley Pinot Noir Festival Grand Tasting at Goldeneye Winery: Ardzrooni Family Wines, Artevino/Maple Creek Winery, Black Kite Cellars, Brutocao Cellars, Copain Wines, Expression, FEL Wines, Goldeneye, Halcon Vineyards, Husch Vineyards, La Crema, Littorai Wines, Lula Cellars, MacPhail Wines, Maggy Hawk Vineyard, Maryetta Wines, Navarro Vineyards, Pangloss Cellars, Panthea Winery & Vineyard, Roederer Estate, Scharffenberger Cellars, Smith Story Wine Cellars, Twomey Cellars, Williams Selye, WindRacer Wines, Witching Stick and The Withers Winery.