Pinot Briefs —Newsletter 11.6
Gregory V. Jones New Director of Wine Education at Linfield College Gregory V. Jones is known as one of preeminent wine climatologists who focuses his research on how terroir influences wine production. He regularly conducts research for the wine industry in Oregon, was a contributing author to the 2008 Nobel Peace Prize-winning Intergovernmental Panel on Climate Change Report, and has authored many book chapters, reports and articles on wine economics, climate change and climatological assessments of viticultural potential. Jones replaces Ellen Brittan, the founding Director of Wine Education at Linfield. Linfield is the first college in the country to offer an interdisciplinary liberal arts degree in wine studies. It is in the process of developing a wine and sustainable systems major. Benefitting from its location in the heart of Oregon's Willamette Valley, Linfield also offers wine management and wine marketing certificates online, provides a summer wine-industry immersion program, and annually hosts the International Pinot Noir Celebration each summer.
Wine Shipping Update from Tom Wark , Executive Director of NAWR There are still state laws that prevent wine drinkers from receiving wine from out-of-state. 45 states allow wine shipments from out-of-state wineries, but only 14 states allow wine shipments from out-of-state wine stores and retailers.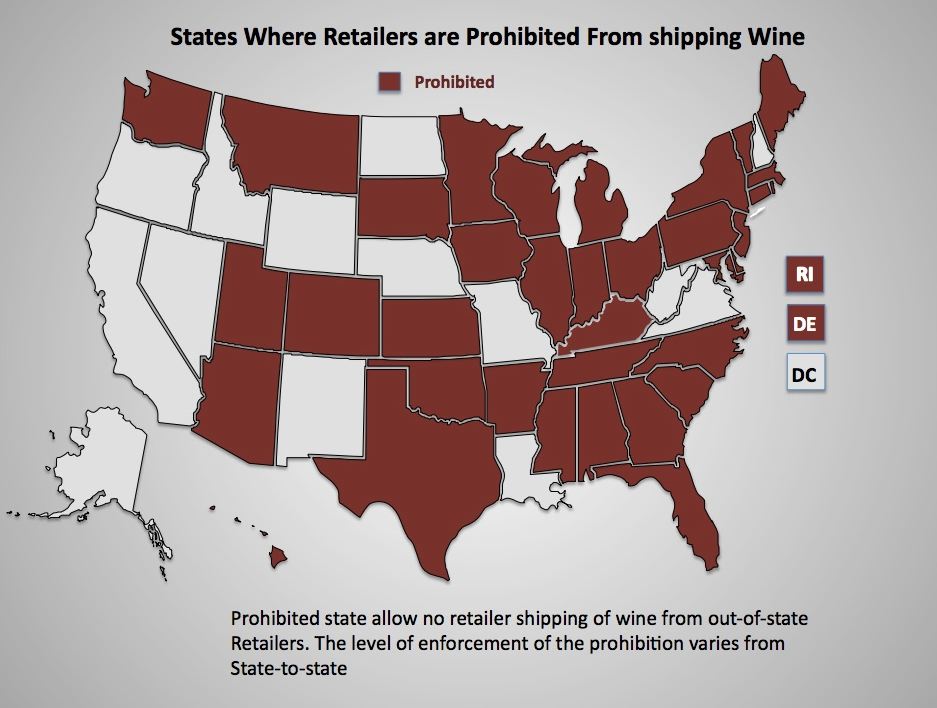 The consequences of bans on retailer-to-consumer wine shipments is that because only retailers are permitted to sell imported wines and when states ban shipments from out-of-state wine retailers, they ban consumers from receiving any shipments of any imported wines. States leave millions of potential tax dollars uncollected by banning shipments from out-of-state retailers. Consumers access to wines is diminished considerably. A website, www.WineFreedom.org, has been established and is supported by the National Association of Wine Retailers (NAWR), consumers and free market advocates. The site provides wine consumers across the US with background on the wine shipping issue and the opportunity to easily contact their state representative and ask for changes to the archaic and protectionist policies that ban consumers and America's specialty wine retailers from doing business legally. A bill is now in legislation in New York that would create a reciprocal law allowing New York consumers to receive shipments of wine from retailers in states that allow shipments of wine from New York retailers. Those living in New York may want to get involved by sending letters to their state representatives.
New Study of Health Benefits of Alcohol The National Institutes of Health is embarking on a $100 million clinical trial to study the risks and benefits of alcohol. The research is being funded by five large alcoholic beverage manufacturers which raises eyebrows among those who point out that industry-sponsored research almost always sheds a favorable light on the research outcome for the sponsors.
New Book on Grape Health Benefits This review of the current science linking the consumption of grapes to better health is titled, Grapes and Health: A Monograph. The book is directed at health and science professionals and discusses peer-reviewed grape-specific research. It is not a book on grape-based alcoholic beverages per se.