2017 IPNC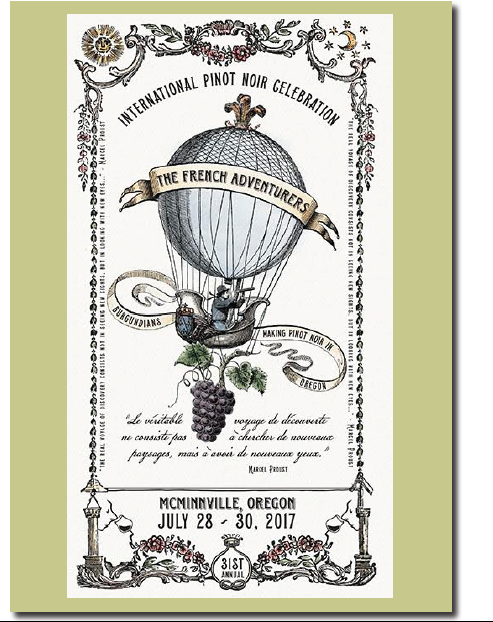 There are already approximately 830 registered attendees for the 2017 IPNC weekend, including 140 representatives from the 72 featured wineries. A few Full IPNC Weekend tickets are still available.
Held on the beautiful campus of Linfield College in McMinnville, Oregon, the IPNC offers Full Weekend guests three days of tastings, seminars, vineyard tours and gourmet meals. Pinotphiles revel in this joyous, ultimate Pinot Noir lover's event featuring plenty of Pinot Noir and unpretentious camaraderie.
The 2017 IPNC Full Weekend Ticket includes: 2 Grand Outdoor Tastings, Numerous Weekend Seminars, Friday Night Grand Dinner and Saturday Night Salmon Bake, A Vineyard Tour and Winery Lunch, An afternoon University of Pinot Course, An Array of Wine Related Activities and Small Format Tastings, Friday and Saturday breakfast on the patio, Sunday Sparkling Brunch Finale, and the opportunity to celebrate with renowned international Pinot Noir winemakers and sixty Northwest chefs and the chance to taste over 250 Pinot Noirs.
The 72 Pinot Noir producers hail from Alsace, Burgundy, California, Canada, Champagne, Italy, New Zealand and Oregon. Here is a list of this year's participating featured wineries: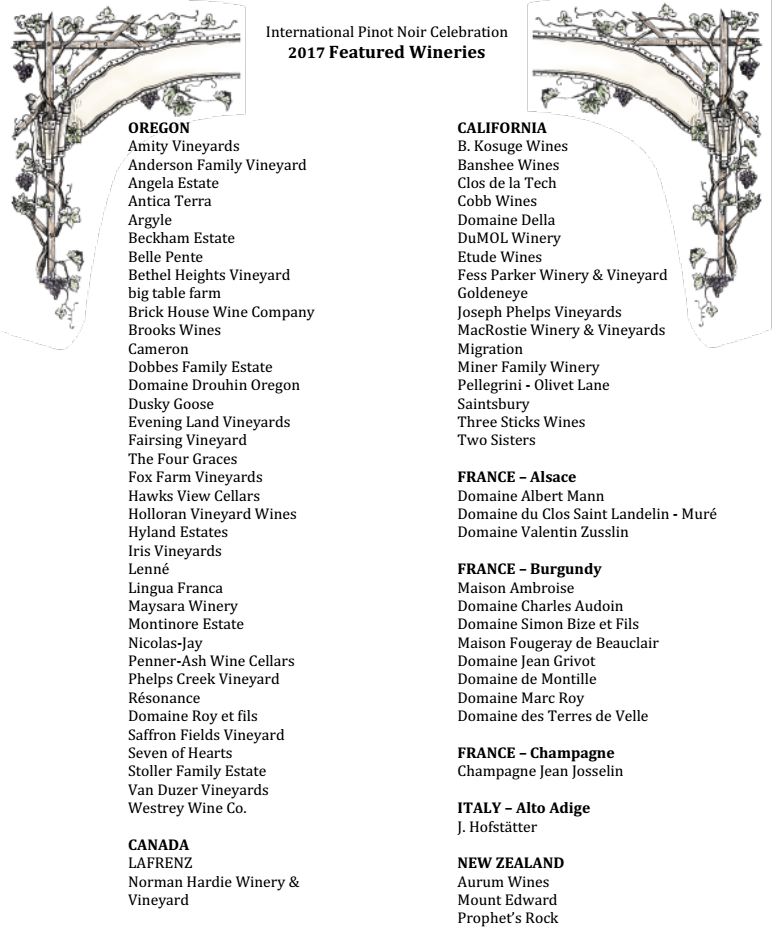 Allen Meadows of Burghound.com will be the Master of Ceremonies. The Grand Seminar will be moderated by Eric Asimov of The New York Times, featuring Oregon wines made by visionary French winemakers Véronique Boss-Drouhin, Dominque Lafon, Jacques Lardière, Jean-Nicolas Méo, and Alexandrine Roy.
James Beard Award winner and Portland food legend, Vitaly Paley of Headwaters at the Heathman Hotel will prepare the main course for the Grand Dinner. 2017 James Beard Foundation Best Chef Northwest winners Greg Denton and Gabrielle Quiñónez-Denton of Superbite and Ox are preparing bites and disches for this year's guests.
The University of Pinot course offerings can be viewed at www.ipnc.org/university-of-pinot-2017/.
To register as a guest for the 2017 IPNC Full Weekend, visit www.ipnc.org. Non-refundable tickets are now $1,295.00. For questions, call 800-775-4762.