California Spring Releases of Pinot Noir to Covet
Asuncion Ridge Vineyards, Paso Robles, CA
The winery's 7-acre estate vineyard is located at the southern end of the Santa Lucia Highlands mountain range, at 2,000 feet elevation, a few miles from Paso Robles. Proprietors Philip Krumal and Michael Dilsaver work with winemaker Marc Goldberg and with the inspiration of Yvonne Rich. Visit www.asuncionridge.com.
2014 Asuncion Ridge Vineyards San Louis Obispo County Pinot Noir
13.2% alc., 146 cases, $45. Grown, produced and bottled by Asuncion Ridge Vineyards, Paso Robles, CA.. Dijon clones 115, 667 and 777, and Pommard 4 and 5, and HRM (Hoffman Mountain Ranch). · Moderately dark garnet color in the glass. Ripe fruit aromas of dusty black cherry and blackberry embellished with toasty oak. Soft, smooth and lush on the palate, featuring a middleweight core of spiced black fruits lifted by well-behaved acidity and supported by structured tannins. The finish is generous, although some oak char and tannin infuse the finish. Score: 88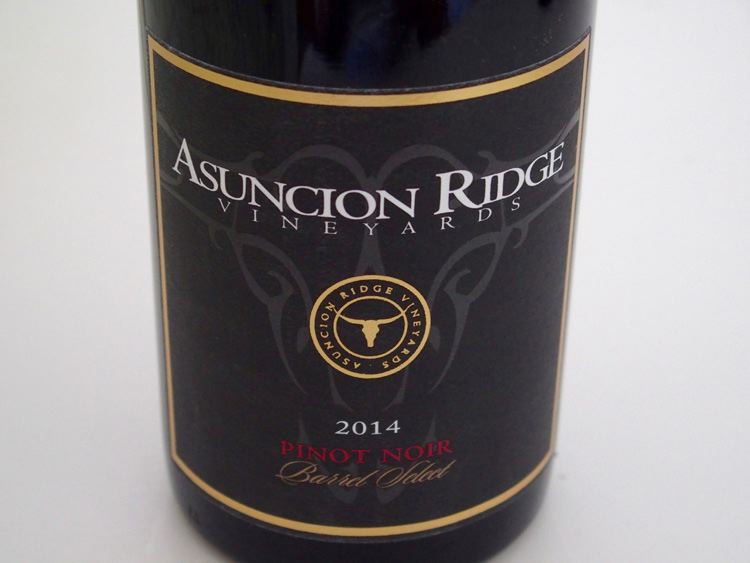 2014 Asuncion Ridge Vineyards Barrel Select San Louis Obispo County Pinot Noir
13.6% alc., 81 cases, $65. Grown, produced and bottled by Asuncion Ridge Vineyards, Paso Robles, CA.. 50% free run juice from Estate Vineyard. Clones 115, 667, 777, Pommard 4 and 5, and HRM blended together. · Moderately dark garnet color in the glass. Shy, but pleasing perfume of blackberry with added notes of piney oak, earth and vanilla. Rather bombastic and broad in the mouth with good attack, length and finishing persistence. Very like able, with balanced tannins and good juiciness. Even better when sampled the following day from a previously opened and re-corked bottle. Score: 91
Beresini Vineyards, Napa, CA
Beresini Vineyards (Black Dog Ranch) is a small family-owned producer of Pinot Noir in Napa Carneros. About 200 cases are produced each vintage. Both Chardonnay and Pinot Noir are grown on the property. The property is named after a Black Labrador, Vito Beresini, whose predecessors Chester and Luca watched over the vineyard before Vito.
Steve Beresini began his wine career managing vineyards in Napa County, later starting at Phelps in 1977 as a cellar worker, leaving in 1981 to become assistant winemaker at Niebaum Coppola. In 1983, he became the head winemaker at Niebaum Coppola under the tutelage of Andre Tchelistcheff. He departed Coppola in 1991 to work as cellar master at Grgich Hills for 10 years, and from 2001 through 2005 worked at Garvey Vineyard Management handling vineyard operations.
In 1988, Steve planted four acres of Chardonnay and two acres of Pinot Noir on his property in Carneros. In 2010, he leased an adjoining Pinot Noir vineyard that he also manages. The grapes were sold for the first 16 years to MacRostie Winery with some Chardonnay going to Staglin Family Vineyards. The Chardonnay grapes were sold to TOR from 2010 to 2015 and currently to Kenward Family Wines. A little over one acre of the Pinot Noir grapes were sold to Stomping Girl Winery through 2014. As of 2015, the three acres of Pinot Noir grapes now planted are used exclusively for the Beresini Pinot Noir.
The Beresini Pinot Noir is distributed to several fine restaurants in Napa, Sacramento and Walnut Creek and sold on the website at www.beresinivineyards.com.
2013 Beresini Black Dog Ranch Carneros Pinot Noir
14.8% alc., pH 3.61, TA 0.559, 194 cases, $45. Grown, produced and bottled by Beresini Vineyards, Napa, Ca.. 81% Swan selection (27-year-old vines) and 19% Calera selection (14-year-old vines). Harvest Brix 25.2º. Aged 11 months in French oak barrels, 25% new. · Moderately light garnet color in the glass. Aromas of well-ripened fruit include blackberry liquor, blackest cherry and Hoison sauce. Tiptoes to the edge of ripeness without crossing the line, offering luscious flavors of black cherry, blackberry and spice with attendant toasty oak in the background. There is a proper balance of acidity and tannin to accommodate the fruit load. The mouthfeel is smooth and the well-fruited finish satisfies. Score: 91
Dierberg , Santa Ynez, CA
The Dierberg family has owned the historically significant Hermannhof Vineyards in Missouri since 1974. After a decade searching for the perfect spot to establish a wine estate that could grow classic varieties, they chose Santa Barbaras Happy Canyon region in 1996. Under the Dierberg label, they also grow Chardonnay and Pinot Noir in the Santa Maria Valley and Sta. Rita Hills AVAs.
The Dierbergs acquired their first cool climate vineyard in 1996, located at the western edge of the Santa Maria Valley AVA just 13 miles from the Pacific Ocean. Dierberg Vineyard is a 160-acre property planted to 12 heritage clones of Pinot Noir and Wente selections of Chardonnay. In 2003, the Drum Canyon Vineyard in the Sta. Rita Hills was planted to 70 acres of Chardonnay and Pinot Noir grapes.
The wines from the Dierberg properties have never been highly touted until winemaker Tyler Thomas joined Dierberg in 2013. Tyler has a master's degree in Viticulture and Enology from University of California at Davis, and previously worked at North Coast wineries Donelan Family Wines and Hyde de Villaine. His affinity for the Central Coast began long before joining Dierberg and Star Lane Vineyards. His first full-time harvest internship was at Fiddlehead Cellars in Lompoc in 2003, but his choice to return came only after several meetings with the Dierberg family.
I recently met with Tyler over dinner and tasted some of his current releases. It was an opportunity to learn of his philosophy. Tyler told me, "I believe the world's great wines have three things in common: they are connected to a specific estate, they have a long term consistency, and they transcend their generation. I see this potential at Dierberg Vineyards."
Tyler has access to two precision-farmed vineyards, access to top viticulture talent, and the use of a 26,000- square-foot winery. He muses, "Pinot Noir and Chardonnay are two varieties that can express themselves across two different climate sites in Santa Barbara County. We are striving to do every thing we can to make each wine more and more special."
Tyler is a firm believer in making vineyard-focused wines, with minimal signs of winemaking technique. He has a strong anti-house style approach, choosing to pursue wines with a sense of freshness rather than targeting an ideal fruit, alcohol or acid profile.
Once Tyler was on board, I immediately noticed a trend away from density and rusticity to an increase in balance, vibrancy and enjoyability of the Dierberg Vineyard Pinot Noirs and Chardonnays. Honestly, these wines are now stunning. Dierberg Vineyard produces a Chardonnay, Pinot Noir and Syrah from the Dierberg Vineyard as well as Chardonnay and Pinot Noir from Drum Canyon Vineyard. The wines are distributed nationally in 40+ states and are available from the tasting room in the Sta. Rita Hills. The Three Saints value label is being discontinued. Visit www.dierbergvineyard.com.
The 2014 Pinot Noirs are refined and flavorful with perfumed aromatics and supple textures. Stem inclusion was increased in 2014 to add textural refinement and improve age ability. The following wines were tasted with Tyler and then re-tasted the following day.
2014 Dierberg Dierberg Vineyard Santa Maria Valley Pinot Noir
13.7% alc., $44. Aged 14 months in French oak barrels, 20% new. · Moderate garnet color in the glass. Lovely nose, offering aromas of black cherry, spice, mushroom, fertile earth and subtle oak. Very charming, with mid weight flavors of blueberry and black cherry that assume intensity over time in the glass. Supportive tannins with toasty oak in the background. Score: 92
2014 Dierberg Drum Canyon Vineyard Sta. Rita Hills Pinot Noir
13.7% alc., $52. Aged 14 months in French oak barrels, 20% new. · Moderately dark garnet color in the glass. Effusive aromas of black cherry and spice. Broad in the mouth with mid weight plus assortment of dark red and black stone fruit and berry flavors. Well-structured, with a good acid spine, admirable vibrancy, welcome integration of oak, and a lingering black cherry finish. Score: 93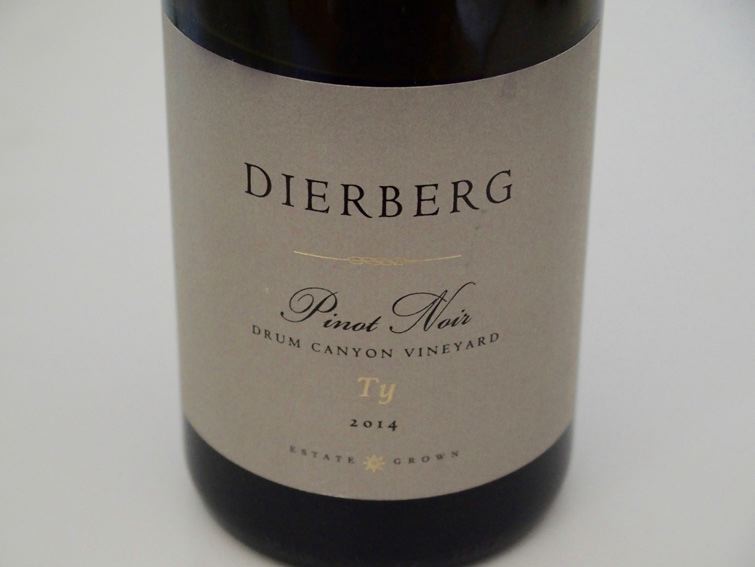 2014 Dierberg Drum Canyon Vineyard Ty Sta. Rita Hills Pinot Noir
13.8% alc., 62 cases, $95. This wine is made from a special block of clone 667 which showed more fullness and complexity in the barrel. This block is located in rockier soils and a perfect slope. Named after Jim and Mary Dierberg's grandson, this wine is the pinnacle of the Drum Canyon Vineyard. Fermented with some stem inclusion. Aged 14 months in French oak barrels, 60% new. · Moderate garnet color in the glass. An array of dark fruit aromas are complimented with notes of warm spices and a bit of oak-driven notes of anise and tobacco. Embraceable core of dark cherry fruit with floral and brioche accents. Soft in the mouth, with a very long black cherry imbued finish. A big but not cumbersome wine that will need more cellaring for full oak integration. Score: 94
Clos De La Tech, La Honda, CA
This winery is a very ambitious project established in 1994 by TJ Rodgers, founder and retired CEO of Cypress Semiconductor, and his spouse, Valeta. The vineyards are exposed to extreme growing conditions and highaltitude terrain. The significant highlights of Clos de la Tech are meticulous vine-by-vine farming, high-density planting (4,150 vines per acre), low yields, and innovative viticulture equipment (the vineyards are so steep they have to be farmed with a specially-designed tractor moved by cables. Vinification is done in an underground, gravity-flow winery, employing whole cluster fermentations with native yeast, extended cold soaks, foot crushing, malolactic fermentation on the lees, gravity transfer, and no filtration of the wines. Barrel aging is carried out in caves tunneled deep into a ridge. The five wines produced are aged in Francois Frères barrels with a significant percentage of new oak.
The Pinot Noirs come from three estate vineyards: Domaine du Docteur Rodgers, Domaine Valeta and Domaine Lois Louise. 2012 was the first vintage produced entirely at the new, underground winery. The wines have received considerable praise and high praise from the wine press, and the winery is one of the featured ones at this year's International Pinot Noir Celebration. Uniquely, each bottle other than the Santa Cruz Mountains Estates blend features a chip on the neck of the bottle. The chip is code named Juno, designed by Cypress Conductor's design center in Japan.
These wines will appeal to a segment of pinotphiles who understand the style. The wines certainly will be liked by those who relish seductively ripe, lush fruit and substantial structure. I found them a challenge to taste due to the tannins. The wines have a gorgeous fruit core, but lack charm and elegance. They can be likened to a slightly tough steak - flavorful but tough to chew. Normally a high percentage of whole cluster adds aromatic and textural interest to the wines, but I did not find those characteristics in these Pinot Noirs. The high levels of tannins are still present nearly five years after harvest, suggesting the wines may never be in balance. I tasted the wines a day after opening and four days after opening and found no significant change in perceived tannins.
The wines are sold through a mailing list at www.closdelatech.com.
Domaine Della, Santa Rosa, CA
The wines are produced and bottled by Domaine Della Dale, Santa Rosa, CA.. The website is www.domainedella.com.
Winemaker David W. Hejl joined his sister and brother-in-law, Lee and Ernie LeRoy to found this winery in 2010. The name, Domaine Della, honors their mother, Della Winifred Dale. Heijl spent time at Kosta Browne Winery and you see that influence in the style of the wines.
Fogline Vineyards, Fulton, CA
All wines reviewed here were produced and bottled by Fogline Vineyards, Fulton, CA.
Hirsch Vineyards, Cazedero, CA
All wines reviewed here were grown, produced and bottled by Hirsch Vineyards, Cazedero, CA.. The wines show the imprint of noted winemaker Ross Cobb. Several of these wines need time to rouse themselves.
Kanzler Family Vineyards, Sebastopol, CA
Kanzler Family Vineyards was established in 1996 in the Sebastopol Hills sub region of the Russian River Valley at the site of a former apple orchard. The first harvest from the 14.5-acre vineyard was 2000 and early on grapes were sold to Landmark Vineyards, Flowers Vineyards 7 Winery, Gary Farrell Vineyards & Winery, Kosta Browne, Rhys Vineyards and CL Wines. Currently, they hold back more of the grapes for their own label, but still sell to Kosta Browne, Lynmar and Rivers-Marie.
The Kanzler family leases the Walker Station Vineyard, 3.2 acres of Pinot Noir and Chardonnay located in a cool area southwest of Forestville.
Alex Kanzler was 10-years-old when the vineyard was first planted. He followed a winemaking career ofter college in New Zealand, Oregon and back to Sonoma County. He assisted with winemaking at Kanzler beginning in 2011, and became the head winemaker in 2014.
A Rose and Chardonnay were introduced with the 2016 and 2015 vintages respectively. Current production is 3,500 to 5,000 cases.
All wines reviewed here were produced and bottled by Kanzler Family Vineyards, Sebastopol, CA.. Kanzler Vineyards was recently featured in the PinotFile: www.princeofpinot.com/article/1954/. The wines are sold primarily through a mailing list.
Lucienne, Soledad, CA
Lucienne is a winery within a winery - an estate producer of Pinot Noir and Chardonnay within Hahn Estates. Owned by Nicholas Lucien Hahn, this winery is based in a separate facility. The name is from Nicholas Hahn's middle name Lucien, but in the feminine form to honor the mountain range where the winery's vineyards are planted. Santa Lucia was a saint who wore a crown of candles on her head and that crown is depicted on the Lucienne label.
Paul Clifton, who gained his cool climate winemaking stripes at Bernardus Winery and Byington Winery, began at Hahn Estates in 2003 and soon became the Director of Winemaking.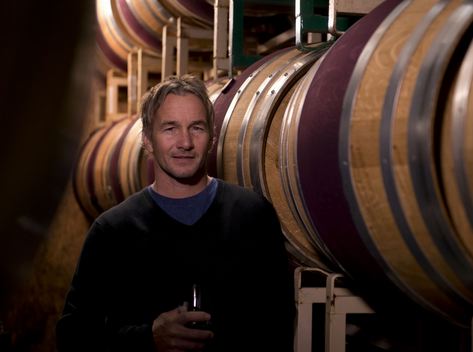 Paul told me the following about the 2015 vintage. "The first three months of 2015 were a mirror of 2014 but towards the end of April below average temperatures remained over the Santa Lucia Highlands region into June. Gusty jet streams caused upwelling of very cold water in Monterey Bay. The wind and cold water impacted the Salinas Valley day and nighttime temperatures. As most vineyards were in bloom during that period, the cooler temperatures caused a lengthy set period. Needless to say, conditions were not ideal. We estimated that Pinot Noir yields were down 25%-30% compared to our 5-year average. The clusters were small with very small berries - just what growers cry about and winemakers rave about."
He continued, "We also experienced Pinot leaf curl and stuck caps, two conditions I have rarely seen. With Pinot leaf curl the growing shoot tips and juvenile leaves were frosted and dried up. These changes were probably weather related. Thankfully, it was isolated to only certain clones on the estate properties and not every vine had it. Stuck caps refer to the cap on the pistil not completely falling off. This doesn't allow the anthers to release and fertilize the berry. The unfertilized berry develops no seed and the berry either falls off (shatter) or remains on as a very small 'shot' berry. The cause is due to moisture that moved through the vineyard at this stage of development. The result is a lighter crop due to shatter."
Harvest in the Santa Lucia Highlands was the earliest the winery had experienced and one of the lightest crops as well. Harvest started in mid-August and finished at the end of September for Pinot Noir and Chardonnay. Pinot Noir yields were 1.4 tons per acre and Chardonnay yields 2.9 tons per acre. Harvest was finished before it normally starts. Paul remarked, "The accountants and growers are cringing at the light crop, but the winemakers and consumers will love it."
The 2015 Lucienne Pinot Noirs show impressive balance, polished textures and the right amount of oak to temper the eager fruit. The wines are still young and with superb balance should develop further over time in bottle (all the wines tasted better hours after opening and the following day). These are the best group of Pinot Noirs I have tasted from Lucienne to date. Visit www.luciennevineyards.com. One Hahn Family Wines Pinot Noir bottling is included here as well. All wines are produced and bottled by Hahn Estates or Lucienne Vineyards, Soledad, CA. from certified sustainable vineyards.
Reichwage Winery, Sebastopol, CA
The Twin Hills Ranch in Sebastopol was established in 1942-1947 by Darrel Hurst who planted mostly Gravenstein apples. The name, "Twin Hills," refers to the two main ridges that run through the Sebastopol Hills sub region, Pleasant Hill and Spring Hill (aka Sexton Hill). During WW II, Twin Hill Ranch supplied dried apples to the troops. In 1998, Darrel Hurst passed away and his son, Ben Hurst, inherited the Twin Hills property. The following year, the first vineyard parcels at Twin Hills were planted to clone 777 and Swan selection Pinot Noir, and the grapes were sold to W.H. Smith Winery of Napa and Chasseur Wines of Sebastopol. In 2005, the expansion of the Russian River Valley AVA south incorporated the Twin Hills Vineyard and the surrounding Sebastopol Hills area into the AVA.
In 2006, the Twin Hills property was divided in half with the southern portion sold to David Bruce Winery in Los Gatos. An additional 4 acres of clone '828" were planted by Arturo Robledo. Ben Hurst sold the Twin Hills property to the Palk family of Sebastopol in 2010. In 2014, the Reichwage family acquired the Twin Hills property from the Palks. At the time of purchase, the property had dilapidated buildings and serious amounts of junk scattered about. Beneath the clutter, Max saw a hilltop property with ideal soils for grape growing and untapped potential.
Max has farmed the orchards and vineyards with organic materials only. The 8 acres of apple orchards were USDA certified organic in 2016 and the vineyards will likely be certified soon as well.
The property is now 20 acres, with 5 acres of established, dry-farmed Pinot Noir plantings and 4 acres of newer 2015 plantings including four clones of heirloom Pinot Noir and a .25 acre of Gamay Noir.
The vines are planted in Goldridge sandy loam at an elevation of 350-400 feet. Only 9 miles from the Pacific Ocean, the chilly microclimate is influenced by maritime cold air and fog.
Max Reichwage established the Reichwage Winery in 2014. The three wines reviewed here are Reichwage Winery's inaugural releases from the Twin Hills Vineyard. Visit www.reichwage.com to purchase wine.

2016 Reichwage Winery Sonoma Coast Rosé of Pinot Noir
13.5% alc., $24. After foot stomping, the grapes were whole cluster pressed. The juice was fermented with native yeasts in used French oak barrels and allowed to age on the lees for 6 months. · Light apricot color in the glass. Absolutely wonderful nose offering aromas of nectarine, strawberry, Rainier cherry and melon. Very accommodating, with fresh flavors of white nectarine, apricot, apple and cantaloupe. A bit of tannin adds texture and the lip-smacking finish shows good tenacity. Score: 91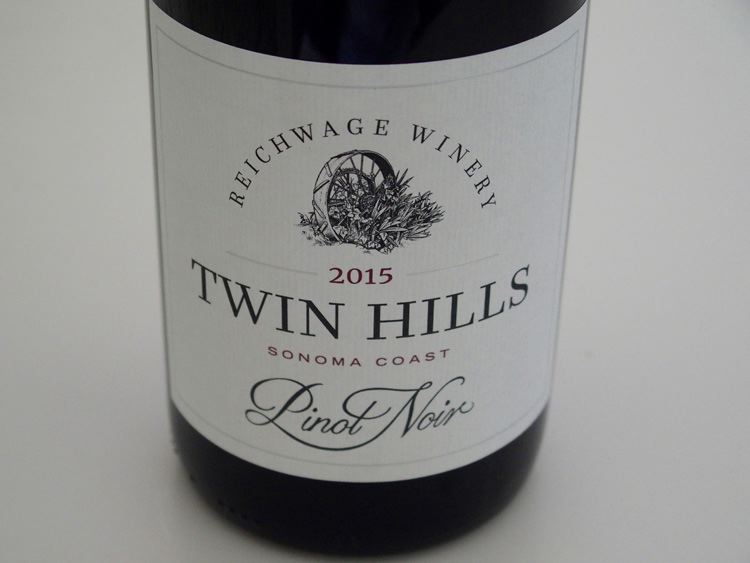 2015 Reichwage Winery Twin Hills Sonoma Coast Pinot Noir
13.6% alc., $48. Produced and bottled by Reichwage Winery, Sebastopol, CA.. Grapes were fermented with native yeasts, 15% whole cluster, aged 18 months in French oak barrels, 12% new. Bottled unfined and unfiltered. · Dark garnet color in the glass. The nose is primary even when sampled from a previously opened bottle the following day. Much more expressive on the palate yet still reserved, with a mid weight plus core of sweet cherry and blackberry fruits that are somewhat sappy. Earthy and savory, with substantial tannins, a spring in its step, and a generous, intenselyfruity finish. This wine needs more time in the bottle to rouse itself. Score: 90-91
Sonoma-Loeb, Sonoma, CA
Chappellet acquired Sonoma-Loeb in 2011, but Chappellet winemaker Phillip Corallo-Titus had made the Sonoma-Loeb wines since 1990. Chappellet's renowned vineyard manager, Dave Pirio, was added to the Sonoma-Loeb team. Phillip and Dave have worked together for more than a quarter of a century. Together, they added new vineyards and vineyard blocks to the winegrowing program and switched many of Sonoma- Loeb's contracts to acreage contracts allowing more control. This allowed the addition of new small-lot wines to the Sonoma-Loeb portfolio.
Phillip made subtle winemaking changes as well, including picking a little earlier to preserve more natural acidity and achieving slightly lower alcohol levels in the wines. He reduced oxidative techniques such as lees stirring and prolonged malolactic fermentation. A new barrel chai was finished in 2013, and barrel fermentations now take place at very low temperatures. Philip says, "We reevaluated everything to see if we could make the wines even more vibrant and delicious and applying the same dedicated focus on quality that had always defined Chappellet.
I believe the Chardonnays have been taken to another level (see the reviews later in this issue). The two Pinot Noir examples reviewed here show very ripe fruit picked at high Brix, with dense fruit extraction, and Visit the winery website at www.sonoma-loeb.com.
2015 Sonoma-Loeb Bateman Vineyard Russian River Valley Pinot Noir
14.1% alc., pH 3.76, TA 0.55, 169 cases, $60. Vineyard is located in Graton in the Green Valley of Russian River Valley AVA. It was planted in 1999 to Dijon 777 and 115 clones in Goldridge soil. Harvest Brix 26,8º. Winemaker is Phillip Corallo-Titus, the winemaker for Sonoma-Loeb and Chappellet since 1990. · Very dark, inky purple color in the glass. The nose lacks aromatic inspiration, offering only a hint of cassis along with oak-driven aromas of dark chocolate and toast. A huge fruit load greets the palate, with a mixed bag of purple and black fruits. Tannins and acidity are in harmony, but the wine lacks nuance and interest. Unchanged when tasted the following day from a previously opened and recorked bottle. Hard to know this is Pinot. May be a good transition wine for ex-Cab drinkers. Score: 88
2015 Sonoma-Loeb Dutton Ranch Russian River Valley Pinot Noir
14.2% alc., 1,430 cases, pH 3.75, TA 0.61, 1,430 cases, $40. Dijon clones 667, 777 and 115. Harvest Brix 25.2º. Wild and inoculated yeast fermentation, cap managed with punch downs and pump overs, and aged 11 months in French oak barrels. · Dark garnet color in the glass. Hard to find descriptors for the nose as there is little find other than a whiff of oak, even when checked the following day from a previously opened bottle. The wine offers a load of purple and black fruits with a green thread in the background. Difficult to be highly complimentary other than the tannins are supportive. The wine lacks a Pinot message. Score: 87
Three Sticks, Sonoma, CA
These 2015 vintage Pinot Noirs and Chardonnays represent winemaker Bob Cabral's first releases (Cabral had a 17-year tenure as winemaker for Williams Selyem before joining Three Sticks). Additional fall releases from estate vineyards include a Gap's Crown Vineyard Chardonnay ($55), a Gap's Crown Vineyard Pinot Noir ($70), a Walala Vineyard Pinot Noir ($70) and the first of the winery's Cuvée series - the 2015 Cuvée Eva Marie Pinot Noir from One Sky Vineyard on Sonoma Mountain ($90). The wines are allocated to a mailing list.
The winery has partnered with El Dorado Kitchen and introduced new food and wine pairing experiences at Three Sticks at The Adobe in downtown Sonoma. A private luncheon ($200 per guest) and small bites pairing experience ($85 per guest) are offered Monday through Saturday for groups of two to eight by reservation. Traditional wine tasting is also offered throughout the week by appointment, starting at $35 per person. Three Sticks at The Adobe is one of Sonoma's oldest and longest occupied residences and remains one of the last standing buildings from California's Mexican Period. Its transformation into the Three Sticks tasting room was directed by noted San Francisco designer Ken Fulk. Visit www.threestickswines.com.
2015 Three Sticks The James Sta. Rita Hills Pinot Noir
14.1% alc., pH 3.49, TA 0.61, 732 cases, $65. Released February 7, 2017. Grapes sourced from Rita's Crown, La Rinconada and Sanford & Benedict vineyards. Martini, 777, "828," and Mt. Eden clones. 25% whole cluster fermentation in open-top fermenters. Aged 11 months in French oak barrels, 55% new. · Moderate garnet color in the glass. Bright aromas of black cherry, black raspberry, fertile earth and spice. Satisfying mid weight flavors of blueberry and pomegranate with a touch of spice and toasted oak. An earthy undertone pervades the background. The mouthfeel is silky and the wine finishes on a spirited cherry note with just a hint of dry oak tannins. Score: 90
2015 Three Sticks Russian River Valley Pinot Noir
14.2% alc., pH 3.53, TA 0.58, 283 cases, $65. Released February 7, 2017. Grapes sourced from vineyards north of Sebastopol. Clones 777 and "828." 22% whole cluster fermentation in open- top fermenters. Aged 11 months in French oak barrels, 50% new. · Moderately dark garnet color in the glass. Aromas of Bing cherry, fruit bin and seasoned oak. The core of purple and black berries and black cherry is modest on the attack but satisfying. The wine is giving all it has but is not assertive. There is noticeable oak overlay that occupies the somewhat lengthy finish. Score: 89
2015 Three Sticks PFV Estate Sonoma Coast Pinot Noir
14.1% alc., pH 3.52, TA 0.60, 658 cases, $65. Released February 7, 2017. 29% whole cluster fermentation in open-top fermenters. Aged 11 months in French oak barrels, 60% new. Swan, 115, 667, 777 and "828" clones. Sourced from vineyards owned and farmed by Three Sticks' owner Bill Price and his farming company Price Family Vineyards. Gap's Crown, Walala, Dupoint and Durell vineyards make up this blend. · Moderately dark garnet color in the glass. Aromas of blackest cherry, underbrush and new oak lead. Well structured, yet offering a gracious character, with mid weight flavors of black raspberry and purple grape. Nicely composed, with an oak thread in the background and some length and grip on the finish. Score: 91
More Pinot Noir
Even More Pinot Noir
Nga Waka, Martinborough, New Zealand
Established at Martinborough in 1988 by founder and winemaker, Roger Parkinson (pictured below), Nga Waka is a family owned winegrower producing small amounts of Martinborough wine from estate grown grapes. The name is from Nga Waka A Kupe (The Canoes of Kupe). There are three hills that lie side by side like upturned canoes form the backdrop for the town of Martinborough. Legend has it that the hills were formed by the three canoes of the Polynesian explorer Kupe that were carried inland by an earthquake and came to rest in the valley behind Martinborough.
The Three Canoes and Three Paddles wines have recently become available in the United States through Canoe Wine Imports, Sebastopol, CA, and are worth seeking out. Visit www.ngawaka.co.nz.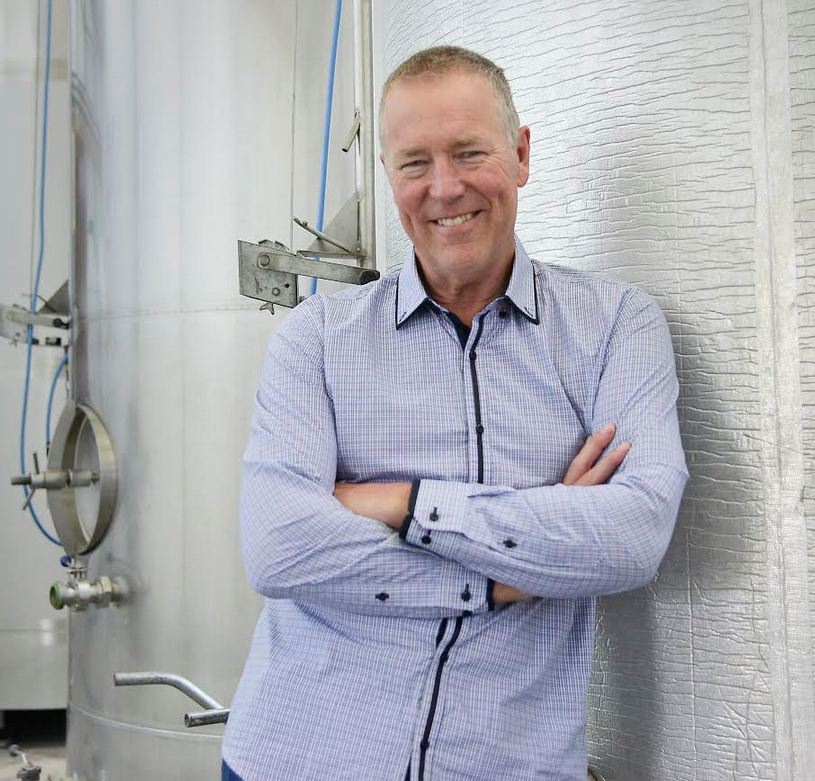 2015 Nga Waka Three Paddles Martinborough New Zealand Pinot Noir
13.5% alc., pH 3.69, TA 0.55, RS < 1 g/L, $20, screwcap. Harvest Brix 23º-25º. 10% whole cluster. Total maceration 24 days. Aged 12 months in French oak barrels, 19% new. Bottled unfined and unfiltered. · Moderate garnet color in the glass. Fruit aromas of black cherry and pomegranate are accompanied by savory notes of undergrowth and tobacco leaf. An easy drinking middleweight wine with good attack and finish, offering flavors of black cherry and blackberry. Charming, with silky tannins and noticeable toasty oak overlay. Score: 89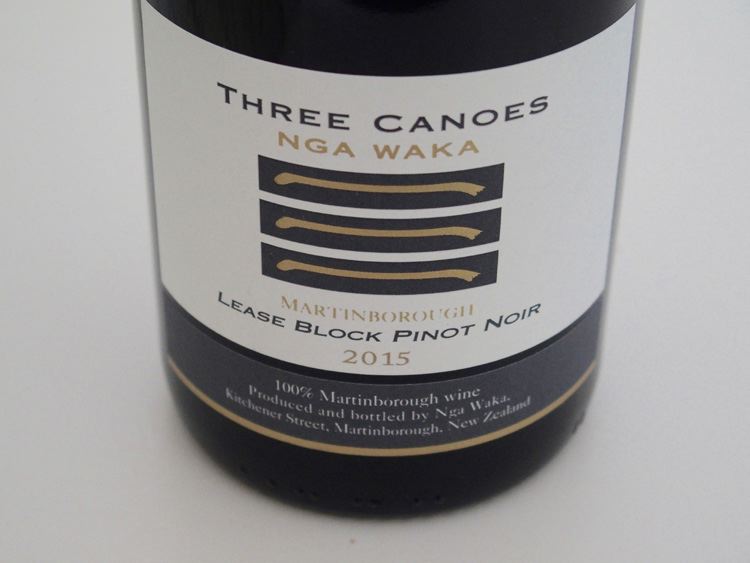 2015 Nga Waka Three Canoes Lease Block Martinborough New Zealand Pinot Noir
14.0% alc., pH 3.57,TA 0.60, RS < 1 g/L, $40. Harvest Brix 25.2º. 10% whole cluster, total maceration 24 days. Aged 12 months in French oak barrels, 28% new. Vineyard planted in 1999 and this wine was sourced from a 1.8-acre block of Pinot Noir. · Moderately dark garnet color in the glass. The aromas of black raspberry, blackberry, fertile earth and clay arrive over time in the glass and become quite enticing. Mid weight plus core of blackberry fruit is accented with notes of spice and ash. Well-structured in the typical Martinborough manner, with a generous finish that urges another sip. The wine picks up interest over time in the glass, and is an age worthy, exceptional offering. Score: 93