In Vino Duplicitas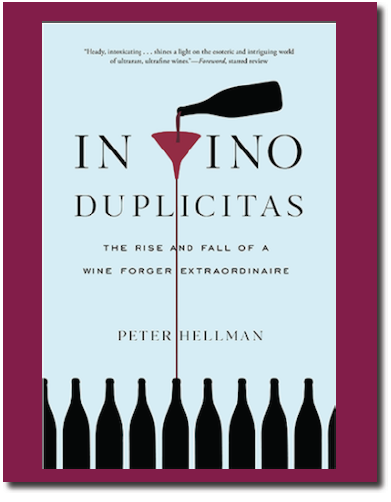 New-York-based journalist Peter Hellman unravels the astonishing story of Rudy Kurniawan, a charming young Indonesian (undocumented) immigrant, who seemed to come out of nowhere to gain entrance to the elite group of wealthy, U.S. wine collectors who gathered often in the early 2000s to drink ultra rare wines. With a seemingly unlimited budget, Kurniawan, who was nicknamed "Dr. Conti," spent millions to acquire extremely coveted and scarce bottles of wine that were his ticket to the rare wine tasting fraternity. However, the reality was that there was a very limited supply of ultra rare wines, so he also created knock-off wines at his home that were clever fakes, sold them through auction or directly to collectors, shared them at dinners, and duped the supposed sophisticated palates of a number of prominent billionaire wine drinkers.
Kurniawan eventually got caught when in 2008 his lots of Domaine Ponsot red burgundy offered in an auction were exposed as fakes by the winemaker, Laurent Ponsot. When this was revealed, Peter Hellman became enthralled with the story and this book offers Hellman's exhaustive investigation of the Kurniawan con story including Kurniawan's takedown by the FBI and the details of his eventual trial and conviction. Kurniawan's victims and their losses included David Doyle ($13.1 million), Brian Devine ($5.3 million), Michael Fascitelli ($3.6 million), Andrew Hobson ($3.1 million) and Bill Koch ($2.1 million).
Although Hellman is able to give many details of how Kurniawan made counterfeits of rare bottles of wine, there remain many questions yet to be answered. Where did his wealth come from? Did he work with one or more accomplices? Hellman was never able to get the full story from Kurniawan himself who has turned down all requests to visit him in prison, or from Kurniawan's mother with whom Rudy Kurniawan lived.
I enjoyed this almost stupefying story on the airplane to and from this year's IPNC in Oregon. It brought back memories I had of reading reports of tastings by John Kapon of the New York wine auction house, Acker Merrall & Condit, in which ungodly numbers of ultra rare Burgundies were opened, fawned over, and consumed at one sitting. I thought at the time this was a stupid waste of great wine. It is now laughable, and I am sure embarrassing to those who attended these tastings because a number of these bottles were probably Kurniawan's forgeries.