Oregon Pinot Briefs —Newsletter 11.9
Oregon Pinot Noir Oregon National Sales Rising Significantly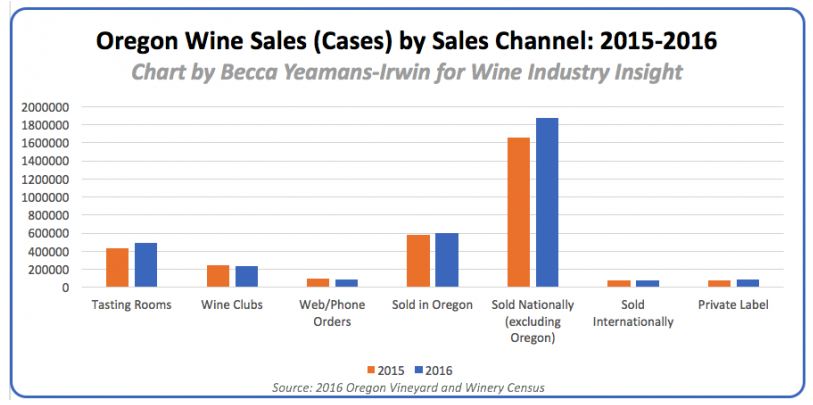 Oregon wines have made inroads into international sales as well with wines being picked by the UK wholesaler and importer ABS. Oregon's biggest international market is Canada
Oregon Vineyard & Winery Census Report Optimistic The Oregon Wine Board released its Winery Census Report on August 29, 2017. Case sales have increased by 10% and sales revenue is up 12%. 2016 ended with $529 million in sales. The number of wineries increased by more than 3% from 702 to 725 in 206. Planted acreage increased from 28,034 in 2015 to 30,435 in 2016, an upturn of more than 8%. Pinot Noir still accounts for the largest planted acreage at 64%. There was a 7% increase in direct-to-consumer sales, with much of this rise do the premium wines. Oregon wines priced at $20-$25 a bottle rose $60.3% according to national retail scanner data. Tasting room sales accounted for most consumer sales, with a 63,536 increase in case sales in 2016 over 2015. The complete census report is available on the Oregon Wine Board website at www.industry.oregonwine.org.
Oregon Wineries For Sale There are a number of wineries for sale in the Willamette Valley and Southern Oregon. In Southern Oregon, you can have your own winery for $6.6 to $10 million with Red Lily Vineyards, Troon Vineyard, Agate Ridge Vineyard, and EdenVale Winery for sale in that price range. In the Willamette Valley, Ankeny and Eola Springs vineyards are for sale as is Elven Glade Winery in Gaston. This summer, Vintage Wine Estates purchased the Firesteed Cellars wine brand and Pacific Rim Winemakers, a branch of Banfi Wines, bought Firesteed's winemaking facility and surrounding Flynn Vineyard. There are a number of confidential listings currently in Oregon as well. When I was at this year's IPNC, I rode on a bus with Peter Bouman, Oregon's most well known Oregon vineyard property broker. He told me a number of wineries were for sale because the owners wanted to retire and their offspring did not want to take over the business. Peter brokered the sale of Beran Vineyard and Winery (now Ruby that I visited and described in this issue). You can contact Peter at 503-625-3000 or visit his website at www.oregonvineyardproperty.com. Read Peter's blog including one entry that reveals the impressions of Oregon's earliest settlers: www.oregonvineyardproperty.com/oregon-wine-country-c1839/.
New Winemaking Projects at The Carlton Winemakers Studio Many pioneering Oregon winemakers such as Eric Hamacher and Lynn Penner-Ash began their career at The Carlton Winemakers Studio in Carlton, Oregon. With the 2017 harvest, new winemaking tenants are entering "The Studio," including 00 Wines, Native and WildAire. 00 Wines is owned by Portland attorney Chris Hermann. He is working with consultant Pierre Millemann of Burgundy and is bringing new techniques to the cellar such as removal of berries from clusters by hand and the use of traditional fermentation vessels such as amphora. Dominique Lafon's daughter, Lea, is one of the winemakers producing Chardonnay and Pinot Noir. Alex Marchesini, one of the founders of the Portland bar and wine shop, Thelonious Wines, is the proprietor and managing director of the new brand Native. Native will feature a number of different offbeat varieties all made with native yeast fermentation including a Pet Nat, Auxerrois Blanc, Dolcetto as well as an un-oaked Pinot Noir. WildAire wines have been enthusiastically reviewed in the PinotFile in the past. Matt and Jean Driscoll founded WildAire in 2005. Most recently, they have produced their wines in a shared facility at Beacon Hill and have now moved into the Studio. They produce Pinot Noir from Yates Conwill and Fairsing vineyards in Yamhill-Carlton and a barrel fermented Chardonnay from Open Claim Vineyard near Dallas. Ehren Jordan, the proprietor and winemaker for Failla Vineyards is in his second year at the Studio. He has brought in three wooden fermenters, a concrete egg and a variety of puncheons for aging. In total, 15 wineries are crafting wines at The Carlton Winemakers Studio for vintage 2017 including Andrew Rich Wines, Asilda, Bachelder, Dukes Family Vineyard, Élevée Winegrowers, Hamacher Wines, Lavinea, Lazy River, Megan Anne Cellars, Merrimen, Quintet Cellars and Wahle Vineyards. The Carlton Winemakers Studio was founded in 2002 by winemakers Eric Hamacher and Luisa Ponzi and Ned and Kristen Lumpkin. It was the Northwest's first alternating proprietorship and first winery built to LEED standards. Tasting of wines made at the Studio is available daily. and wines may be purchased on the Studio website as well. Visit www.winemakersstudio.com.
¡Salud! The Oregon Pinot Noir Auction This event offers first access to the 2016 vintage of Oregon Pinot Noir. 42 of Oregon's most revered vintners will create one-of-a-kind Pinot Noir cuvées to be auctioned on Friday, November 10, 2017, at the Big Board Auction held at Ponzi Vineyards. On Saturday, November 11, 2017, is the Dinner and Auction Gala at Domaine Serene in the Dundee Hills. All proceeds got the the Tuality Health Foundation that provides medical care for Oregon's vineyard and winery workers. Ticket sales are now online at www.saludauction.org.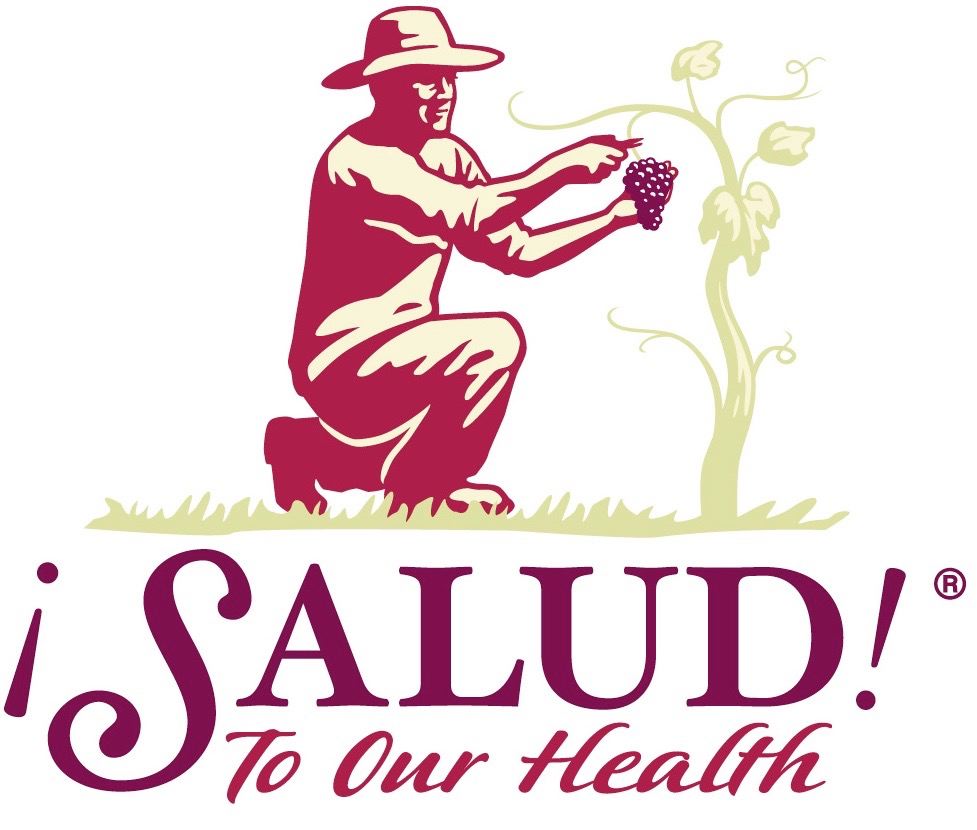 Domaine Serene Opens Clubhouse and Announced the Construction of a White Wine Production Facility In May, proprietors Ken and Grace Evenstad opened the dramatically designed Club House & Tasting Room at Domaine Serene in the Dundee Hills. This venue will offer formal tastings, wine dinners, food and wine pairing experiences, and special events. A new winemaking facility is under construction that will be devoted to Chardonnay, Pinot Noir Blanc and sparkling wines. The scheduled opening is in the spring of 2018 with the sparkling wine program to debut shortly after. Also, this year, Domaine Serene hired a new winemaker, Michael Fay, who previously held that position at Goldeneye in the Anderson Valley. For more information, visit www.domaineserene.com.
Buying Pinot Noir in the Willamette Valley There are plenty of quality wine retailers in Portland, but few in the Willamette Valley. Newberg's Valley Wine Merchants, owned by Andrew Turner, who formerly worked at the Ponzi Wine Bar, offers 200+ Willamette Valley Pinot Noirs as well as 100+ half bottles and a selection of Champagne and Burgundy wines. Visit the website at www.valleywinemerchants.com. Day Camp is a new tasting room at Day Wines' winemaking cooperative in Dundee. The tasting room and retail store, founded by Brianne Day, offers an outlet for wineries making a wide variety of wines, much like The Carlton Winemakers Studio. More than 30 wines from all Day Camp producers are available for sale each day. Visit www.daywines.com.
Vintages Trailer Resort If you are driving in the Willamette Valley and take the route south that bypasses the traffic jam in Dundee, you will see The Vintages Trailer Resort. This lodging option features 18 restore trailers, 9 Shasta reissues, and 4 Airstream Bambi's. Each trailer has comfortable beds, great bath amenities, a pair of bicycles, outdoor furniture, and a barbecue grill. A pool and hot tub are available during the warmer months. The Resort is located adjacent to Willamette Valley Wine Country RV Park at 16205 SE Kreder Road in Dayton. Check it out at www.the-vintages.com.
New Roadside Signs in Eola-Amity Hills AVA Illegible While traveling through the Eola-Amity Hills in late July, I noticed new punched out metal roadside signs that indicated the location of wineries. The problem is that the signs are illegible unless you stop the car and get close to the signs to read them! Here is the sign directing cars to iOTA Cellars and Duke's Family Vineyard. The top image shows the sign from my car. The second image shows a photo I shot when I walked to within 6 feet of sign. Whose idea was this?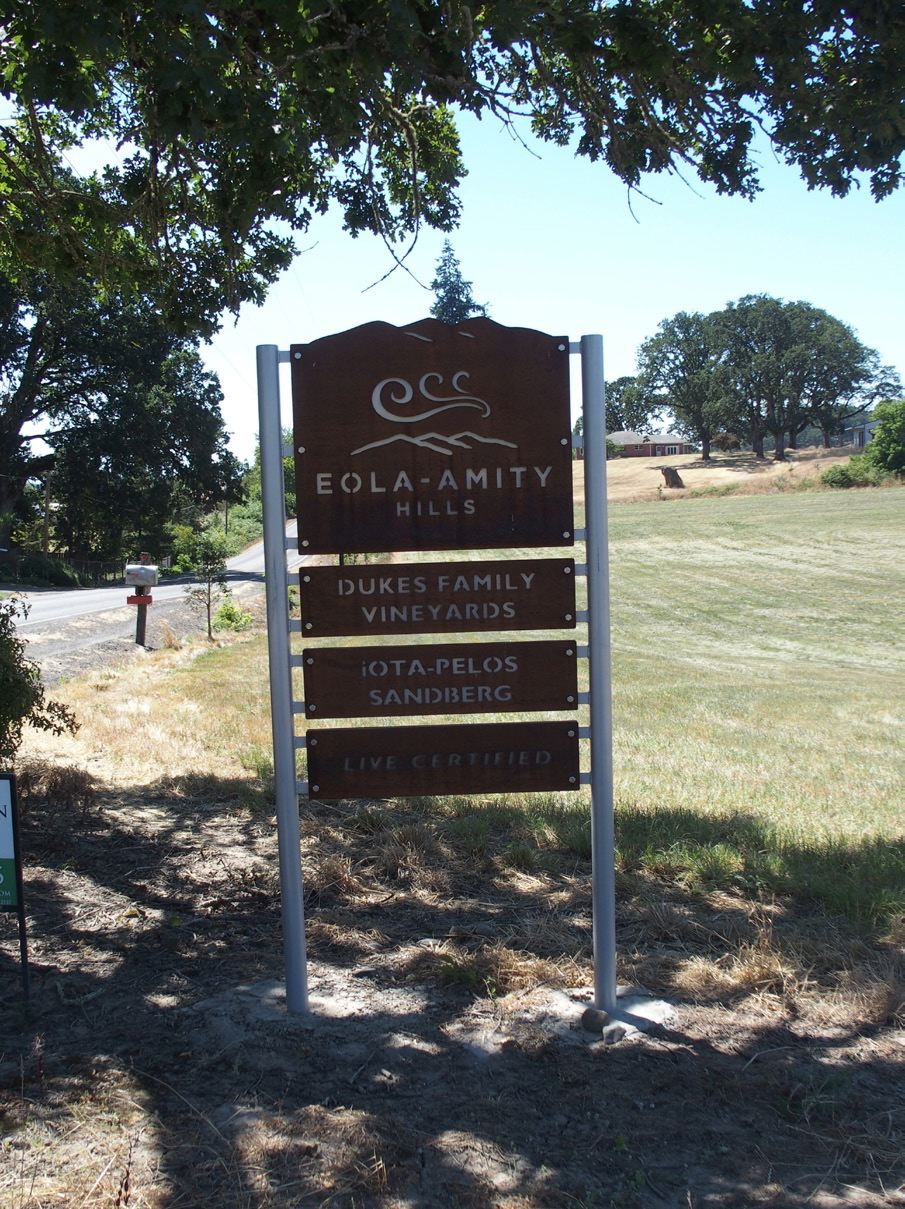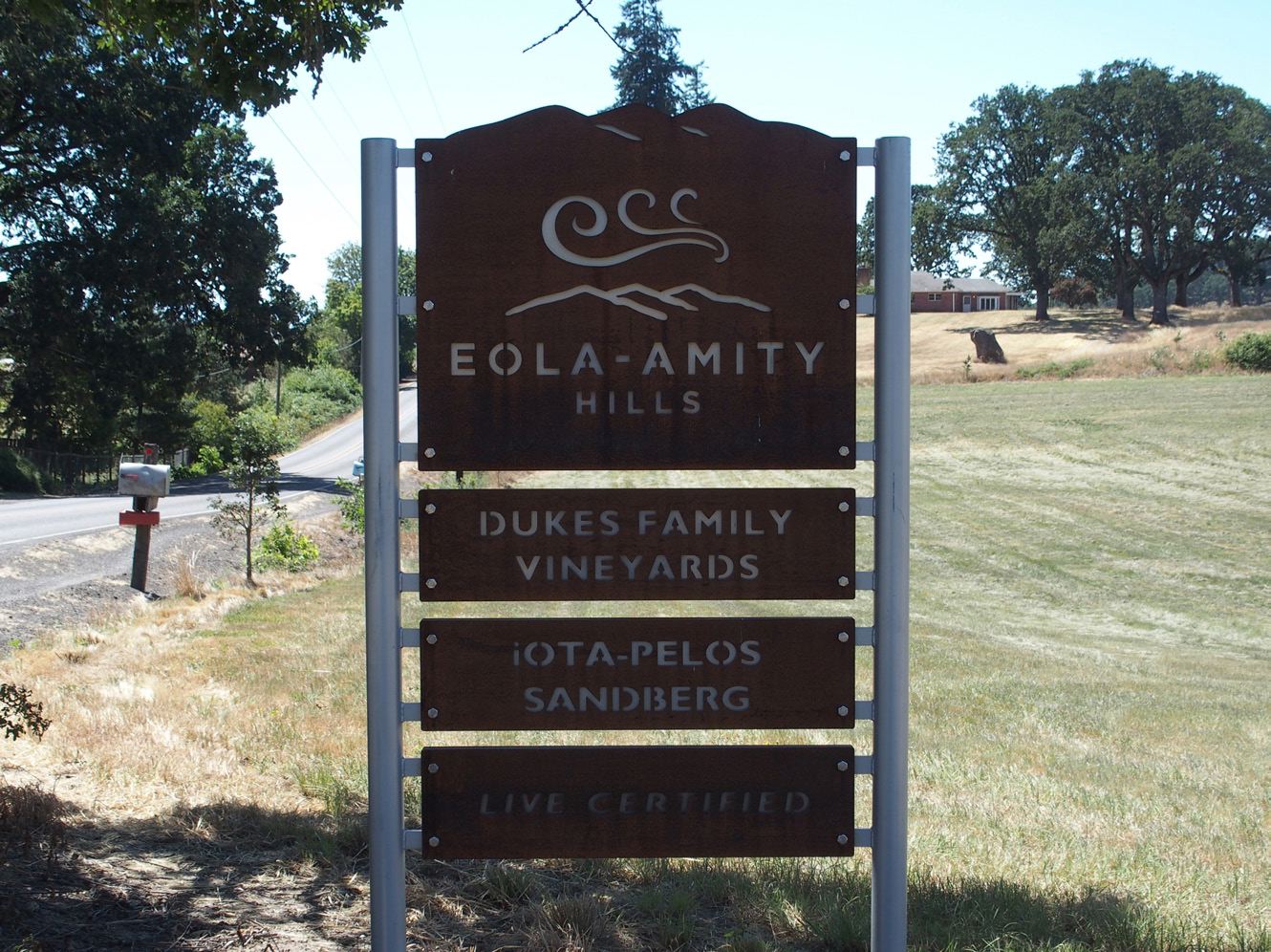 Portland's Chef John Gorham Venturing to Wine Country Co-owner and executive chef of Portland restaurants including Toro Bravo, Tasty n Sons, Tasty n Alder, Plaza Del Toro, is opening a restaurant, Third n Tasty, in The Atticus Hotel in downtown McMinnville. Third n Tasty name plays off the fact that it is both the third restaurant in Gorham's Tasty series and will be just off Third Street in historic downtown McMinnville.The new restaurant will draw global favorites from Tasty n Sons' brunch menu and Tasty n Alder's dinner menu, focusing on cuisines of the great wine regions of the world. An emphasis on Willamette Valley wines will be reflected in the wine list but will also celebrate classic Old World wines from France, Italy and Spain. The restaurant and hotel will open spring 2018. Gorham has two cookbooks published, The Toro Bravo Cookbook: Stories, Recipes. No Bull, and most recently, Hello! My Name is Tasty: Global Diner Favorites from Portland's Tasty Restaurants. For more information, visit www.torobravoinc.com. The Atticus will be a 36-room hotel that will embody the spirit of McMinnville with carefully curated local art, products and furnishing. The hotel is locally owned and operated.