Knudsen Vineyards New Releases
The fourth vintage of Knudsen Vineyards Pinot Noirs includes the 2015 Estate Dundee Hills Willamette Valley Pinot Noir and the 2015 Estate Reserve Dundee Hills Willamette Valley Pinot Noir. Knudsen Vineyards was founded in 1971 and is one of the oldest wineries in Oregon and still Knudsen family owned.
450 cases of the 2015 Estate Pinot Noir were produced in the winery's traditional style blending estate grown fruit from Block 5, planted in 2001, and Block 6, planted in 2004, both clone 777 and Block 3, planted in 2000, clone 667. The wine was released to the public in September. 225 cases of the 2015 Estate Reserve were produced. This wine includes traditional Blocks 5 and 6 and a new vineyard Block 1 planted at a higher elevation in 2006. This wine was produced because of the extraordinary vintage and a blocks of grapes that revealed themselves to be special and distinct. The Estate Reserve will be only offered to mailing list members. To purchase wine, visit www.knudsenvineyards.com.
The family owners came together from across the country in July to blend the 2016 Chardonnay that will be released in spring 2018. Ryan Collins, previously Director of Viticulture at A to Z Winery, became Head Viticulturist at Knudsen Vineyards. Jose Sanchez, who started as a field worker over ten years ago, was promoted to Vineyard Manager at Knudsen Vineyards.
2015 Knudsen Vineyards Estate Dundee Hills Willamette Valley Pinot Noir
14.1% alc., pH 3.62, TA 0.57, 500 cases, $55, screwcap. Clones 777 and 667 planted in Jory soil. Aged 16 months in French oak barrels, 20% new. · Light ruby red color in the glass. A very friendly wine with cozy aromas of red cherry, cranberry and sandalwood. Light to mid weight in style, with a charming core of red fruits with cherry as the centerpiece. Additional accents include baking spices and brioche. Elegantly styled and forward drinking with harmonious tannins and a robust finish that seems to build in generosity over time in the glass. This lovely wine reveals the demure, angelic side of Pinot Noir. Score: 93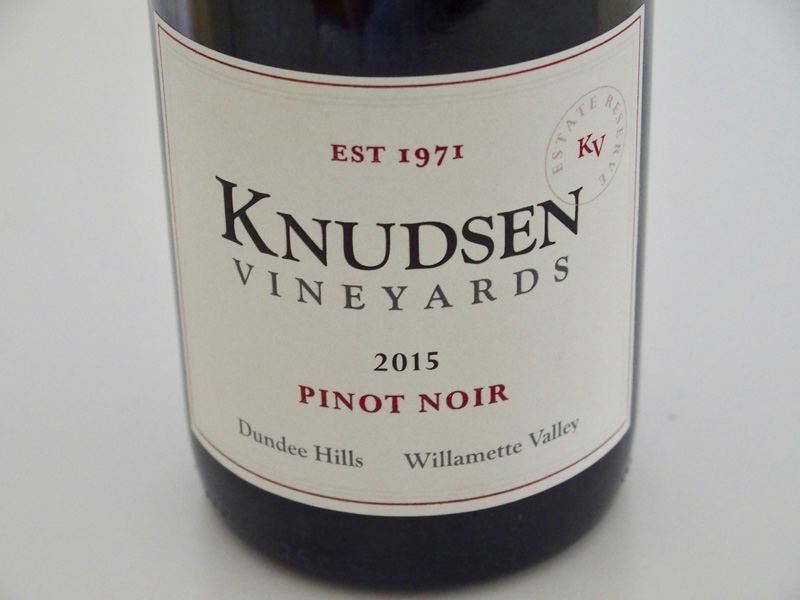 2015 Knudsen Vineyards Estate Reserve Dundee Hills Willamette Valley Pinot Noir
14.1% alc., pH 3.44, TA 0.55, 225 cases, $70, screwcap. Clone 777 planted in Jory soil. Aged 16 months in French oak barrels, 35% new. · Moderately light garnet color in the glass. Welcoming aromas of fresh cherry, spice and rose petal. Upon entry, the wine engages with riveting and luscious black cherry, black raspberry and plum flavors accented with a charming dose of spice. A sophisticated wine that is truly special with impeccable balance, a seamless texture and a grand finish that lingers until the next sip. This collectible wine was even more seductive when tasted the following day from a previously opened and re-corked bottle when my wife and I eagerly polished it off. Score: 96