Pinot Briefs —Newsletter 11.10
33rd Annual WineSong Event Raised More Than $700,000 Mendocino's premier food and wine event on September 8 & 9, 2017, had increased auction sales and more guests than ever participating in auctions. Over $700,000 was raised for the Mendocino Coast District Hospital.
2017 Sonoma County Wine Auction Raised Record-Breaking $5.2 Million This year's event was held on September 16 at La Crema Estate at Saralee's Vineyard. The money raised supports Sonoma County charities focusing on literacy, education, health and human services, the environment, and arts and culture. The top wine-only lot was a six bottle collection of rare large format 2014 Kosta Brown Pinot Noir that sold for $37,000. Photo courtesy of George Rose.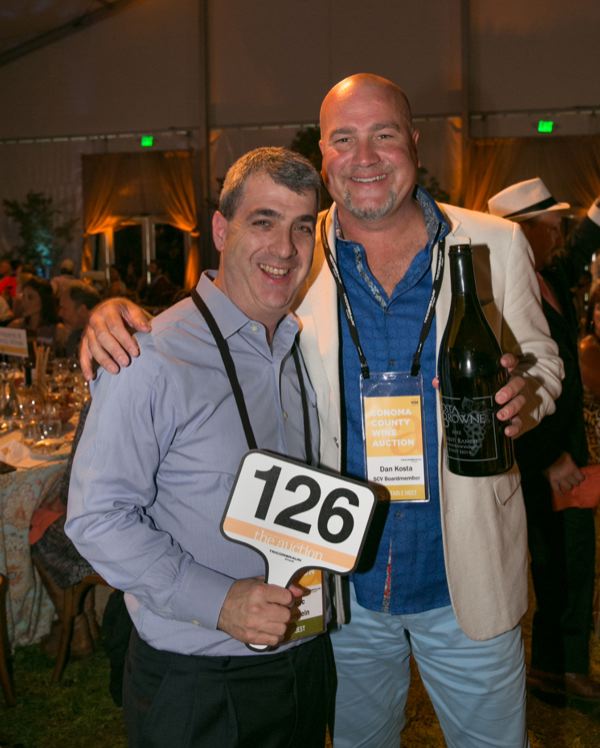 Silver Oak"s Duncan Family Buy Dick Erath's Prince Hill Vineyard in Dundee Hills Wine Spectator reported online on September 14, 2017, that the family behind Silver Oak purchased the 40- acre Prince Hill Vineyard in Oregon's Willamette Valley. The vineyard will be used as a source of grapes for the Twomey label. The vineyard was planted by Oregon pioneer Dick Earth in 1983. Neighboring vineyards include Archery Summit, Bergstrom and Domaine Serene. Erath had previously sold his winery in 2006 to Chateau Ste. Michelle Wine Estates but kept the Prince Hill Vineyard because he had a home on the property. Twomey winemaker Eric Miller joined Twomey in 2014 after working at Evening Land in Oregon and was eager to craft Pinot Noir from Oregon. The first vintage for Twomey from Prince Hill Vineyard will be 2017 but a vineyard designate may not be immediately forthcoming as some revitalization and change in clones in the vineyard is planned.
2017 Garagiste Wine Festival Sixty micro-wineries will be featured at the Garagiste Wine Festival in Paso Robles, November 10-12. A wide variety of wines, styles and regions are included. Founder Doug Minnick said, "Because our winemakers aren't concerned with getting their product onto supermarket shelves, they are free to explore their winemaking passions, which makes for an absolutely unparalleled and exciting range of cutting-edge wines. The three-day festival includes the "Rare and Reserve" event, a Grand Tasting at the Paso Fairgrounds, Tasting Seminars, and the Garagiste Paso Passport day. Some wineries known for Pinot Noir participating include Asuncion Ridge, Camlow Cellars, Cutruzzola Vineyards, RN EState, Ryan cochrane Wines, Silver Wines, Stolo Family Vineyards and Weatherborne. The nonprofit festival raises money for The Garagiste Scholarship at Cal Poly to educate future winemakers. To buy tickets, visit www.californiagaragistes.com/buy-tickets/.
Bacigalupi Releases First Sparkling Wine Bacigalupi Vineyards has announced the release of the Brilliant sparkling wine as a family tribute to Paul Robert Heck, forty years after his passing. Pamela Bacigalupi, winegrower and part owner of Bacigalupi Vineyards and Heck's daughter, is pleased to recognize her Heck family roots. The 2014 Brilliant is an estate grown Methode Champenoise cute of 50% percent Pinot Noir and 50% Chardonnay. Released in an extremely limited production, each bottle retails for $70. Paul Robert Heck was the son of Adolf Ludwig Heck Sr. who emigrated to America from Alsace-Lorraine in the early 1900s. He reopened Cook's Imperial Champagne Cellars after Prohibition. Upon returning from WW II, he joined his father and worked for the American Wine Company. In 1948, Paul and his wife, Anna Marie, moved to Lodi, where Paul worked for Italian Swiss Colony. He later relocated to Healdsburg and oversaw operations at the company's Asti winery. Along with his brother, Adolf Jr., Paul and their families purchased Korbel Champagne Cellars in 1954 and part of Korbel is still owned by Heck descendants. Pam spent her childhood on the Korbel estate. Today, she farms Bacigalupi Vineyards with her husband, John, and negotiates contracts with local grape growers and buyers. Photo of Paul Heck below. Visit www.bacigalupivineyards.com.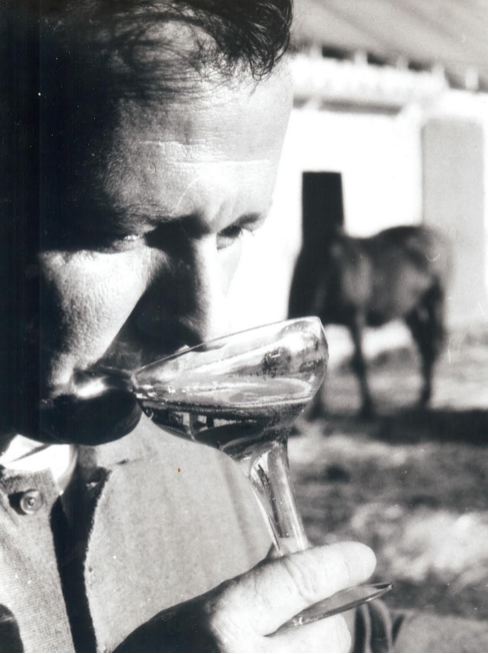 English Pinot Noir Attracting Interest An article online in Decanter by Jane Anson is titled, "Is English Pinot Noir really getting better? Pinot Noir is the second most planted variety in England, accounting for almost one quarter of total plantings. Most English Pinot Noir is used in sparkling wines that account for 70% of all English wines. Global warming, improved vineyard management and cellar practices have all contributed to the success of English still Pinot Noir. The clones that seem to work best are Dijon and a few German clones. The wines are crafted in a lighter, fresher style, similar to an AOC Bourgogne Rouge in quality.
Russian River Valley Wine Experience with Kosta BrowneHotel Healdsburg and Dry Creek Kitchen are offering a food and wine escape. Stay two nights in a guest room at Hotel Healdsburg and enjoy a private tour of the Kosta Browne winemaking facility that is not open to the public. Complete the day with a special tasting menu at Dry Creek Kitchen paired with Kosta Browne wines. The package (starting at $1149 plus taxes and fees) also includes a daily gourmet breakfast and valet parking. Call reservations at 707-922-5256.
Maggy Hawk Releasing 2014 Unforgettable Pinot Noir Allocations are opening soon for Maggy Hawk Unforgettable Pinot Noir, only made in the years when the vineyard block best expresses itself. I gave the wine a rating of 95. To reserve your bottles, call 888-339-7726. There are limited amounts of 2014 Jolie, Afleet, Stormin' and Graceful Lady still available.
8th Edition of North California Fine Wineries Published This hardcover wine country travel book (and ebook for Kindle and iPad) is the top seller on Amazon for "California Winery Books." The latest title: The California Directory of Fine Wineries, 8th Edition (Napa/Sonoma/Mendocino). The new edition includes many notable Pinot Noir producers including Anaba Wines, Donum Estate, Domaine Anderson, Dutton- Goldfield, Gary Farrell Vineyards and Winery, Handley, Hartford Family, Iron Horse Vineyards, Lichen Estate, Papapietro Perry, Patz & Hall and Three Sticks. Each winery is profiled including location, tasting room hours, and winemaker. Photos are by noted photographer Robert Holmes. Can be used as a guide to the Napa, Sonoma and Mendocino wine regions. Easy to find the book on Amazon - www.amzn.to/2wtTszB - or Barnes & Noble, or CostCo.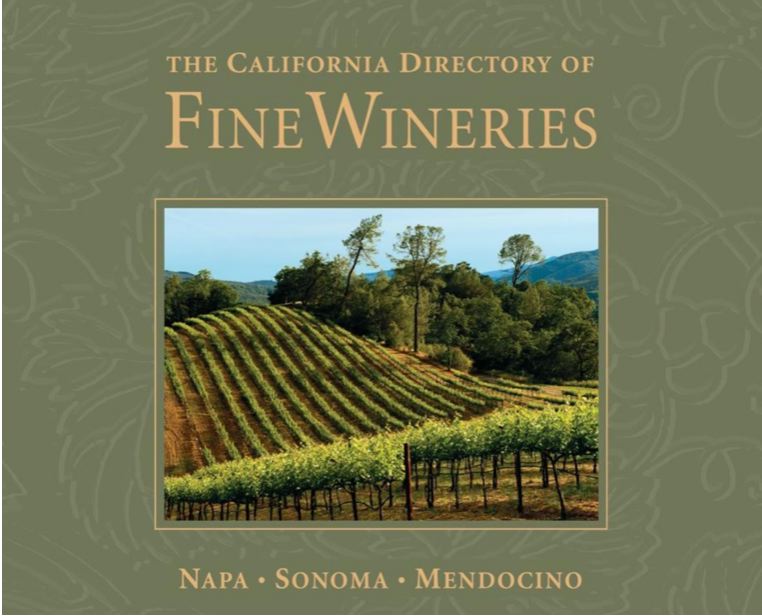 Premium Wine Sales DeceleratingRob McMillan of Silicon Valley Bank reported at www.svbwine.blogspot.com the following. "While premiumization is in full force and the wine business is still growing, today we are at a tipping point: The growth rate in premium wine is decelerating and has been since late 2015. We are at the start of a long term secular market change." One reader responded, "The largest percent of the population was born prior to 1967, over 50 now and history has shown that afterimage 50 individuals spend less each year going forward on stuff. There is roughly another 7-10 years before the millennials have a large enough presence in the prime buying age bracket to stimulate another rally like we saw from 1995-2000."
Important Study of Relationship of Alcohol Consumption to All-cause Cardiovascular, and Cancer-related Mortality The study was published in the Journal of American College of Cardiology recently. 34,754 patients were followed looking at what participants died of in median follow-up of 8.2 years. Compared with lifetime abstainers, those who were light or moderate alcohol consumers were at a reduced risk of mortality for all cases. There was a significantly increased risk of mortality for all causes and cancer in adults with heavy alcohol consumptions. Binge drinking equal to one or more than one day a week was also associated with an increased risk of mortality for all causes. The authors concluded that light and moderate alcohol intake might have a protective effect on all-cause and cardiovascular-specific mortality in U.S. adults. The author's analysis shows a clear J-shaped curve for the relation of alcohol to mortality, with lower total, cardiovascular, and even cancer mortality rates for light and moderate drinkers who do not binge drink.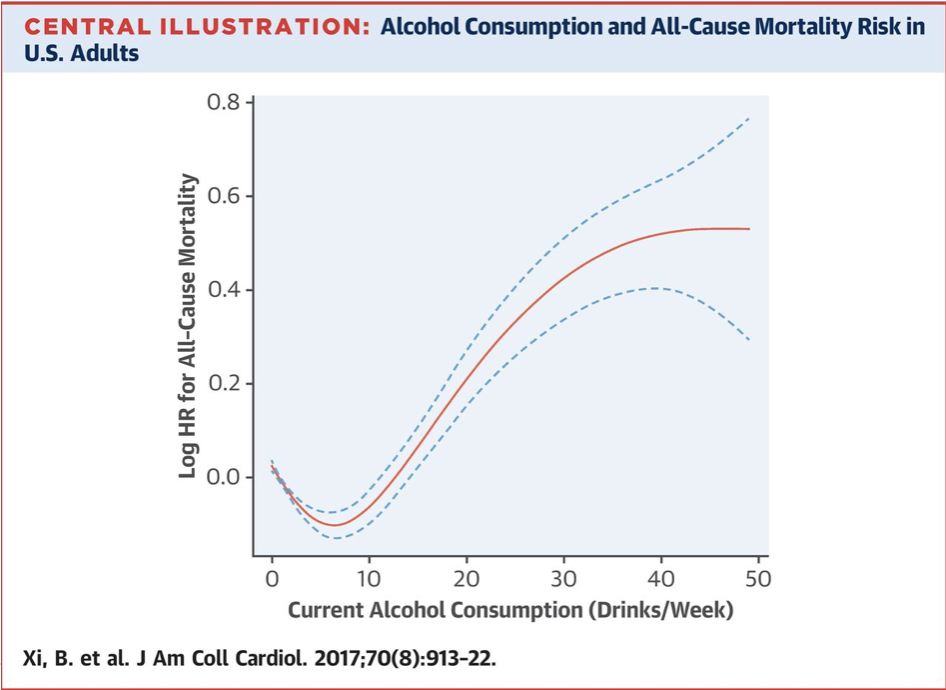 Jeff Pisoni's New Luli Release Luli is a partnership between Master Sommelier Sara Floyd and the Poison Family. A new Luli release is the 2015 Highlands Ranch Santa Lucia Highlands Pinot Noir ($45). Luli Pinot Noir has been typically a blend of various Santa Lucia Highlands Vineyards, but this inaugural release is from a single vineyard. Only 85 cases produced. Great value wines at www.luliwines.com.
New Releases from Zena Crown & Gran Moraine Three limited production Pinot Noir from the Eola-Amity Hills are new released to the mailing list. 2014 Zena Crown Slope, 2014 Zena Crown Conifer and 2014 Zena Crown The Sum. The wines, crafted by winemaker Shane Moore, were stunning in the last vintage. Call 866-462-4641. Shane Moore is also the winemaker at Gran Moraine. This winery has released the 2015 Dropstone Yamhill-Carlton Pinot Noir and 2015 Yamhill-Carlton Pinot Noir. Call 855-831-6631.
Inaugural Elton Vineyard Releases The inaugural vintage of Elton Pinot Noir ($75) and Chardonnay ($75) are now released. Dick and Betty O'Brien planted Elton Vineyard in 1983 and spent their lives growing Pinot Noir and Chardonnay. Today, the vineyard is owned by Willamette Valley Vineyards. It has often been recognized as one of the top vineyards in Oregon. Consulting winemaker Isabelle Meunier made the inaugural wines. Call 503-588-9463.
Damn Computer My 9-year-old iMac hard drive crashed on me last week, an eternity for a computer that gets a workout every day from me. The tattooed millennials at the Apple store were shocked, using subtle insulting words like "obsolete." Needless to say, I kept my iPhone 4s in my pocket. I bought a new iMac and unlike the iPhone, prices have not changed much for iMacs during that 9 year period. Fortunately, everything was backed up on a hard drive so I didn't lose anything important. That said, it has been a challenge to compose the PinotFile using the new iPages program because it has changed significantly from the older program I was using. iPages is not the ideal program for composing a newsletter to begin with but I am comfortable with it. My blessed wife took the brunt of my constant moaning and cries of desperation. Thanks to help from my techie son, Dane, I managed to adapt and even triumph, and this issue is the first composed on the new computer and software. I would rather be drinking Pinot Noir.