Australian Wine Dinner & Tasting
On May 24, 2007, the Crew gathered at The Pacific Club of Newport Beach to sample Australian wines and Australian-themed cuisine. Master Sommelier, Rene Chazottes, planned the menu and I provided the wines. The Chef de Cuisine was David Martin. All of the wines were pre-poured in appropriate stemware (the Savaterre wines were decanted 8 hours in advance (per suggestion of Keppel Smith). None of the 15 attendees had drank Australian Pinot Noir except Rene and myself. The menu and wines are listed on the menu below. Photos of the event are on page 10.
Grub
Amuse Bouche, Chef's Choice
The Black Chook Sparkling Shiraz South East Australia
***
Australian Yabbies a la Nage
2004 Bindi Composition Macedon Ridges, Victoria Chardonnay
2004 Kooyong Clonale Mornington Peninsula, Victoria Chardonnay
2005 Savaterre Beechworth, Victoria Chardonnay
***
Rabbit in a Mustard Sauce, Fava Beans
2003 Bindi Original Vineyard Macedon Ridges, Victoria Pinot Noir
2004 Bindi Composition Macedon Ridges, Victoria Pinot Noir
2003 Moondara Conception Gippsland, Victoria Pinot Noir
2004 Yabby Lake Mornington Peninsula, Victoria Pinot Noir
2003 Eldridge Estate Clone MV6, Mornington Peninsula, Victoria Pinot Noir
***
Kangaroo, Black Current Reduction, Seasonal Vegetables
2003 Kooyong Haven Mornington Peninsula, Victoria Pinot Noir
2003 Kooyong Ferrous Mornington Peninsula, Victoria Pinot Noir
2003 Kooyong Meres Mornington Peninsula, Victoria Pinot Noir
2005 Savaterre Beechworth, Victoria Pinot Noir
***
Almond Fig Tart
Yalumba Museum Reserve South East Australia Muscat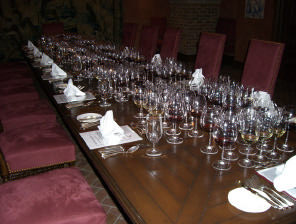 Before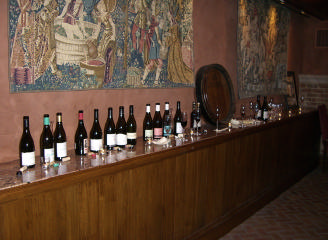 The Lineup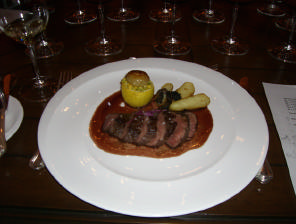 Kangaroo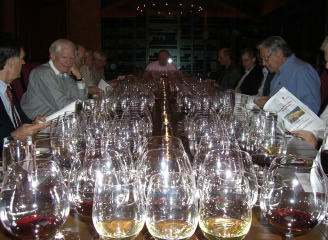 The Crew
A note about Sparkling Shiraz and Muscat before discussing the other wines. Sparkling Shiraz Articles in the wine press in recent years have brought attention in the United States to Australia's unique Sparkling Shiraz. Treasured and very popular in Australia, this sparkling wine is made in the same manner as French Champagne (methode champenoise), and is a perfect foil for Thanksgiving dinner or a summer barbecue.
A Frenchman, working in Adelaide in the late 1880s, made the first commercial sparkling wine from Shiraz. The name "Sparkling Burgundy" took hold and this bold wine with a deep red color and rich flavor became very trendy in Australia. Interest waned in the 1960s when that god-awful Cold Duck, which was cheaper and sweeter, caught the fancy of the Aussies. Winemaker Warren Randall and Ian McKenzie of Seppelt Winery revived Sparkling Shiraz in 1982.
Vintage Sparkling Shiraz is usually aged for five to ten years before it is released. Most examples are dry, but versions with some residual sugar are produced and are best drunk with sweeter foods like desert. There are over 60 Australian wineries producing Sparkling Shiraz today and more and more of it is being exported to the United States.
My friend, Aussie David Glass, describes a favorite Sparkling Shiraz of his (Paringa) as "a bloody masterpiece of spicy fruit and dusty earthiness… .it is truly a ripper." He advises drinking it with Thanksgiving turkey, recommending that one "stick a couple of bottles on ice… .pure magic mate!"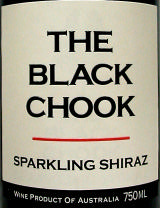 The Black Chook ("chook" is Aussie for chicken) is priced at $13 and has 13.5% alc.. The sparkler was well-received and one attendee actually named it the best wine of the night! It is a non-vintage sparkling wine composed primarily of three-year aged Shiraz with a touch of younger Shiraz. The producers are winemaker Ben Riggs and proprietor Tony Park, both of Penny's Hill Winery. It is an unusual experience for the uninitiated, for the wine is surprisingly full-bodied and rich with copious spicy fruit.
Muscat
The fortified Muscats and Tokays of Australia are part of the country's wine heritage. They are very sweet, dark, deep and "sticky." The Muscat grapes of northern Victoria are harvested after they shrivel on the vine. No or very little fermentation is halted with the addition of pure neutral grape spirit, and the wine then ages for 1 to 100 years in very warm warehouses. The Museum release from Yalumba, Australia's oldest family-owned winery, is a rare, reserve type release. Both older and younger wines are blended to produce a consistent style. Many fine examples of fortified wines that are exported to the United States are ridiculously cheap considering the quality (The Yalumba Muscat Museum Reserve served here was $14 for 375 ml., 18% alc.). This Muscat is really a desert in itself.
We did not score the wines as is my preference, but the tasters picked their favorites. I suggested to those who were score-bound that they use the following Aussie system which employs the words the Australians use for great praise:
86 = a bottler
88 = a cracker
90 = a ripper
92 = a humdinger
94 = a corker
96 = a balltearer
Chardonnays
The Bindi and Kooyong Chardonnays were fine examples of the "Burgundian" style with bright minerality and wet stone accents leading the way. The Savaterre had more up front sweet fruit and butter notes with appealing oak highlights and was closer to many California-styled Chardonnays. All three were excellent and the group was split as to their favorites. The yabbies (an Australian shellfish similar to a crawfish) were a perfect match.
Pinot Noirs
For many tasters used to the bold fruity Caliesque Pinot Noirs, several wines were too austere (lacking Pinot extract or sappiness) and acidic (the word "sour" was bantered). I needed to remind them that Pinot Noir SHOULD have good acid - that is what makes it such a superb food companion. The clear favorites were: 2003 Eldridge Estate Single Clone MV6 Pinot Noir, 2004 Yabby Lake Pinot Noir, and 2003 Kooyong Meres Pinot Noir. My notes are as follows: