Wine Pilot Profiles
Aluvé Winery, Walla Walla, WA
Kelly and J.J. Menozzi graduated as classmates from the USAF Academy and began a career as Air Force pilots for more than 23 years. The couple's career as Air Force pilots led to more than fifteen moves around the world and this allowed them to visit many nearby wine regions. It was Walla Walla and its wines, however, that they fell in love with on their first visit in 2000 while stationed nearby. They eventually bought a 10-acre property in Walla Walla in 2010, a few years before their retirement, and established their home and a 5-acre estate vineyard. The couple enrolled in the Walla Walla Community College Enology and Viticulture program and worked harvest at local wineries before launching their winery. The winery name, Aluvé, a fanciful combination of Italian words meaning Winged Grape, symbolizes the connection between their two passions: flying for their country and sharing great wine. They currently produce an estate Cabernet Sauvignon and Chardonnay using both estate and purchased fruit. Kelly remarked, "There's a lot that translates from being a pilot into being a winemaker. In both occupations, there's a certain way to do things that is science-based, and then there is the art involved in both flying and winemaking. Both piloting and winemaking require procedures and techniques to follow and the challenges of refining your skills." Visit www.greatnorthwestwine.com/2016/09/16/aluve-winery/.
Black Sheep Wine & Bar, Harpswell, Maine
Owner John VerPlanck is a U.S. Marine veteran and retired airline pilot. He operates a store in Harpswell, Maine, together with spouse Jennifer Laskey VerPlanck. John has written a wine and beer column for a local paper and has authored a book, Pacific Air 55 is Missing. Before starting Black Sheep, John lived in California for over thirty years, owned and operated a wine and beer making supply store in Alaska and was a wine store manager before starting Black sheep. Visit www.blacksheepwine.com.
Chandelle Winery, Glen Ellen, CA
This winery has been owned and operated by the Arnold Family since 1986, when it was founded by Robert Arnold and his parents Bruce and Barbara Arnold. The name, Chandelle, is an aviation term used to describe a 180º change in direction and an increase in altitude. The maneuver is a classic test of aircraft performance and pilot skill. The Arnold family has been part of the world of flight since 1911 when Army Lt. and later Five-Star General Hap /Arnold learned to fly from the Wright Brothers. He serve in World War II as Chief of Army Air Forces and retired to the family farm in the Sonoma Valley. Barbara Douglas Arnold was the daughter of Donald Douglas Sr.. The Chandelle Winery wines feature aviation art on labels. The winery focuses on Cabernet Sauvignon and Sauvignon Blanc. Private tasting is available by appointment in Glen Ellen. Visit www.chandellewinery.com.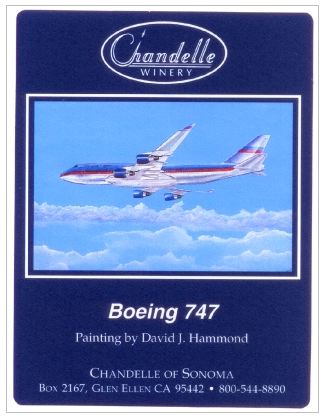 Chateau Aeronautique Winery, Rives Township, Michigan
This is a unique winery with an airpark lifestyle including vintage airplanes and life in a home with a hanger on a grass runway surrounded by forest. Vintner Lorenzo Lizarralde was born in Texas and grew up in Panama with missionary parents. He developed a passion for flying early in life and obtained a pilot certificate at age 17. After college, he flew 19-passenger Twin Otters based in St. Croix, U.S. Virgin Islands, then DC-8 cargo jets based in Miami traveling to Central and South America. He next flew TWA 727s, 757s and 767s based in New York and St, Louis with both domestic and Europe destinations. Since 1998, he has been based in Detroit flying for a major airline including Airbus 330s domestically and to Europe, Asia and Hawaii. He has had a life long dream of living on an airpark and he achieved that dream in Rives Township, near Jackson, Michigan where he parks his 1956 Cessna 172 that he flies to many destinations. Lorenzo has brought home wines from all over the world for years and toured many wineries. Now he not only lives on an airpark, but is totally fulfilled as a vintner. The winery offers dry white and red wines and semi-sweet and sweet wines from Michigan wine grapes. Dry varietals include Pinot Noir, Cabernet Franc, Cabernet Sauvignon, Syrah, Chardonnay and Riesling. A second tasting room in the Irish Hills is slated for opening in the late fall of 2017d and will incorporate a future vineyard at the site. Visit www.chateauaeronautiquewinery.com.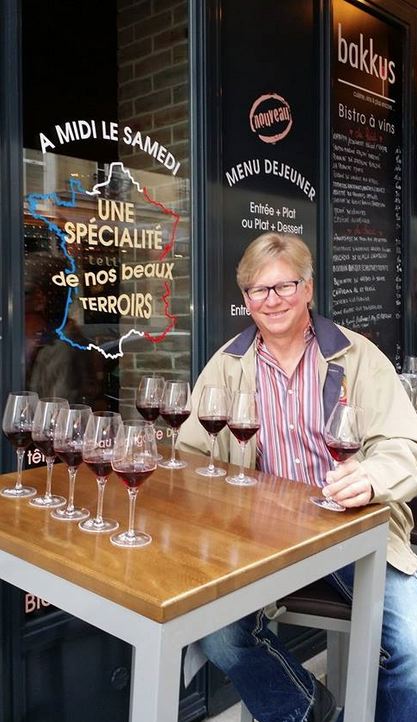 Flying Leap Vineyards, Elgin, AZ
Three partners, including Mark Beers, Marc Moeller and pilot Tom Kitchens form a team of talented winemakers that grow both red and white wine grapes on two vineyards in southeastern Arizona and produce wines at a winery facility in Elgin, Arizona. They operate four tasting rooms and three fine art galleries. Tom is the creative source of Flying Leap's logo: representing three partners, three vine leaves, an airplane propeller and a variation on the Celtic Knot. Tom handles all the marketing and events for the winery. Visit www.flyingleapvineyards.com.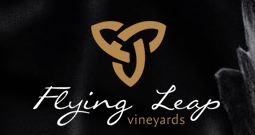 HAT Ranch Winery, Caldwell, Idaho
Owners Tim and Helen Harless take the HAT Ranch name from their great-grandparents, Jake and Margarette Shields Frison, who created the HAT Ranch homestead as a farm and ranch in 1902. Tim graduated from college with a BS degree in aerospace engineering and became a commercial airline pilot. This allowed him to research various United States wine regions. He took classes in viticulture and enology and used vacation times to do perform internships at California wineries. He chose to settle with his spouse Helen in the Snake River Valley AVA of Idaho because of its ideal grape growing conditions and a strong and emerging winemaking community. HAT Ranch was established as a winery in 2011 and in 2014 the Vale Wine Company was acquired to allow for production of premium wines, both white and red varietals, from Snake River grapes. the tasting room is on the Sunnyslope Wine Trail near Boise Idaho. Visit www.hatranchwinery.com.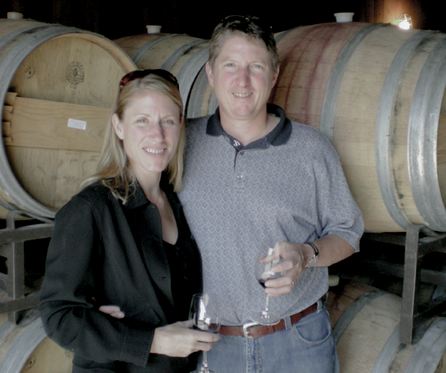 Jacksonville Vineyards & Fiasco Winery, Jacksonville, OR
After a career as a U.S. Air Force pilot and airline pilot, Dave Palmer launched a winery with wife Pamela. They are natives of Grants Pass, Oregon, Dave had an early passion for flying hang gliders going back to 1976 and this led him to a career as an Air Force fighter pilot. Upon retiring from the Air Force, he flew cargo planes as an international airline pilot. The Palmers had dreamed of planting a vineyard and establishing a winery for years. Dave spent many hours apprenticing at wineries, reading, and taking weekend courses at University of California at Davis. The vineyard is located 8 miles west of Jacksonville in the Applegate Valley AVA and the winery is a member of the Applegate Valley Wine Trail. Several varietals are produced including Cabernet Sauvignon, Merlot, Claret, Syrah, Sangiovese, a Super Tuscan style, Zinfandel, Pinot Grigio and white blends. The winery's tasting room is open Thursday through Monday. Visit www.jacksonvillevineyards.com.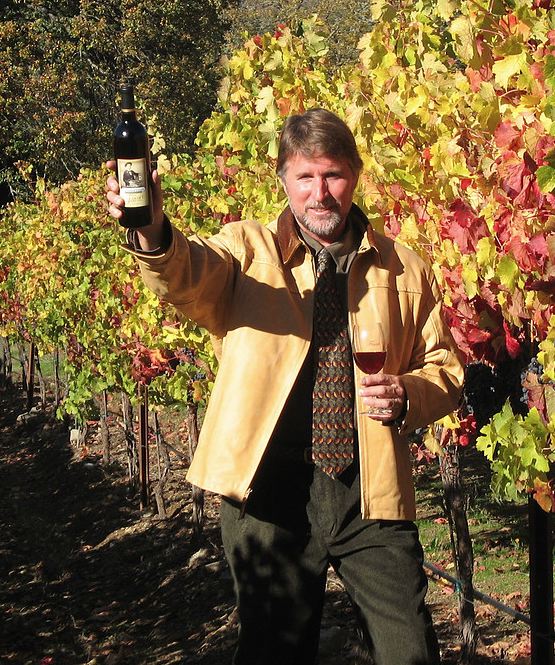 Jordan Vineyard & Winery, Healdsburg, CA
This winery was established in 1972 and inspired by the great wine estates of France. The founders were Francophiles Tom and Sally Jordan, originally from Colorado. They were among the first to create a Bordeauxstyled California Cabernet Sauvignon from Sonoma County's Alexander Valley that was both forward drinking and had age ability. The winery's original enology consultant was the legendary Andre Tchelistcheff, but the winemaker since the original release from the 1976 vintage has been Rob Davis. The Jordans relocated from Colorado in 1979 and settled into a grand chateau that had been completed three years prior, ushering in a new era of sophistication in Sonoma County. Within three years of its inaugural release, Jordan's 1979 Estate Cabernet Sauvignon was awarded Best Cabernet Sauvignon in America by the Beverage Tasting Institute in New York. Jordan wines became very popular with the wine cognoscenti and appeared on restaurant wine lists throughout the country. The Jordans daughter, Judy, founded J Vineyards & Winery in Healdsburg. Their son, John Jordan, a former Navy interrogator, lawyer and pilot, is the current CEO of the winery. Visit www.jordanwinery.com.
Keeling Schaefer Vineyards, Wilcox, AZ
Winemaker Rod Keeling started out as a professional pilot. He flew for multiple jobs including traffic reporter, flight instructor, charter pilot and corporate pilot, but did not fly for commercial airlines. He later worked in business management. A Grgich Hills Zinfandel peeked his interest in wine and led min to buy winemaking kits. His first worthwhile winemaking effort came in 1999. Rod developed a vineyard in the Chircahua foothills of Arizona, a property he also chose as a retirement home location. The design of both the winery building, completed in 2003, and home, finished in 2008, were inspired by two early 20th century southwestern architects. 2015 was the winery's eleventh commercial vintage. Wines offered include Rhone red and white varietals. A tasting room is located in historic downtown Wilcox, 41 miles away. Visit www.keelingschaefervineyards.com.
Maggie Malick Wine Caves, Purcellville, VA
Winemaker Maggie Malick owns this boutique winery located in Northern Virginia. She grew up in Washington state and joined the U.S. Navy where she met her husband, Mark, a Navy pilot, and later a commercial airline pilot. Along with making wine, Maggie works as an aeronautical engineer and Mark is the vineyard manager. 15 grape varieties are planted on 30 acres among the 215 acres located near Harpers Ferry Historical Park. The winery was opened in 2013 complete with a wine cave. Today, Maggie crafts 10 to 15 different varietals and Sangria. Tasting is available in the winery's wine caves. Visit www.magiemalickwinecaves.com.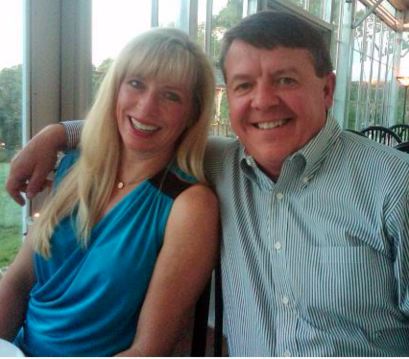 Max'w Wine Dive, Texas
Owners Jerry and Laura Lasco own multiple locations of Max's Wine Dive, a restaurant and wine bar in Texas. Jerry is an "Air Force brat." His father Jerry Lasco Sr., was an Air Force pilot who completed two tours in Vietnam. Jerry Jr. served in the Air Force for fourteen years including fighting in the Gulf War. After discharge, he became a pilot for Continental Airlines for three years before moving to Houston from New York to start a family and assume an assignment. Two days later, on September 11, 2001, terrorists hijacked four commercial airliners that would decimate the airline industry for months. He was laid off and had to change careers. He had always had a passion for food and wine and in 2002, began work at a Houston Wine Merchant to gain experience. He took classes to earn a Level 1 sommelier certificate from the Court of Master Sommeliers. With borrowed money, Jerry opened a wine bar called The Tasting Room, the first wine bar in Houston that sold wine retail. Several other wine bars followed, and then Max's Wine Dive was created that pairs gourmet comfort food with wines. Visit www.maxswindedive.com.
Montelle Winery, Augusta, Missouri
Current owner and winemaker, Tony Kooyumijan, bought this winery in 1998 that was founded by Clayton Byers in 1970. This is the first winery in Missouri with a distillery. Tony is a third generation vineyard owner whose grandmother immigrated to California from Armenia in 1915 and established a vineyard in the San Joaquin Valley that she operated with her son until 1960. Tony's interest in aviation led him to pursue aviation jobs after college and was eventually hired as a pilot by Ozark Airlines based in St. Louis, The airline later became Trans World Airlines and then American Airlines. As Tony traveled the world, he discovered fine wines in various countries. This led him to reopen the old Weprich Winery in St. Charles, later renamed the Winery of the Little Hills. His first vintage was 1980. In 1988, he moved to Augusta and established the Augusta Winery in an region known as America's first viticultural area. In 1998, Tony bought the Montelle Winery, first established in 1970. In 2001, he retired early from the airlines to devote all his energy to producing wine at Montelle. His wines, which include Vidal Blanc, Norton, Chambourcin, Chardonel and fruit wines have received numerous major awards. Pictured with wife Cindy. Visit www.montelle.com.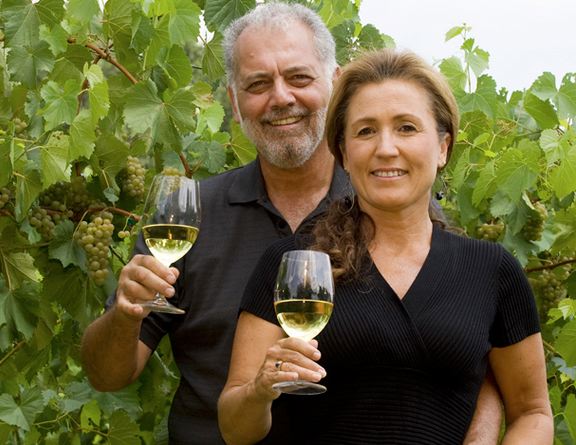 Pianetta Winery & Vineyards, Paso Robles, CA
Owner and winemaker John Pianetta served two tours as a Navy pilot in the Vietnam war and flew for commercial and corporate airlines for over 25 years. His farming roots led him to settle on land in San Miguel in 1995 that became Pianetta Winery and Vineyards.The estate vineyard was planted in 1997. His daughter, Caitlin, is involved in the winemaking and vineyard management. Located 15 miles north of Paso Robles, the vineyard consists of 65 acres of Cabernet Sauvignon and Syrah. The winery produces multiple red wine varietals. Visit www.pianettawinery.com.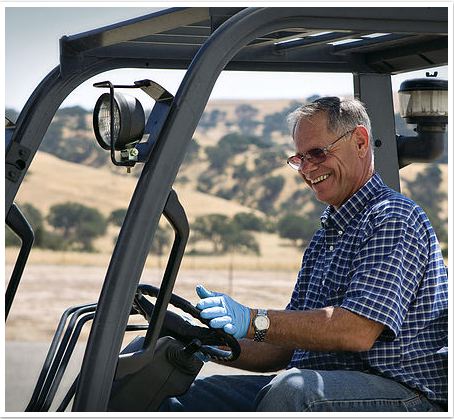 Robert Turner Wines, Napa Valley, CA
This winery was founded in 2005 by dentist Bob Turner. Dave Earnest, who has worked as the assistant winemaker and in sales and marketing for the winery, retired as a captain with United Airlines flying 777s on international flights, as well as a dual career as a dentist with a practice in Ft. Collins, Colorado. The winery produces about 500 cases annually of Cabernet Franc, Sonoma County Pinot Noir, Grenache Rosé and Chardonnay. Visit www.robertturnerwines.com.
Rombauer Vineyards, Napa Valley, CA
In 1956, Koerner Rombauer joined the California Air National guard, launching his nearly 30-year career as a pilot for military and commercial airlines. He worked for Braniff International Airways based in Dallas, Texas, beginning in 1965. Seeking a small town, agricultural environment, he and his wife Joan moved their children, two horses and five dogs to Napa Valley in 1972, renting a property on Highway 29 initially, and then buying a home on a knoll with 40 acres in St. Helena in 1974. The Rombauers became partners in Conn Creek Winery with Bill Beaver and Bill Collins and learned the wine business. In 1980, they sold their stake in Conn Creek Winery and launched Rombauer Vineyards with the purchase of Cabernet Sauvignon grapes from the Stag's Leap District. The winery's first Chardonnay grapes were crushed at a new winery in St. Helena in 1982. This winery became a custom crush facility for wineries such as Dominos, Spottswoode, Duckhorn, Merryvale, Corison, Etude and others. The first Rombauer Chardonnay was released in 1984 at $12.50 a bottle. Critical acclaim soon followed, popularity of Rombauer Chardonnay continued to grow, and production increased with the acquisition of a number of estate vineyards. In 2015, Rombauer Vineyards celebrated its 35th anniversary as a family owned winery in Napa Valley, operated by Koerner Rombauer and his children. Visit www.roombauer.com.
Terra Bella Vineyards, Paso Robles, CA
Jack and Dotty Hopkins bought a property on the west side of Paso Robles after he retired as a captain with American Airlines and 35 years of flying. Founded in 2001, the winery produces Syrah and Grenach crafted by winemaker Andrew Murray. Jack commutes from his house in Napa Valley to the vineyard in his 1964 Baron twin engine, keeping his pilot skills sharp while supervising the vineyard and winery. Visit www.terrabellavineyards.com.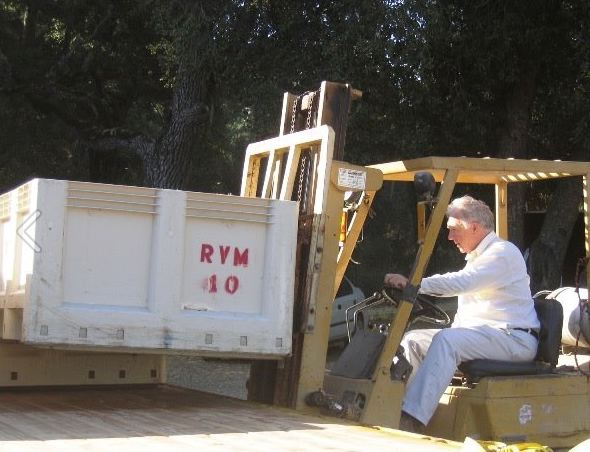 Volatus Wine, Paso Robles, CA
Lieutenant Hal Schmitt, a Navy fighter pilot, was tasting wine in the hills of western Paso Robles when he met local winemaker Rich Hartenberger and offered to help out during the upcoming harvest. While processing grapes together, they developed a lasting friendship. Hal's Navy career took him around the world and twice he served as a TOPGUN instructor. He spent his free time learning about winemaking from Rich and would visit Paso Robles frequently. After making wine for nine years with Rich, Hal enticed his brother Kevin to join him in making wine of their own. They began with a purchase of a ton of Syrah grapes in 2004 and started Volatus, a Latin word for "flight or flying." Production is now about 500 cases a year of red blends and an Adelaida District Paso Robles Pinot Noir, all crafted at Midnight Cellars in Paso Robles. Visit www.volatuswine.com.
Wood Family Vineyards, Livermore, CA
A family owned winery located in the eastern foothills of the Livermore Valley. Michael Wood is the vineyard manager and his spouse Rhonda is the winemaker. The couple started learning about winemaking while living in Fremont where they planted 18 grapevines in their backyard. In 1996, they bought a Livermore vineyard planted to Merlot and built a home on the property. Rhonda is a self taught winemaker who has worked at other wineries in Livermore to learn the craft. Initially she kept her day job fas a commercial pilot commuting to San Francisco International Airport She flew for US Airways as first officer on Airbus 320, Boeing 737, F100 and BAE 146, and flight engineer on the Boeing 727. US Airways closed the San Francisco hub, and faced with a commute to Philadelphia, she asked for a 30-day leave of absence to focus on the winery. The events of September 11, 2001, then transpired, and US Airways gave her a five-year leave of absence. She resigned at the end of the five years as she became more immersed in winemaking at the winery. Visit www.woodfamilyvineyards.com.
Wooldridge Creek Vineyard & Winery, Grants Pass, OR
In the early 1970s, Ted Warrick was a United Airlines pilot and Mary Warrick was working for TWA, both out of Los Angeles Airport. They decided to move to the Northwest and in the spring of 1976, they bought an 18-acre winery site in Southern Oregon in Grants Pass, and planned their move. After the move was completed the following year, Ted continued to fly for United Airlines and Mary looked after the small original planting of grape vines where the winery is located today. The expanded the vineyard acreage and founded Wooldridge Creek Vineyard in 1978. Today, the vineyard spans 56 acres and is managed, worked and picked by a crew of local Applegate Valley residents including Ted, who retired from United Airlines to focus on winery activities.
Greg Paneltz and Kara Olmo met while doing postgraduate work in enology at Fresno State. Greg had a background in winemaking and Kara was experienced in marketing. On a trip to search for grapes in Southern Oregon, they discovered Wooldridge Creek Vineyard and met Ted. The two couples became business associates and Wooldridge Creek Vineyard became Wooldridge Creek Vineyard & Winery. Wine production began under the Wooldridge Creek label and a new gravity-fed winery opened in 2005.
The winery's name, Wooldridge Creek, is derived from the Wooldridge Creek that runs through the Applegate Valley where the vineyard is located as well as the Wooldridge family who settled the property in the 1850s. Production of 5,000 cases per year includes a number of varietal wines and blends including Pinot Blanc, Chardonnay, Gewürztraminer, Viognier, Merlot, Zinfandel, Cabernet Sauvignon, and Tempranillo. The winery's tasting room in Grants Pass is open daily. For more information, visit www.wcwinery.com.
Emeritus Vineyards, Sebastopol, CA
Brice Cutter Jones was the son and grandson of West Point officers so his career path was clear. He entered the Air Force Academy with the third class admitted and graduated with an engineering degree in 1961. Pilot training followed in 1962 with various flying missions around the globe. During a temporary tour in Europe in 1963, Brice discovered wine. After a two-year assignment to the Republic of Vietnam as a fighter pilot, Brice returned to the United States in 1966 to find the American premium-wine industry beginning to develop. In 1970, he resigned his Air Force commission and entered Harvard Business School to gain the knowledge needed to start his own winery. After 25 years as the head of highly successful Sonoma-Cutrer Vineyards, he sold the winery in 1999. That same year, he bought a 115-acre apple orchard near the town of Sebastopol from Don and Marcia Hallberg and this land became the home of Emeritus Vineyards focused on the production of premium Pinot Noir. Visit www.emeritusvineyards.com.
Evergreen Aviation, McMinnville, OR
Del Smith, founder of Evergreen Aviation, a now defunct international cargo airline, built his fleet of airplanes acquired from Pan Am Airlines and ran Evergreen Aviation for more than 50 years. At the headquarters of Evergreen Aviation in McMinnville, he established a vineyard, a winery (Spruce Goose label), an aviation museum complex and waterpark. Del's son, Mike was a wine enthusiast who had his own vineyard at his home in Dundee, was the driving force behind the aviation museum. Veteran Oregon winemaker, Laurent Montalieu, once made wine for Del Smith. In 2015, Jackson Family Wines bought the Evergreen Airlines corporate headquarters buildings across the highway from the Evergreen Aviation & Space Museum complex and vineyard and built a large winery.
Keeler Estate, Amity, OR
Craig and Gabriele Keeler have produced wines from 38 acres in the Eola-Amity Hills since 2011. Gabriele was a flight attendant for Pan Am and now works in the winery's tasting room. According to an article in the Oregon Wine Press, www.oregonwinepress.com/connecting-flight, Gabriele said, "I learned how to deliver exceptional service as a Pan Am flight attendant and that translates to delivering exceptional service in the world of wine." Visit www.keelerestatevineyard.com.