Understanding Pinot Noir Clonal Diversity
An excellent article appeared in 2017 in the erudite UK wine journal, The World of Fine Wine. The article's relevance to Pinot Noir caught my interest, and since a majority of PinotFile readers undoubtedly do not read this journal, I wanted to share the pertinent information contained therein with you. Written by Anne Krebiehl MW, the article was titled, "Pinot Noir: Cracking the Clonal Code." Anne is a freelance wine writer and lecturer who contributes to a wide variety of trade and consumer publications in the UK, USA and Germany. Her varied interests include German, Austrian, Italian and New Zealand wines, but her particular focus is on Pinot Noir, Riesling and traditional-method sparkling wines. She was admitted to the Institute of Masters of Wine in September 2014. Some of the information here is from my own research.
The author begins by debunking the often-stated dictum that Pinot Noir is more prone to mutation and less genetically stable than other Vitis vinifera varieties. John Haeger, in his landmark reference book on Pinot Noir, North American Pinot Noir, states, "Pinot, by virtue of its genetic instability and its predisposition to spontaneous mutation….displays a very broad range of phenotypes. Several hundred clones of Pinot Noir are thought to exist." Haeger's statement does not implicitly say that Pinot Noir has superior proclivity for mutation compared to other wine grapes. In the encyclopedic reference, Wine Grapes, Jancis Robinson and et al, assert, "Pinot has hundreds of clones simply because it is very old, not because it is naturally more prone to mutation than other varieties."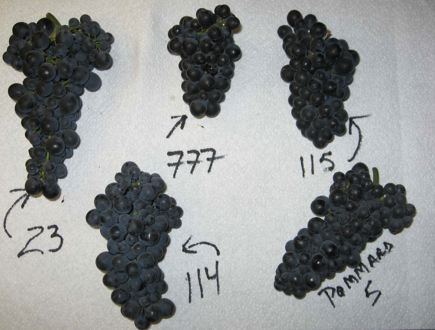 Krebiehl's research indicates that the first official clonal selection of Pinot Noir clones in Burgundy began in 1960, when INRA sourced the first clonal selections of Pinot Noir from vines planted at Domaine Ponsot in Morey-St-Denis. This led to the first certification of Pinot Noir clones numbered 111-115 in 1971. Clonal selection research began much earlier in Germany, the home to the first official research on Pinot Noir clonal selection, dating to the late 1920s. Official Swiss research on clonal selection of Pinot Noir began in the 1950s, and in 1952 three clones from Wädenswil were imported to UC Davis (UCD 1A, 2A, 3A). The Mariafeld clone (UCD 13,15) also came from Switzerland.
Much of the history and source of mother clones from Europe brought to California is shrouded in mystery. It is thought that European cuttings of Pinot Noir were brought into California in the 1850s and 1860s, including vine cuttings from Burgundy by Agoston Haraszthy. The Mt Eden clone was brought to California from Burgundy by Paul Masson in the 1890s, supposedly sourced from Corton and Corton Charlemagne. Martin Ray, who later owned Paul Masson's vineyard, supplied grape scion to Chalone, as well as Dr. Stanley Hoffman at HMR Vineyard in Paso Robles and Dr. David Bruce in the Santa Cruz Mountains (see note below on the David Bruce clone). Merry Edwards sent cuttings of a single Mt Eden vine to UC Davis where it was certified as UCD 37.
The Jackson clones (UCD 9, 16) originated from experimental plantings in the town of Jackson in the Sierra Nevada region of California. The Wente "clone" is probably many selections from early plantings in the Arroyo Sect region of Monterey County. The Swan clone (UCD 97) is a Pommard selection probably sourced from Burgundy and planted by Joseph Swan in the early 1970s. But to make the story more confusing, at least one of the so-called Swan clones (selections) came from Mount Eden.
The widely domestic plantings of the Pommard clone take their origins from Dr. Harold Olmo of UC Davis, who imported two Pinot Noir clones in the 1940s, one each from France and Spain. Neither clone apparently has documented provenance according to Krebiehl, but I have read that the French import was sourced from Chateau de Pommard. This import became UCD 4 and the heat-treated forms UCD 5 and UCD 6. UCD 5 was introduced to Oregon by Dick Earth and Charles Court as part of their joint nursery venture in the early 1970s.
Olmo also developed the Martini clone (UCD 13,15) along with Louis Martini from vine cuttings taken from Inglenook and subsequently planted at the Stanly Ranch in Carneros. Roederer clones (UCD 32,33,41) were introduced in 1984 after importation form Champagne.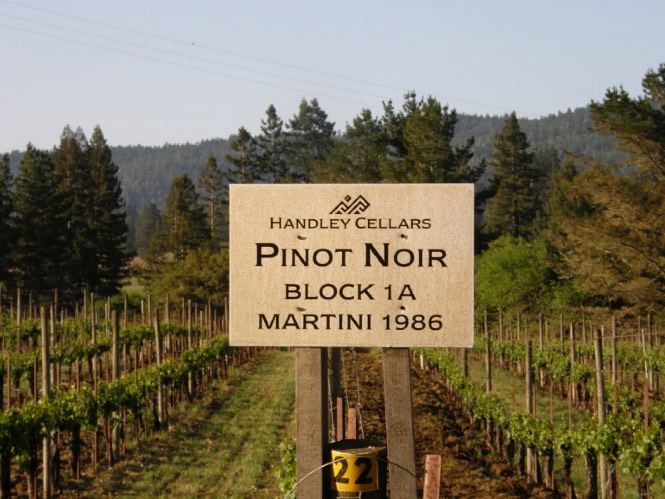 The so-called Calera clone is actually a number of selections reportedly brought from Burgundy's Domaine de la Romanée-Conti (DRC) or sourced from Chalone by Josh Jensen who founded Calera Wine Company. Select, Reed and two-thirds of Jensen were planted with suitcase clones either from DRC or Chalone or both. Jensen has never disclosed the origins of his early plants, but he spent time working at both DRC and Domaine Dujac before he founded Calera Wine Company. Today, Calera selections are widely planted in Domaine Dujac before he founded Calera Wine Company. Today, Calera selections are widely planted in California.
There is no David Bruce clone per say, as it represents any number of Pinot Noir selections of undetermined clonal origins. Bruce obtained his original cuttings from Wente's Arroyo Seco vineyard and Martin Ray's vineyard at what is now known as Mount Eden.
The origins of the so-called Coury clone of Pinot Noir remains enigmatic. Coury studied viticulture and clonal adaptation at INRA in Colmar, Alsace, France in 1964 and it is thought by David Adelsheim and others that Coury smuggled cuttings from Colmar into the United States upon his return. It is possible that he brought in clone 538, the only clone of Pinot Noir available at Colmar at the time. Coury never disclosed the clonal or selection type but the "Coury clone" is common parlance among winegrowers, referring to plantings Court sold from his nursery in the 1970s to growers and wineries in Oregon and mistakenly considered a Pommard clone.
Dick Earth had a friend who gave him smuggled cuttings that lay on the ground at Clos Vougeot in Burgundy in 1975-1976. The cuttings were sent to UC Davis where the material tested positive for virus. After undergoing microshoot tip tissue culture virus elimination, the selection was designated as FPS 95. In 2005, it tested positive for leaf roll virus, and was later advanced to FPS 117.
The workhorse clones in the 1970s in California and Oregon were the three heritage clones available from UC Davis: Pommard, Wädenswil and a minor clone mislabeled as Gamay Beaujolais. The eventual importation of the Dijon clones of Pinot Noir from Burgundy into Oregon was to dramatically change the course of Pinot Noir wine growing in the United States. The full story: www.princeofpinot.com/article/945/, "Romancing the Dijon Clones."
According to Krebiehl, the ENTAV-INRA's database currently lists 47 permitted clones of Pinot Noir, including sparkling wine varieties. However, other collections in Burgundy and Champagne add up to at least 800 clones. Of the Dijon clones commonly planted, 113, 114 and 115 date to 1971, clone 667 to 1980 and clone 777 (along with 115, the most popular Pinot Noir clone in the world) in 1981. "828" followed in 1985 and 943 in 1989. The true Dijon clone 828, available from the UC Davis FPS Foundation Vineyard, a cleaned-up version (lacking the Red Globe virus) of the original ENTAV-INRA clone, became available in 2012. Older plantings are referred to as faux "828", upright "828," or ASW2.
Two ENTAV-INRA clones released in 2013, 1196 and 1197, are described by Krebiehl as "producing structured wines with complex and distinctive Pinot Noir aromas, olfactory intensity, and tannin suppleness."
An important point of understanding about clones, and one that has been reiterated numerous times by viticulturists and winemakers, is that site trumps clone. In other words, as Dr. Gerald Atkinson notes in Krebiehl's article, "It is accepted now in genetics that there are epigenetic responses. One and the same clone in different vineyards will respond differently." Krebiehl emphasizes that Pinot is very prone to producing different phenotypes of the same genotype or clone as it is very environment-sensitive. Pinot Noir's response to its environment can lead to a variation in the way it expresses its genes.
Krebiehl concludes, "Now that three Pinot-clone research institutes in France, Germany and Switzerland are each offering an array of clones for numerous conditions and purposes, as well as conservatory collections, and with further collections and trials held wherever Pinot Noir is grown, the diversity in this single variety is mind-boggling and well worth exploring….While clones alone do not hold the secret to a great wine and constitute only one element among thousands in wine's almost infinite matrix of variables, they are a fascinating link to the past and a continually adapting key to the future."
The World of Fine Wine is a beautifully illustrated 200+ page magazine published quarterly for wine enthusiasts and collectors and available in both print and digital formats. For subscriptions, visit www.worldoffinewine.com.