Zena Crown Vineyard
Last year I wrote about this new project from Jackson Family Wines, "Jackson Family Wines Infuses New Life into Zena Crown Vineyard," at www.princeofpinot.com/article/1864/. Jackson Family Wines acquired Zena Crown Vineyard as part of their initial foray into the Willamette Valley in 2013. The inaugural 1,000 cases from the 2013 vintage were crafted from the most expressive and distinctive blocks of the vineyard, and were very impressive.
Zena Crown Vineyard is located on choice real estate in the Eola-Amity Hills region of the Willamette Valley. It's 115 acres dwarfs several very notable adjacent Pinot Noir vineyards, including Temperance Hill, Justice, Zenith, and Bethel Heights. The vineyard's 56 blocks are primarily planted to Pinot Noir, with smaller plantings of Pinot Blanc (1.94 acres) and Chardonnay (6.6 acres). Soils are primarily volcanic Jory and Nekia with areas of Bellpine, Ritner, Steiwer and Witzel).
The vineyard is planted to a variety of Pinot Noir clones including Pommard, Wädenswil 2A, Mt. Eden, "828," and several Dijon clones. The diverseness of the vineyard and clones allows the opportunity to produce distinctive block-driven Pinot Noirs. Currently there are four wines produced: Slope, Block 14, Conifer, and The Sum. Three of these wines from the fall release of the 2014 vintage are reviewed below. The wines are still very young and would benefit from decanting or more time in the cellar. Aromatics are still rather shy and the flavor profiles are somewhat similar at this stage.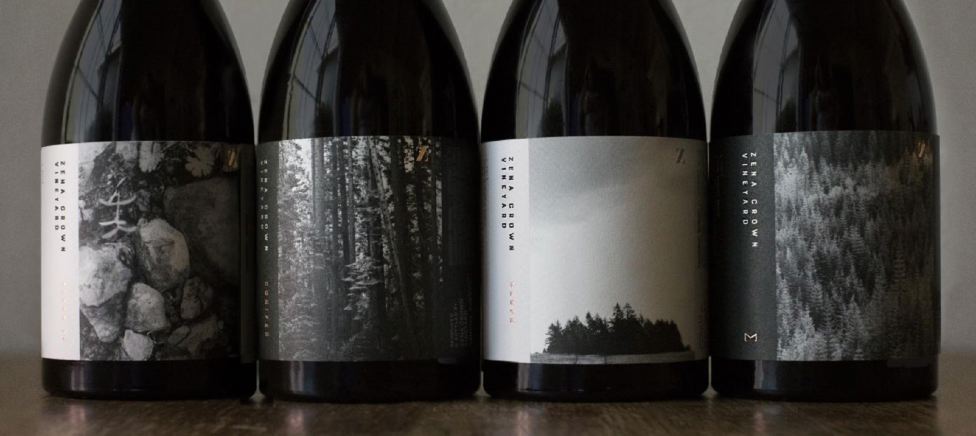 The winemaker is Shane Moore, who relocated to Oregon leaving a position as associate winemaker for La Crema in California. He consults with renowned Oregon veteran winemaker Tony Rynders.
Some percentage of whole clusters may be included in the fermentation depending on the vintage, the clone and the intended result. Typically, the wines are aged 16 months in French oak barrels, with a high percentage of new oak (new oak allows more oxygen ingress allowing the winemaker to limit undue reduction without racking). The wines are bottled with Diam closures and are unfined as a rule.
Zena Crown Vineyard Pinot Noir is sold exclusively through an allocated mailing list at www.zenacrown.com.
2014 Zena Crown Vineyard Slope Eola-Amity Hills Oregon Pinot Noir
14.5% alc., pH 3.63, TA 0.53, 735 cases, $100. Sourced from blocks Zena West 6 and Zena East 2, 5 and 6. Harvest Brix 24.6º-25.2º. Pommard 4 and 667, 11-year-old vines. Aged 16 months in French oak barrels, 84% new (M to M+ toast). This bottling is the "best of the best" from the vineyard. Winemaker Shane Moore identifies the best blocks in the property that he feels fit the style of Slope, often selecting individual rows. The specific rows and blocks vary from year to year, but the top blocks are always hand selected. · Moderately dark garnet color in the glass. Shy, but pleasant aromas of dark berries and leather. Mid weight flavors of blackberry, cassis and spice have an impressive attack and length with an amazingly long and generous finish. A hint of oak-driven vanilla and tobacco chimes in. Impeccable balance, with blended tannins and a creamy texture. The most concentrated of the three 2014 wines reviewed here. Much better over time in the glass. Score: 93
2014 Zena Crown Vineyard Conifer Eola-Amity Hills Oregon Pinot Noir
14.5% alc., pH 3.54, TA 0.53, 235 cases, $75. Sourced from blocks Zena West 1A and Zena East 2, 5 and 14. Harvest Brix 24.0º-27.0º. Pommard 4, 114 and 667, 11-year-old vines. Aged 16 months in French oak barrels, 77% new (M to M+ toast). · Moderate garnet color in the glass. Shy aromas of red and black fruits and fertile earth. A little more refined and elegant than the Slope bottling with a more silky mouth feel. Again, beautifully balanced, with a mid weight charge of blueberry and blackberry fruits that are well spiced and complimented by piney oak. The wine finishes with a delightfully aromatic and sweet blackberry finish. Further bottle aging advised. Score: 93

2014 Zena Crown Vineyard The Sum Eola-Amity Hills Oregon Pinot Noir
14.5% alc., pH 3.68, TA 0.51, 286 cases, $75. Sourced From blocks Zena East 1, 12 and 14. Harvest Brix 14.0º-27.0º. Pommard 4 and 667, 11-year-old vines. 40% whole cluster. Aged 16 months in French oak barrels, 75% new (M to M+ toast). · Moderate garnet color in the glass. Demure, but pleasant aromas of cassis, earthy flora and wood shed. The most harmonious wine of the trio tasted here, with a bit more vibrancy. Nothing is out of place. A discreetly sappy black cherry fruit core is accented with a touch of cardamom spice. Oak is contributory without imposition. The wine has a mouth filling presence, a sleek texture, with integrated tannins, and a potent finish. There is an indefinable special quality to this wine that makes it stand out. Score: 94