2017 California Value Priced Pinot Noir All-Americans
There is a huge market for reasonably priced Pinot Noir that is of very good quality. The reality is that it is expensive to farm and produce quality Pinot Noir, making value priced domestic Pinot Noir limited in availability.
As you can see from the table below, the retail prices of table wine have escalated significantly over the past decade.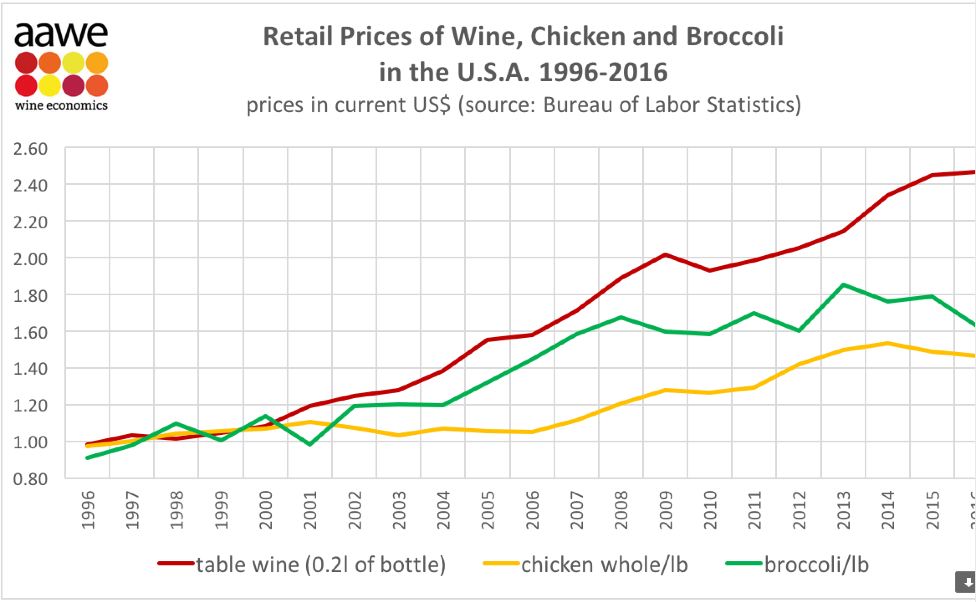 Most of the wines submitted for review to the PinotFile are in the premium or ultra premium category and cost more than $40. As a result, I don't have the opportunity to review large numbers of value priced Pinot Noir. Nevertheless, here are some recommended wines I found in 2017. I consider the value priced icon for wines that score at least 88 and are priced less than $40. A few wines were awarded both the Pinot Geek and Pinot Value icons making them particularly desirable. There was only one of these California wines reviewed in 2017 and is indicated by a preceding double asterisk. I have not included Pinot Noir Rosé wines as they almost always represent good value.
First Team Wines
**2015 Sanglier River Tusque Russian River Valley Pinot Noir 94 $36
2014 O'Connor Vineyard Russian River Valley Pinot Noir 93 $35
2014 Press Cellars Helluva Vineyard Anderson Valley Pinot Noir 93 $30
2014 Windy Oaks Estate Schultze Family vineyard Estate Cuvée Santa Cruz Mountains Pinot Noir 93 $39
2015 Carmel Road Panorama Vineyard Arroyo Seco Monterey Pinot Noir 92 $35
2016 Kutch Sonoma Coast Pinot Noir 92 $39
2014 Mignanelli Nelson Family Vineyard Santa Cruz Mountains Pinot Noir 92 $36
2015 Roessler Wine Cellars Black Pine Sonoma Coast Pinot Noir 92 $30
2015 Sandler Wine Co. Bien Nacido Vineyard Santa Maria Valley Pinot Noir 92 $36
2015 Sandler Wine Co. Boer Vineyard Chalone Pinot Noir 92 $36
2014 Sarah's Vineyard Santa Clara Valley Pinot Noir 92 $25

Second Team Wines
2015 August West Russian River Valley Pinot Noir 91 $34
2014 Davis Bynum Jane's Vineyard Russian River Valley Pinot Noir 91 $35
2014 Sanglier River Tusque Sonoma County Pinot Noir 91. $36
2016 Alma de Cattleya Sonoma County Pinot Noir 90 $28
2015 August West Santa Lucia Highlands Pinot Noir 90 $34
2015 Balletto Vineyards Russian River Valley Pinot Noir 90 $29
2015 Birichino Saint Georges Central Coast Pinot Noir 90 $24
2014 Brooks Note Marin County Pinot Noir 90 $36
2014 J. Lohr Highlands Bench Santa Lucia Highlands Monterey Pinot Noir 90 $35
2015 J Vineyards & Winery Monterey County, Sonoma County & Santa Barbara County Pinot Noir 90 $24
2015 Morgan Twelve Clones Santa Lucia Highlands Pinot Noir 90 $35
2014 Pence Ranch Santa Barbara County Pinot Noir 90 $27
2015 Sarah's Vineyard Santa Lucia Highlands Pinot Noir 90 $38
2013 Seal Beach Winery Taylor Noelle Clone 459 Pence Ranch Vineyard Santa Barbara County Pinot Noir 90 $32
2014 Seal Beach Winery Reserve Star. Rita Hills Pinot Noir 90. $35