2017 Oregon Value Priced Pinot Noir All-Americans
Most of the wines submitted for review to the PinotFile are in the premium or ultra premium category and cost more than $40. As a result, I don't have the opportunity to review large numbers of value priced Pinot Noir. Nevertheless, here are some recommended wines I found in 2017. I consider the value priced icon for wines that score at least 88 and are priced less than $40. A few wines were awarded both the Pinot Geek and Pinot Value icons making them particularly desirable. There were two of these wines reviewed in 2017 and they are indicated by a preceding double asterisk. I have not included Pinot Noir Rosé wines as they almost always represent good value.
Referencing the map below, it is evident that the best wine consuming customers are those with higher incomes. For Oregon, that is the northern Willamette Valley.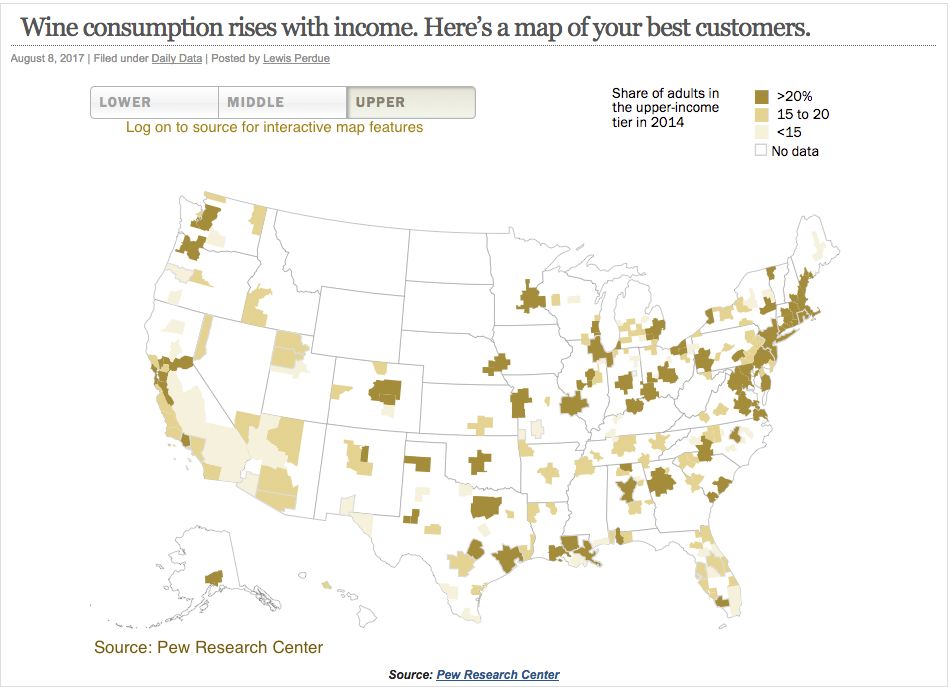 First Team Wines
**2014 Compton Family Cellars Alpine Cuvée Willamette Valley Pinot Noir 94 $38
**2014 Phelps Creek Vineyards "Beehive" Columbia Gorge Pinot Noir 94 $38
2015 DANCIN Écarté Oregon Pinot Noir 93 $37
2014 Dominio IV Rain on Leaves Stermer Vineyard Yamhill-Carlton Pinot Noir 93 $35
2015 Brigadoon Lyle Willamette Valley Pinot Noir 92 $23
2015 Broadley Vineyards Zenith Vineyard Eola-Amity Hills Pinot Noir 92 $30
2014 Kramer Vineyards Estate Yamhill-Carlton Pinot Noir 92 $28
2014 Lenné Estate Yamhill-Carlton Pinot Noir 91 $38
2015 Rain Dance Vineyards Estate Nicholas Vineyard Chehalem Mountains Pinot Noir 91 $30
2014 Résonance Willamette Valley Pinot Noir 91 $35
2016 Walter Scott La Combe Verte Willamette Valley Pinot Noir 91 $28
Second Team Wines
2014 Broadley Vineyards Willamette Valley Pinot Noir 90 $20
2015 Alit Willamette Valley Pinot Noir 90 $27.45
2014 Coeur de Terre Heritage Reserve Estate McMinnville Pinot Noir 90 $36
2015 DANCIN Pas de Trois Oregon Pinot Noir 90 $37
2015 DION Chehalem Mountains Pinot Noir 90 $25
2014 iOTA Not One iOTA Pelos Sandberg Vineyard Eola-Amity Hills Pinot Noir 90 $28
2014 Maison Roy & Fils Petite Incline Willamette Valley Pinot Noir 90 $35
2014 Purple Heart Freedom Hill Vineyard Willamette Valley Pinot Noir 90 $38
2015 Siduri Yamhill-Carlton Pinot Noir 90 $36
2015 Trisaetum Willamette Valley Pinot Noir 90 $36
2014 Winter's Hill Estate Dundee Hills Pinot Noir 90 $39