2017 California Chardonnay All-Americans
Top notch barrel fermented California Chardonnay is somewhat expensive. The All-Americans ranged in price from $38 to $70 with an average of $53.
In the past couple of years, I have been impressed by the Chardonnays from Pratt Vineyard (photo below). This 15.65-acre vineyard is located in Sebastopol on Sexton Road, south of the town of Graton and west of the town of Sebastopol. Jim Pratt, of Cornerstone Certified Vineyards, a winegrower for over 30 years, began developing this Sebastopol Hills vineyard in 1998. Soils are Goldridge sandy loam. Both Chardonnay and Pinot Noir are planted, with at least some of the Chardonnay as Old Went clone.
In addition to Chardonnays from Pratt Vineyard, there are several other vineyard-designated Chardonnays from the North Coast that are a guarantee of high quality: Bacigalupi, Charles Heintz, Durell, Hanzell, Ritchie, Rochioli, Savoy, and Zio Tony.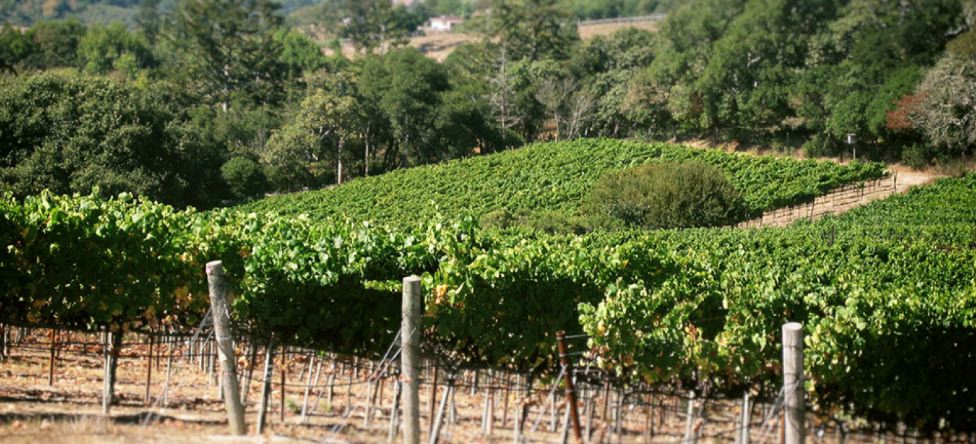 2015 Dutton-Goldfield Devil's Gulch Vineyard Marin County Chardonnay 97
2014 la pitchoune Pratt Vineyard Russian River Valley Chardonnay 97
**2015 La Follette Sangiacomo Vineyards Sonoma Coast Chardonnay 95 $38
2015 La Rue Charles Heintz Vineyard Sonoma Coast Chardonnay 95
2014 Peirson Meyer Charles Heintz Vineyard Sonoma Coast Chardonnay 95
2015 Scherrer Helfer Vineyard Russian River Valley Chardonnay 95
2015 Ancient Oak Cellars Single Vineyard Series Nurmi Vineyard Russian River Valley Chardonnay 94
2014 Balletto Cider Ridge Vineyard Russian River Valley Chardonnay 94
2015 Cattleya Pratt Vineyard Russian River Valley Chardonnay 94
2014 Gregory James Hawk Hill Vineyard Sonoma Coast Chardonnay 94
2015 Migration Dierberg Vineyard Santa Maria Valley Chardonnay 94
2015 Sonoma-Loeb El Novillero Carneros Chardonnay 94
2015 Three Sticks One Sky Sonoma Mountain Chardonnay 94
2015 Zina Hyde Cunningham Adeline's Vineyard Anderson Valley Chardonnay 94
ߐ