Pinot Briefs —Newsletter 11.15
Davis Bynum Passes Away at Age 92 Davis Bynum was a Russian River Valley pioneer who established the first winery on Westside Road and was the first to produce a single-vineyard Pinot Noir from the Russian River Valley: the 1973 Davis Bynum Winery Rochioli Vineyard Russian River Valley Pinot Noir. Bynum wanted to duplicate the French appellation system and bring attention to the source of grapes in his wines. Gary Farrell, a friend of Bynum's son, Hampton, made his first Pinot Noir for Davis Bynum as an assistant to Davis in 1978. He stayed on as winemaker for 20+ years and continued to consult when he started his own eponymous winery on Westside Road. Throughout his winemaking career, Bynum always sought to emphasize varietal character and food friendliness in his wines, undoubtedly influenced by his father who was a wine writer and wine judge, and Davis' involvement in the food and wine scene in the San Francisco Bay Area before founding Davis Bynum Winery. Davis Bynum Winery was sold to Thomas George Estates in 2007 and the Davis Bynum label was acquired by Tom Klein and the Klein family of Rodney Strong Wine Estates. To read more about Davis Bynum visit www.princeofpinot.com/article/551/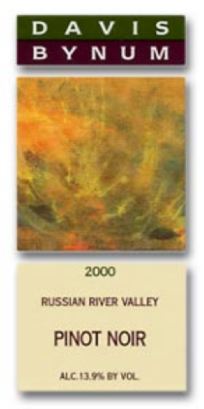 Rhys Vineyards' Kevin Harvey Turns to Italian-inspired Wines Esther Mobley reported in the San Francisco Chronicle (December 8, 2017) that Kevin Harvey, proprietor of Rhys Vineyards in the Santa Cruz Mountains, plans to launch a Cal-Ital project in Sonoma named "Aeris." Harvey has planted the Centennial Mountain Vineyard on a remote coastal ridge top west of Lake Sonoma. He intends to focus on Nebbiolo as well as a number of less well known Italian grapes such as Carricante, Nerello Mascalese, and Nerello Capuccio. Harvey also is a partner in a Carricante vineyard in Sicily and plans to make a Carricante wine under the Aeris label to be released in 2018 (2014 Aeris Etna Bianco Superiore).
Total Wine & More Expansion in San Francisco Bay Area Total Wine has opened a superstore in San Jose, a Mountain View Store and plans to add more stores in San Jose and Pleasanton. Total Wine stocks a wide variety of exclusive proprietary Pinot Noir labels that are reasonably priced but have little production information available. Vintages are not listed online. California labels include Soldiers of Fortune, Magna Terra, No Curfew, We Are Sonoma, Love Noir, Smoke Tree, Misbehaved, Fat Monk, and Velvet Crush. Oregon labels include Corvallis Cellars, Rascal, Domaine Loubejac, and Oregon Territory.
Increased Fertility in Women Who Drink Red Wine in Moderation Regularly Recent research by a team at Washington University in St. Louis, Missouri, indicated that women between the ages of 18 and 44 who drank red wine regularly compared to women who consumed littler no red wine had better ovarian reserve. A similar benefit was not seen for white wine. The results suggested that red wine, with a high amount of resveratrol, protects cells from biological stress and boosts fertility. It should be emphasized that women should drink red wine in moderation (one standard drink a day) and women wishing to conceive should be careful to imbibe.
New Chemical Test for Wildfire Tainted Wine Grapes As reported in thedrinksbusiness.com (October 25, 2017), researchers at the University of British Columbia have created a chemical test that accurately measures the levels of damaging aromatic chemical compounds (volatile phenols) that grapes absorb when they are exposed to smoke. This test would allow growers to receive instant information as to whether grapes are fit to use in wine. The grapes do not need to be fermented first. The test would also have applicability in smoked oak barrel aging when volatile phenols from the barrels enter wine, allowing winemakers to control the amount of smoky aroma and flavor.
2017 California Harvest Report A remarkable summer heat wave producing record high temperatures (triple digits) over Labor Day weekend and October's wildfires in the north of California near the end of harvest are the most notable features of the 2017 vintage. The problem with the heat spike was that the vines shut down at a very pivotal stage of development to try to stay alive and "raisining" of berries often results. In some cases, the grapes were mature before the heat spike and in other cases moved ripening along quickly. The heat lead to a rush to harvest certain varieties to keep the grapes from getting too sweet. Most Pinot Noir was harvested before the wildfires. The North Coast and Monterey reported generally high quality across all varieties although yields will be impacted. Yields of Pinot Noir and Chardonnay were down as much as 50% below average in Santa Barbara County with clusters smaller than usual. Santa Cruz Mountains experienced as much as 100 inches of rain on the ocean side requiring leaf pulling and thinning due to vigorous growth. A shortage of vineyard labor at harvest was widespread in California.
2017 Oregon Harvest Report Everything came up roses for Oregon in 2017. Several weeks of high temperatures earlier in the growing season in the Willamette Valley had little impact and September and October were relatively dry . Harvest was huge and required intensive vineyard work to limit vigor. Growers finished harvest at the end of October (the norm for Oregon except for the past three years that were at least a month early) and reported a robust crop that is estimated to be up by 10 to 15 percent. The Cascade wildfires had little impact. Mold and birds were of little consequence. The available labor pool at harvest continues to be a major challenge.
Planting Trends in California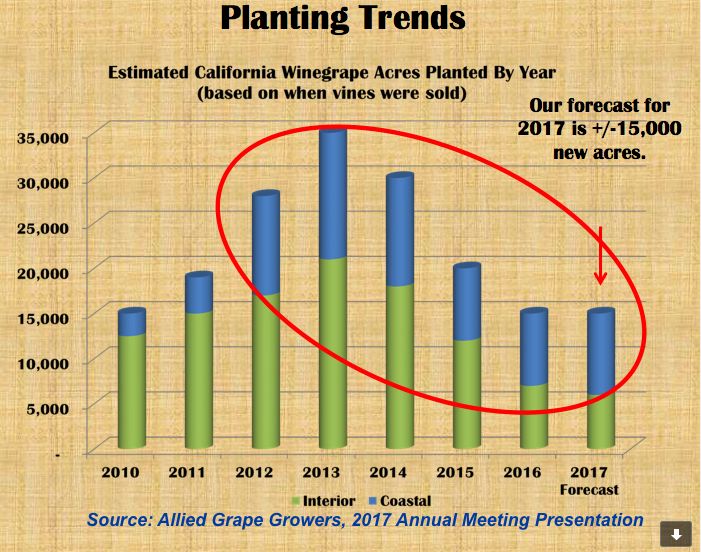 Article on Conducting Wine Tastings with Wine Critics I contributed to an article written by Carl Giavanti Consulting titled, "How to Taste With Professional Reviewers and Critics." My comments were based on visiting multiple wineries over the past 15 years. Visit www.carlgiavanticonsulting.com/2017/12/06/how-to-taste-with-professional-reviewers-and-critics/
Santa Rosa's Bottle Barn An article appeared online (https://daily.sevenfifty.com/inside-bottle-barn-an-iconic-santa-rosa-wine-retailer/) about this wine retailer. I have been a regular visitor to this warehouse wine retailer for years. Hidden in an obscure location in an industrial area of Santa Rosa, the store is bare bones, with wines stacked in racks, organized by varietal with a few seemingly haphazard descriptive and rating shelf tags taped to the racks. One can spend an hour or more grazing through the extensive selection of North Coast Pinot Noir that includes many little known, boutique producers. The wines are priced reasonably at an average of 20 percent over wholesale prices, and occasionally special deals offer a more significant discount. There is no customer service to speak of, but the low prices make up for this shortcoming. Bottle Barn has no online presence but this is being considered. The store also has a terrific selection of beer.
Petaluma Gap Gains Official AVA Recognition Rickey Trombetta Stancliff, CEO of Trombetta Family Wines and current president of the Petaluma Gap Winegrowers Alliance, reported that the Petaluma Gap officially becomes an American Viticultural Area (AVA) on Friday, December 8, 2017. This approval means that wines from this AVA may have "Petaluma Gap" on their labels. These new labels should appeal on wines from the 2014 vintage. Producers of Pinot Noir from this region welcome this change as it allows wines from the Petaluma Gap AVA to distinguish themselves from the massive Sonoma Coast AVA.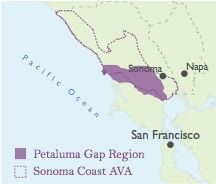 Need a laugh? Visit the Amalie Robert Estate FLOG communication www.amalierobert.blogspot.com. The 2017 Climate Update had me laughing out loud. "The Master Farmer (MF) exam is scheduled to begin in October….every year about this time, winegrowers in Oregon's Willamette Valley take this exam. Unlike other wine accreditations, the MF must achieve a passing grade each year. It's really quite a Cluster Pluck when you get right down to it. A MF must deliver healthy, mature wine berries that have stunning aromas and flavors regardless of degree day accumulations and rainfall, and be pristine exemplars of the variety with balanced acids and sugars…….more (BTW, winemaker Ernie Pink manages to pass the MF exam yearly with flying colors)
Shortage of Manpower Serious Threat to Winegrowers Rod Berglund, proprietor and winemaker at Joseph Swan Vineyards in the Russian River Valley, who worked his 28th harvest this year, described his challenges this past harvest. "Our best-laid plans to pick when flavors and balance were attained ran head on to something. There simply was not enough labor. Too many vineyards, too few people, too many competing needs for the pickers. Vineyard managers had scheduled picks and scrambled when half their people showed up. In some cases, whole crews would leave when someone else would offer them a better opportunity. For some winegrowers, there has been a return to the old days - when harvest arrived, schools would close and whole families would bring in the harvest." The shortage of field workers in both California and Oregon has become a serious challenge since most Pinot Noir vineyards are not amendable to mechanical harvesting.