Recently Tasted Pinot Noir & Other Wines
Big Basin Vineyards, Boulder Creek, CA
I am always intrigued by the Pinot Noir wines from Big Basin because they offer considerable nuance and individuality. They are not at all like so many Pinot Noir wines produced currently in California and therefore challenge the drinker. The aromatics are more savory than fruity, the textures are interesting, and the tannins well balanced. The wines even have a little of that "funk" that one experiences with fine Burgundy reds.
This winery was founded by Bradley Brown and his sister Wendy Brown on an historic site next to Big Basin Redwoods State Park. The Pinot Noir wines are vnified in small lots using significant whole cluster fermentation, native yeast, and no additions other than sulfur dioxide after secondary fermentation is completed.
2015 was a classic, low yielding, high concentration vintage in the Santa Cruz Mountains according to Bradley. Years of drought followed by an early bud break and then spring rains reduced yields in most of Big Basin's vineyards by 50% of normal. Summer was moderate to warm, bringing on rapid ripening during the harvest season. Winemakers had to be cautious to avoid picking excessively ripe fruit.
The wines are sold through a mailing list, wine club and tasting rooms at both the estate winery and in the town of Saratoga: see website at www.bigbasinvineyards.com.
Cristom Vineyards, Salem, OR
There isn't a whole to say about this iconic Oregon winery that hasn't been written with boundless enthusiasm over and over. Winemaker and biochemist Steve Doerner has been at Cristom since its founding in 1992 and that is an eternity for most winemakers today. His style is influenced by his time at Calera and study under Jacques Seysses of Domaine Dujac in Burgundy before arriving at Cristom.
Today, Cristom Vineyards consists of eight distinct sustainable vineyards on 65 acres in the Eola-Amity Hills. Four of these vineyards, known as "The Four Ladies," include Marjorie (the only planting that was part of the property when it was acquired and the only vines planted on their own roots), Jessie, Louise and Eileen, and form the quartet of vineyard-designated Pinot Noir wines that has brought Cristom notoriety.
Marjorie Vineyard at Cristom
The Cristom Pinot Noir wines combine Oregon terroir with a Burgundian sensitivity. The wines are produced with some percentage of whole cluster fermentation, a technique not in widespread use in Oregon. The wines are noninterventional, meaning native yeasts, no cold soak, no filtration, and minimal fining and racking. Because of the whole cluster inclusion, acid additions are often necessary.
Perhaps even more unique than the Pinot Noir wines are the winery's other varietals, all of which are outstanding: Pinot Gris, Chardonnay, Viognier and Syrah. The Syrah, produced from 1.25 acres of estate vines, was the first estate grown and bottled Syrah in the Willamette Valley when it was first released in 2003.
Cristom Pinot Noir is consistently the number one Oregon Pinot Noir sold in United States restaurants. Cristom wines are also widely distributed in fine retail stores and sold on the winery's website. Despite the popularity of the wines, they are accessible to the consumer. You can book tastings including "The Cristom Experience" or "Picnic in the Vines" at www.cristomvineyards.com. Cristom is currently offering Vineyard Retrospectives, 2008-2013, for Marjorie, Eileen, Louise and Jesse Pinot Noir.
In the 2015 vintage, bud break occurred in March, the earliest ever recorded at Cristom Vineyards and a full 3 weeks earlier than the winery's twenty-five-year average. Warmth continued through spring, leading to bloom beginning in most blocks at the end of May (also the earliest ever recorded at the estate). Warm, dry weather during flowering led to a heavy fruit set and the vines produced sizable clusters with large berries. The result of the vintage growing conditions was a rare combination of abundant quantity and exceptional quality fruit.
The 2015 vintage single vineyard Pinot Noir wines are highly concentrated and not as forward now as the 2014 vintage wines were at this stage. Decanting would be advisable if you plan to drink them soon. Better to lay they down for awhile while you drink the more accessible Mt. Jefferson Cuvée.
Cuvaison, Carneros, Napa Valley, CA
Cuvaison is one of California's most established and worthy wineries, dating to 1969. It was one of the first post-Prohibition Napa Valley wineries and played a key role in the evolution of luxury Napa Valley Chardonnay and Pinot Noir. Cuvaison also championed the recognition of the Los Carneros AVA. For the past four decades, Cuvaison has focused on estate grown Chardonnay and Pinot Noir from its expansive 200 acres of vineyards first planted in 1980. With 44 different blocks of Chardonnay and 20 blocks of Pinot Noir, the vineyards are one of the oldest and most diverse sites in the region. Over almost 40 years of farming, the Cuvaison team has developed a block-by-block approach to cultivating the vineyard.
A few years back, Cuvaison unveiled their Single Block wines two of which are reviewed here. The wines are crafted by long-time winemaker Steve Rogstad, who designed the purpose-built Chardonnay and Pinot Noir winery. Visit the website at www.cuvaison.com.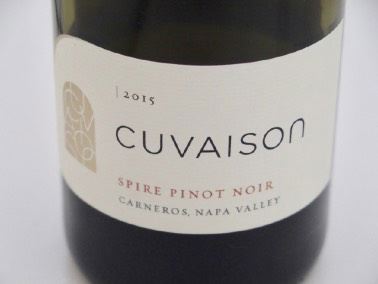 2015 Cuvaison Single Block Series Spire Carneros Napa Valley Pinot Noir
14.5% alc., pH 3.65, TA 0.51, $52. Clone 115, 18-year-old from a low-yieldings high elevation site on the estate vineyard. This site stands out for its depth and concentration according to the winemaker. Yields in 2015 were down about 40%. Aged 16 months in French oak barrels, 50% new. · Moderate garnet color in the glass. Shy, but pleasant aromas of dark cherry and a compliment of oak. More expressive on the palate, offering a mid weight plus charge of black cherry and black raspberry fruit flavors underlain with earthiness and notes of dark chocolate and cola, Satiny in texture, with inviting harmony, finishing with some generosity. Can be enjoyed now but will benefit from another year in the cellar. Score: 92
2015 Cuvaison Single Block Series Adda Carneros Napa Valley Chardonnay
14.2% alc., pH 3.50, TA 0.58, $50. A barrel selection of lowest yield Old Wente vines averaging 15 years of age. Aged 18 months in French oak barrels 50% new. · Moderate golden yellow color in the glass. Shy aromas of lemon peel, peach skin and nutty oak. Richly endowed with well-ripened citrus, yellow peach and tropical fruit flavors blessed with a deft touch of oak. Rich and creamy in the mouth, with engaging finishing power. This wine reflects plenty of California sunshine in a style more driven by fruit than acidity. Score: 93
Laetitia Vineyards, Arroyo Grande, CA
2015 Laetitia Single Vineyard La Colline Arroyo Grande Valley Pinot Noir
13.7% alc., $60. Name means "The Hillside" in French. Sourced from low-yielding blocks in the heart of the Laetitia estate vineyard. Only produced in exceptional vintages. · Moderately light garnet color in the glass. Nicely appointed aromas of cherry reduction sauce, rose petal, pomegranate and terra cotta. Light to mid weight cherry core with a subtle smoky note in the background. Inviting juiciness and balanced fine-grain tannins, finishing a bit flat and short. The aromatics are the most appealing feature of this wine at this stage. I have had much better examples of this wine in previous vintages. Score: 89
2015 Laetitia Single Vineyard Les Galets Arroyo Grande Valley Pinot Noir
14.1% alc. $60. The name means "Stones" in French. Sourced from low-yielding blocks of modern plantings. Only produced in the most promising vintages. · Moderate garnet color in the glass. Aromas of purple berry, underbrush and barrel are muted. Mid weight flavors of blackberry and boysenberry with a thread of oak in the background. Very lacy and silky, with spot-on balance, but the fruit flavor is a bit flat and infused with a conflagrant taste that is unusual and persists even over a day's time of tasting. This wine is not up to its usual excellence in this vintage. Score: 89
MacRostie Winery & Vineyards, Healdsburg, CA
2015 MacRostie Winery & Vineyards Thale's Vineyard Russian River Valley Pinot Noir
14.3% alc., 740 cases, $56, screw cap. Steve and spouse Thale founded MacRostie together in 1987. Thale's Vineyard surrounds the winery's new home in Westside Road in the Russian River Valley. The winery's first estate vineyard. Clones 2A and 23. 100% de-stemmed, inoculated with yeast after a 3-day cold soak. Aged 12 months in French oak barrels, 37% new. · Moderately light garnet color in the glass. The nose offers a combination of fruity black cherry aromas and savory notes of earthy flora, herbs and toasty oak. Light to mid weight in style, offering flavors of Bing cherry and purple grape with an accent of baking spice and herbs. Somewhat reserved in character, but displaying satisfactory mid palate intensity and a juicy finish. Score: 90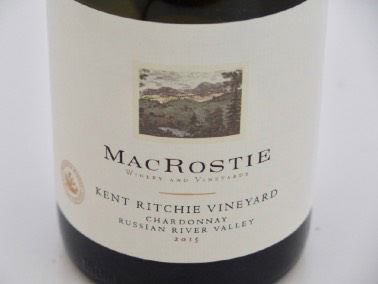 2015 MacRostie Kent Ritchie Vineyard Russian River Valley Chardonnay
13.9% alc., 315 cases, $46, screw cap. Kent Ritchie has farmed his iconic vineyard for nearly 40 years. Wente selection from original 40-year-old plantings and 15- to 20-year old vines. Whole cluster pressed, barrel fermented and aged on the lees with occasional stirring for 15 months. 15% new French oak. · Light golden yellow color in the glass. Soaring aromas of lemon, pineapple, pear, creme brûlée and a hint of slate. Lovely flavors of pear, lemon, pineapple and melon that are both intense and lifted by vibrant acidity. Impeccably composed and balanced, with a slightly viscous mouth feel and a grand finish that really holds on. Goes down like mother's milk. A special wine from a venerable vineyard and exceptional by any measure. Terrific price to boot. Score: 95
Martinelli Winery & Vineyards, Windsor, CA
The Martinelli family are part of the historical fiber of the Russian River Valley. They have been growing grapes and apples in Sonoma County since 1887, planting their first Pinot Noir in 1970. Two historic hop barns grace the estate property on River Road that were converted into a tasting room and winery. The Martinellis began producing Pinot Noir under their own label in 1993, with Helen Turkey as the winemaker.
Currently, Lee Martinelli, Sr., and his two sons, Lee, Jr., and George, oversee the management of 400 acres of prime vineyard land in the Russian River Valley and Sonoma Coast appellations.
Helen Turley left her consulting winemaking position in 2010 and turned winemaking over to Bryan Kvamme. Courtney Wagoner, a veteran of winemaking stints at Wild Horse Winery, Gundlach Bundschu, and Alderbrook. She joined Martinelli as assistant winemaker in 2015 and was promoted to winemaker in 2017. Erin Green has been the consulting winemaker since 2010.
I became interested in Martinelli many years ago, not because of Pinot Noir, but because of their Jackass Hill Zinfandel which I relished. As you can see from my website, I have not tasted many Martinelli Pinot Noir wines, in part because they have never been submitted for review.
Many wines are sold on the winery's website at www.martinelliwinery.com, with special bottlings only offered to tasting room visitors and long time mailing list members. All Martinelli wines are from estate vineyards.
The Martinelli Pinot Noir wines have a distinctive style characterized by high extraction, fruit picked at higher Brix and resultant higher alcohols. Although the goal of winemaking here is to display the individuality of different vineyard sites, the hedonistic, fruit-driven style tends to obscure the terroir. That said, the wines are consistently lauded by the wine press with high scores and this piqued my interest enough to buy two bottles and see for myself.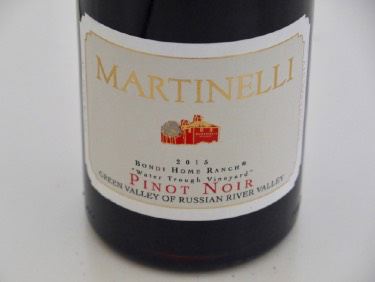 2015 Martinelli Bondi Home Ranch Water Trough Vineyard Green Valley of Russian River Valley Pinot Noir
15.4% alc., $70. 23 acres of clones 114, "828," 777, 667, 943 and Calera planted in Goldridge sandy loam soil. · Very dark garnet color in the glass. Aromas of black fruits, toast and vanilla creme. Full-bodied and luscious with copious purple and blackberry flavors supported by complimentary oak. The alcohol and tannins are well-integrated in this wine that could be mistaken for a Zinfandel. Well-made in this style that pleases with a slick and smooth mouthfeel.There is less acidity than wines from Green Valley typically offer but there is enough to propel the wine. Noticeably more mellow when tasted the following day from a previously opened and re-corked bottle. Score: 92
2015 Martinelli Zio Tony Ranch "Grace Nicole" Russian River Valley Pinot Noir
15.3% alc., $70. This vineyard is named after Lee Martinelli Sr.'s uncle. Zico means "uncle" in Italian and is pronounced "tseo." At one time, this site was the largest apple orchard in Sonoma County. When Zico Tony passed away in 1971, his nephew, Lee Martinelli, Sr., took over management of the estate. This 45-acre vineyard was planted to Pinot Noir (115, 777 and "828"), Chardonnay and Syrah wine grapes in 2000, 2001 and 2006. Goldridge sandy loam soil. · Dark garnet color in the glass. Reserved aromas of blackberry reduction sauce, spice, raisin and redwood forest. A mid weight plus styled wine that has a bit more vibrancy than the Bondi Home Ranch bottling and more Pinot charm. The sappy fruit flavors of blackberry and ollaliberry are engaged with a welcome spice note. Very silky in the mouth, with good balance, finishing with willing intensity. Unchanged when tasted the following day from a previously opened and re-corked bottle. Score: 92
Migration, St. Helena, CA
Since winemaker Dana Epperson has taken over, the brand has increased in quality by leaps and bounds for both Pinot Noir and Chardonnay. Dana does upwards of 50 individual Pinot Noir fermentations each vintage, with some as small as a single ton.
Migration is now going beyond its Anderson Valley origins and exploring Pinot Noir and Chardonnay from other special cool-climate wine growing regions.
The wines are cellared and bottled by Migration, Hopland, CA. Migration is part of the Duckhorn Wine Company portfolio. Visit www.migrationwines.com.
2015 Migration Running Creek Vineyard Russian River Valley Pinot Noir
14.5% alc., $68. Migration's estate vineyard located in the heart of the Russian River Valley. A selection of the best blocks and barrels from this site (only about 3% of the vineyard's total grapes). Second vintage. Aged 10 months in French oak barrels 40% new and 60% neutral. · Moderately dark garnet color in the glass. Shy, but pleasurable scents of black fruits and gentle oak. A little riper fruit and more sap and structure than the Dutton bottling. Fruit-driven, with hints of cola, earth and oak. Nicely balanced, with a satiny texture and an agreeable ending. Score: 92
2015 Migration Dutton Ranch Russian River Valley Pinot Noir
14.1% alc., $68. There is not much specific about the Dutton Ranch designation since the Duttons farm so many acres, but this bottling concentrates on the Green Valley or coolest and foggiest part of the Russian River Valley. Clones 115 and "828." Aged 10 months in French oak barrels, 40% new, 60% neutral. · Moderate garnet color in the glass. The nose opens broadly in the glass, sporting aromas of black cherry, Asian spices, and underbrush. An intense attack of black cherry fruit alerts the senses in this middleweight styled wine that is giving and forward. Creamy and sleek in the mouth, with melded tannins, and compatible acidity. The finish is gratifying but not extraordinary. The mild oak shadow needs some time to fully integrate. Score: 92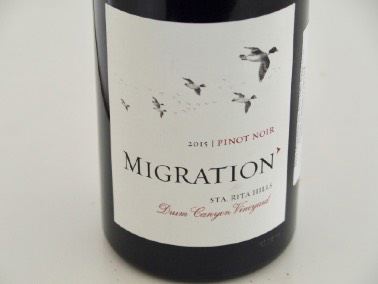 2015 Migration Drum Canyon Vineyard Sta. Rita Hills Pinot Noir
13.9% alc., $68. This vineyard was planted in 2003 by the Dierberg family and is located at the eastern edge of the Sta. Rita Hills AVA. Aged 10 months in French oak barrels, 40% new and 60% neutral. · Moderately dark garnet color in the glass. Reserved aromas of black cherry, earthy flora, toast and cigar box. Stunning on entry, with loads of black cherry, raspberry and spice flavor in a mid weight plus style that delivers immersed tannins and vibrant acidity. Nuances of earth and mushroom add interest. Very sleek and refreshing with the longest finish of the trio of 2015 Migration Pinot Noir wines tasted. Score: 93
Windrun Vintners, Buellton, CA
This winery, founded by Lance Mason in 2010, is a Santa Barbara County-based negotiant focused on Pinot Noir and Chardonnay. The wines offer outstanding value. Veteran Ken Brown in the winemaker. Wines are cellared and bottled by Windrun Vintners, Buellton, CA.. Visit www.windrunwine.com.
When Lance emailed me in December 2017 offering to send two of the Windrun wines for editorial consideration, I really had to laugh at his clever presentation. I will pass it on in edited form. "To your Royal Highness. Your Grace. With all respect to your position in the Royal Houses of Ampelography and Oenology, may this humble servant request an audience with your grace for our new offerings. With your indulgence, m'lord, the two wines are quite distinct from each other. May we tempt your Highness with a taste?"

2014 Windrun Sta. Rita Hills Pinot Noir
14.5% alc., pH 3.46, TA 0.68, 733 cases, $32. 100% Wädenswil 2A clone, Sanford & Benedict Vineyard. · Moderately light garnet color in the glass. Enjoyable fragrance of Bing cherry, cola and brown spice. Light to mid weight oak-kissed cherry core that is more intense on entry than exit. Easygoing, silky and refined, with good acidity and equitable tannins. Score: 89
2015 Windrun Vintage Selection No. 12 Sta. Rita Hills Pinot Noir
14.3% alc., pH 3.44, 359 cases, $34. Four clones including 667 and 115 from primarily Evans Ranch and nearby vineyards. · Moderate garnet color in the glass. Moody aromas of well-ripened black fruits, raisin, toasty barrel and underbrush. Fruit driven in a mid weight style, with a foundation of blackberry and cassis flavors overlain with toasty, even charred oak. Deep, dark and mysterious, with integrated tannins, a satiny mouthfeel and some finishing intensity. Too much barrel input for my taste. Score: 87
More Wines
2015 Belle Glos Clark & Telephone Vineyard Santa Maria Valley Pinot Noir
14.6% alc., $55. Released August 2017. Heavy wax on neck with pull tap opener, Winemaker Joseph J. Wagner. Produced and bottled by Belle Glos Wines in St. Helena. Martini clone. 100% de-stemmed. Up to 2-week cold soak. Fermented in a combination of closed and open-top stainless steel fermenters with punch downs and pump overs. Free-run juice to barrel. Aged 9 months in French oak barrels, 60% new, 40% seasoned. Racked twice, once after MLF and once before making the final blend. · Dark garnet color in the glass. Aromas of boysenberry jam, vanilla, caramel and menthol. Full-bodied and lush, with flavors of blueberry, boysenberry and blackberry backed by sweet oak and vanillin. There is a vanilla ice cream cone flavor that stands out to me. A flowing wine with a velvety texture that will appeal to those who like a succulent style. Very similar to Meiomi Pinot Noir. Score: 86
2015 Comartin Cellars R-Bar-R Ranch Santa Cruz Mountains Pinot Noir
14.4% alc., 50 cases, $29.99 (SRP is $55 on website). Vineyard is located at 1,100 feet elevation at the southern tip of the Santa Cruz Mountains. Adam Comartin is the winemaker. A puzzling wine for me as Wine Enthusiast awarded this wine 94 points. The winery has been highly praised for a number of varietal releases so I was curious to try this wine that I purchased. · Moderate garnet color in the glass. The nose reveals piquant aromas of tobacco, hot smoke and toast. The mid weight core of black cherry fruit is heavily infused with charred oak and green tobacco flavors. Silky in the mouth, with fine-grain tannins and some cherry-driven finishing intensity and length. Unchanged when tasted the following day and somewhat unpleasant to drink. Can't reach any definitive conclusions other than this may have been a bad bottle. Not scored. Score: NA

2015 Yamakiri Filigreen Farm Anderson Valley Pinot Noir
13.5% alc., $33. Produced and Balo Vineyards as a custom crush client by Yamakiri Wines, Philo. Name means, "Mountain Fog." · Moderate ruby red color in the glass. Lovely aromas of red grape, cherry, rose in bloom, and earthy vegetation. Light to mid weight flavors of cherry, cranberry and spice framed by spirited acidity and notable fine-grain tannins. When tasted the following day from a previously opened and re-corked bottle, the wine was even more appealing with better acid and tannin integration. Score: 89