Oregon Pinot Briefs —Newsletter 11.19
Rajat Parr Talks Oregon Chardonnay Rajat recently said, "When you go up against four decades of marketing for Oregon Pinot Noir, it's challenging to get people to think about Oregon Chardonnay at all, much less world-class Chardonnay. I'm more convinced than ever that the rocky volcanic hillsides of the Eola-Amity Hills is among the most compelling places in the New World to grow and vinify Chardonnay." The 6th Annual Oregon Chardonnay Celebration will be held at The Allison Inn & Spa, Newberg, Oregon, on February 24, 2018. Tickets are available at www.oregonchardonnaycelebration.org.
Medal Winners at 25th SIP McMinnville Wine & Food Classic The 25th anniversary event of the SIP McMinnville Wine & Food Classic will be held March 9-11, 2018. The Wine Competition was held on January 20, 2018 and 118 wines from 35 wineries were judged by an esteemed panel of judges. Gold Medal winners included 2014 Cardwell Hill Cellars Dijon Blocks Willamette Valley Pinot Noir and 2014 Hawkins Cellars Eola-Amity Hills Pinot Noir. Silver Medals went to 2014 Cardwell Hill Cellars Monet Blocks Willamette Valley Pinot Noir, 2014 Melrose Vineyards Estate Grown Pinot Noir, 2014 Yamhill Valley Vineyards Reserve Pinot Noir, 2015 Cubanismo Vineyards Estate Pinot Noir, 2015 David Hill Old Vine Pinot Noir, 2015 K&M Beacon Hill Vineyard Pinot Noir and 2015 Yamhill Valley Vineyards Estate Pinot Noir.
Craft Wine Association Launched This newly formed Oregon-based non-profit certifies craft wineries nationally. Founded by Carole Lawson, the association's mission is to connect craft wine producers with craft lovers through partnerships, education and outreach. Wine drinkers can seek out the Certified Craft Wine seal at grocery markets and retailers where wine is sold. The consumer is assured that the wine they choose is produced in lots of 5,000 cases or fewer, is made from grapes that come from an identifiable vineyard, and that its production was winemaker led from start to finish. They will know that the wine is an authentic, handmade craft wine. The Craft Wine Association website, www.craftwine.org, has a searchable online directory with links to each winery's point of purchase. The Association also shares members' stories with a community of consumers interested in small-production wines. Memberships begin at $495 per year.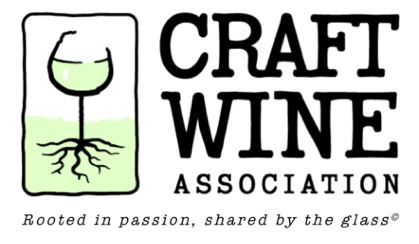 Willamette: The Pinot Noir Auction The Willamette Valley Wineries Association has unveiled the official lineup of 80 auction lots of one-of-a-kind Pinot Noir wines from the 2016 vintage that will be offered at the third annual Willamette: The Pinot Noir Auction on April 7 at the Allison Inn & Spa in Newberg, OR. This event is held exclusively for members of the wine trade. Each lot is from the 2016 vintage and is offered in quantities of five, ten and twenty cases and will be available in the market only by resale to their customers. Three collaborative Chardonnay lots have been added this year. The full description of all lots are available online at www.willamettewines.auction/wineries. Prince Hill will be making its debut at the 2018 auction. Founded by icons Dick Erath and Laurent Montalieu, the lot will offer five cases from the Prince Hill Vineyard where Erath made his first single-vineyard Pinot Noir nearly 30 years ago. The wine is made from Clone 95 (117).
Co-Owner Bill Stoller Acquires Full Control of Chehalem Winery Stoller has purchased co-owner Harry Peterson-Nedry's share of equity in the winery business after 24 years of partnership. Peterson-Nedry will now concentrate on managing his 48-acre vineyard in Ribbon Ridge and craft wines for RR Winery. Although Stoller also owns Stoller Family Estate, the two brands are independent with their own history and future.
Winery Owner Elizabeth "Liz" Chambers Dies Recently featured in the Oregon Wine Press, Liz Chambers passed away of natural causes on a trip. Chambers was the oldest daughter of the late businesswoman and philanthropist Carolyn Chambers who interested Liz in the wine business. Carolyn owned Silvan Ridge Winery and made her daughter the general manager in 1993. Liz became the sole owner in 2012. In 2014, Liz launched Elizabeth Chambers Cellar, a winery specializing in Pinot Noir located in downtown McMinnville.
Latest Willamette Valley Winery Amalie Robert Estate Degree Day Comparison The chart shows that 2014 and 2015 vintages were the warmest since 2003. 2016 was more moderate yet still warm while 2017 returned to a warmer season.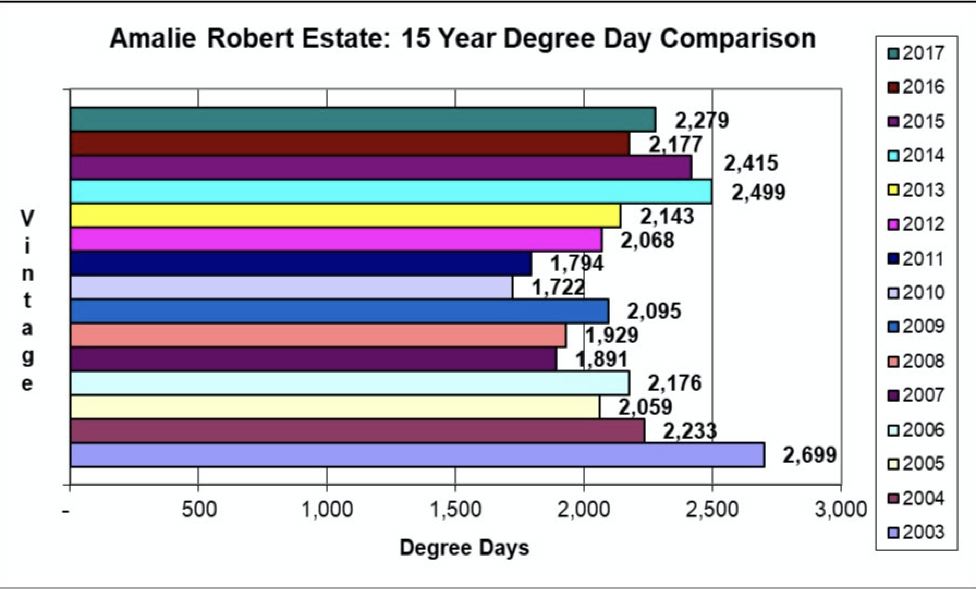 Oregon's 2016 Vintage Pinot Noirs are Classics The 2016 vintage was warm, yet not as hot as 2014, 2015 and 2017, and this has led to a classic Oregon vintage. There was simply no pressure from the weather. The wines have less ripeness and extraction, better acidity, less tannins and more elegance than the hotter vintages. The 2016 wines are just now entering the marketplace and appear to be quite engaging even at this early stage.
Flavors of Carlton Hosted by Ken Wright Cellars, this event on May 6, 2018, features silent and live auctions and Dinner in the Big Tent at Ken Wright Cellars in Carlton featuring offerings from 10 regionally-renowned chefs with wine pairings from 20 of Oregon's wine producers. A benefit for Yamhill Carlton Together Cares that supports local youth and community programs. Purchase tickets online at www.yctogethercares.com.
Grape Day Research Meeting The Oregon Wine Research Institute presents the 2017 Grape Day Research Meeting on Thursday, April 6, 2018, at the LaSells Stewart Center on the Oregon State University campus. Topics include Management of Trunk Disease, Grapevine Viruses, and Fungicide Resistance. Register at www.owri.oregonstate.edu.
Oregon Medal Winners at 2018 San Francisco Wine Chronicle Wine Competition This is the largest wine competition of American wines. 6,960 entries from 35 states were rated by 67 judges. A majority of the wines come from California, but there were several Oregon wines that scored medals. The wines are judged over several price range categories. See the full results at www.winejudging.com.
Pinot Noir $15.00 to $19.99: 2016 Duck Pond Cellars Oregon Pinot Noir ($19) Gold Medal, 2016 Duck Pond Cellars Willamette Valley Pinot Noir ($19) Gold Medal.
Pinot Noir $20.00 to $23.99: 2015 Pike Road Wines Willamette Valley Pinot Noir ($20) Double Gold Medal, 2016 Oak Knoll Winery Willamette Valley Pinot Noir ($20) Gold Medal.
Pinot Noir $28-$31.99: 2015 Del Rio vineyards Rogue Valley Pinot Noir ($28) Double Gold Medal, 2015 King Estate Willamette Valley Pinot Noir ($28) double Gold Medal, 2016 Brigadoon The Other Side Willamette Valley Pinot Noir ($30) Gold Medal, and 2015 Chehalem Willamette Valley Pinot Noir ($30) Gold Medal. ,p> Pinot Noir $32.00-$35.99: 2016 BKB Wines Makena Vineyard Eola-Amity Hills Pinot Noir ($35) Double Gold Medal, 2014 Ruby Chehalem Mountains Laurelwood Blend ($35.99) Double Gold Medal, 2016 Deer Creek Vineyards Oregon Pinot Noir ($35) Gold Medal, 2015 Cristom Mt. Jefferson Cuvée Pinot Noir ($32) Gold Medal, and 2015 Reustle Prayer Rock Vineyards Umpqua Valley Pinot Noir ($34) Gold Medal.
Pinot Noir $35.00-$39.99: 2015 Alloro Vineyard Estate Chehalem Mountains Pinot Noir ($38) Double Gold Medal, 2015 Dancin Vineyards Coda Southern Oregon Pinot Noir ($37) Gold Medal.
Pinot Noir $40.00-$43.99: 2015 Henry Estate Umpqua Valley Pinot Noir ($40), Double Gold Medal.
Pinot Noir $48.00-$54.99: 2015 Belle Fiore Rogue Valley Pinot Noir ($49) Double Gold Medal, 2014 Domaine Serene Yamhill Cuvee Pinot Noir ($45) Double Gold Medal.
Pinot Noir $65.00 and Over: 2015 Argyle Spirithouse Dundee Hills Pinot Noir ($75) Double Gold Medal, 2015 Alloro Vineyard Estate Justina Chehalem Mountains Pinot Noir ($85) Gold Medal.
Oregon Winery Participants in the 2018 IPNC Aberrant Cellars, Adelsheim Vineyard, Alloro Vineyard, Analemma Wines, Anne Amie, Belle Pente, Bergstrom Wines, Brittan Vineyards, Broadley Vineyards, Coelho Winery, Colene Clemens, Dominio IV, Duck Pond Cellars, ET Fille Wines, The Eyrie Vineyards, Illahe Vineyards, Kelley Fox Wines, Lavinea, Lemelson Vineyards, LUMOS Wines, Patricia Green Cellars, Penner- Ash Wine Cellars, Ponzi Vineyards, Raptor Ridge Winery, ROCO Winery, RR Wines, Soter Vineyards, Spindrift Cellars, Torii Mor Winery, Tyee Wine Cellars, Walter Scott Wines, Willakenzie Estate, Willamette Valley Vineyards, Youngberg Hill and Yamhill Valley Vineyards. The 2018 International Pinot Noir CElebration (IPNC) will be held July 27-28, 2018 at Linfield College in McMinnville, Oregon. Tickets are $1,295 for a full weekend and $125 for the Passport to Pinot Tasting on July 29. Some tickets are made available to the public for the July 28 Salmon Bake. Visit www.ipnc.org for full information and to acquire tickets.
2016 Oregon Vineyard & Winery Census Report The Southern Oregon University SOURCE Research Center released its 2016 Oregon Vineyard & Winery Census Report in late August. The total number of vineyards in Oregon was reported as 1,056 with the largest number, 719 in the Willamette Valley. Planted acreage was 30,435 in Oregon, with 21,793 in the Willamette Valley. Pinot Noir accounted for 64 percent of planted acreage and 57 percent of the 79,782 tons of production. Bonded wineries include 725 total with 554 in the Willamette Valley. Pinot Noir production was 45,851 tons, a 9.6 percent decrease from the high yielding 2015 vintage, even as harvested acreage rose by 14.4 percent from 2015. A 14 percent increase in national sales contributed to a 10 percent increase in case sales in 2016 to nearly 3.4 million.
50th Anniversary of First Pinot Noir Bottling in Oregon 2017 marked the 50th anniversary of Richard Sommer's reputed first commercial bottling of Oregon Pinot Noir under the Hillcrest Vineyard label in the Umpqua Valley. This occasion is not definite, as Sommers first planted vines in 1961, and my past research indicated that it was not clear that Pinot Noir was first planted initially or subsequently since he also planted vines in 1962, 1963, 1964 and 1968. Also, Sommers probably bottled Pinot Noir (? experimentally) as early as 1963 or 1964. Maureen Flanagan Battistella, writing in the Oregon Wine Press, states that Sommers brought cuttings from Louis Martini's Stanley Ranch in 1959 and subsequently transplanted them at Hillcrest. She states that the original plantings in 1961 included about 340 vines of Pinot Noir. Hillcrest Vineyard was bonded in 1963 and is Oregon's oldest continuously operating estate winery. Since 2003, the winery has been owned by Dyson and Susan DeMara. A 2017 vintage commemorative bottling of 1968 old vine HillCrest Vineyard Pinot Noir will be released in 2019.