Soliste Pinot Noir is a Modern Interpretation of the Craftsmanship of the Cistercian Monks of Vougeot
Many domestic winemakers, as well as wine critics, are of the opinion that Pinot Noir made from single clones lacks the complexity and completeness of Pinot Noir made from multiple clones. Not so fast, say partners Don Plumley and Claude Koeberle, who launched Soliste MonoClone® Pinot Noir wines with the 2009 vintage. They were convinced that California Pinot Noir should return to its ancient roots in Burgundy when Pinot Noir wines were once produced from single vineyards, single clones and matured in a single cooperage by Cistercian monks of Abbaye de CÎteaux, who created Clos De Vougeot.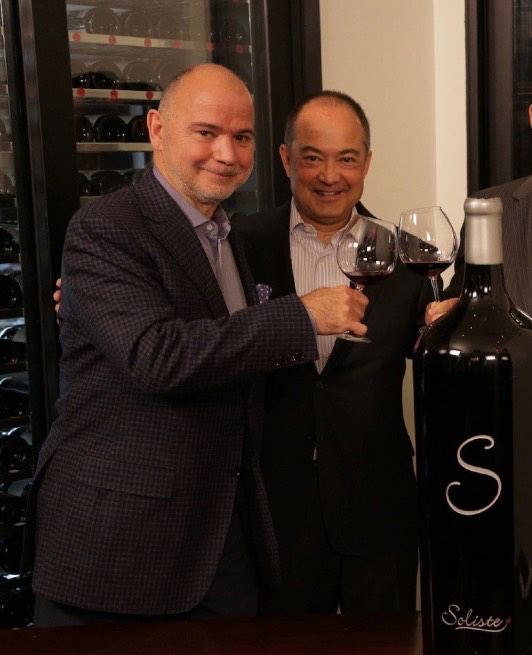 Soliste is a fanatical commitment to producing very limited production MonoClone® Sonoma Coast Pinot Noir wines that harness the purity and complexity of one clone from one vineyard. In Burgundy, a vigneron may reserve a special barrel for friends and family. They call this barrel "Soliste," and Don and Claude thought this was an appropriate name for their winery. A number of the Soliste Pinot Noir wines are so selective they are produced from one or two barrels.
The Burgundy influence on this winery comes from Claude (L in the photo above), who grew up in Burgundy, and became a Michelin 3-star chef at age 24 in Paris. He made his way to the U.S., worked as a chef in New York and Southern California, and founded one of the largest food production companies in this country. Despite his domestication, Burgundy still runs in his veins, and friends appropriately call him "Frenchie."
Soliste promises meticulous farming with only the very best grapes chosen through multiple passes at harvest. Fermentation usually proceeds with a moderate amount of whole cluster inclusion and the wines are aged in 225-liter French oak barrels for an extended time up to 22 months to tame the tannins from the whole cluster inclusion. The resultant wines are unabashedly meant to join the conversation with the great Burgundies and anything less is considered unacceptable. Those with a jaundiced eye may feel this is presumptuous and pure madness, but the wines speak to this lofty goal.
The La Philosophie du Soliste makes this goal clear. "Our quest to create wines of great finesse and complexity requires patience, tenacity and a singular focus on uncompromising standards….Vineyard selection and care is the most important responsibility we have….As we cellar, bottle and release our wines, there are no artificial schedules. We simply wait, listen and respect what the wine is telling us….Since there is limited instant gratification in winemaking, you must have persistence of a Zen-like singular vision to stay true to the beliefs and values passed through generations."
I had the opportunity to taste several of the 2013 Soliste releases back in 2016 when the wines were young and found them to be extraordinary at that time. Recently, I had the opportunity to revisit them once again and I was so "ga-ga" over them that I was compelled to include them in this lead-off story.
Soliste Pinot Noir is not cheap with prices often in the $85-$100 range. That said, having spent considerable time with Claude Koeberle and understanding his commitment and fanatical devotion to the quality of these wines, I consider them to be a tour de force and easily comparable to their Burgundy brethren.
If my lofty recommendations seem, well, unreasonably lofty, simply look at the list of restaurant partners that serve Soliste Pinot Noir in California, Washington DC, New York, Chicago, Nevada and the rest of the World. Sommeliers in many of the finest restaurants in the US clamour for Soliste Pinot Noir. Since Soliste Pinot Noir is produced in such limited quantities, some of the entire production of certain wines are snapped up and committed to single restaurants. Visit www.soliste.com/where_to_find.htm for a restaurant listing.
The 2013 Soliste Pinot Noir wines are the current releases, available to a mailing list by allocation. Visit www.soliste.com to view current releases and join the mailing list. If you are not currently on the mailing list and wish to place an order now, contact Don Plumley at 844-SOLISTE or 707-955-3005. A 2013 MonoClone® set of six wines - Forêt, L'Espèrance, Les Griottes, Nouveau Monde, Renaissance and Sonatera is available ($525). 2013 Pinot Noir wines produced but not reviewed in this issue (but previously reviewed) include Forét, L'Ermite Rouge (23 cases), Extravagant (23 cases), Renaissance and Sonatera. Large formats are also produced. Limited private tastings are available at the winery in Santa Rosa. Soliste also offers incredible St Andelain Sauvignon Blanc from Lake County, a wine inspired by legendary winemaker Didier Dagueneau, and Les Cailles Russian River Valley Chardonnay modelled after the Meursault wines of Jobard.
The Soliste Pinot Noir wines reviewed here represent the current pinnacle of Sonoma Coast winemaking. The wines have glorious aromatics, refined and graceful demeanours, no intrusion of oak, and some show a proper infusion of whole cluster goodness. The scores are irrelevant - the wines are all highly recommended.
2013 Soliste L'Espérance Sonoma Coast Pinot Noir
13.3% alc., pH 3.66, TA 0.59, 123 cases, $85. Dijon 115. Grapes hand-picked at midnight with rigorous field selection and winery hand sorting. 100% de-stemmed. Brief cold soak, fermentation of small lots with ritual manual punch downs. Aged 16 months in French oak barrels, 20% new. Claude says, "Aroma worthy of Le Musigny, becoming intoxicating in purity and depth….elegant and ethereal with a precise palate ("Droit" is the term in Bourgogne)." · Light garnet color in the glass. The nose says, "Drink me!" Outrageous aromas of cherry, wine cellar, rose petal and sous-bois hold up beautifully over time in the glass. My notes say, "fantastic," referring to the delectable flavors of cherry, raspberry and spice with a hint of tobacco. Elegantly composed with benevolent tannins, a silken mouth feel and a lavish cherry-fueled finish, this wine goes down like mother's milk but tastes even better . Score: 97

2013 Soliste Nouveau Monde Sonoma Coast Pinot Noir
12.9% alc., pH 3.49, TA 0.62, 149 cases, $85. Pommard clone grown in Petaluma Gap. Harvested at midnight and field sorted. 100% de-stemmed, brief cold soak, gentle fermentation of small lots with ritual manual punch downs. Aged 16 months in French oak barrels, 20% new. Claude says, "Incredibly aromatic, exotic and elegant Pinot Noir that beautifully marries the virtues of both Volnay and Pommard." · Moderate garnet color in the glass. Haunting aromas of dark fruits, potpourri, pine sap, rose petal and wine cave. Polished, silken, and dreamy on the palate with mid weight flavors of boysenberry, blackberry, tea leaves and a hint of burnt tobacco. Spot-on balance with a seductive texture and a virile finish that gives and gives. Score: 97

2013 Soliste L' Ambroisie Sonoma Coast Pinot Noir
12.9% alc., pH 3.55, TA 0.56, 49 cases, $100. Clone "828." Harvested at first light and field sorted. 20% whole cluster fermentation. Brief cold soak, smooth fermentation of small lots with ritual manual punch downs. Aged 16 months in neutral French oak barrels. Claude says, "Once you have tasted L'Ambroisie, I assure you, words cannot adequately describe how you will feel." · Moderately light garnet color in the glass. Unreal aromas of blackest cherry, exotic spices, burnt tobacco, Prada leather coat and earthy funkiness. Spirited mid weight flavors of cherry, raspberry and baking spices progress to the very long finish without a hitch. The texture is as smooth as a baby's bottom. Truly glamorous and almost too good to be true. Still incredible, even ambrosial, the following day from a previously opened and re-corked bottle. Score: 98