Gap's Crown: Cool Climate Grape Nirvana
Gap's Crown Vineyard is located on a western hillside of Sonoma Mountain in the town of Penngrove, east of Rohnert Park. Originally positioned in the southern section of the Sonoma Coast AVA, the vineyard is now a part of America's newest AVA, the Petaluma Gap. Afternoon wind and accompanying fog are the defining features of the Petaluma Gap AVA. They enter the Petaluma Gap AVA through a wind gap in the coastal mountain range stretching east from the Pacific Ocean at Bodega Bay through the town of Petaluma and then south to San Pablo Bay. Gap's Crown Vineyard is #26 on the map in the northeast corner of the AVA.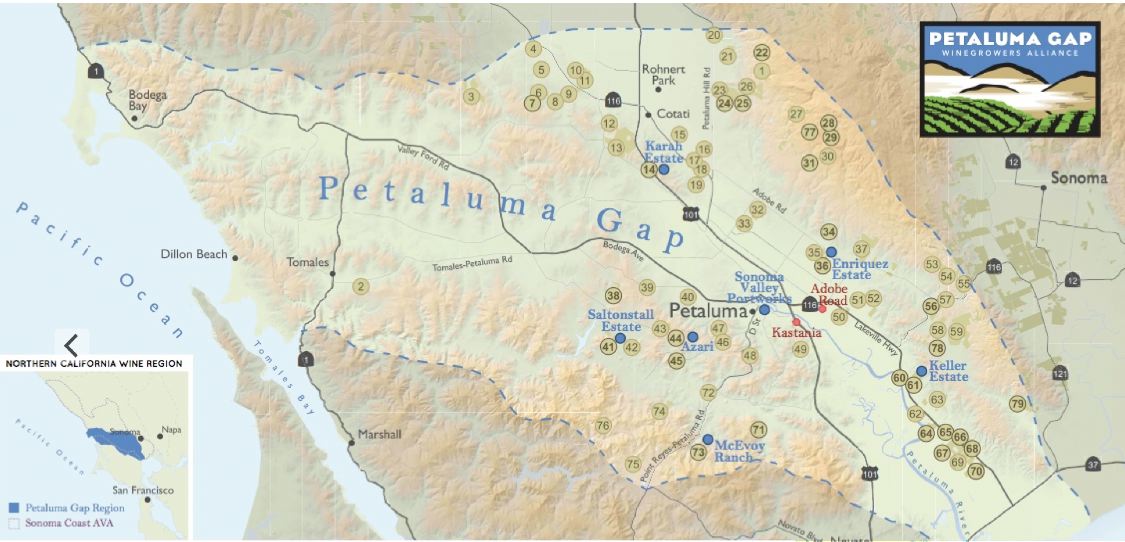 Gap's Crown Vineyard's modest slope and southwest facing vines at 320 to 820 feet elevation expose it to the maritime elements. However, the vineyard was carefully planted with most vines on the hillside above the fog line to encourage even sunlight exposure during the final stages of fruit ripening, while a lingering fog pocket around the vineyard at the end of the growing season allows the grapes to slowly develop sugar and phenolic ripeness in unison. An aerial view of the vineyard's location: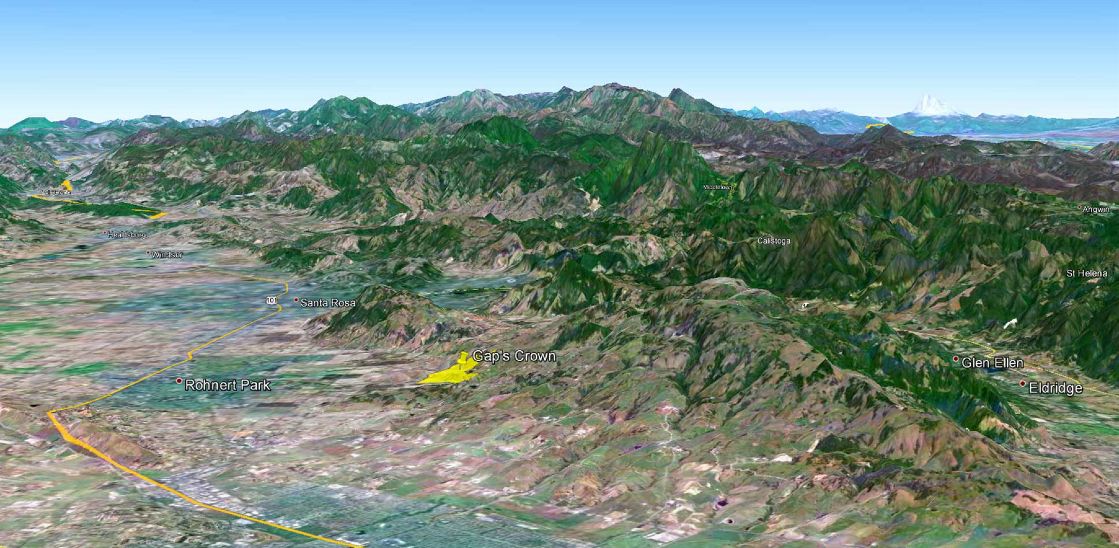 The vineyard was originally owned by Premier Pacific Vineyards in conjunction with CalPERS. Bill Price, the owner of Classic Wines, LLC, that includes Price Family Vineyards (ownership of Durell Vineyard, Gap's Crown Vineyard and other premium vineyard properties in Sonoma County), bought the vineyard in early 2013 for $13 million. Gap's Crown Vineyard is currently an Estate property of Three Sticks Wines, also owned by Bill Price. A section of about 37 acres is leased long-term to Kosta Browne.
Gap's Crown Vineyard was planted in four phases from 2002 to 2005. The current reported acreage is conflicting, but Jonah Chernoff of Three Sticks Wines told me the vineyard has 106 acres of Pinot Noir and 32 acres of Chardonnay. According to Atlas Vineyard Management, who farm and manage the vineyard, the clonal makeup is as follows: Pinot Noir - Rochioli selection, Swan selection, Dijon 114, 115, 667, 777, and "828," on 110R, 101-14, 3309 and 420A rootstocks; Chardonnay - Dijon 76, 95, 96, 124, and 548 on Riparia Glorie, 16-16, 3309 and 420A rootstocks. All vines are on a VSP trellis.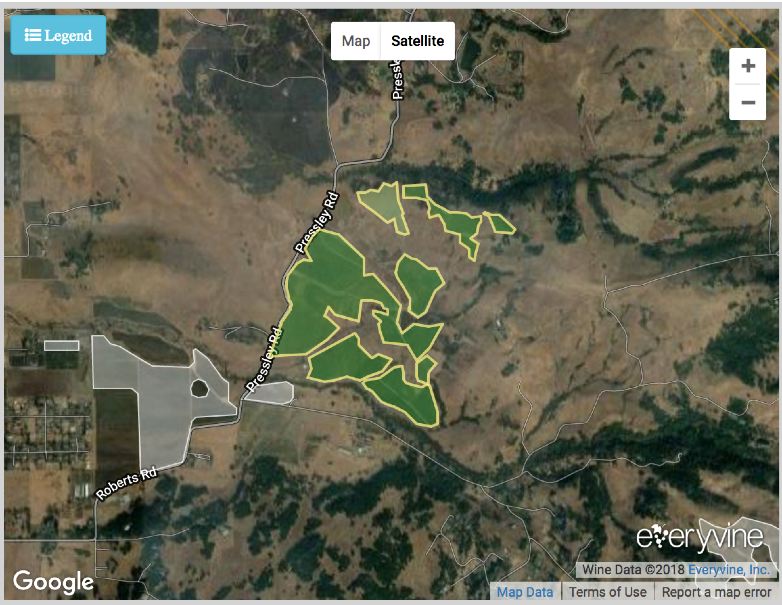 The vineyard, located adjacent Sangiacomo Roberts Road Vineyard (see Google Map), is composed of multiple blocks (see Google map above), with two-thirds planted at a density of 2,264 vines per acre and one-third planted at a density of 1,361 vines per acre. The predominant soil type is Goulding-Toomes Complex, that is well-draining, iron-rich, brown clay loam with significant volcanic rock, but there is a variety of soil types. According to Sojourn Cellars' winemaker, Erich Bradley, the rocky soils and resultant excellent drainage are the defining features of the vineyard.
According to the Winkler Index, the Gap's Crown Vineyard is in Region I with 1,900-2,100 growing degree days. The vineyard is located in a cold air pocket and is the last place to get fog in the morning and the last place for the fog to lift in the morning. The coolness often leads to Chardonnay begin harvested after the Pinot Noir. The average rainfall is 31.1 inches per year.
Through the years, grapes from Gap's Crown Vineyard have been sold to many wineries: Anaba Wines, Armida, Black Kite Cellars, Blue Farm, Bruliam Wines, Bryter Estates, Expression 38, Fulcrum Wines, Furthermore, Gary Farrell Vineyards & Winery, Guarachi Family Wines, Harrington Wines, Kosta Browne, Landmark Vineyards, LUTUM, MacPhail Wines, Patiné Cellars, Paul Hobbs Winery, Patz & Hall, Ram's Gate Winery, Roger Roessler Wines, Saxon Brown, Sojourn Cellars, Three Sticks Wines, Trombetta Family Wines, Twomey Cellars, WALT Wines, Wind Gap Wines, Wren Hop Vineyards. Most of the grapes have gone into vineyard-designated bottlings. Kosta Browne has the most experience with this vineyard, dating back to 2006.
The excellence of this vineyard, especially as the vines have matured, is indicated by the consistently high quality and scores of the Gaps Crown Pinot Noir and Chardonnay wines regardless of the producer. When I surveyed all the Gap's Crown vineyard-designated wines I reviewed in the PinotFile from the 2012-2016 vintages, I found 21 Pinot Noir wines scored 90 to 95, except for three wines that scored 89 (2) and 87 (1). I then looked at all the Gap's Crown vineyard-designated Pinot Noir wines reviewed in the Wine Enthusiast from the 2012-2016 vintages and found 38 Pinot Noirs rated 90 to 96 and only 3 rated below 90. Regarding Chardonnay, there were 6 Gap's Crown vineyard-designated wines that scored 90 to 95 from the 2012-2016 vintages in the PinotFile, and 0 below 90. There were 19 Gap's Crown vineyard-designated Chardonnays reviewed in the Wine Enthusiast from the 2012-2016 vintages and all scored 90 to 95, with 0 wines scoring less than 90.
These figures indicate that both Pinot Noir and Chardonnay are consistently excellent from Gap's Crown Vineyard beginning with the 2012 vintage (prior to that vintage grapes were often blended in Sonoma Coast bottlings). The revelation for the consumer is that the name Gap's Crown Vineyard on a bottle of Pinot Noir or Chardonnay is almost a sure thing. There are only a precious few similar vineyards in California that excel in BOTH Pinot Noir and Chardonnay.
Here are a few recently reviewed Gap's Crown Vineyard wines (the words, "Petaluma Gap," will start appearing on labels with the 2017 vintage):
Just this week, I met with Sojourn Cellars winemaker Erich Bradley, and we tasted through the winery's 2016 vintage fall releases. One of the Chardonnays is from Gap's Crown Vineyard and a preliminary review follows.
2016 Sojourn Cellars Gap's Crown Vineyard Sonoma Coast Chardonnay
14.2% alc., pH 3.47, TA 0.63, 300 cases, $45. Release spring 2018. Clone 95 planted in 2004 and clone 76 also planted in 2004. Clusters are typically small with prominent hen and chick berries. Gently whole-cluster pressed, barrel fermented with native yeast in French oak, 30% new. 75% malolactic fermentation. · Moderately light golden yellow color in the glass. Fresh aromas of citrus, pear, and sea breeze. Discrete richness with juicy flavors of lemon-lime and grapefruit. Slightly creamy in the mouth, with a refreshingly upbeat finish. Score: 93