Trader Joe's Touting Charles Shaw Wines Made With Organic Grapes
I like many food products at Trader Joe's markets and some of the domestic Pinot Noir wines are terrific values. But the Charles Shaw Wines, originally known as "Two Buck Chuck," have never interested me because Pinot Noir was never offered. Ostensibly, this was because you just can't make drinkable Pinot Noir at such a low price. Recently, Trader Joe's began to hype Charles Shaw wines made with organic grapes, suggesting these are of higher quality as a result and offered a Pinot Noir along with a Cabernet Sauvignon, Rosé, Chardonnay, and Pinot Grigio, all priced at $3.99.
Trader Joe's promotion says, "We've been involved in every step of the process - from making sure we got the flavor profile just right to the rather innovative packaging twist of a resealable cork. And of course, with the name Charles Shaw on the label, these wines must be phenomenally priced." Admittedly, I am a Pinot Noir snob, but the Charles Shaw Pinot Noir is an embarrassment for Pinot Noir. The packaging is cool but the wine is nearly unpalatable.
As with all Trader Joe's exclusive wines, little production information is available. At the website, www.shaworganicwine.com, some wine analysis is given. The wine is marketed by Bronco Wine Company and the winemaker is Larry Rocha. ABV is 12.60%, pH 3.80, TA 0.53 and RS 7.1 g/L (*up to 9.0 g/L is considered dry wine).
This Charles Shaw Pinot Noir back label says, "Vinted and bottled by Charles Shaw Winery in Ceres, CA." The vineyard source is listed on the back label as Cottonwood Creek Vineyards.
2016 Charles Shaw California Pinot Noir
5% alc., $3.99, twist-off Helix cork. Made with CCCF certified organic grapes. · Light ruby red color in the glass. Upon opening, the nose offers aromas of cherry and mocha, fading quickly and giving way to aromas of plum, wilted rose, oak and a slight vinegar note. A simple quaff, with a dark cherry fruit core, low acidity, a shallow mid palate and a short, slightly sweet finish. The wine is silky in texture as one expects from Pinot Noir, but there are strange non-fruit flavors, including vegetal and spoiled nut tastes, as well as other unappetizing flavors that are hard to pinpoint. Unappealing, but about what you would expect from a $3.99 Pinot Noir. Score: 79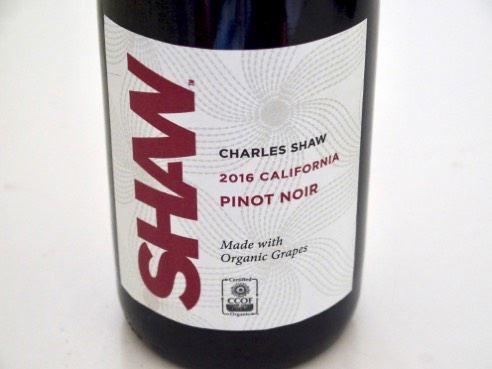 When I go to Trader Joe's, I see people carting out multiple bottles or a case of Charles Shaw wines so what do I know?