Trisaetum Winery: An Artist Crafts Distinguished Oregon Pinot Noir
Many claim that those who make wine are artists, while others consider winemaking more of a craft. At Trisaetum Winery in Newberg, Oregon, Proprietor and Winemaker James Frey fulfills both roles as an artist and craftsman.
Despite the excellence of the Pinot Noir (and Riesling, but that is another story) produced at Trisaetum, beginning in 2005, the winery has been somewhat under the radar of publicists. You won't find the winery mentioned in John Haeger's Pacific Pinot Noir (2008), Cole Danehower's Essential Wines and Wineries of the Pacific Northwest (2010), photographer Andrea Johnson's Spectacular Wineries of Oregon (2014), or in The Wines and Wineries of Oregon's Willamette Valley (2017) by Nick Wise and Linda Sunshine. That is all the more reason to read this interesting untold story about Trisaetum Winery and vintner James Frey.
James grew up in Santa Cruz, California and matriculated from UC Berkeley before going to graduate school at the University of Arizona. He earned a master's degree in Exercise Physiology and an MBA. Like so many successful winemakers, he did not grow up thinking about winemaking as a profession and learned to make wine by doing it. He began by planting an acre vineyard in his backyard almost twenty years ago and started making wine on his patio (a sort of outdoor garagiste). James and his spouse, Andrea, who he met at the University of Arizona, did an internship in Oregon while in graduate school, and both realized that Oregon was where they wanted to raise their family.
In 2003, James and Andrea, along with their young children Tristen and Tatum moved to Oregon. They bought a piece of land in the eastern foothills of the Coast Range mountains and planted the first of three vineyards that now make up Trisaetum.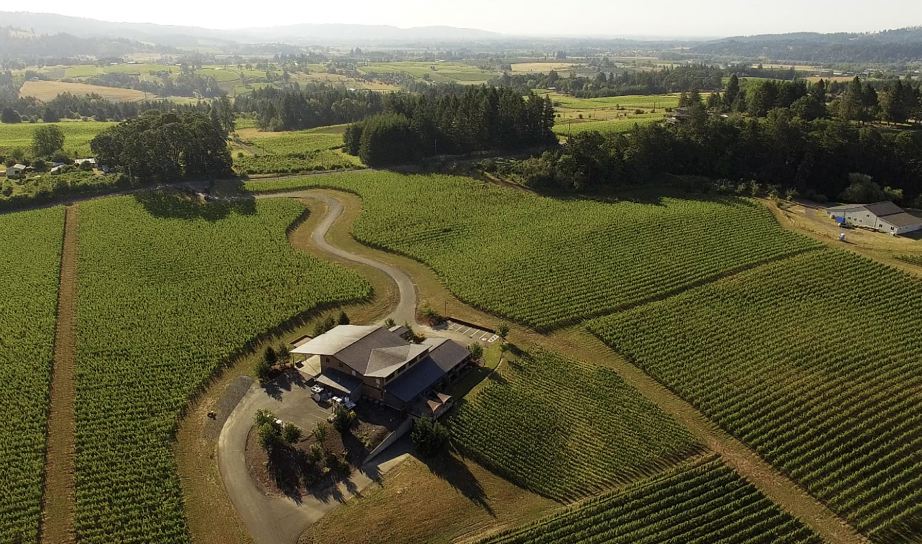 James attached himself to notable mentors in Oregon's winemaking community, including Josh Bergstrom (2003-2008), who was an important advisor while James was constructing his winery. Over the past five years, he has been fortunate to have Louis Jadot's iconic vigneron, Jacques Lardiére, produce his Resonance wine at Trisaetum, allowing him to work alongside Jacques during harvest. James has also had a Walla Walla project (18401 Cellars) for the past five years where he worked with winemaker Chris Figgins of Leonetti and Figgins fame, and a sparkling wine project (Pashey) working with winemaker Andrew Davis, formerly of Argyle Winery. So, despite not having a degree in enology, he was had extensive real-world winemaking experiences over the past 13 vintages. ,p> James' winemaking philosophy is refreshing. He doesn't follow a recipe, preferring to experiment along the way. "I have made mistakes along the way (by experimenting), and sometimes I'm smart enough to not repeat them year after year." He tastes frequently, preferring to makes wines that he likes personally. In the end, He hopes that his wines reflect a sense of place. "The worse thing you could write about my winemaking is that my wines all taste the same. The better wine is the distinctive wine. Complex and well made, but unique."
In the field, James dry-farms all three estate vineyards. All of the stems, skins and seeds from harvest go into a compost pile and are returned to the vineyard. The three estate vineyards include the 17-acre Ribbon Ridge Estate planted to Pinot Noir and Riesling in the Ribbon Ridge AVA with predominantly marine sedimentary soils, the 23-acre Coast Range Estate planted to Pinot Noir and Riesling in the Yamhill-Carlton AVA with diverse sedimentary and volcanic soils, and the 11-acre Wichmann Dundee Estate planted to Pinot Noir in the Dundee Hills AVA, with volcanic Jory soils.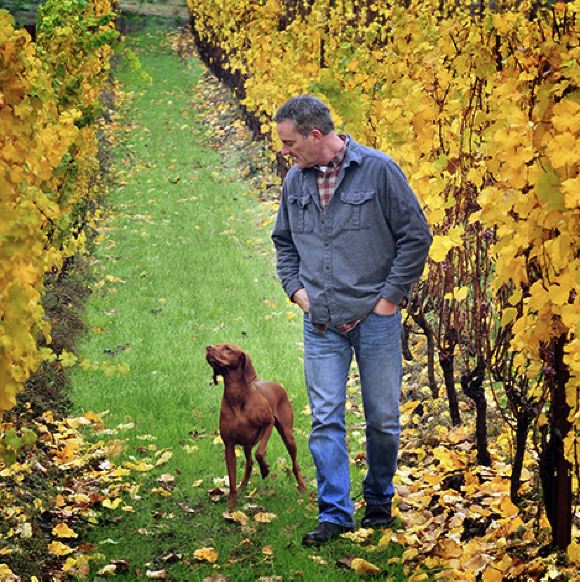 In the winery, the grapes are 100% hand-harvested and hand-sorted. The use of sulfur is kept to a minimum. With Pinot Noir, either significant whole cluster or 100% de-stemmed fermentations are chosen based entirely on how the stems taste. In riper vintages, the percentage of whole cluster can be as high as 70%. Each ferment starts with native yeasts and if fermentation progresses to his liking based on smell and taste, the fermentation stays native. After harvest, James tastes every ferment each morning at 6:30 a.m. and determines what needs to be done based on this tasting (a Jacques influence). Fermentations that are close to finishing get tasted throughout the day.
In addition to James' role as proprietor and winemaker of Trisaetum Winery, he has long been an accomplished abstract expressionist artist. His winery houses a 1,500-square-foot gallery displaying his works. Over the past decade, over 300 of James' paintings have been sold to collectors and corporations throughout the world. His art is displayed nearby at The Allison Inn & Spa in Newberg, and far away at The Clarion Post in Gothenburg, Sweden, Maison Louis Jadot in Beaune, and the Masters of Wine offices in London. View the 2018 James Frey Collection athttp://www.jamesfreycollection.com/work#/2018-collection/.
Trisaetum ("Tris-say-tum") is a Latinized version of the names of James; son Tristan and daughter Tatum. The Trisaetum Tasting Room and Art Gallery at 18401 NE Ribbon Ridge Road, Newberg, OR, is open daily from 11:00 a.m. to 4:00 p.m. Three flights are offered daily, each with five wines. The tasting fee is $20 per person refundable with purchase of a bottle per taster. The showcase winery has a dramatically lit underground wine cave in addition to the art gallery.
Trisaetum wines, including Pinot Noir, Chardonnay and Riesling, are distributed throughout the U.S. Several Wine Club options are available with significant discounts. For more information, visit the winery website at www.trisaetum.com.
I previously glowingly reviewed the 2015 vintage Trisaetum Pinot Noir lineup - www.princeofpinot.com/winery/ 737/ - and the 2016 wines reviewed here are also stellar.