Recently Tasted Pinot Noir & Chardonnay
Ryan Cochrane Wines, San Francisco
Ryan Cochrane represents an aspiring winemaker success story. After he lost his job at an advertising agency in 2009, he pursued the lifelong dream of winemaking. He started very modestly, producing a barrel of Pinot Noir in 2010, and increased his Pinot Noir offerings and added Chardonnay, to bring his production to about 450 cases.
I have been fortunate to sample Ryan's wines since the 2012 vintage and have noticed a significant gradual improvement in quality. The three 2016 wines reviewed here are among his best to date and offer outstanding value as well. The wines are sold online at https://www6.cleverconcepts.net/ryancochranewines.com/purchase/ index.php. Some well-stored back vintages are available as well.
2016 Ryan Cochrane Solomon Hills Santa Maria Valley Pinot Noir
13.3% alc., 149 cases, $46. 25% 115, 40% 667 and 35% Pommard 5. 20% whole cluster fermentation. Aged 10 months in French oak barrels, 20% new. Bottled unfined and unfiltered. · Moderate light garnet color in the glass. The nose is giving, with pleasant aromas of cherry, walnut and cardamom. Striking mid weight raspberry fruited core with good length in the mouth and on the finish. Juicy, with good vibrancy and a hint of complimentary oak. The raspberry really leaps out in this wine, something I rarely encounter. Score: 92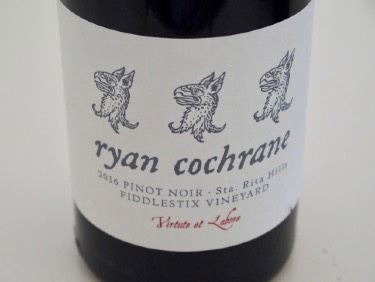 2016 Ryan Cochrane Fiddlestix Vineyard Sta. Rita Hills Pinot Noir
14.3% alc., 122 cases, $46. 60% 115, 20% 113, 20% 667. 15% whole cluster fermentation. Aged 10 months in French oak barrels, 20% new. Bottled unfined and unfiltered. · Moderate garnet color in the glass. Aromas of red and black cherry, dark chocolate and nutty oak. Vivid black raspberry and black cherry fruit flavors fill the mouth with goodness. A slightly savory earthy tone adds to the appeal. Tame tannins, with a satiny mouthfeel and a deft touch of oak in the background. Tasted twice with consistent results. Score: 93
2016 Ryan Cochrane Solomon Hills Vineyard Santa Maria Valley Chardonnay
12.5% alc., 192 cases, $36. 100% Dijon 96. Barrel fermented, 100% malolactic fermentation, aged 10 months with lees stirring in French oak barrels, 20% new. · Moderately light golden yellow color in the glass. Aromas of pineapple, lemon, brown butter and warm brioche lead off. Silky in the mouth with very bright acidity featuring edgy flavors of lemon, pineapple and pear underlain with a touch of toasty oak. This wine is for fans of crisp, acid-driven Chardonnay. Score: 91
_____________
Domestic Pinot Noir priced less than $40 is a wasteland of broken promises with few exceptions. Risking your money on these wines is like a blind date: it rarely turns out well. That said, I did meet my wife of 40 years on a blind date, so there is always that curiosity in the back of your mind. I bought the following five wines off the retail shelf based on no particular reason other than some familiarity with the winery. There was only one wine that I would consider purchasing again in this price range (Etude).
_____________
This is the time of the year when wineries are offering their mailing list members an allocation of their fall releases. Through the years, I have been on a number of premium winery mailing lists often just to keep abreast of the industry. I looked at 20 winery email offerings from California and Oregon that appeared in my inbox over the past month. Here is a summary of my findings and some commentary:
1 The price of premium vineyard-designated Chardonnay varied from $52 to $150. The typical price was in the $65 to $75 range.
2 The price of premium vineyard-designated Pinot Noir varied from $42 to $110. The typical price was in the $75-$80 range.
3 There were four Pinot Noir offerings priced at $100.
4 Values are scarce but still available. Anthill Farms 2016 Pinot Noir offerings ranged from $38-$52. WesMar 2016 Pinot Noir releases ranged from $42-55.
5 Domaine Serene is at the top end of all wineries, releasing their latest Coeur Blanc White (white Pinot Noir) at $95 and the 2014 Monogram Pinot Noir at $275 a bottle!
6 Incentives for consumers include reduced or free shipping for multiple bottle purchases, and reduced pricing by some wineries for wine club members. Some wineries sell exclusively to mailing list members, but these so-called "hostage wineries" are becoming a rarity. Vigilant attention to the retail market (ie www.winesearcher. com) and the PinotFile will turn up bottlings at relatively reasonable prices.
7 Wine sticker shock is becoming more prevalent and we may not have seen the end of price escalation. Joe English, writing in KATU News, https://katu.com/news/local/trump-tariffs-could-squeeze-local-wineries, reported that Trump's tariffs could increase the cost to wineries to buy bottles and cardboard boxes as much as 25 percent. In addition, wineries are faced with finding and keeping a steady labor team who are demanding more salary in the current competitive milieu.
8 Excise taxes on wine vary by location. Federal law requires that federal excise taxes be charged uniformly across the US, but states have created their own excise taxes that make the total tax burden different from state to state. Excise taxes are paid by the producer or retailer and not directly by the consumer but these excise tax costs are passed on to the consumer. Obviously, then, it makes a difference where you buy your wine.