Fiddlehead Cellars 30-Year Anniversary: Drink '728' on 7/28

I recently attended a special event at Fiddlestix Vineyard hosted by Kathy Joseph, the co-owner and winemaker of Fiddlehead Cellars in the Sta. Rita Hills AVA of Santa Barbara County. Kathy invited a cadre of press and consumers and generously opened wines from her library for tasting dating back to her first commercial vintage of Pinot Noir in 1989. Many of the Pinot Noir and Sauvignon Blanc library wines from the 2000s were also available for purchase.
The theme of the event, "Drink '728' on 7/28," refers to the 7.28-mile marker at the entrance to Fiddlestix Vineyard and one of the Fiddlehead Fiddlestix Vineyard Pinot Noirs produced with the name '728." Kathy's cohost was her husband, Tom Doyle, an attorney practicing in Northern California who resides with Kathy at their second home in Davis, California. They are pictured together below: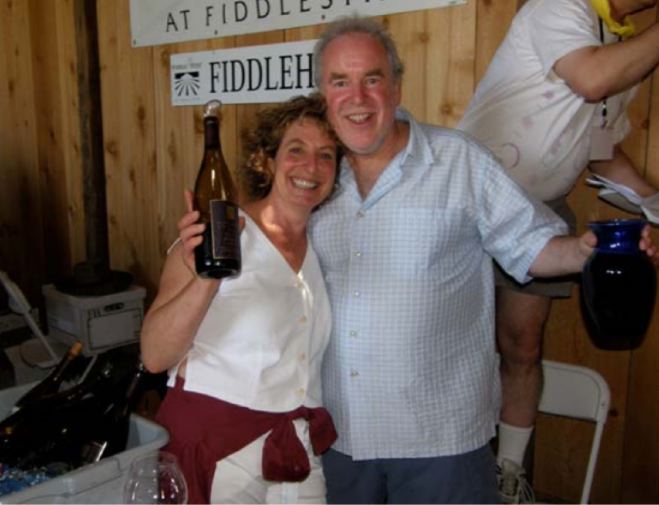 Kathy launched Fiddlehead Cellars 30 years ago at a time when there were very few women winery owners and winemakers. She was mentored by several exceptional winemakers from California's North Coast and graduated from UC Davis with a degree in enology and viticulture. In 1989, she created a winery like no other. Kathy searched for a catchy name for her winery by exploring many books, but the name, Fiddlehead, came to her after nurturing some Fiddlehead ferns in her garden that were just unfurling. She loved the visual connection of the curled fern emerging and her own curly hair. The 'fiddle' theme is evident in her nom de plume, "Head Fiddle."
As "Head Fiddle," Kathy deftly manages the business matters of the winery while remaining completely engaged as a winemaker, marketer, winegrower, always adapting her pre-med Midwest roots to the wine business.
Her estate vineyard, Fiddlestix, is a prime example of sustainable farming. The vineyard was planted in 1998 entirely to Pinot Noir and is managed by Coastal Vineyard Care. Located on the north side of Santa Rosa Road across the highway from Sanford & Benedict Vineyard, the 94 producing acres are divided into 35 mini-blocks representing different combinations of seven clones (Pommard 4 & 5, Dijon 113, 115, 667, and 777, a Swan selection), three rootstocks, and various elevations, exposures and well-draining soil combinations. Spacing is tight at 1,556 vines per acre with VSP trellising and primarily north-south facing rows throughout. The first wine offered from Fiddlestix Vineyard was the 2000 vintage. More recently, some Grüner Veltliner was planted at Fiddlestix Vineyard and the first wine offered from the 2014 vintage.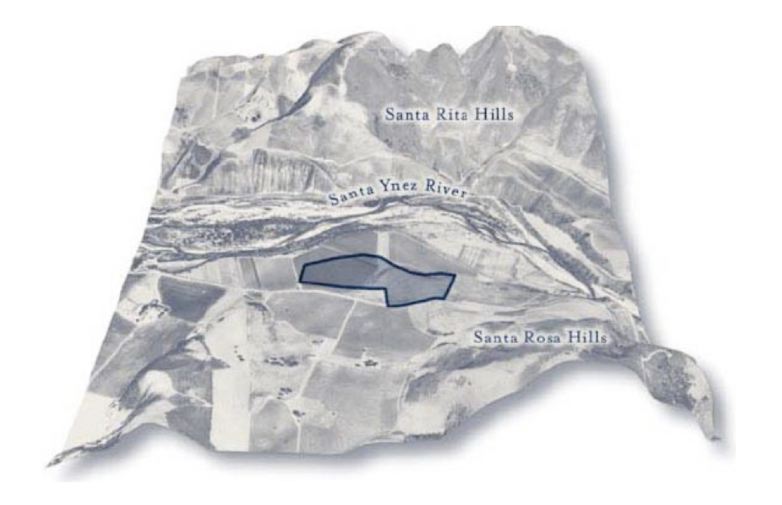 Fiddlehead currently retains about 15% of Fiddlestix Vineyard's output and produces about 5,000 cases of Pinot Noir and Sauvignon Blanc wines, and small amounts of Grüner Veltliner (since 2014), Rosé (since 2004), sparkling wine (since 2008) and sweet wine annually from Fiddlestix Vineyard and sourced grapes in Santa Barbara County and the Willamette Valley of Oregon. Production is distributed primarily through the tasting room in Lompoc, direct to consumer through a mailing list, and to national retailers. The wines are not generally submitted to the wine press for review, instead encouraging consumers to visit the winery and tasting room and interact with Kathy and her staff to fully appreciate Kathy's enthusiasm and love of winemaking and her wines of elegance, expression of place and age-worthiness. Her tasting room is open Friday-Sunday and weekday by appointment. I highly recommend a tasting. Visit www.fiddleheadcellars.com for more details.
Pinot Noir is offered in several bottlings from Fiddlestix Vineyard: "728," "Lollapalooza" (a barrel selection), "Burtie Baby" (a 7 barrel selection, Single Clone wines, and "Doyle," (a single outstanding barrel only offered in special vintages as an ode to Kathy's Husband Tom with artist series labels). The first fifteen years she made her Oregon Pinot Noir at Yamhill Valley Vineyards located off of "Oldsville Road," and then beginning in 2000, started trucking grapes in refrigerated haulers to Lompoc for vinification. Since 2006, Kathy has sourced Pinot Noir grapes from Alloro Vineyard in the Chehalem Mountains of the Willamette Valley and based on my tasting of several vintages of her Willamette Valley Pinot Noirs since this is the most outstanding Oregon fruit source. She offered the "Oldsville Reserve" Oregon Pinot Noir for many years made from three Oregon vineyards (Elton, Seven Springs and Yamhill Valley), but now sources grapes exclusively from Alloro Vineyard.
Sta. Rita Hills is not suitable for successful growing Sauvignon Blanc so Kathy sources from vineyards more inland in warmer Santa Ynez Valley area sites.
The Press Tasting was a somewhat hurried affair as there were 32 wines from vintages 1989 to 2014 to taste along with Kathy's commentary and less than an hour to do it. Therefore, I can only offer some general impressions. Inquire to the winery about the availability of library wines for purchase.
1. The Sauvignon Blanc wines were noteworthy for their age ability. The Santa Ynez Valley Sauvignon Blancs from 1993, 1995 and 1998 were all fresh and enjoyable with the 1998 from magnum showing the best and with the longest finish. The 'Gooseberry' Santa Barbara County Sauvignon Blancs from 2001, 2005, 2007 and 2010 vintages were vinified in stainless steel and showed the most aromatic intensity and edginess from bright acidity. The 'Honeysuckle' Santa Barbara County Sauvignon Blancs from 2001, 2005 and 2009 were more New World in style marrying more richness of fruit and plush textures with new oak barrel ageing.

2. The 1989 and 1993 Sierra Madre Vineyard Santa Maria Valley Pinot Noirs showed faded fruit and tertiary notes of tea, leather and cigar. They were still attractive wines soldiering on with excellent acidity.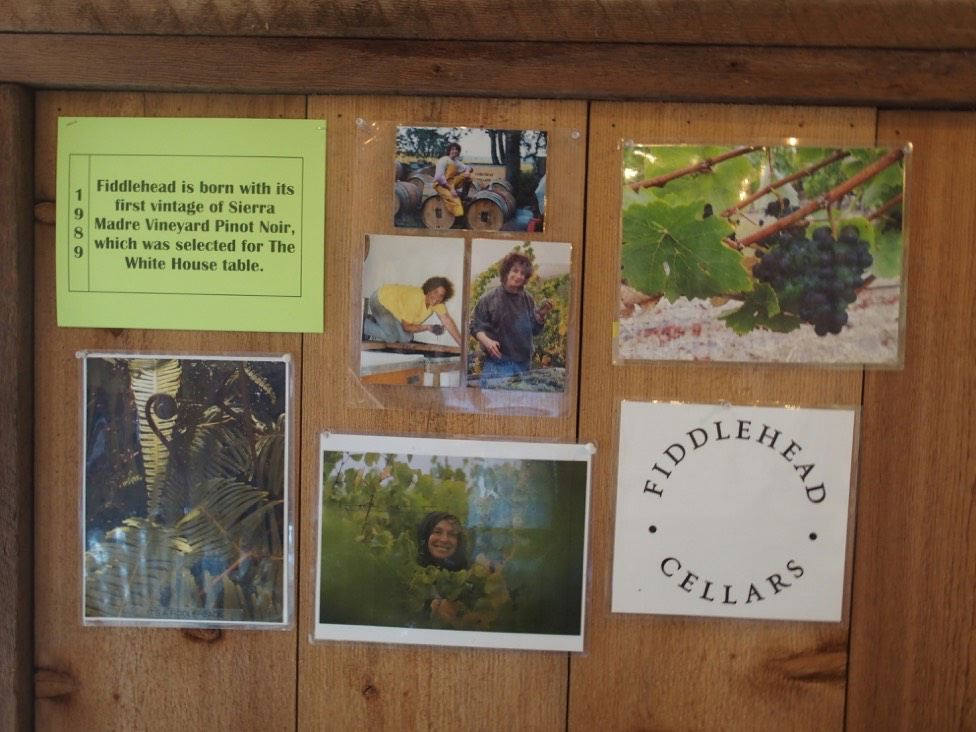 3. The 2001 Lollapalooza Pinot Noir showed faded fruit and noticeable tannins. The 2002 and 2003 vintages of this wine were more alive with noticeable sap, yet fruit was fading and tannins stuck out a bit.

4. The 2007 Fiddlehead Twentieth Anniversary bottling from Fiddlestix Vineyard was a superb wine, with a generous attack, enviable mid palate intensity and wholesome finishing generosity. It was offered at the event at $54, a real steal for a library wine.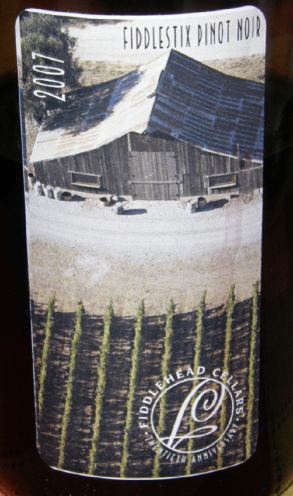 5. The 2012 Alloro Vineyard Willamette Valley Pinot Noir was one of my favorites among the Oregon Pinot Noirs. This is a stellar vineyard and I have written glowingly in the past about Pinot Noir produced from the vineyard.

6. The most impressive Fiddlehead wines tasted were the vertical of Doyle Pinot Noirs poured by Tom Doyle. Beginning with the 2002 vintage and including most years through 2012, these were very concentrated wines that made a statement and retained an alluring attraction in every bottle. Sometime around the 2007 vintage, it seemed Kathy altered her winemaking such that the obvious tannins found in the years prior were moderated and vintages from 2007 on were more to my preference. Tasting these wines with Tom was the highlight of my time at the event.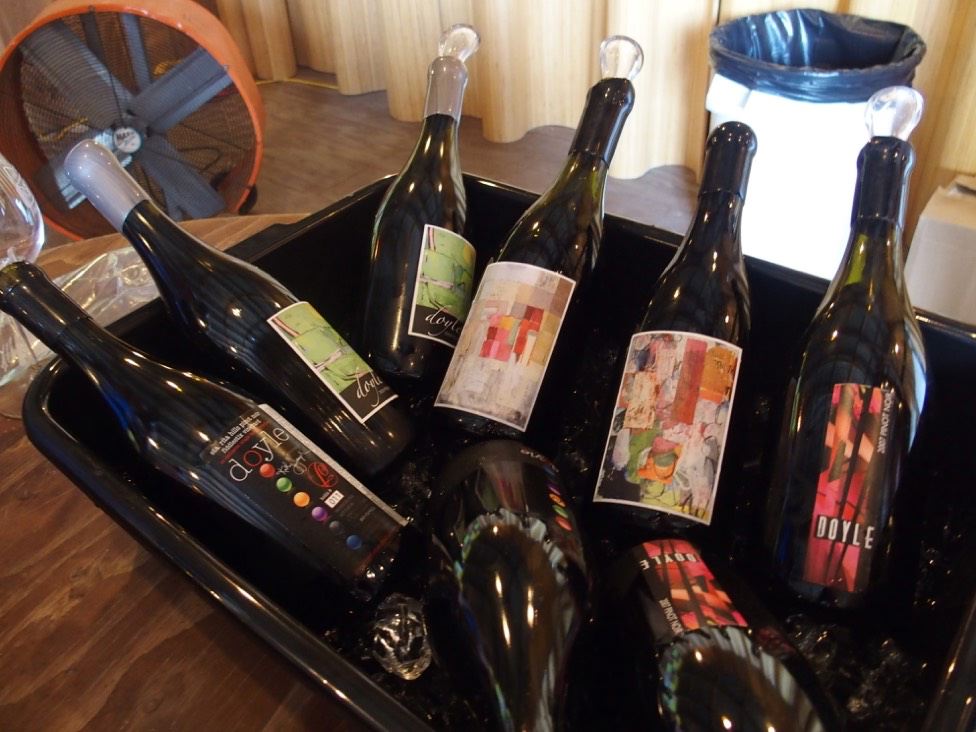 Tasting of newer Fiddlehead releases: