Legacy of Mike Bohan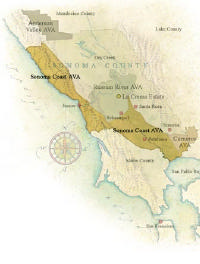 Mike Bohan was the first modern winegrower to farm grapes in the true Sonoma Coast region of California in 1973. He planted Zinfandel, Chardonnay, Pinot Noir and Riesling on Bohan-Dillon Road in the remote town of Cazadero. To this day, he sells all of his grapes.
David Hirsch, an expatriate from the Bronx, purchased 1,100 acres on a remote ridge 900 feet above the Pacific Ocean at the end of Bohan-Dillon Road. He had originally planned to reforest the area with redwoods which had been decimated by loggers. Only after a friend advised him to plant grapes, did he begin to develop a 47- acre Pinot Noir vineyard in 1980. The weather here is quite cool, but Hirsch planted his vines above the fog line where they enjoyed plenty of sunshine. The vineyards are actually scattered over several ridge tops with varying exposure, altitude and soil type. With a variety of rootstocks and clones planted, there is considerable heterogeneity to the fruit and Hirsch Vineyard Pinot Noirs from different producers are difficult to compare as they come from distinctly different terroirs (see air photo below).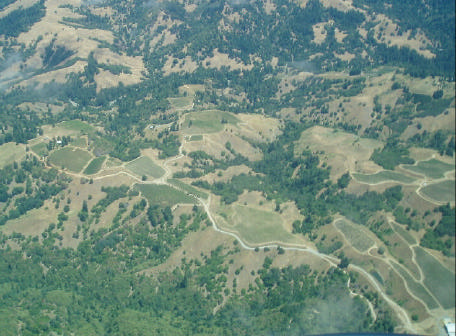 Over the years, Hirsch has supplied fruit for single-vineyard Pinots Noirs from many of California's top producers including Failla Jordan, Harrington, Kistler, Kosuge, Littorai, Siduri, Walter Hansel, William Selyem, Whitethorn, and even Oregon (Patricia Green). In 2001, the Williams Selyem contract for some of the finest blocks expired (originally obtained by Burt Williams), and David Hirsch decided to bottle his own label. He built a winery on the property in part of an old lambing barn and hired Vanessa Wong (Peay Vineyards), a star among Sonoma Coast winemakers, as his vintner. The initial release was the 2002 vintage. This same year a small amount of Hirsch Bohan-Dillon Pinot Noir was produced as primarily a "family and friends" wine from barrels that did not make the grade for the vineyard-designate label. It was named in honor of the single access road which leads to Hirsch Vineyard (see below).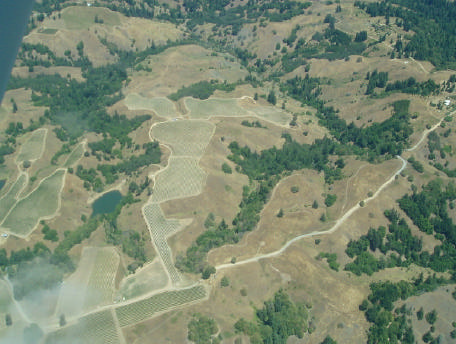 No Bohan-Dillon Pinot Noir was produced in 2004 and 2005 due to poor crop yields. With the bounty of the 2006 harvest, 220 barrels of Bohan-Dillon Pinot Noir and 12 barrels of Bohan-Dillon Chardonnay were produced under the direction of current winemaker at Hirsch, Mark Doherty.

2006 The Bohan-Dillon Hirsch Vineyard Sonoma Coast Pinot Noir
14.6% alc., $30. · A simple Pinot Noir that makes a pleasant overall impression. Earth, damp leaf and spiced cherry scents with red Pinot fruit flavors enhanced by tones of herbs and oak. Light in the mouth with a good acid kick on the backend.
Hirsch Vineyard and Bohan-Dillon Pinot Noirs are sold primarily through a mailing list available at www.hirschvineyards.homestead.com. There is some retail distribution. The current release of Hirsch Vineyard Pinot Noir is the 2005 vintage. This was a vintage from hell with 30 inches of spring rains destroying much of the crop during bloom, reducing yields to one half ton per acre. Hirsch notes, "There were so few berries that the bunches looked like leprous cadavers. It was so gruesome, that I often became physically ill upon entering the vineyard and beat a hasty retreat." Fruit from adjacent Hellenthal Vineyard and nearby McDougal Vineyard were added to supplement the Hirsch fruit and a total of 960 cases was produced. 26 new acres of Pinot Noir have been planted which will significantly increase production in 2007. 2005 marks the first vintage of Hirsch Vineyard Chardonnay (8 cases, but will increase in the future). Hirsch has decided to make his Chardonnay using glass-lined fermentation tanks rather than oak. 45075 Bohan-Dillon Rd, Cazadero, CA. 707-847-3600. Tours and tasting by appointment (plan on a full day if driving from more populated areas of Sonoma and try to time your visit when it isn't raining - Cazadero receives 80 inches of the wet stuff each year). Every true pinotphile should make the pilgrimage some time in their life.