Ramey Embraces Russian River Valley

A three letter word - fog - is the defining characteristic of the Russian River Valley appellation. The regular ebb and flow of fog originates from the Pacific Ocean located a few miles to the West and enters the Valley primarily through the Petaluma Wind Gap and secondarily along the channel created by the Russian River that empties into the Pacific Ocean at Jenner. The fog arrives in the evening, frequently dropping the temperature 40 degrees from its daytime high and then retreats the following morning. This maritime air conditioner extends the growing season and allows grapes to reach full flavor maturity while retaining natural acidity.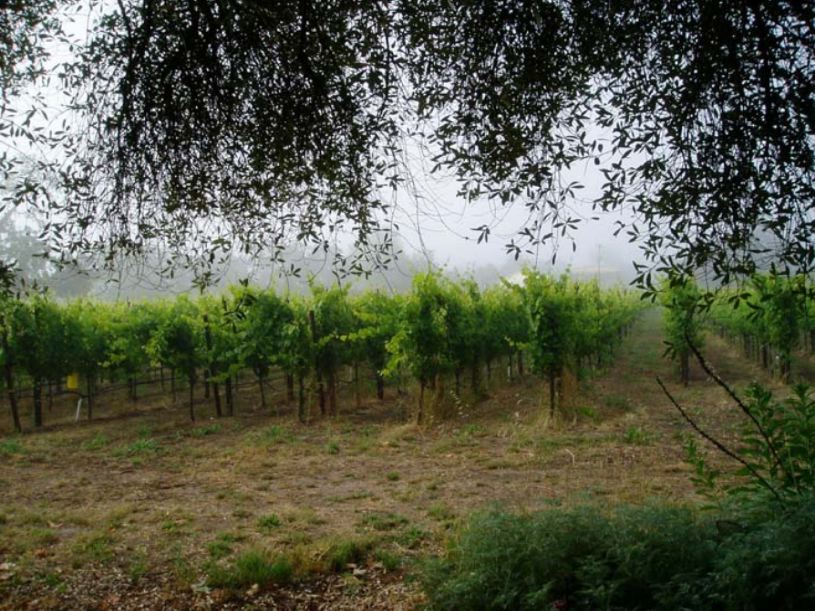 David Ramey, owner and founder of Ramey Wine Cellars, believes the marine influence gives fresher, livelier Chardonnays and provides the right conditions for growing Pinot Noir. He points out that the Russian River Valley is a warm spot in a cool area, much cooler than Napa Valley or even Alexander Valley to the north, but with enough warmth after the fog burns off to give an extra richness to wines compared with the Sonoma Coast. Also, the Goldridge soils are ideal for cool climate grapes.
Ramey's portfolio has focused on Chardonnay for years using grapes from notable sources such as Ritchie Vineyard, Hyde Vineyard, and Hudson Vineyard. More recently, in 2012, he bought Westside Farms, a beautiful estate located on Westside Road in the middle reach of the Russian River Valley with 42 acres planted mainly to Chardonnay. He crafted the first ever Estate Chardonnay from this vineyard in the 2014 vintage. A winery and hospitality center is planned for this site. Ramey also added a single vineyard Chardonnay from Rochioli Vineyard in the 2015 vintage.
Ramey's style of Chardonnay walks the line between fruit richness and wholesome acidity. Consider decanting the Chardonnays as they benefit from aeration. The wines take a while to open up, but when they do - Oh Boy!
Wines are available for purchase on the winery's website. Some Chardonnays are bottled in magnum and double magnum format.
Ramey Wine Cellars is open for tasting by appointment Monday through Saturday in Healdsburg ($50). Visit the website at www.rameywine.com for further details. A "Wander Westside" wine and food experience is available: stay at Hotel Healdsburg, elevated experiences at Ramey Wine Cellars, Gary Farrell Winery and MacRostie Winery, with or without luxury transportation to and from the Hotel Healdsburg and wineries, a chef's tasting menu dinner for two at Dry Creek Kitchen paired with wines from each property, and a daily gourmet breakfast and valet parking.
2016 Ramey Russian River Valley Pinot Noir
14.5% alc., 1,623 cases, $50. Released August 2018. Grapes sourced from De La Montanya and Bucher vineyards. Harvest Brix average 23.9º. Tank fermented with native yeast and native malolactic fermentation in barrel. Aged on the lees with monthly stirring for 14 months in French oak barrels, 49% new. Lightly fined with egg white and bottled without filtration. · Moderate garnet color in the glass. Aromas of Bing cherry, cardamom spicer, wine cave, smoke and forest floor. Light to mid weight in style, offering a slightly austere core of black cherry fruit backed by oak-inspired tastes of tobacco and smoke. Modest, silky tannins and pleasingly sleek. Score: 89

2015 Ramey Rochioli Vineyard Russian River Valley Chardonnay
14.5% alc., 747 cases, $65. Released August 2018. A blend of 85% clone 4 (1995) and 76 (1995 and 1998) and 15% from clone 5 (1989) and Allen Vineyard 76 (2001 and 2005). Harvest Brix 23.1º. Gentle whole cluster pressed, native yeast and full native malolactic fermentations in barrel. Aged on the lees with lees stirring 20 months in French oak barrels, 23% new. Fined and then bottled without filtration. · Light golden yellow color in the glass. The wine opens slowly in the glass revealing aromas of lemon pie, toast, gun barrel and slight struck match initially. More fruit-driven when sampled several hours after opening. Creamy in the mouth, with a delicious charge of lemon fruit dressed in toasty oak. Long in the mouth and finish with integrated acidity. Much more alluring several hours after opening, with oak folding into the background and fresh citrus and pear flavors coming to the front. Score: 94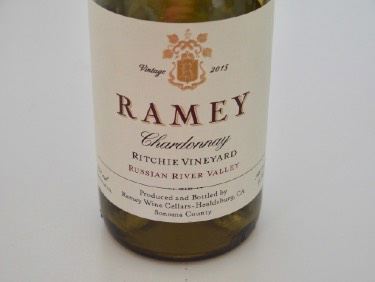 2015 Ramey Ritchie Vineyard Russian River Valley Chardonnay
14.5% alc., 898 cases, $65. Released August 2018. Old Wente selection. Harvest Brix 23.8º. Gentle whole cluster pressed. Native yeast and full native malolactic fermentations in barrel with lees stirring. Aged 20 months on the lees in French oak barrels, 21% new. Fined and then bottled after settling without filtration. · Moderately light golden yellow color in the glass. Mild reduction upon opening, resolving over time as aromas of lemon-lime and a hint of espresso emerge. Impressive citrus high notes with just a hint of caramelized and toasted oak. Only slightly creamy in the mouth with noticeable persistence on the finish. Adept balance between rich fruit and vibrant acidity. When tasted several hours after opening, this wine really knocked my socks off. Score: 95