Pinot Briefs —Newsletter 11.31

Oregon Wine Sales Swelled in 2017 The Oregon Wine Board released its Oregon Vineyard and Winery Report September 20. The annual study found that 44 wineries were added to Oregon last year and vineyards increased from 1,052 to 1,144. Sales volume was up 16%, far above the national growth rate of 1.6% (10-times the national rate in 2017). Sales increased to $550 million in 2017 due to increases in direct and wholesale sales, an increase of almost 4% from the prior year. The north Willamette Valley continues to lead Oregon with 73% of total tons crushed. Oregon Chardonnay was up 10% in production growth and Oregon Pinot Noir volume was up 17% in a segment that grew just 2%. Planted acreage rose from 28,034 in 2014 to 33,631 in 2017, representing a record jump of more than 17%. Regarding exports, Canada is the top international consumer of premium Oregon wines, with Japan and the UK second and third respectively. Read the complete report at www.oregonwine.org.
Labeling Changes Proposed by Willamette Valley Winemakers Oregon winemakers Ken Wright and David Adelsheim along with the Willamette Valley Wineries Association are leading the drive to reform Oregon's wine labeling laws. The proposed changes are aimed at protecting the value of the Willamette Value name. Many wineries are omitting the Willamette Valley name off their labels in favor of using the sub- AVA title such as Dundee Hills and Chehalem Mountains. Adelsheim has put forward the requirement that wineries include the words "Willamette Valley" on their label if they also include their sub-AVA on the label (conjunctive labelling). Approval may take up to three years by the Oregon legislature. There are those who oppose conjunctive labelling laws including Tom Wark: www.fermentationwineblog.com/2018/09/willamettevalley- conjunctive-label-law-is-a-mistake/.
Oregon Wine Label Dispute with Elouan Wines According to Wines & Vines, www.winesandvines.com/news/article/203507/Elouan-Wines-Draw-Ire-in-Oregon-Over-Labeling, Elouan, a brand owned by Joe Wagner of Meiomi fame, has been listing Willamette, Umpqua and Rogue valleys and even "Oregon Coast" on its seven Elouan and Willametter Journal Pinot Noir labels. The winery is not located in any of these AVAs or even Oregon, rather it is based in Rutherford, California as part of Copper Care LLC. A reader commented: "I can't blame the Oregon trade organizations for their concern since the Wagner wines have no sense of place and show no traces of terroir at all! He is simply making wine to a recipe and using Oregon as a marketing device! That being said, they are damn good at wine recipes for the masses and are genius marketers!"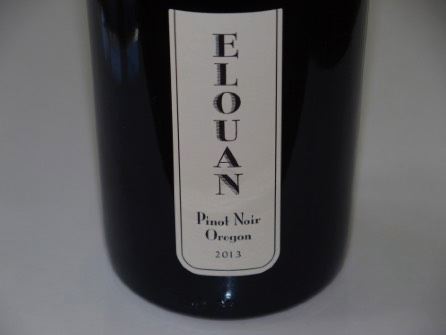 Iconic Sonoma County Viticulturist and Vintner Ulises Valdez Dies at Age 49 Ulises worked at various jobs growing up in Michoacán, Mexico until 1985, when he came to the United States at age 16. He made it into California on his third try and ended up in Cloverdale in Northern Sonoma County. He had not progressed past the third grade and did not speak English. One of eight children in his family, Ulises' father had died at age 55 working the table grape harvest in Bakersfield, California when Ulises was 8 years old. He began working for a winegrower and achieved amnesty with the Immigration Reform and Control Act of 1986. That year, in exchange for a 50/50 partnership in a new company, Florence Vineyard Management, Valdez worked an entire season for free. He planted a 30-acre vineyard in Dry Creek Valley, working 18 hours a day. Upon return to Mexico, he married his childhood sweetheart and had four children. In 2003, Ulises bought Jack Florence Jr. out a time when they were farming 400 acres throughout Sonoma County. He then quickly expanded his viticulture knowledge and grew his company, Valdez & Sons Vineyard Management to over 1,000 acres, 100 acres of which are owned or leased, and started the Valdez Family Winery in 2004 specializing in Zinfandel and Pinot Noir. Ulises has grown grapes for many clients including Mark Aubert, Paul Hobbs, Jason Pahlmeyer, Arista Winery, Ram's Gate Winery, Rivers-Marie, Three Sticks and Kosta Browne. Paul Hobbs wrote a heartfelt eulogy at www.paulhobbs.com/calling-the-pick-in-honor-of-ulises-valdez/. He said, "Ulises was one of the most gifted, knowledgeable and intuitive vineyard managers in California." Vineyards that Ulises was known for included UV (Ulises Valdez), Lancel Creek and Silver Eagle. I met Ulises several years ago when he was assisting in the opening of Thomas George Estates Winery. He was instantly friendly, inviting myself and my companion to see his property on the east side of the Russian River Valley. He spent at least an hour with us talking wine, vineyards and his plans to build a winery on the property. He was unusually gregarious and revered by the Sonoma County winemaking community.
Hudson Vineyard Winery Is Napa's Newest Winery Lee Hudson is a noted winegrower, based on this 2,000-acre ranch in Napa's Carneros region who opened a new winery on September 1, 2018. Known for the quality of Chardonnay grapes he grows, Hudson now has a winery to add to his tasting room and caves. Hudson has been farming the property since the early 1980s and made his own wines beginning in 2004. There are 200 planted acres including ten grape varieties on the Hudson working ranch that also includes a nursery, olive-tree orchards, gardens and a wood shop. Many of the fruits and vegetables grown on the ranch are sold at Oxbow (Hudson Greens and Goods run by his spouse Cristina). Read the full story of Lee Hudson's success: www.napavalleyregister.com/wine/hudson-winery-opens-in-napa-s-carneros-region/ article_e0c8765c-c113-5111-8ba7-d72fe227e832.html. Over 30 wineries source grapes from Hudson many of which have bottled vineyard-designated Hudson Vineyard wines include Ram's Gate, POE, Frank Family Vineyards, Kistler, Kongsgaard, Ramey, Failla, TOR, and Patz & Hall.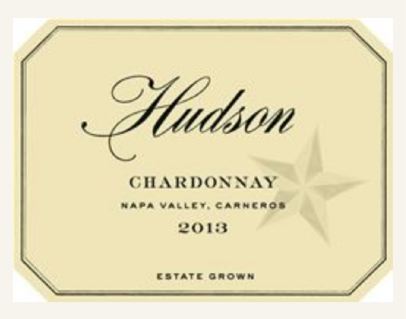 Martinelli Acquires Three Sisters and Charles Ranch Vineyards Martinelli Winery & Vineyards purchased 465 acres of Charles Ranch in the Fort Ross/Seaview AVA that includes two vineyards, the Charles Ranch Vineyard and Three Sisters Vineyard, a total of 27 planted acres. The Martinelli's now own 19 vineyards in Sonoma County planted to 450 acres. 90% of the wine grapes they grow are sold to nearby wineries including Benovia Winery, Kosta Browne, Patz & Hall Winery, Ramey Wine Cellars and Williams Selyem. The Martinelli estate wines grown, produced and bottled by the winery.
Newest Tasting Rooms in Northern California LIOCO opened a tasting room in downtown Healdsburg over Labor Day weekend. Tasting cost is $20-$50 and tastings are pre-paid (Tock reservation system) although walk-ins are accepted if space is available. Paul and Kathryn Sloan are now operating a tasting room for their Small Vines Pinot Noir and Chardonnay wines in a historic apple barn in Sebastopol. The tasting fee is $100 but is waives if you buy at least three bottles. Mount Eden only offered tastings to media and press during its first 73 years of existence. In early 2018, Mount Eden opened its Santa Cruz Mountains winery to consumers for a seated tasting of six wines and a tour of the scenic property. Long Meadow Ranch opened a tasting room in the Madrones complex in Philo in the Anderson Valley to feature Pinot Noir, Chardonnay and Pinot Gris wines. A second tasting room in St. Helena is located next to their restaurant, Farmstead.
Winemaker Michael Browne Reclaims Estate Winery in Russian River Valley CIRQ., the winery created in 2009 by Kosta Browne founder Michael Browne, has taken back CIRQ., the project launched with small production, single vineyard Pinot Noirs from two vineyards while still at Kosta Browne. Today, the wines have a long waiting list and rarely appear in the marketplace. CIRQ. is now Michael's singular focus and he is excited about having a winery of his own where he can be hands-on in every fine detail. The estate property is on a hilltop surrounded by a spectacular 360-degree view in the heart of the Russian River Valley. In 2020, the hilltop property will be ready to receive a very limited number of visitors. Michael looks to move away from the single-vineyard model, replacing it with blended wine from a select few unique vineyards in the Russian River Valley. To sign up for the mailing (waiting) list, visit www.cirq.com.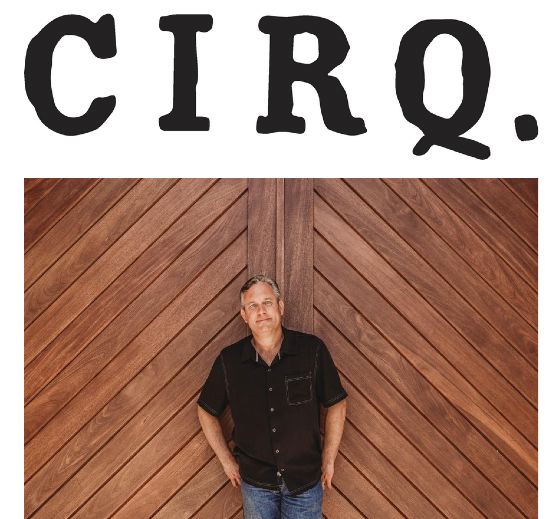 Davis Family Cruise Tickets Selling Out Soon The Davis Family Vineyards Cruise in May 2019 will be aboard the Oceania Cruises' Marina and will visit ports in Spain, France, Monaco and Italy. There will be private group gatherings, receptions, seminars and a winemaker dinner with Guy Davis. In addition, there will be optional shore tours in Valencia, Palma de Mallorca, Toulon and Tuscany. All packages include free airfare. Click on this link for more detailed information: www.foodandwinetrails.com/davisfamily2019.
2018 Sonoma County Wine Auction Raises Record-Breaking $5.7 Million The live auction held at La Crema Estate at Saralee's Vineyard was the culmination of a three-day affair. The auctions' top wine-only lot was winemaker Michael Browne's Lot No. 7, Back to the Future with CIRQ. that includes a collectable lot comprised of CIRQ. Estate library wines in mixed formats. It garnered $80,000. The Fund-ANeed paddle dedicated to rebuilding Sonoma County with a focus on housing solutions raised $2.5 million. Next year's event will be held September 19-21 at La Crema Estate at Saralee's Vineyard. Visit www.sonomacountywineauction.com.
Pinot Noir Die-Hard's Can Find Happiness in Napa Valley An article appeared in a San Francisco magazine about Napa Valley wineries worth visiting that specialize in Pinot Noir: www.modernluxury.com/san-francisco/story/the-pinot-noir-die-hards-tour-of-napa-valley. The wineries were Whetstone Wine Cellars, Robert Sinskey Vineyards, Hendry, Bouchaine Vineyards and School House Vineyard. I would add Hudson Winery, Etude Winery, El Molino Winery, Cuvaison, Ancien Wines, Aubert Wines, B. Kosuge Wines, Cakebread Cellars, Capiaux Cellars, Davies Vineyards, FEL Wines, Frank Family Vineyards, Long Meadow Ranch, Metzker Family Estates, Mi Sueno, Rogstad Wines, Sonoma-Loeb, Tulocay Wines, and ZD Wines among others. Refer to www.princeofpinot.com/wineries/appellation/ for a full listing of Napa Valley wineries producing Pinot Noir.
Swigging Wine Not Advised I received some promotional material on Swig's stemless vacuum insulated wine cups and champagne flutes. The Swig Wine Cup holds 12 oz of wine, essentially a half a bottle of wine and nearly 2½ standard drinks. The cup is opaque so you can't tell how much wine is in the wine cup. The marketing information says that it is meant to be drunk (swigged) by one person and is directed at women by the looks of the packaging ("choose from 20 chic and fun colors"). This is considerably more wine then is recommended for women who should drink in moderation equivalent to one standard drink of wine (5 oz) a day. The stemless flute makes more sense since it holds 6 oz of wine. Wine should not be swigged like beer!
Wineries in the United States: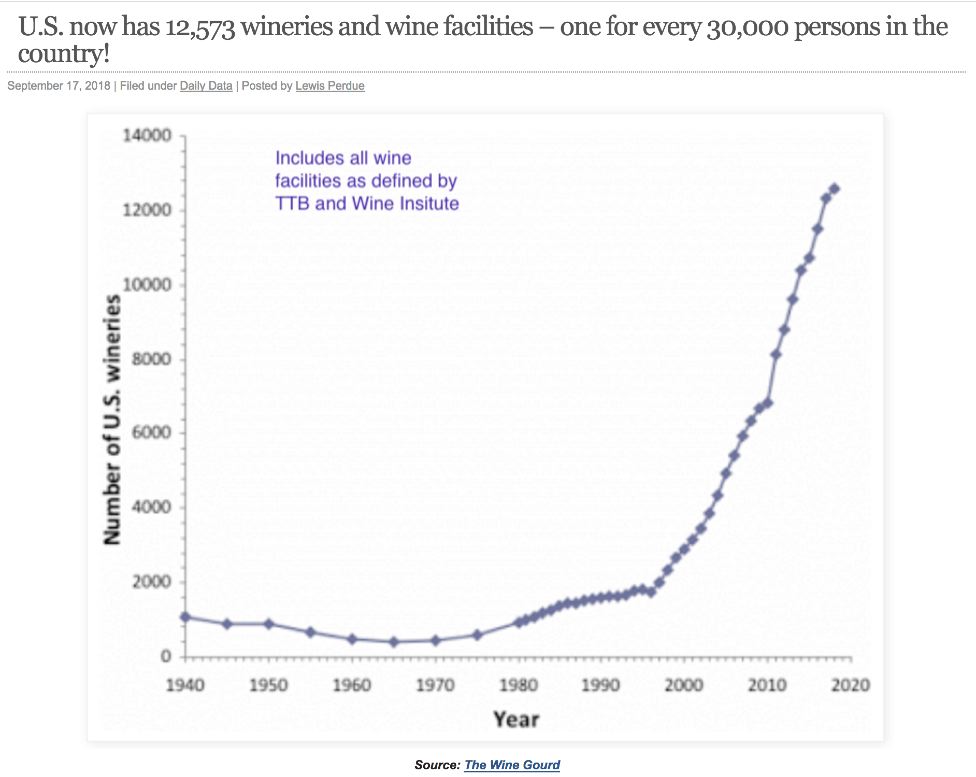 Smoky Summer Affects Willamette Valley and Mendocino County The Oregon Wine Board reports that the state's wine growers are employing techniques for mitigating smoke taint including reverse osmosis, alteration of fermentation formats and other measures to restore appealing flavor. Some are resorting to marketing wines that have smoke cherry taste. The truth is that consumers vary in their tolerance for smoke taint (I am very sensitive to it and absolutely hate it). Some winemakers try to say it adds a charming note to wines but I am not buying it for Pinot Noir. Unfortunately, climate change means smoky summers may be more frequent. The Mendocino Complex fires caused dense smoke plumes over many vineyards. Consumers should taste before they buy 2018 Pinot Noir from Mendocino County.