Recently Tasted Willamette Valley Pinot Noir
Arterberry Maresh, Dundee Hills, OR
The Maresh family has had a long and historic presence in the Dundee Hills of Oregon. Jim and Loie Maresh were Wisconsin natives who met as students at Marquette University. The couple bought a 26-acre farm in the Dundee Hills on Worden Hill Road in 1959. They expanded their holdings to 140 acres while Jim worked for Dunn & Bradstreet and served as a reserve naval officer in Portland. Their home was the first on the hill, and they enjoyed the life of farming cherries, nuts and prunes.
By the late 1960s, after David Lett had planted the first Pinot Noir vineyard in Yamhill County, Dick Erath suggested to the Maresh family that they had a superior site for growing wine grapes. In 1970, they followed his suggestion and planted three acres of vines, This was the first vineyard of many to come on Worden Hill Road and became Oregon's fifth oldest vineyard. In the photo below of Maresh Vineyard, note the red, volcanic (Jory) soils typically found in the Dundee Hills.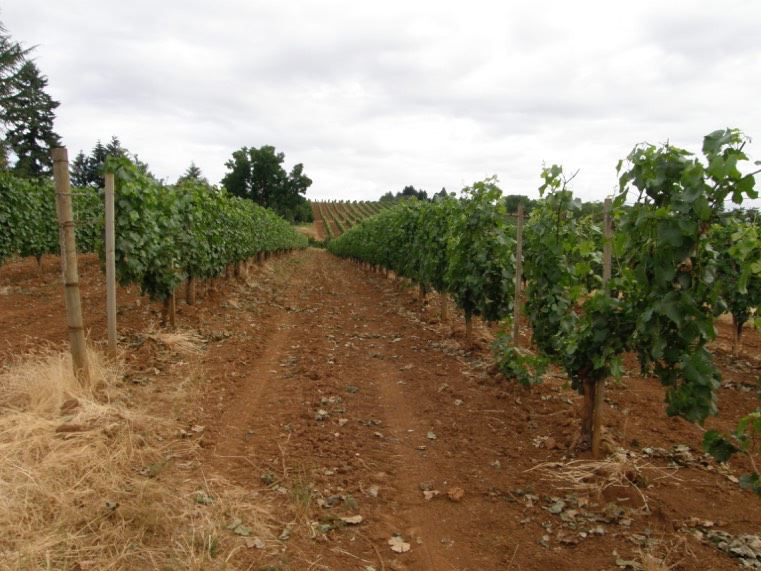 Jim and Loie had five children. One daughter, Martha, married Fred Arterberry who was one of the first Oregon winemakers to have a degree from UC Davis. Arterberry was well-known in wine circles in Oregon and produced many award-winning wines. Martha and Jim had a son, Jim Arterberry Maresh.
The Maresh estate now consists of 124 acres of Pinot Noir and Chardonnay. About half of the grapes were historically vinified as Red Barn Pinot Noir, named after the red barn on the property. This wine was made by several winemakers through the years and sold only through the Red Barn tasting room. The remainder of the grapes were sold to prestigious wineries throughout the Willamette Valley who often bottled Marsh Vineyard-designated Pinot Noir.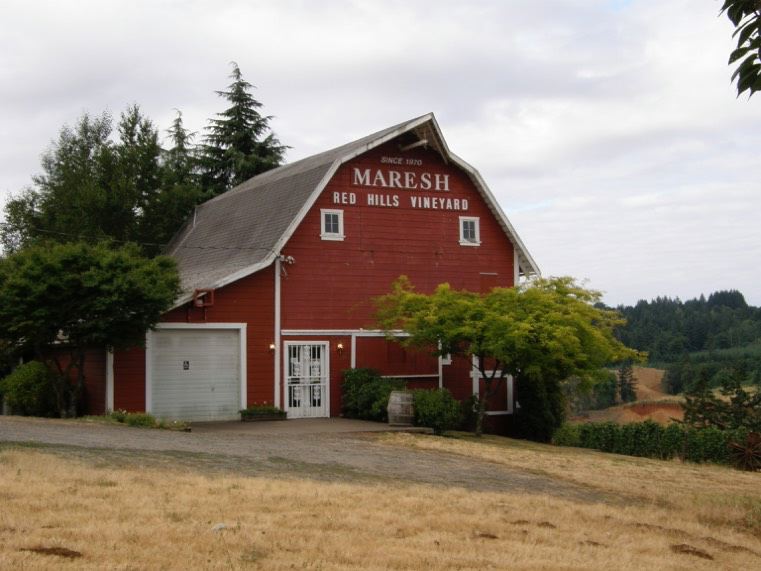 Jim Arterberry Maresh began his winemaking career at an early age, and by 2011 when he was 25-years-old, he had been touted as Oregon's "Best Young Winemaker." His father's label, Arterberry Cellars, had disappeared when Fred died. Jim had begun making wine in 2001 as a teenager and by 2007 had revived the label as Arterberry Maresh, releasing his inaugural wines from the 2005 vintage. He was among the first to represent a third generation in Oregon's wine industry.
Jim crafts his wines in the family's Powell Hill Winery on the Maresh property, named after the original family that farmed the land. He draws grapes from his grandfather's non-irrigated vines at Marsh Vineyard as well as several other highly-regarded vineyards in the region. His signature Pinot Noir is from own-rooted, old-vine Pommard and Wädenswil vines at Maresh Vineyard.
Tastings with winemaker Jim Maresh are available Monday to Thursday by appointment. The wines are released in the spring and fall and sold to a mailing list with limited retail store distribution. Visit the website at www.arterberrymaresh.com.
2015 Arterberry Maresh Maresh Vineyard Dundee Hills Willamette Valley Pinot Noir
14.0% alc., $59. Bottled unfined and unfiltered. · Moderately light garnet color in the glass. Leading off are aromas of black cherry, pomegranate, rose petal and sawdust. Ripely fruited as befits this warm vintage, this mid weight plus styled wine has layers of black cherry and blackberry fruits. Big and ripe by Oregon standards, but still quite satisfying with a silky mouthfeel, mild tannins and an agreeable finish. Score: 92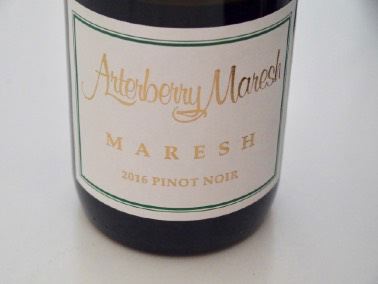 2016 Arterberry Maresh Maresh Vineyard Dundee Hills Willamette Valley Pinot Noir
12.8% alc., $69. Bottled unfined and unfiltered. · Moderately light garnet color in the glass. Lovely aromas of cherry, strawberry, rose petal and underbrush. The wine's brightness and purity of red berry and red cherry fruit is very appealing. The fruit is beautifully supported by righteous tannins and crisp acidity, making for seamless drinking. A delightful grip of cherry on the finish reminds of the Dundee Hills origin of this exceptional wine. Even more enchanting when tasted the following day from a previously opened and re-corked bottle. Score: 95

2016 Arterberry Maresh Maresh Vineyard Old Vines Dundee Hills Willamette Valley Pinot Noir
12.8% alc., $42. Bottled unfined and unfiltered. · Moderate garnet color in the glass. Boastful aromas of red cherry, strawberry, underbrush, herbal oak and a hint of iron. Dark red fruited in a mid weight style with an underlying earthiness. The fruit is ideally ripened with a superb richness on the middle palate. What really stands out in this wine is the finish that is satiny smooth and uncommonly persistent. This special wine is more giving when tasted the following day from a previously opened and re-corked bottle indicating age worthiness. Score: 94
Bow & Arrow, Portland, OR
Scott Frank, who had a varied career, including a stint as a grocery store wine buyer in Portland, and learned his winemaking at Cameron Winery, started his own label in 2011. He explores the wines of the Willamette Valley paying homage to the "refreshing and decidedly working class wines of France's Loire Valley."
Visits and tastings at the winery are by appointment ($25 per person). Visit the website for inquiries at www.bowandarrowwines.com.
These are opulent wines reflecting the warm 2015 vintage. They offer far to much oak for my personal preference, but are otherwise pleasing in fruit goodness. The ABV of the wines doesn't match the phenolic ripeness of the fruits which is puzzling.
2015 Bow & Arrow Vitae Springs Vineyards Willamette Valley Pinot Noir
12.5% alc., $28. Aged in barrique for 10 to 12 months. · Moderately dark garnet color in the glass. The nose is redolent of aromas of cherrywood, cardamom spice and burnt tobacco. The mid weight plus core of black cherry and boysenberry fruits shows a good attack and length on the palate with some finishing persistence. Sleek in texture, with vibrant acidity, complimentary tannins and a noticeable infusion of oak. Score: 88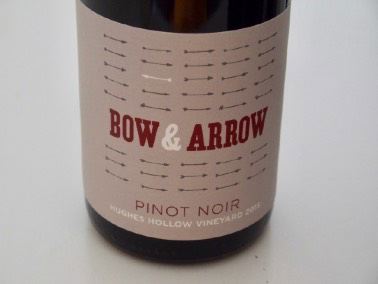 2015 Bow & Arrow Hughes Hollow Vineyard Willamette Valley Pinot Noir
12.5% alc., $29. An interesting story behind this vineyard. Originally planted 30+ years ago on a north-facing slope, it was not given a name and was used by large production houses for color and bulk. Bow & Arrow winemaker Scott Frank convinced the owner to switch to organic farming and sell him the Gamay block planted on the site. Pinot Noir became part of the deal grudgingly, but it has turned out that this is the best source of Pinot Noir that Frank has worked with. Dry farmed vines. · Moderate garnet color in the glass. Aromas of fresh cherry, oak spice and burnt tobacco. Generous mid weight flavors of purple and black berries that charm the palate through a noticeably long finish. The tannins are well-matched, and there is a modest oak contribution. This wine is more appealing than the Vitae Springs bottling and has a much longer finish. Score: 90
Broadley Vineyards, Monroe, OR
Readers know that I have reviewed the excellent Broadley Vineyards Pinot Noirs crafted by Morgan Broadley for a number of years and consider them among the best in Oregon. The wines have made my All-American lists several times.
The 33-acre estate vineyard is planted to a mix of Pommard, Wädenswil and Dijon clones of Pinot Noir and divided into blocks. Winemaking employs a significant percentage of whole cluster fermentation and unique wood cask fermentation. The winery is located in a former car dealership in Monroe with tasting available at that location by appointment. Wine is also crafted in McMinnville. The winery is a bit out of the way and takes some driving to visit, but is worth the effort. Visit www.broadleyvineyards.com.
Monroe is a southern outpost in the Willamette Valley with few wineries in the area. Broadley Vineyards is the anchor winery of the area, having been established by the Broadley family back in 1982. The area is undergoing a makeover however. This quaint wine country town recently formed a beautification committee that will try to highlight Monroe's tourist draws while preserving its agriculturally-focused charm. A new brewery is in the works, along with a boutique hotel and farmer's market. Broadley Vineyards is paying homage to the updates with a new label called "Starr Point." The label is named after the original settlement (later named Monroe) and conceived in celebration of the area's steamboat traffic over a century ago. The label will be available to the public with newly-released wines this November.
2017 Broadley Vineyards Willamette Valley Pinot Noir
13.5% alc., 2,200 cases, $22. Sourced from several vineyards in the Willamette Valley. 100% de-stemmed. Fermented for 10-14 days in open-top stainless steel and plastic bin fermenters. Aged 9-10 months in neutral oak barrels. · Moderately light garnet color in the glass. Aromas and flavors of black cherry and strawberry in a rustic style with a note of savory herbs in the background. Simple, with mild dry tannins, made in an easily approachable package. Score: 88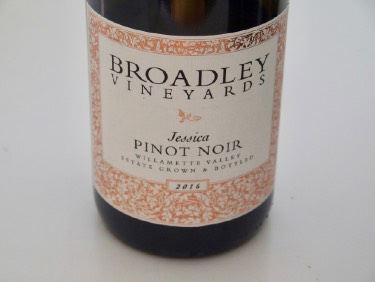 2016 Broadley Vineyards Jessica Willamette Valley Pinot Noir
13.8% alc., $50. Named for Morgan Broadley's wife and partner in Broadley Vineyards. Produced from Dijon 667 and 115 clones on the estate vineyard surrounding the Broadley's home. Wild yeast fermentation, significant percentage of whole cluster. Fermented in 5-ton French oak open-top wooden fermenter for 14-21 days. Aged n14-18 months in French oak barrels. · Moderate garnet color in the glass. The aromas blossom beautifully over time in the glass, offering notes of darker cherry, boysenberry, violets and a hint of beneficial nutty and vanillin oak. Very suave in the mouth with gracious, silken tannins, becoming more engaging with time. Middleweight in concentration, with well-bred, saucy flavors of black cherry and black raspberry. Enviable balance, with lasting flavors on the finish. Irresistible when tasted the following day from a previously opened and re-corked bottle. Score: 94
Winter's Hill Estate, Dayton, OR
Located among many noted wineries in the Dundee Hills such as Domaine Serene, Stoller and The Eyrie Vineyards, this winery does not receive the recognition that it deserves.
The estate vineyard was planted to 12 acres of own-rooted Pinot Noir in 1990 on a south-facing slope. The second phase of planting began in 1997 on phylloxera-resistant rootstocks, with Pinot Noir plantings of Pommard, Wädenswil, 114 and 115 clones, Pinot Gris and Pinot Blanc now totaling 35 acres. The vineyard is LIVE certified sustainable.
Delphine Gladhart, the daughter-in-law of Peter and Emily Gladhart, who founded the winery and planted the original vineyard, was the winemaker until 2014, when she passed the reigns to her spouse Russell. Russell has worked in Oregon and New Zealand and studied enology and viticulture in Burgundy. Russell, Emily and Peter are pictured here.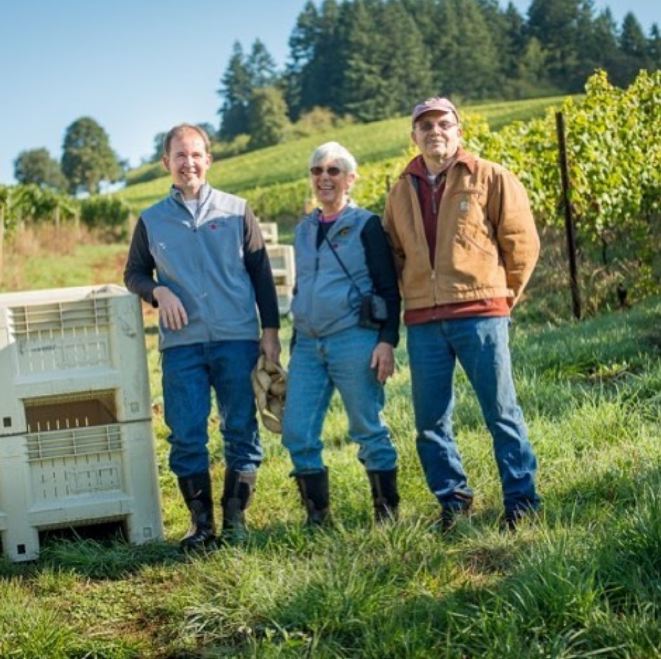 The tasting room is one of the friendliest in the Willamette Valley according to Trip Advisor. Several tasting options are offered at Winter's Hill Estate where you will almost always be greeted by one of the owners. Visit www.wintershillwine.com for more information.