Pinot Briefs —Newsletter 11.33
Bottle of 1945 DRC Romanée-Conti Sells for $558,000 at Christie's Auction Bottles of DRC from the personal cellar of Robert Drouhin in Burgundy were recently auctioned. A bottle of 1945 Romanée-Conti went for $558,000 including the buyer's premium and taxes and a second bottled brought $496,000. DRCs original plantings on their own roots were pulled out after the 1945 vintage. Only 600 bottles of DRC Romanée-Conti were produced in 1945. I had to laugh because I thought back several years when, on my 50th birthday, I opened a bottle of 1943 (my birth year) DRC La Tâche for my wine buddies. It had been given to me by a friend who paid $2,500 a few years prior! The label and cork seemed to confirm its provenance and the wine was glorious. A number of years before that, I bought a 6L bottle of 1983 DRC La Tâche at auction for $900! Admittedly, this was not a stellar vintage, but it shows how much prices for DRC wines have escalated over the past 30 years.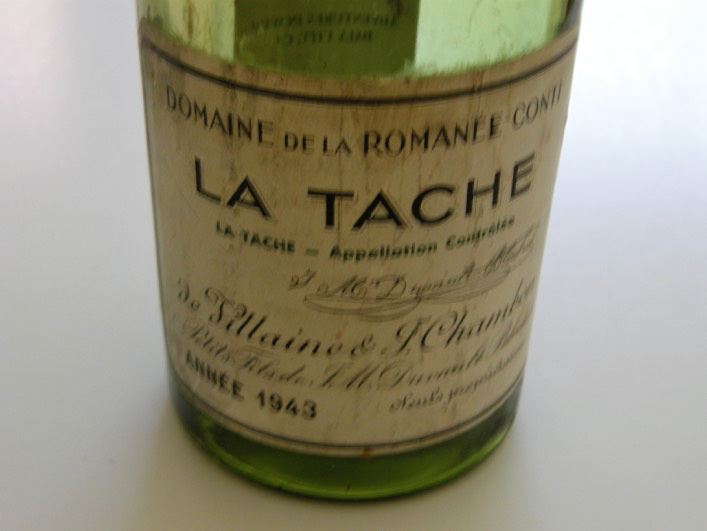 Best 2018 Champagnes FINE Champagne magazine, the only international publication devoted to champagne and tastingbook.com, the world's largest wine information source, recently announced their list of the '100 Best Champagnes for 2018. Hundreds of champagnes were blind-tasted for this competition. The top champagne for 2018 was the 2006 Dom Pérignon Rosé. The first vintage of this wine, 1959, was launched in 1971. Said to be truly Burgundian in character, it is known for its aromas and structure. The cellar master, Richard Geoffroy said 2006 was his most challenging vintage, a hot and dry year. Runner-up was the 2002 Piper-Heidsieck Rare. Rounding out the top 10 were the 2004 Dom Ruinart Rosé, 2008 Dom Pérignon, 2009 Louis Roederer Cristal, 2006 Deutz Cuvée William Deutz, 2008 Pol Roger Rosé, NV Krug Grande Cuvée (162nd Edition), 2006 Charles Heidsieck Vintage Rosé and 2004 Charles Heidsieck Blanc des Millénaires.
French-Chinese Wine Lab to Deal With Climate Change According to thedrinksbusiness.com, a new research lab, Innogrape, has been established by France and China that will employ 30 researchers and scientists to look into creating new grape varieties and rootstocks, and focusing on berry maturation mechanisms that are better adapted to climate change. The idea is to share expertise about selecting vines that are resistant to diseases like mildew, phylloxera, drought and extreme temperatures.
2019 World of Pinot Noir Tickets on Sale The 2019 event features more than 250 wineries from around the world, seminars, Pinot Noir parties and wine pairing dinners. Early Bird pricing is now available through October 31 for Weekend Passes and the Grand Tastings on Friday and Saturday. The event will take place February 28-March 2 at the Ritz-Carlton Bacara in Santa Barbara. For details on the individual events and to purchase tickets, visit www.wopn.com.
R. Stuart & Co. Winery Acquires First Estate Vineyard Daffodil Vineyard, a 21-acre site in the Eola-Amity Hills of the Willamette Valley was purchased by Rob and Maria Stuart. The vineyard was planted in 1997 by founders Judy Phipps and Phil Mickelson and features Pinot Noir rooted in Jory soil. Winemaker Rob Stuart has a fifteen-year history with the vineyard.
St. Innocent Moves to a New Location Thirty years after the founding of St. Innocent by winemaker Mark Vlossak, the winery located outside of Salem, Oregon has moved to a new site. The new tasting room and vineyard are located on an old poplar farm south of Willamette Valley Vineyards. Construction of a new production facility is on the way and expected to be completed this winter.
Upcoming Willamette Valley Wine Events The annual ¡Salud! Pinot Noir Auction will be held November 9-19, 2018. Unfortunately, tickets are now sold out and a wait list has been set up. Bids can still be placed for the special cuvées at www.saludauction.org. Wine Country Thanksgiving in the Willamette Valley is celebrating 36 years. More than 130 participating wineries and tasting rooms welcome guests to special tastings, unique food pairings, live music, and more November 23-25, 2018.
Duck Pond Sold Great Oregon Wine Company (owned by Integrated Beverage Group) purchased Duck Bond Cellars in Dundee. The sale includes the winery, tasting room and 300 acres in the Willamette and Umpqua valleys. Duck Pond is Oregon's ninth largest winery.
Wineries in the United States: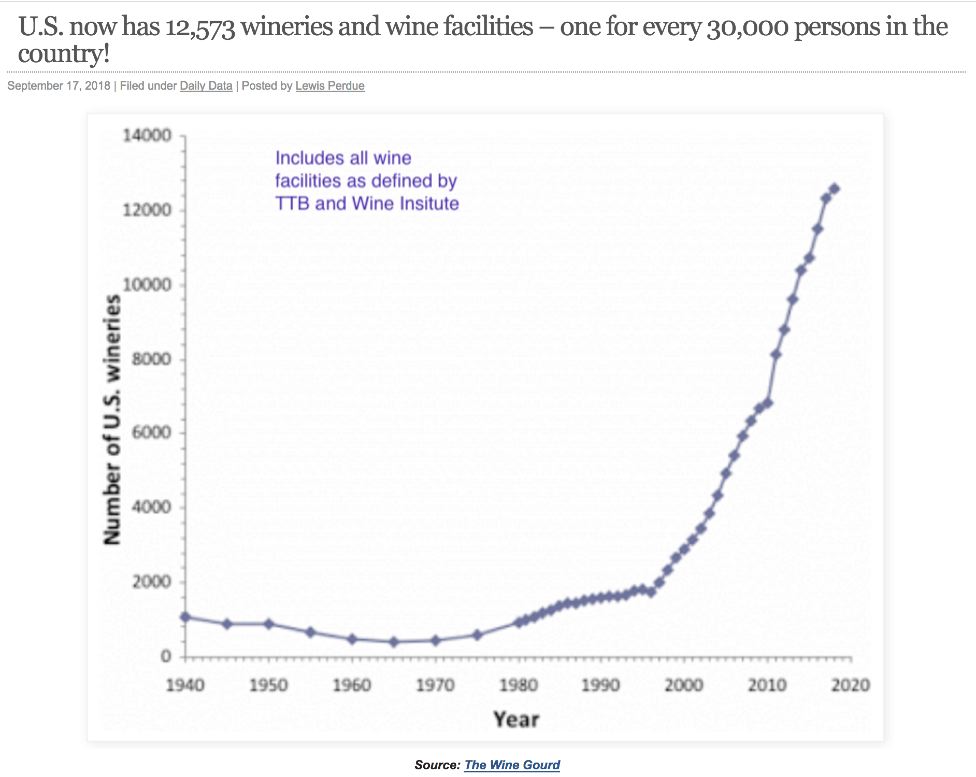 Wine & Spirits Top 100 Wineries 2018 United States wineries specializing in Pinot Noir that were in the Top 100 included Anthill Farms, Bergstrom, Big Basin Vineyards, Buena Vista, Cristom, Drew, Evening Land Vineyards, Hirsch, King Estate, Lingua Franca, Melville, Radio-Coteau, Roederer Estate, Rose & Arrow, Walter Scott, Williams Selyem and The Withers.
The Family Coppola Acquires Vista Hills Vineyards in the Dundee Hills The Family Coppola has expanded its vineyard holdings beyond the Russian River Valley, Anderson Valley and Sta. Rita Hills by the acquisition of Vista Hills located near the top of the Dundee Hills AVA. Existing staff and partners of Vista Hills will be utilized to ensure a natural transition following the sale. Dave Petterson will remain as winemaker and report to Corey Beck, Chief Winemaker of The Family Coppola.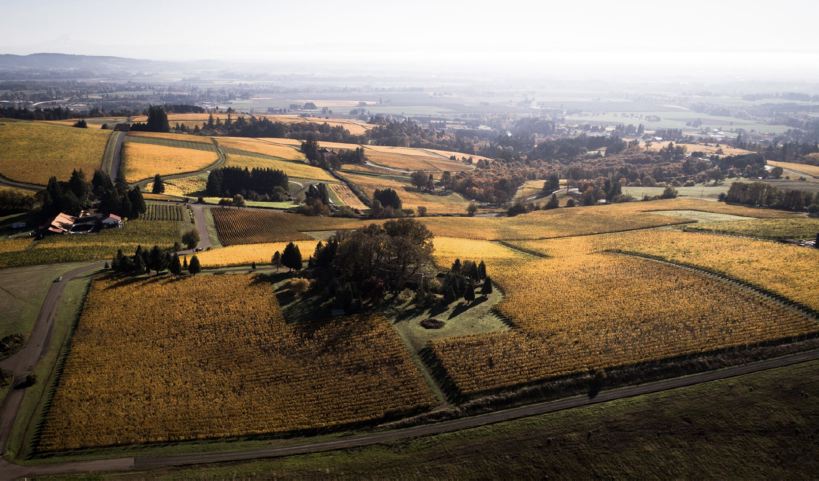 Adam Lee's New Wine Company Clarice Released First Pinot Noir Wines As I reported previously in the PinotFile, Adam Lee sold his Siduri label to Jackson Family Wines in 2015, yet stayed on as consulting winemaker. He launched a new wine company, Clarice, based on an innovative idea combining a wine community with wine education as part of Pinot Noir wine production. 625 consumer subscribers were asked to pay $965 a year for a case of his Pinot Noir without previewing the wines beforehand, Those who sign up, also get access to a website where Lee will post articles that appeal to wine geeks. The website will also have a private forum to exchange information. Lee will also host a few parties each year where members can meet the growers and taste barrel samples. Three 2017 Santa Lucia Highlands Pinot Noirs have been released and were scored highly the Wine Advocate . Subscriptions for the 2018 Clarice wines will be available in February 2019. For information, visit www.claricewinecompany.com.
Type of Alcoholic Beverage Most Often Favored by Americans Who Drink: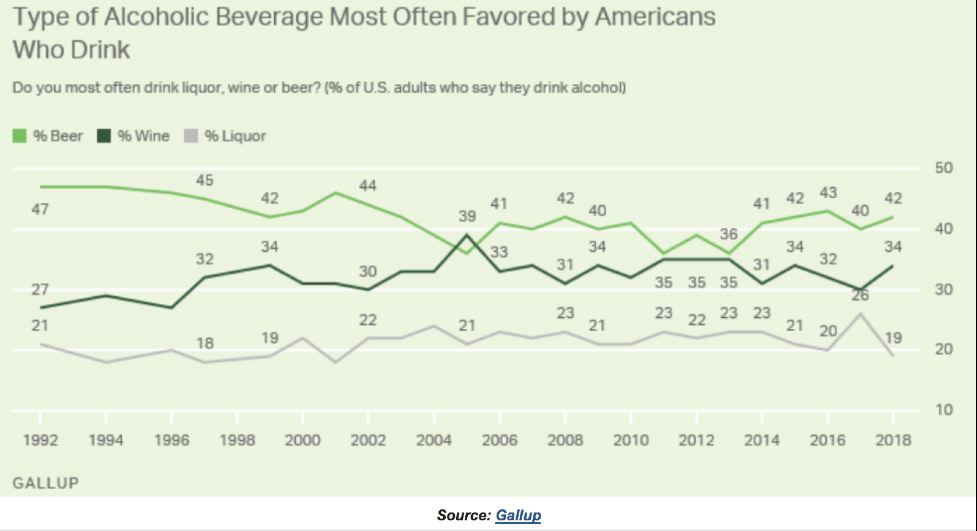 Walmart, Kroger & Target Enter the Value Price Wine Race This year, Walmart began offering 10 private-label "Winemakers Selection" wines from California, France and Italy for $11 a bottle. No Pinot Noir yet. Target introduced the California Roots brand in 2017 priced at $5. A rosé under the Yes Way Rosé label was offered in 2018 priced at $12.99. No Pinot Noir yet. Kroger sells 89 different lines of wines including the exclusive Storyteller brand and is trying home-delivery service in some markets. Some of the brands include 19 Crimes, Love Noir, Prophecy, Dreaming Tree and Outlier that Target also carries. Costco, which sells $2 billion a year worth of wine, is offering more wine options under the Kirkland Signature label. And, of course, there are Trader Joe's Charles Shaw value-priced wines, no longer priced at two bucks, and still shunned by the wine cognoscenti.
The Kitchen Winery Today's Wall Street Journal had a special supplement on "The Future of Everything." An article that caught my eye was titled, "The Countertop Winery - What if you could make wine by putting grapes in a bag and pushing a button? Meet the GOfermentor, an automated, spill-proof, kitchen-size vino machine." Gofermentor Junior is a countertop machine the size of a small trash can that allows one to produce wine in a series of odorless, biodegradable plastic bags. The device will be on sale in 2019 for $500. Invented by biotech scientist Vijay Singh who became interested in a sustainable winemaking system that could be simplified and less messy than traditional winemaking. Every step of the winemaking takes place in medical-grade plastic bags that are biodegradable. No tanks or barrels needed. No waste water produced. Almost no environmental imprint. Since there is no oxygen permeating the system, sulfites are not needed for preservation. Wines have been produced by Vijay and his spouse Meera under the Sky Acres Winery label and in 2015 they took home gold, silver and bronze medals at the San Francisco Chronicle Wine Competition. The commercial version of the device is about the size of a washing machine (pictured below) and costs $2,400. For more information, visit www.gofermentor.com.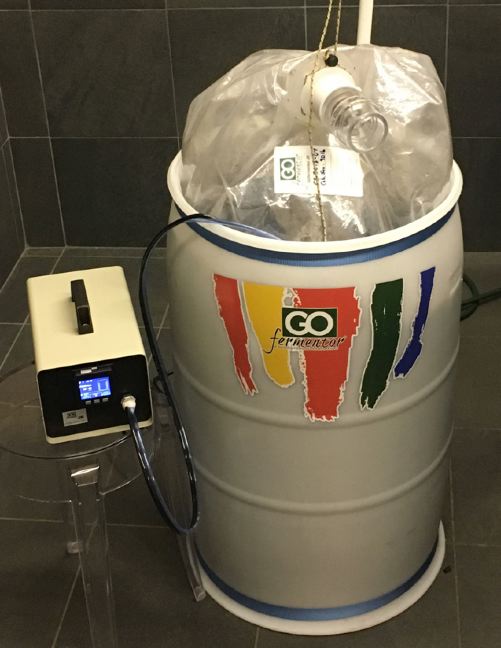 Storing Wine Horizontally in the Cellar May be A Bad Idea An article appeared at Times of Malta - https://www.timesofmalta.com/articles/view/20181026/food-drink/the-unsettling-story-of-an-uprightwine- bottle.692550 - titled, "The Unsettling Story of an Upright Wine Bottle." Usually, wines are stored sideways to keep the cork moist and swollen and reduce the chance of air getting inside the bottle. There is universal agreement about this. The author of this article, Georges Meekers, points out that Miguel Cabral, the R&D Director at cork manufacturer Amorim, says that storing wine bottles on their side makes no difference in regard to the moistness of the cork. If anything, it may hasten the deterioration of a cork by weakening the cork's cell structure. Cabral said, "The ullage of a sealed bottle is so saturated with moist vapor that there is no need to place it horizontally to keep the cork wet." The high humidity inside the neck of the bottle keeps the cork moist and the ambient temperature outside the bottle has no influence on the moistness of the cork. This is not the last word on this subject as another noted winemaker told me that wine should be stored horizontally so that the cork doesn't dry out.
Higher Prices for Oregon Wine May be Coming Oregon Governor Kate Brown and the Oregon Health Authority are attempting to raise $830 million in new sin taxes beginning in 2019 to cover the state's rising Medicaid costs. Consumers will pay more for cigarettes, beer and wine as a result. Oregon's beer and wine taxes have not kept up with inflation and the state has not increased taxes on wine in 32 years. Raising the tax on alcohol alone would bring in an additional $491 million.
Nearly Four-Foot Tall Wine Glasses at Costco Costco is selling giant wine glasses in the UK and Canada for $99.99. So far, no availability in the US. The wine glass is 46" tall and holds the equivalent of 25 bottles. It is handmade and mouth-blown in Poland.
Top "Premium-Plus" Table Wine Brands in the U.S. Premium-Plus wine sells for at least $10 a bottle on average.