Pinot Trail Diaries
Small Vines Wines
Paul Sloan's interest in Pinot Noir arose while he was working as a sommelier at John Ash & Co restaurant in Santa Rosa in 1995. It was an epiphanic experience with a rare Burgundy that ultimately changed his life. He went to work for the Dutton Ranch company to pursue more knowledge about winegrowing. In 1998, he convinced his spouse, Kathryn, that they should pursue winegrowing independently and they launched Small Vines Viticulture focusing on planting and farming high-density planted vineyards in the Russian River Valley and Sonoma Coast appellations. The next logical step was to produce their own wines and in 2005 they released their first Pinot Noir under the Small Vines label.
The core idea behind Small Vines Wines is that Paul's experience as a sommelier-led him to favor wines with reasonable alcohol levels and long age ability. He felt that high-density plantings were a way to achieve this goal. The winery's tagline became, "The smaller the vine, the better the wine." The Sloans have been developing Estate Vineyards since 1999 and have been committed to farming vine-by-vine with closely planted vines similar to European-styled vineyards. The vineyards are farmed organically and specifically groomed to produce fewer pounds per vine of superior quality fruit. Note the typical small cluster size compared to a quarter: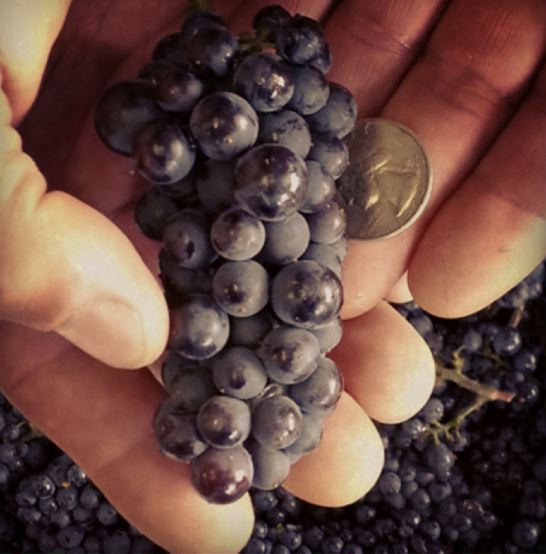 All Small Vines wines come from obsessively managed estate owned (TBH Vineyard surrounding the Sloan's home and winery) or leased estate vineyards (MK Vineyard and Baranoff Vineyard). Typical plantings are dense at 2722-3630 vines per acre producing 1-2.5 pounds per vine. These physically smaller vines are considered to be ideally balanced with less fruit naturally than a larger vine. With the vines closer together, the fruit receives less solar radiation due to the proximity of the neighboring vine row resulting in better acid retention in the grapes. The goal is farming to obtain grapes that retain more natural acids and achieve ripeness at lower Brix levels resulting in wines with modest alcohol levels. You will notice that the Pinot Noir wines reviewed here have alcohol levels in the 13.2.-13.6 range.
After spending time with Paul, it is obvious that he is in love with growing and vinifying Pinot Noir and Chardonnay. His enthusiasm is boundless, yet he proceeds with a carefully thought out agenda. He works both on the grower side as the owner of Small Vines Viticulture, Inc., and the producer side as winemaker for Small Vines wines. A relatively new winemaking facility on the estate property incorporates walls of a historic building once part of the Barlow family's homestead and contains the latest winemaking technology. Veteran winemaker, Byron Kosuge, is the consulting winemaker.
The Small Vines Pinot Noir wines are vinified with natural yeast fermentation after picking in the cold of the night. Varying amounts of whole cluster are used during fermentation. The wines are aged in 3-year air-dried French oak barrels (mainly Atelier and Siruge), about 25%-30% new for 14 months on the fine lees and then bottled unfined and unfiltered. Vineyard-designated bottlings only contain dry-farmed fruit.
The Small Vines Chardonnays are typically harvested at 21.5º-22.0º Brix. Native yeast fermentations are carried out in mostly neutral French oak barrels. Secondary (malolactic) fermentation is allowed and the wines are aged 10-11 months in a combination of new and neutral French oak barrels. The wines are bottled unfined and unfiltered.
The following wines were reviewed both at the winery with Paul and at home later under my usual controlled environment. These are superb wines with hallmarks of freshness and vibrancy attributed to uplifting natural acidity. The judicious use of whole cluster fermentation adds complexity. The wines can be obtained through the winery's mailing list or the winery website at www.smallvines.com. 75% of sales are through the mailing list and wine club. Shipping in the U.S. is always complimentary. Magnums are available. All 2016 vintage wines have been released.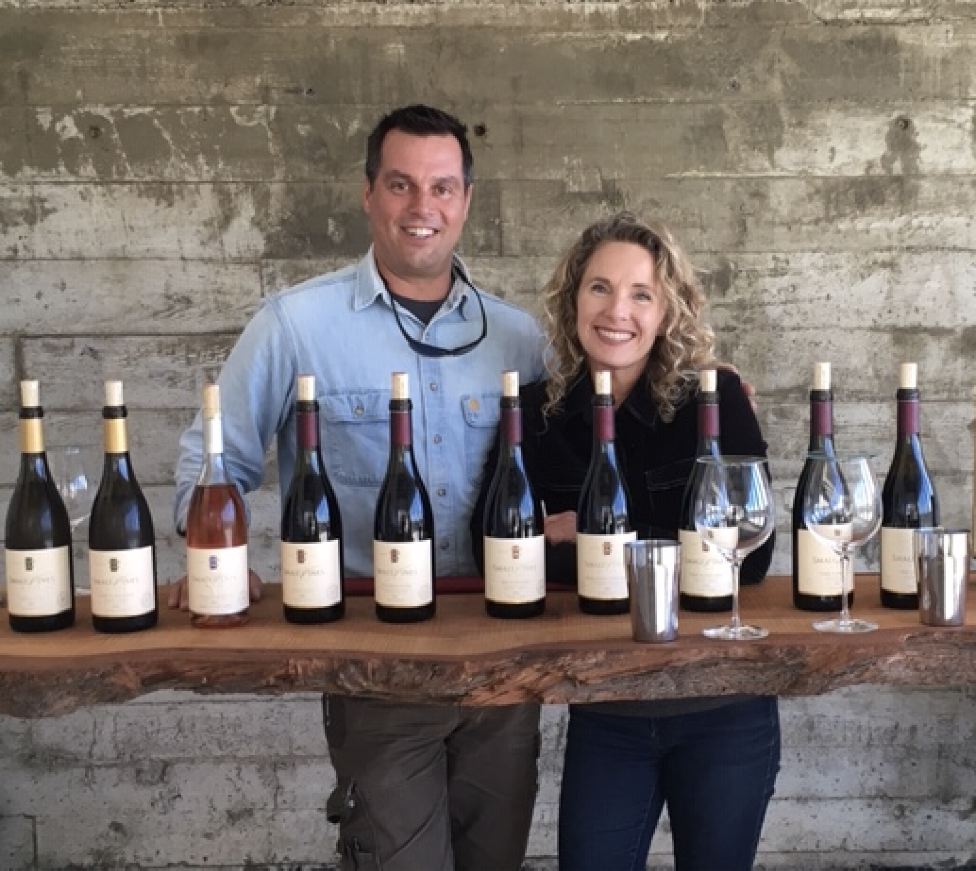 TBH Vineyard wines are only available to mailing list members by allocation. The vineyard was planted in 2009 at the Barlow Homestead in Sebastopol on a cool and windy ridge with heavy coastal influences. 3630 vines per acre, and typically .98 lbs per vine. Clones include Calera, Swan, Pommard, 943 and 459. Some distributors still have the 2014 and 2015 vintages and would be available in stores in some states.
Eric Kent Wine Cellars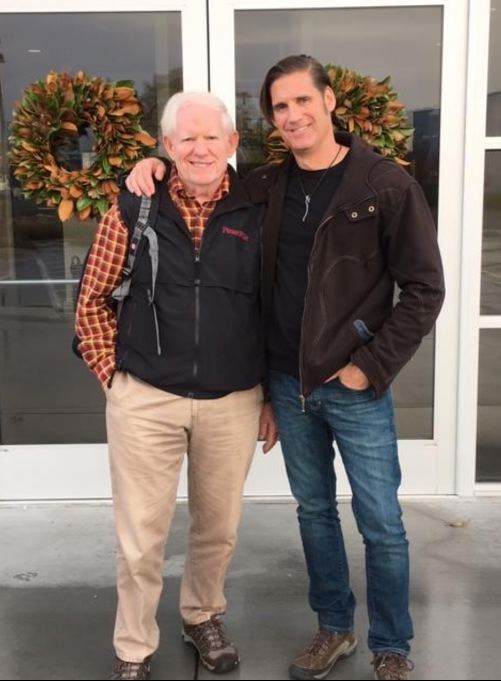 I have followed the wines of proprietor and winemaker Kent Humphrey since the winery's early beginnings in 2003 when the winery was launched with 375 cases. I have tasted practically every Pinot Noir Kent has produced since 2004, enamored by his winemaking skills and the colorful artwork that adorns every label.
The label says "Eric Kent," but there is no Eric Kent. Eric is Kent Humphrey's middle name and Kent is his first name. Being humble, Kent just could not bear to choose a blatantly eponymous name for his winery. He also felt that people in a nice restaurant might be adverse to ask for a bottle of "Humphrey" Pinot Noir. So, he inverted his first and middle names and his "nom de vin" came to be.
Kent grew up in California around a family table that enjoyed wine but his college path was in French at Cal Berkeley. He was awarded a Regent's Fellow Scholarship in the PhD French program, but soon opted out of academia and pursued a career in advertising. He started his own agency and the company was highly successful, employing more than fifty people. However, the experience "sucked the joy out of life." His only respite was wine that he collected and delighted in. He finally left the advertising world, encouraged by family and friends to seek a career in wine.
Because he realized that many of the wines he most admired were made by people who had no formal training in wine, he decided against attending UC Davis for winemaking education. Instead, he sought hands-on experience. When he launched Eric Kent Wine Cellars in 2003, he chose to make Pinot Noir, Chardonnay and Syrah, since these were the varietals that gave him the most pleasure.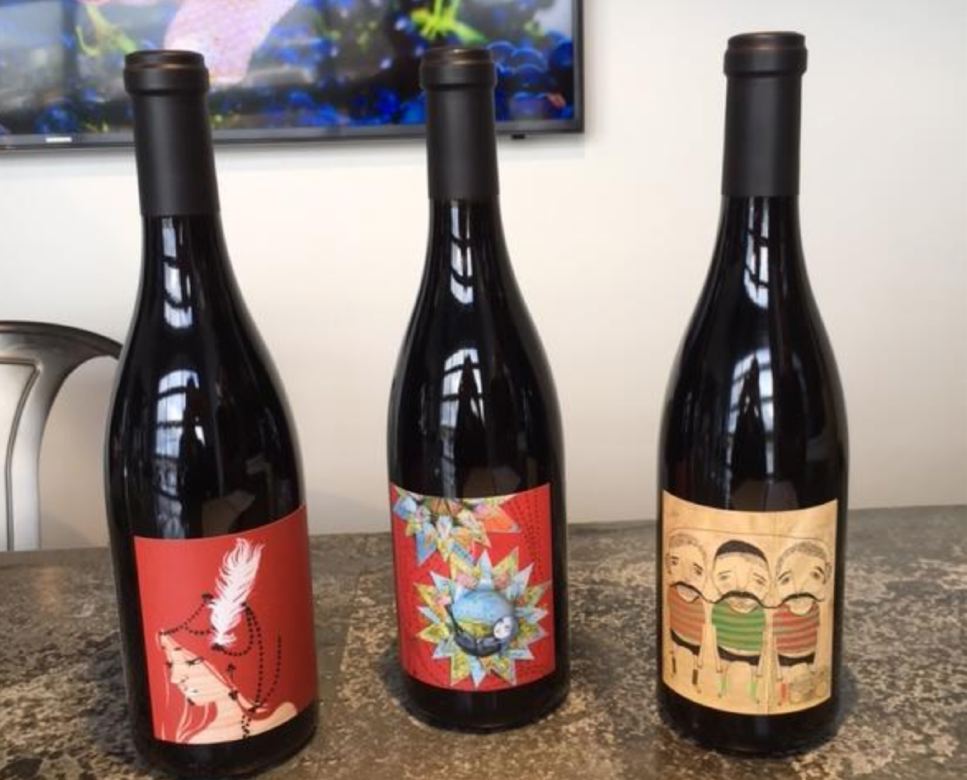 Kent and his spouse, Colleen, an accomplished artist and DJ, decided one day over a dinner of burgers and Zinfandel to showcase artists on their bottles. The result has been striking works of unique art on the front label of every Eric Kent wine. Each artist brings a unique vision that compliments the spirit behind the wines. As one wine retailer put it, "The wines speak for themselves and the labels add another dimension to the wine by creating a built-in discussion with every cork pulled." Currently, the recurring annual wines display labels from the permanent collection of art, while limited bottles sport special one-of-a-kind art.
Kent took on Hanna Hollingsworth as his co-winemaker beginning in 2011 and she works diligently in the background. Like Kent, she did not have intentions to be a winemaker and was trained at an early age as a classical pianist. She worked in the world of fine dining for years before spending her first harvest at Carlton Winemakers Studio in the Willamette Valley of Oregon.
The two winemakers work together at the newly opened Grand Cru Custom Crush facility in Windsor. This is a state-of-the-art facility with the latest winemaking equipment, hosting eighteen wineries and providing individual rooms for smaller wineries to conduct tastings for consumers. You can schedule a tasting with Kent or Hanna through the website at www.erickentwines.com. Eric Kent wines are sold through an allocated mailing list.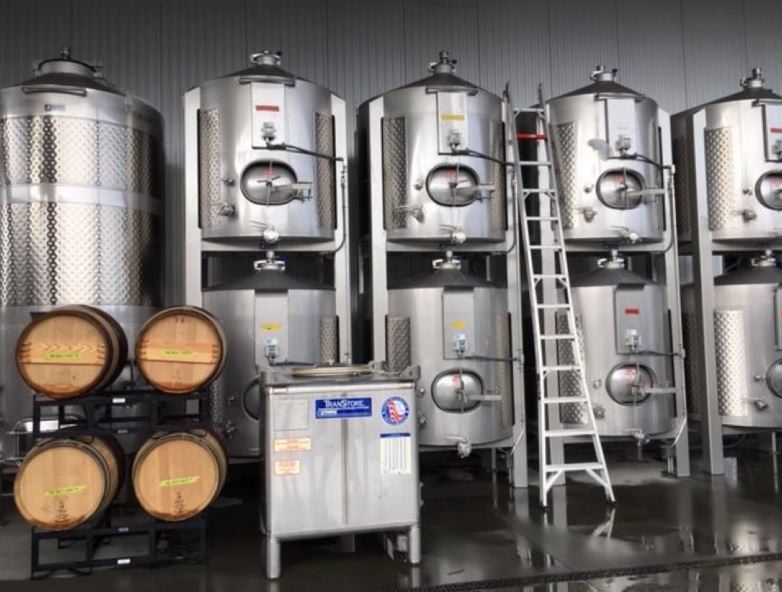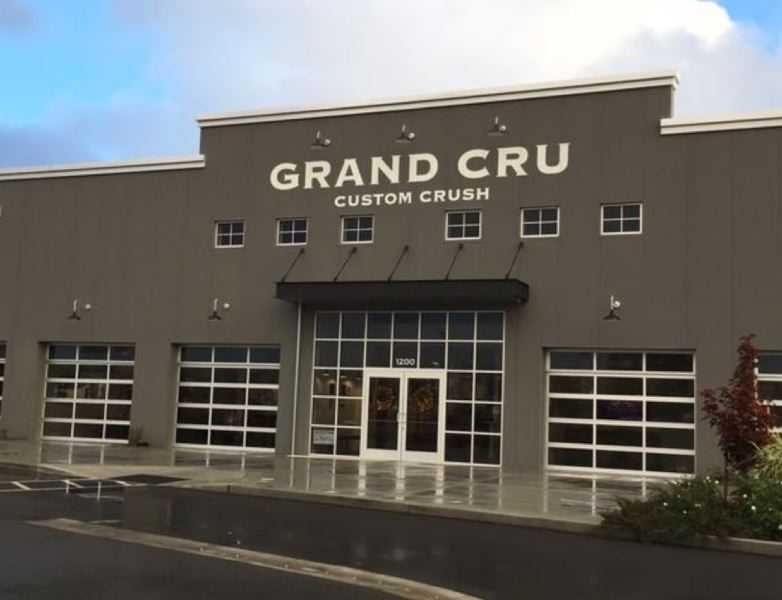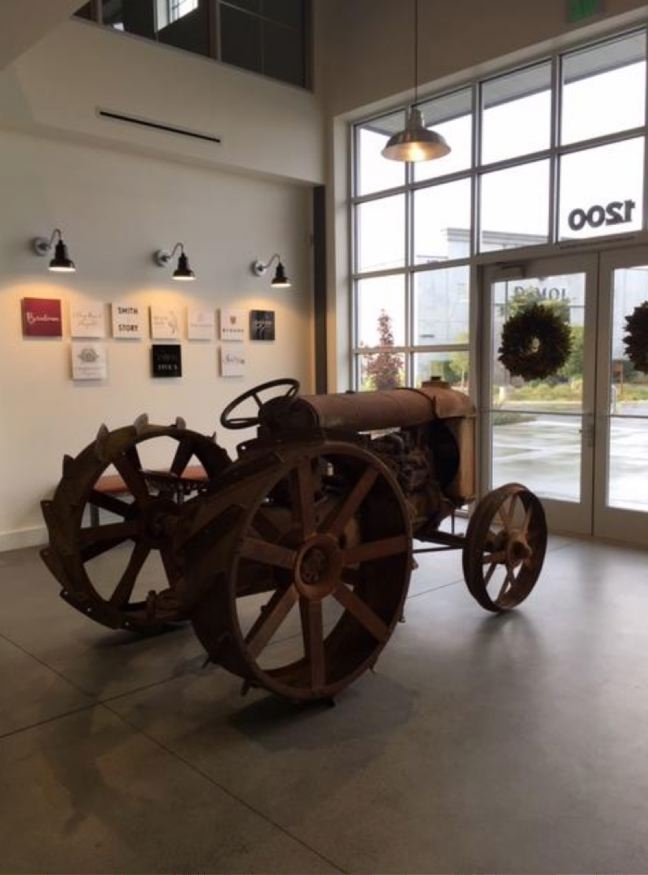 (Note: you can also taste the Pinot Noir wines of several producers prominently reviewed in the PinotFile including Black Kite Cellars, Bucher, Ernest Vineyards, and Sangiacomo. You can taste with a specific winery or experience a varied "Vintners' Selection" that includes wines from select winemakers at the facility). Visit www.grandcrucustomcrush.com.
The following wines represent 2018 spring releases (Small Town and Sascha Maria) and 2018 fall releases (Stiling)
2016 Eric Kent Small Town Sonoma Coast Pinot Noir
13.7% alc., pH 3.52, TA 0.65, 207 cases, $52. Three Amigos label by Kelly Puissegur. Sourced from western Petaluma Gap fruit including Grand Vent Vineyard (94%) and Cleary Ranch (6%). Clones are Pommard, 667, 113, 115 and 943. · Moderate garnet color in the glass. Engaging perfume of black cherry, spice and dried herbs. Succulent blueberry and purple grape flavors with a subtle savory note of herbs and tobacco. Elegant in style, with felty tannins and bright acidity, finishing with some persistence. Score: 92
2016 Eric Kent Stiling Vineyard Russian River Valley Pinot Noir
14.6% alc., pH 3.70, TA 0.62, 400 cases, $52. Artist Eliza Frye. Kent has worked with this vineyard, now owned and farmed by the Dehlinger family, for several years. · Moderate garnet color in the glass. Intensely fruity nose offering aromas of purple and black berry fruits with a compliment of spice. Hearty, in a mid weight plus, fruit-driven style, with flavors of boysenberry and blackberry with an undertone of dark chocolate and toast. The wine finishes with a blissful basket of dark and fragrant fruit. Score: 92
2016 Eric Kent Sascha Maria Sonoma Coast Pinot Noir
14.7% alc., pH 3.60, TA 0.63, 247 cases, $52. Art by Valerie Savarie. This bottling is named after Kent's daughter and is sourced from Sangiacomo Roberts Road Vineyard (95%) and Grand Vent Vineyard (5%). Primary clones are 777 and Swan with a small amount of Pommard and 667. · Moderate garnet color in the glass. Rapturous nose offering scents of black cherry, black raspberry and exotic spices. Vivid, fresh purple and black fruit flavors filled out with a compliment of oak. The burliest and fruitiest wine of the three tasted here, but not jammy. Excellent harmony with pleasing length on the finish. Score: 93
Gracianna Winery
The Amador family pays tribute in naming their winery to the family's great-great-grandmother, Gracianna Lasaga, a French Basque who emigrated to the United States after World War II and with her husband raised large herds of sheep in Santa Barbara County.
The entire concept behind the name and label is being grateful for what the Amador family has. The picture of the gift on the bottle was painted by Trini Amador IV's paternal grandfather. The painting symbolizes having a gift every day, being grateful for what they have, and putting it into a bottle. A sculpture of the gift is on the estate grounds.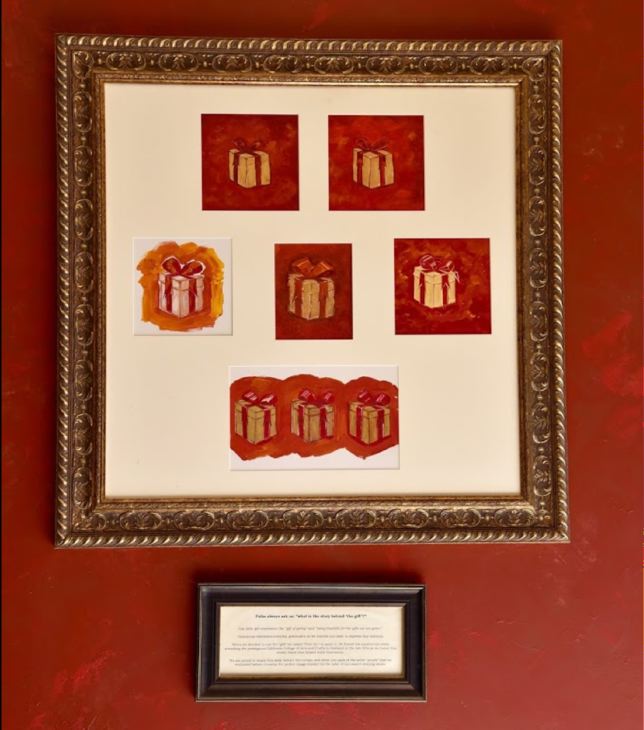 The winery, located in the Middle Reach of the Russian River Valley situated on Westside Road, the "Rodeo Drive of Pinot Noir," was founded in 2005 by Trini Amador III and Lisi Amador, along with their son, Jose Trinidad (Trini) Amador IV. Trini IV is a Sonoma County native who became interested in winemaking as a teenager, crafting wine at the home garage at age 15, interned at Williams Selyem with winemaker Bob Cabral, and returned to the Russian River Valley after college at Oregon State University. He later became a vineyard manager for a large ranch in the Napa Valley.
The first release of Pinot Noir (60 cases) and Zinfandel (50 cases) was in 2007. Since then, the winery has won medals at every notable wine competition they have entered. Winemaking is a family affair at Vinifi, a custom crush facility in Santa Rosa. The Pinot Noir wines since 2015, in particular, have shown considerable refinement and balance.
The winery's Healdsburg tasting room, opened in 2012, is located on Westside Road among many prestigious neighbors such as Arista, MacRostie, Rochioli and Williams Selyem, and is open daily by appointment except Wednesday from April through December (but wine is sold year-round). A Private Estate Tour and Tasting with the owners is available on weekends. Gracianna is recognized by the American hospitality industry as a top performer and a recipient of the Trip/Advisor Certificate of Excellence. The tasting room receives over 5,000 visitors a year. The Amadors want to bring everyday gratitudes to life through an intimate experience in their tasting room. The tasting room is pictured below. Adjacent to the tasting room is a magnificent home, a John Pfleugar design inspired by the architecture of the Renaissance and the Tuscany region of Italy.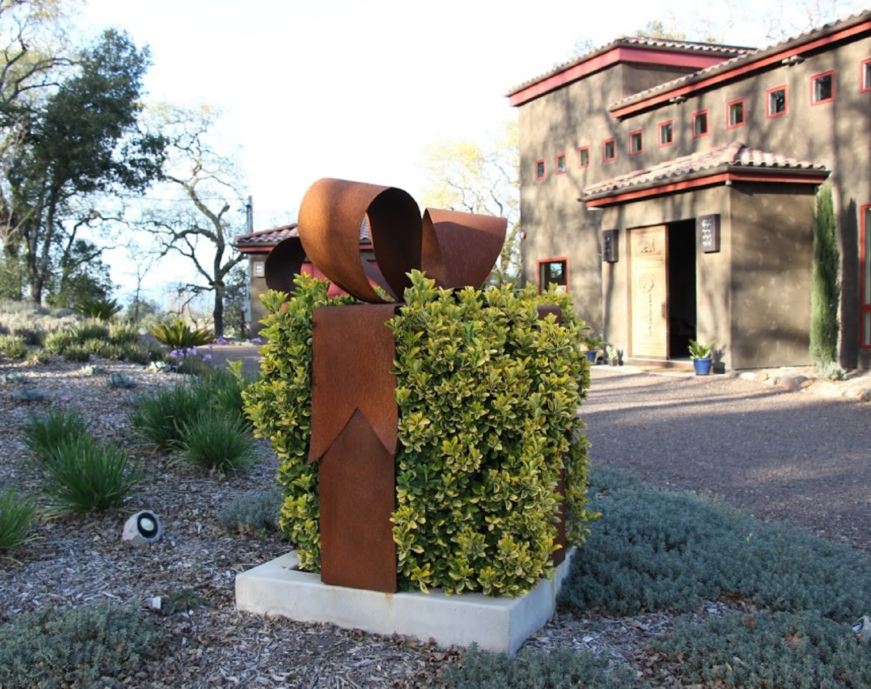 The winery's estate vineyard, Mercedes Riverblock, named after a family matriarch, grandmother Mercedes Sordia, is 1.17 acres planted to Dijon clone 115 in 2009. The vineyard borders the Russian River Valley in the space between the riverbank and Westside Road. The first Gracianna Mercedes Riverblock Estate Pinot Noir was released from the 2013 vintage.
Production is about 2,000 cases annually of primarily Pinot Noir, Chardonnay and Zinfandel. All wine is sold direct to consumer. Visit the website at www.gracianna.com. The following wines were reviewed in the home of Trini Amador III. The 2016 Estate and 2017 Reserve were re-tasted under controlled circumstances at my home later.
The Pinot Noir wines are vinified with primarily 2-3-year-old French oak barrels with little to no new oak. The wines show good balance, even those with higher ABV.
Lynmar Estate
This winery was featured in the November 2, 2018 issue of the PinotFile: www.princeofpinot.com/article/2112/. The excellent 2016 vintage Pinot Noirs and Chardonnays were reviewed.
The winemaker since 2017 has been Pete Soergel. He has an agricultural background since he grew up on an apple farm and studied horticulture in college. Pete has worked at Lynmar Estate as both an assistant and associate winemaker since 2011 so he is very familiar with the estate vineyards and other sources of grapes for Lynmar Wines. Prior to his time at Lynmar Estate, he spent three years working at Kosta Browne alongside winemaker Shane Finley who continues on at Lynmar Estate as a consultant.
I met Pete on a rainy day to taste a number of 2017 Pinot Noirs from barrel in the winery's caves. This was the first vintage that Pete vinified at Lynmar Estate as the head winemaker.
Uneven weather during the 2017 growing season included heavy winter rains, flooding of a number of Russian River Valley vineyards in low-lying sites, a heat spike in September around harvest and rain during the harvest period. Bud break was early in the spring and the late summer heat led to a very early harvest. In addition, vintners in the Russian River Valley had to deal with early October firestorms that made access to some wineries challenging if not impossible while wines were undergoing processing or in barrel. Most regional Pinot Noir was picked before the fires which were some consolation. Fortunately, Lynmar Estate's winery and estate vineyards were in locations not involved in the fires.
Pete and I tasted from multiple barrels in conjunction with a geeky discussion of the wines that I won't bore you with here. Pete has a variety of heritage selections including Swan, Mt Eden and Calera to work with, as well as all the commonly grown Dijon clones. The variety of clones and selections are planted in multiple blocks and consist of both young and old vines in the estate Quail Hill Vineyard that is adjacent to the winery. The complexity of the Quail Hill Vineyard can be appreciated by viewing the block mapping of the vineyard below.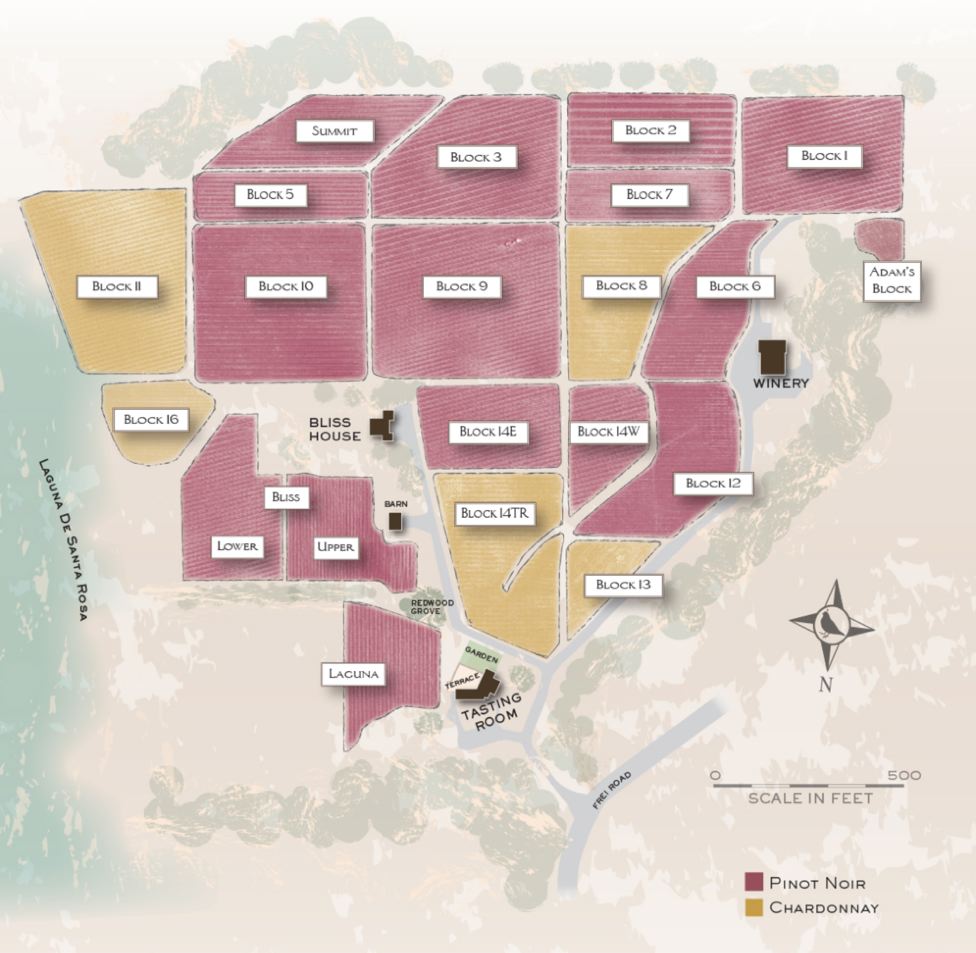 One of Pete's challenges is matching cooperage to the myriad sites, blocks, and variable vine ages of lots of wine in the Lynmar cellar from the three estate vineyards. How he manages this complex puzzle is a tribute to his skill and experience. I found both new and older plantings of Swan selections to be the most glorious barrel samples in the cellar.
The vineyard team, led by Jason Saling, manages 70 individual vineyard blocks and 19 clones that Pete transforms into over 90 separate lots of wine in the cellar. Because of the symbiotic relationship between Pete and Jason, Pete is able to understand intimate details of the estate vineyards and has the luxury to dictate specific pick times at harvest.
The Lynmar Estate is made up of three currently producing sites: Quail Hill Vineyard surrounding the winery and hospitality center (45 acres, 17 distinct blocks with 14 Pinot Noir and 4 Chardonnay clones/selections, originally planted in 1974 with replanting beginning in 1996), Susanna's Vineyard located in the Green Valley of Russian River Valley AVA about two miles from Quail Hill (10 acres of Pinot Noir and 10 acres of Chardonnay) planted in 2006, and Adam's Vineyard situated above the fog line on a hillside in Forestville (9 acres planted in 2013 to Pinot Noir and Chardonnay). A fourth estate vineyard is being developed in the South Sebastopol Hills off Hwy 116 just north of Cotati. Still to be named, this will be the coolest estate vineyard. A variety of clones will be planted there in the Cotati sandy loam soil (similar to Goldridge soil). Grapes are also sourced from local vineyards such as Kanzler and Sweeney.
Pete has a state-of-the-art gravity flow winery and a 9000-square-foot cave for barrel ageing at his disposal. His vinification regimen includes the use of moderate amounts of whole cluster during primary fermentation. The Pinot Noirs are aged between 11 and 15 months in 100% French oak barrels, commonly between 46% and 64% new. He produces at least twenty different Pinot Noir and Chardonnay wines including Pinnacle Tier blends, Block Designates, Vineyard Designates and Proprietary Blends. The winemaking team (Pete is in the center):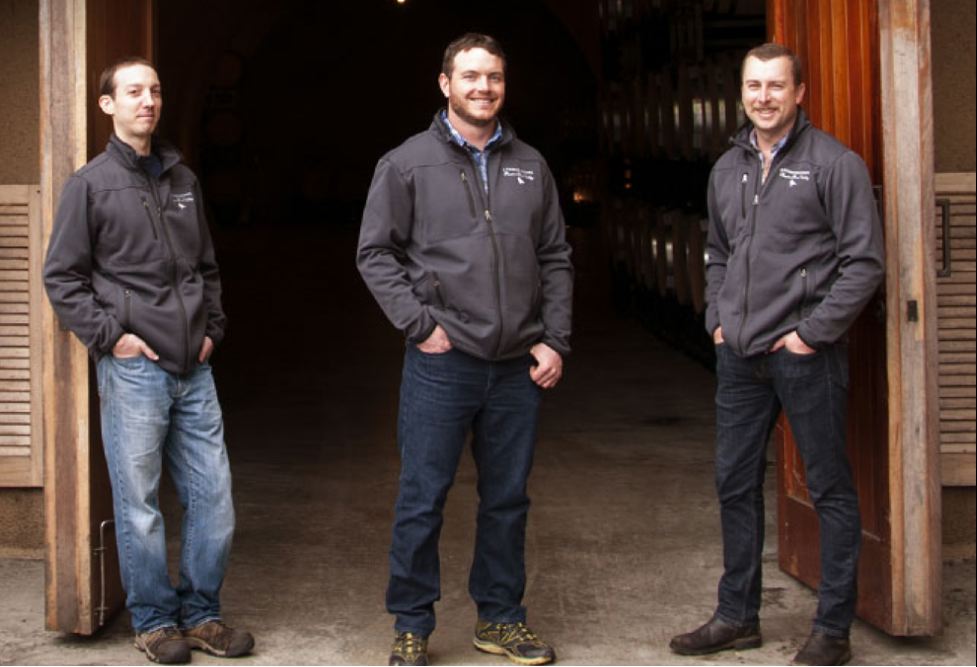 As I said in my recent article about Lynmar Estate wines, the Pinot Noirs and Chardonnays are standard bearers for the region.
Wine tasting in the bucolic hospitality center at Lynmar Estate is available by appointment. Several tasting options are offered as well as wine and food experiences. The wines are available on the website. Members of the mailing list and Advocates Club enjoying special pricing and privileges. Visit www.lynmarestate.com.