2018 Winery of the Year: Windy Oaks Estate Vineyards & Winery
"I do the most I can in the vineyard and the least I can in the winery."
Jim Schultze
Founded in 1996, this is a family winery in the truest sense of the words. Jim Schultze directs all the vineyard management and winemaking. His spouse, Judy, manages marketing and sales. One son, Spencer, assists in winemaking, and a second son, James, manages the winery's three tasting rooms.
Jim is a winemaker whose approach is meticulous and innovative. When you talk grapevines and winemaking with him, you just get the feeling that his grapes are in good hands. Having spent considerable time in Burgundy, Jim's viticulture and winemaking methods are Burgundy-themed. Never one to rest on his laurels, he is constantly researching to update his production skills.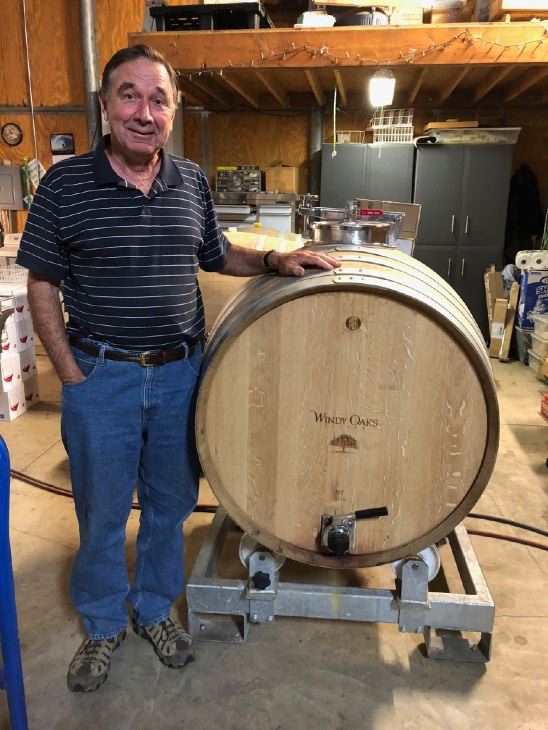 An example is the acquisition of the AgroThermal Systems heat treatment machine. This machine was developed originally to do chemical-free farming in South America, but it works very well on wine grapes. It produces a very hot - 300º F - blast of hot air which dries the fruit zone, killing mildew and botrytis, and increases the phenolics of the grape skins. A comparison of Pinot Noir wines, one from grapes exposed to thermoculture and one without, revealed the former had fruitier aromatics while the later was less aromatic and more savory. Jim's machine is pictured below. This is the first time I had encountered this machine at any winery Other examples of innovation include stage pruning and avoidance of hedging (inspired by Leroy in Burgundy).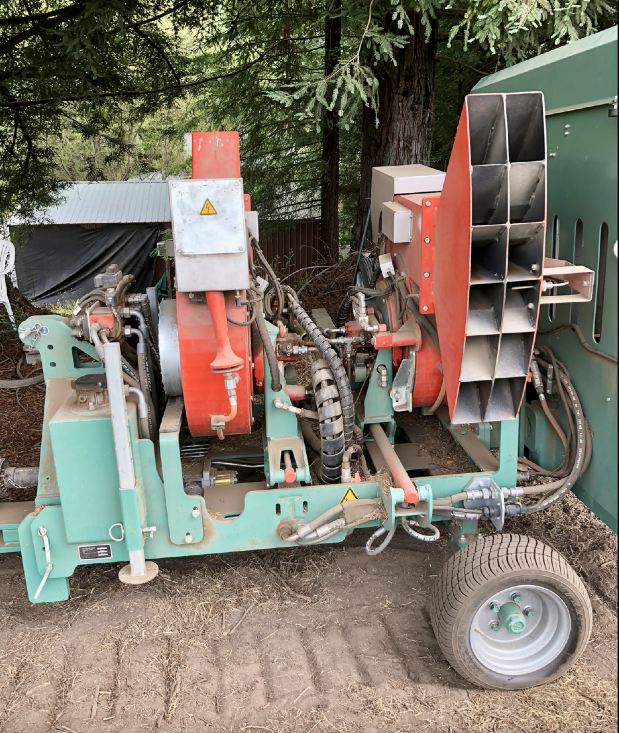 Although in recent years the winery's production has been expanded to 5,000 cases annually to include several varietals, the focus remains on Pinot Noir and Chardonnay produced from three estate vineyards: the 15-acre Schultze Family Vineyard located in Corralitos that was first planted in 1996, an adjacent 7-acre vineyard that is managed and leased, and a 4-acre vineyard in Aptos. The Schultz Family Vineyard is planted to Pinot Noir clones 115, 667, 777, "828," 2A, Pommard and Burgundy selections. All vineyards are fully sustainable, using many organic and biodynamic practices.
The estate Schultze Family Vineyard is located on a ridge at 1,000 feet overlooking the town of Corralitos and the Monterey Bay beyond in the southern region of the Santa Cruz Mountains. The picturesque site, surrounded by dense forest, is mostly above the fog line. Summer is free of heat spikes with consistent temperatures in the 70º F range dropping to 40º F at night. This is due to the moderating influence of the underwater canyons of Monterey Bay. This geography keeps Corralitos warmer in the winter and cooler in the summer. The result is a very long growing season, often extending well into October and even early November, with vines yielding physiologically ripe grapes at relatively low Brix and grapes with good natural acidity.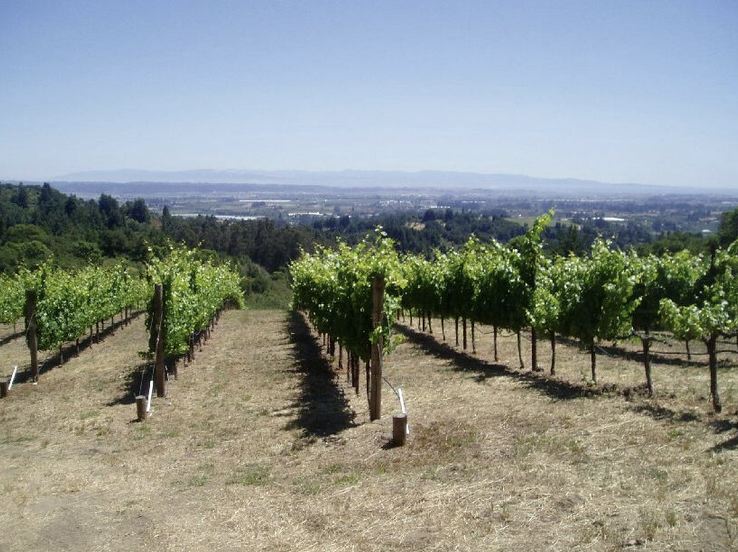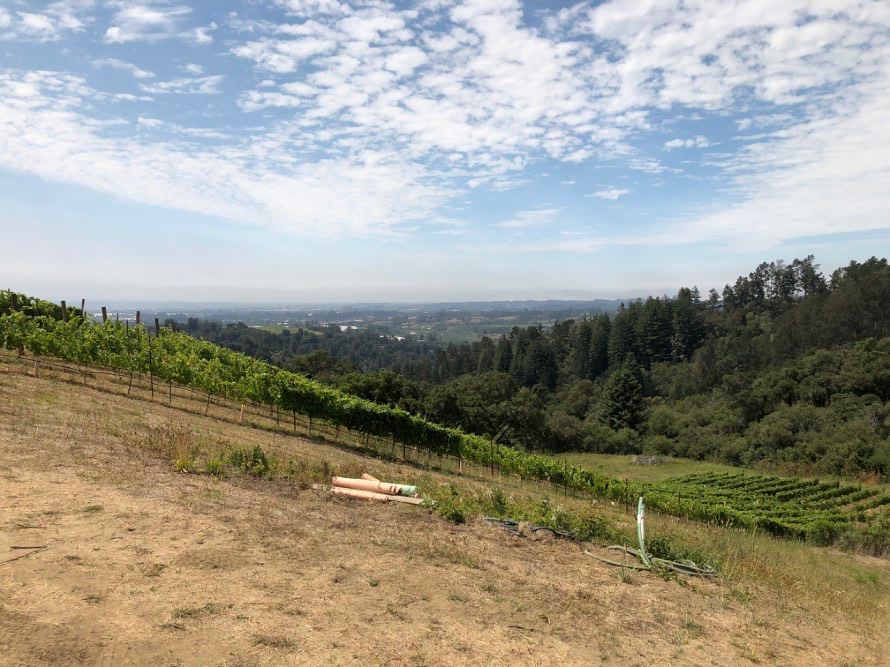 Winemaking is all gravity-driven and non-interventional with no additives. For Pinot Noir, a 3 to 5-day cold soak is followed by very long fermentations with extended maceration. Roughly 50% of fermentations are wild yeast driven. 25% to 30% whole cluster is often the rule since the stems are frequently ripe, but a 100% whole cluster wine is also produced. A 100% wild yeast fermented Pinot Noir and a wood tank fermented Pinot Noir are also made. The grapes are gently pressed with a basket press and no racking is done once the wines are in barrel.
Jim is obsessive about his oak regimen, and the Schultzes travel to Burgundy yearly to meet with coopers. Ageing is carried out in mainly 3 to 5-year-old air-dried, tight-grained French oak barrels for 17 to 27 months in 35% new oak or larger percentages of new oak in certain bottlings. A state-of-the-art bottling line is used that employs minimal oxygen uptake yielding wines that go through little to no bottling shock. All wines are bottled without fining or filtering and aged appropriately in bottle before release.
I have reviewed over 80 Windy Oaks Estate wines dating back to 2004. Several bottlings have been among my yearly All-Americans (2010, 2011, 2012, 2014, 2017). Nearly all wines have garnered a score of 90 or above except for the entry-level Terra Narro Pinot Noir bottlings that represent an excellent value. A few special release bottlings such as the Special Burgundy Clone wines have been extraordinary.

2016 Windy Oaks Estate Terra Narro Schultze Family Vineyard Santa Cruz Mountains Pinot Noir
13.5% alc., $29. · Moderately light garnet color in the glass. A simple and forward-drinking wine in a lighter weighted style featuring aromas and flavors of plump, red cherry, strawberry, savory herbs and toasty oak. The wine finishes on a dry, but not astringent note. Score: 89
2015 Windy Oaks Estate Santa Cruz Mountains Chardonnay
13.5% alc., 72 cases, $45. Crushed, fermented, aged and bottled at Windy Oaks Estate in Corralitos. · Light golden yellow and unfiltered in appearance in the glass. Engaging scents of lemon oil, white peach, spice and sawn oak. Even more pleasing on the palate, with fresh flavors of pear and white peach with a compliment of supportive oak. Somewhat delicate in style, with well integrated acidity. Score: 92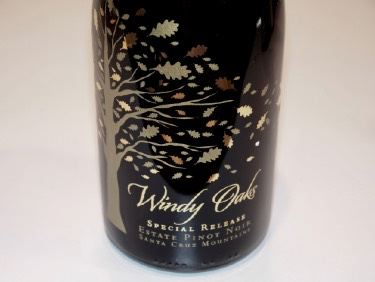 2016 Windy Oaks Estate Special Release Schultze Family Vineyard Santa Cruz Mountains Pinot Noir
13.7% alc., 65 cases, $78. Vinified in a 600L oak barrel made by Tonnellerie Sylvian in Bordeaux. · Moderately light garnet color in the glass. Nicely perfumed with bright aromas of blueberry, black cherry, raspberry, toast and spice. Richly endowed with black cherry cola flavor underlain with nutty oak accents. The fruit is mouth filling and nicely ripened. Tame, fine-grain tannins appear on the finish. This wine was more cohesive and expressive with better oak integration when tasted the following day indicating it will benefit from more time in bottle. Score: 93
Some older vintages recently tasted: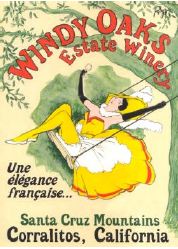 The Windy Oaks Wine Group (WOW) is a wine club that offers members significant discounts with assured access to all wines including limited release wines. Several club membership options are available. Limited and special releases such as the Proprietor's Reserve, Special Burgundy Clone and One-Acre Chardonnay, are only available to Wine Group members. Visit www.windyoaksestate.com for more information.
When I visited Windy Oaks Estate this year I tasted several wines at the Tasting Bar with Jim. A 2016 Limited Release Wild Yeast Pinot Noir was superb. Jim told me that in December he poured some 2016 barrel samples for the winery's Wine Group club and "customers absolutely loved it." Look for more 2016 reviews early next year.
The best way to appreciate the wines and the family behind them is to visit the winery in Corralitos. Check the website for hours. There are also two locations for tasting in Carmel-By-The-Sea and Carmel Valley Village.