Pinot Briefs —Newsletter 11.36

14th Annual Pigs & Pinot Weekend Charlie Palmer has announced that the 14th Annual Pigs & Pinot Weekend will be held on Friday, March 15 and Saturday, March 16, 2019 at the Hotel Healdsburg. This year's participating pork and pinot authorities include Dante Boccuzzi (Dante Dining Group), Nancy Oaks (owner and executive chef of Boulevard in San Francisco), Bryan Voltaggio (owner and chef of VOLT), and Joe Youkhan (partner and chef in Aussie Pies), Michael Browne (proprietor of CIRQ Estate), Heidi Von Der Mehden (winemaker at Merry Edwards), Erik Miller (owner and winemaker at Kokomo Winery) and Cleo Pahlmeyer (proprietor of Wayfarer). The event benefits Share Our Strength as well as local scholarships and charities. Tickets and packages go on sale Thursday, January 10, 2019, at 11 AM PST/2 PM EST. For ticket options, visit www.pigsandpinot.com. The most desirable tickets typically sell out in minutes. I attended this event a few times when I was able to get tickets and even judged the Pinot Cup once. On the 10th Anniversary of the event, I bought a magnum of the 2013 10th Anniversary Pinot Cup Cuvée, a blend of Pinot Noir from all the participating wineries in the Pinot Cup competition. I pulled the cork earlier this year and the wine was magnificent - a true wine-gasm.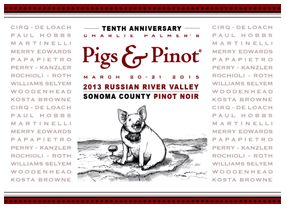 Renaud Society 2018 Blind Wine Competition The Renaud Society (of which I am a member) has been re-energized after a few year lapses. On December 6, 2018, the Renaud Society Blind Wine Competition for the Coveted Renaud Tastevin was held at the Silverado Resort & Spa in Napa. The wines were judged by members of the Renaud Society. The Domaine Carneros 2015 La Ciel Serein Pinot Noir scored the highest from the judges and was awarded the 2018 Renaud Tastevin as Best-In-Show. The competition supports the Desert Heart Foundation Wine & Heart Health Research Initiative promoting research and education with respect to responsible wine competition and better health. The highest scoring wine will be served at the next major venue, namely, the 2019 International Wine & Health Summit at UC Davis May 4-7, 2019, chaired by Andrew Waterhouse PhD and Tedd Goldfinger DO, FACC, FESC.
2015 Domaine Carneros Le Ciel Serein
The La Ciel Serein ranch was developed between 2002 and 2004 and was planted to a wide variety of Pinot Noir clones. The site was selected for its rolling hills, diverse exposure and exceptional soils. The wine is a blend of clones 667 (66%), 777 (18%), Pommard 5 (9.5%) and a Swan selection (6.5%). Harvest Brix was 24.0º-25.2º. 14.5% alc., pH 3.56, TA 0.62, 1,285 cases, $59. Aged 15 months in 3-year, air-dried, medium-toast French oak barrels, 40% new. Bottled without fining or filtration.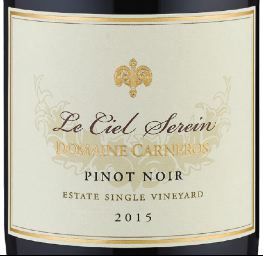 The Renaud Society is an international society of medical professionals with an interest in better health and a passion for wine. The Renaud Society, formed in 2001, honors the legacy of Professor Serge Renaud, father of the French Paradox, and promotes the sharing of wine interests among medical colleagues worldwide. Sommeliers and wine industry professionals can also become members. For further information, visit The Renaud Society website at www.renaudsociety.com.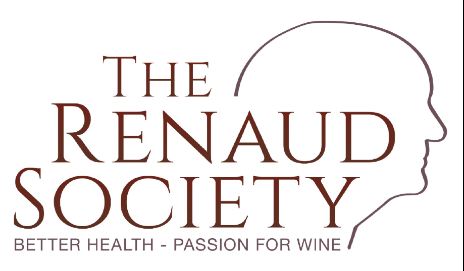 Best Wine Critics of the World The Best Wine Critics of the World is a poll of wine professionals conducted by tastingbook.com. The competition voted Jancis Robinson MW the top wine critic of the world. I wasn't in the top 50. Humph!
Van Duzer AVA Approved by TTB The Van Duzer AVA becomes the 19th AVA in Oregon and remains part of the larger Willamette Valley AVA. The Van Duzer corridor is an anomaly in the Coast Range of Oregon in that it allows a mild oceanic influence to enter the Willamette Valley. This creates the ideal paradigm of warm days and cold nights allowing the production of world-class wines in the Willamette Valley and specifically within the 35.9 square mile triangle that constitutes the new AVA. The winds that funnel through the corridor creates a cooling effect as early as 2 o'clock in the afternoon. The breeze dries out the vine canopy and decreases fungus pressure, reducing the need for fungus spray, and making this area ideal for wine grape growing. In response to the wind, the grape skins thicken leading to an extra generosity and an abundance of anthocyanin and tannins in the finished wines. Within the new AVA, there are nearly 1,000 acres occupied by 18 commercial vineyards and 6 bonded wineries. The photo below, courtesy of Carolyn Wells-Kramer, shows the corridor in the background, with Huntington Hills in the mid-ground and Van Duzer Vineyards in the foreground.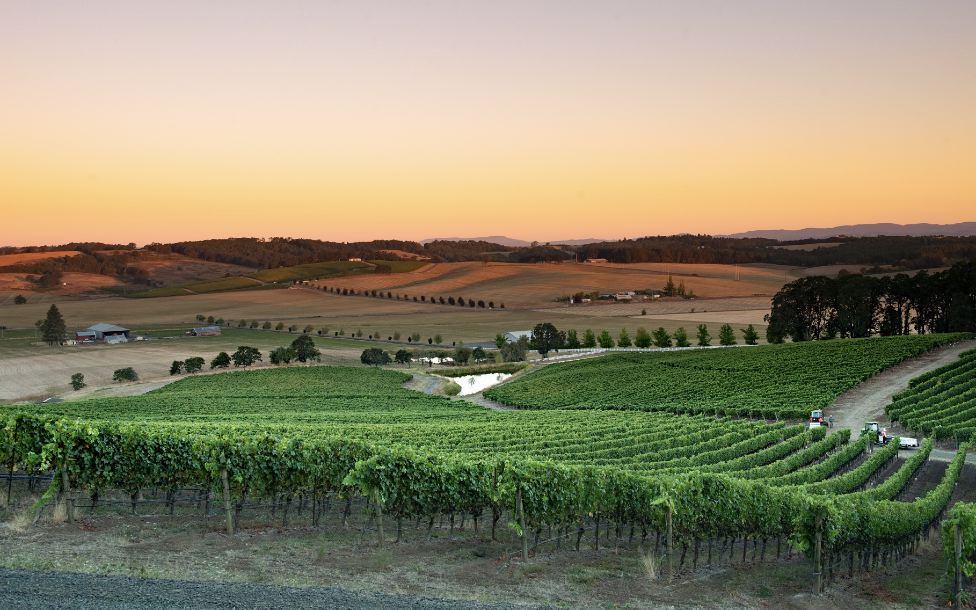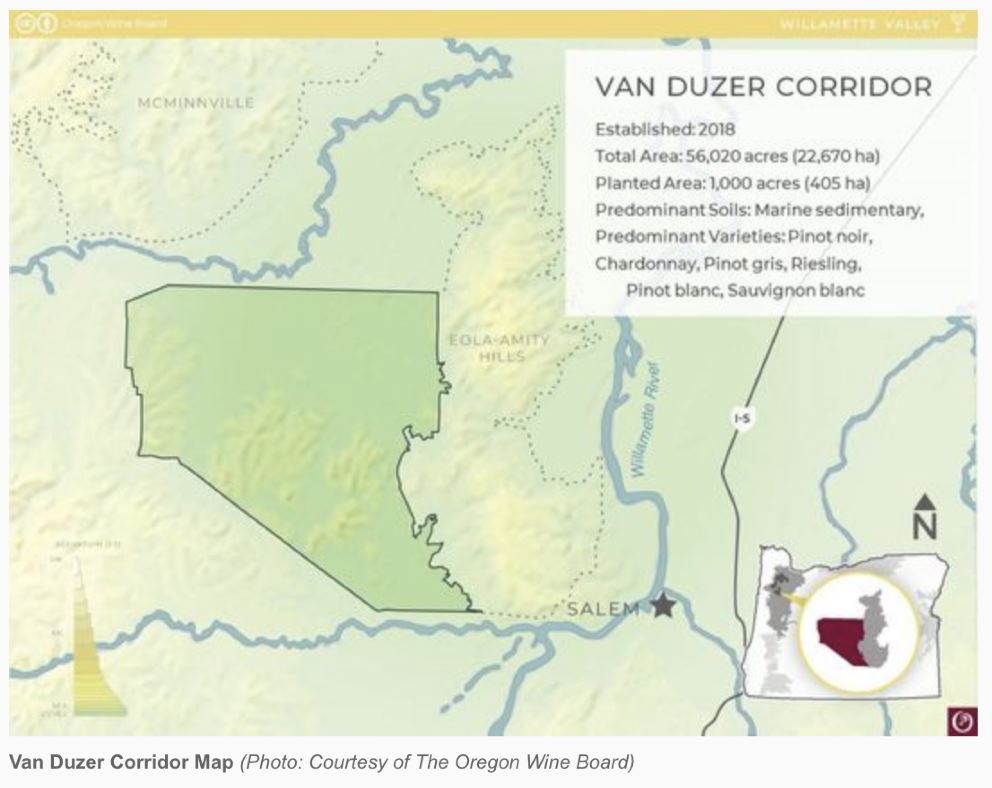 World's Largest Online Wine Community Marks Milestone WineBerserkers.com is celebrating its 10-year anniversary on January 27, 2019. The website provides a free forum where wine geeks can interact directly with winemakers and other small wine producers for the exchange of ideas, information, education and experiences. On January 27, 2019, WineBerserkers members can gain access to an exclusive one-day sale of products offered by wineries, gourmet food producers and wine accessory customers. This offers exclusive wines/deals for members and a much-needed sales outlet for small wine producers. Some participants in WineBerserkers include Brian Loring of Loring Wine Company, Ed Kurtzman of Sandler Wine Company, Jeff Nelson of Liquid Farm, and Marcus Goodfellow of Goodfellow Family Cellars. Check out www.wineberserkers.com.
2019 International Pinot Noir Celebration The 33rd Annual International Pinot Noir Celebration, July 26-28, 2019, announced the Grand Seminar. Steven Spurrier will guide an in-depth exploration of the wines of the Côte Chalonnais. This region is located in the southernmost part of the Côte d'Or and has received increased attention as Burgundy lovers discover this lesser-known region. Steven and his panel of top winemakers will present a tasting-tour through the region from Rully in the north to Givry in the South. Early bird pricing is in effect until December 31, 2018: $100 off the regular registration fee of $1295. Visit www.ipnc.org.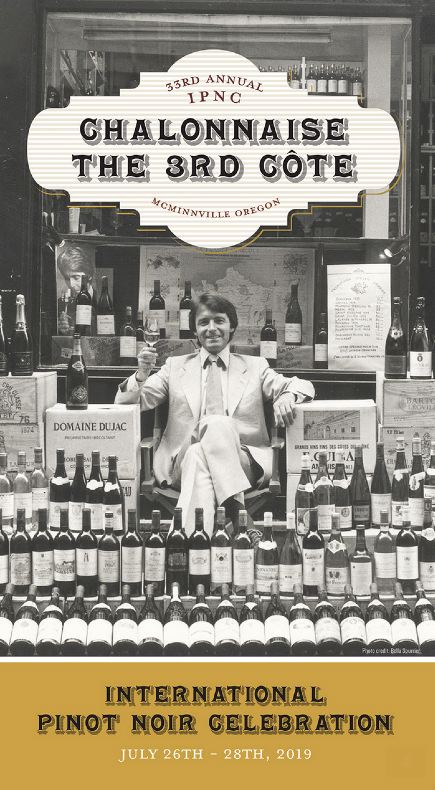 Oregon Chardonnay Celebration The 2019 Oregon Chardonnay Celebration will be held Saturday, February 23, 2019, at The Allison Inn & Spa in Newberg, Oregon. The Seminar is titled "Time in a Bottle: The Evolution of Chardonnay." Four Oregon winemakers with decades of Chardonnay winemaking experience will guide attendees through a tasting of what happens when Oregon Chardonnay ages. The price of the Seminar and Chardonnay Grand Tasting is $170.00. Attend the Grand Tasting only where more than 45 Oregon Chardonnays will be poured for $85.00. Visit https://intlpinotnoirassoc.ticketspice.com/oregon-chardonnaycelebration- 2019. Special lodging rates at The Allison Inn & Spa are available for the weekend. Reservations must be made by January 18, 2019, by phoning 503-554-2525.
On-Demand Wine By the Glass at Four Seasons Resort Orlando Guests in select rooms at the Four Seasons Resort Orlando at Walt Disney World Resort can dispense a glass of wine on demand at the touch of a button, through Plum, the Resort's new on-demand wine system. Plum houses two standard wine bottles and preserves each bottle for up to 90 days. Four Seasons Resort Orlando is currently offering a 2016 Lyric Pinot Noir by Etude and a 2016 Stag's Leap Napa Valley Chardonnay in the Plum units. Guests can use Plum's interactive touchscreen to read more about the wine and see photos of the vineyard. When dispensed, Plum is automatically charged to the guest's hotel folio.
New Head Winemaker for Chehalem Winery Katie Santora has been promoted to the role of head winemaker at this 20,000-case winery. Chehalem founding winemaker Harry Peterson-Nedry had hired Santora as assistant winemaker in 2012. Santora is a 2007 graduate of the viticulture and enology program at UC Davis. Harry Peterson-Nedry sold Chehalem Winery to longtime friend Bill Stoller in early 2018. This fall, Harry and his winemaker daughter, Wynne, moved to the Carlton Winemaker's Studio to continue production of their 500-case RR brand dedicated to Pinot Noir and Riesling from the 164-acre Ridgecrest Vineyard.
Benovia's Mike Sullivan Co-Owner & Winemaker of Year The North Bay Business Journal announced at the 6th Annual Wine Industry Awards on December 4, 2018, that Mike Sullivan Co-Owner and Winemaker of the Year for his career at Benovia Winery in the Russian River Valley. Benovia is known for its Pinot Noir and Chardonnay grown on 72 acres of estate vineyards, owned and sustainably farmed by the Benovia team Benovia has been named Winery of the Year by Rusty Gaffney of the PinotFile.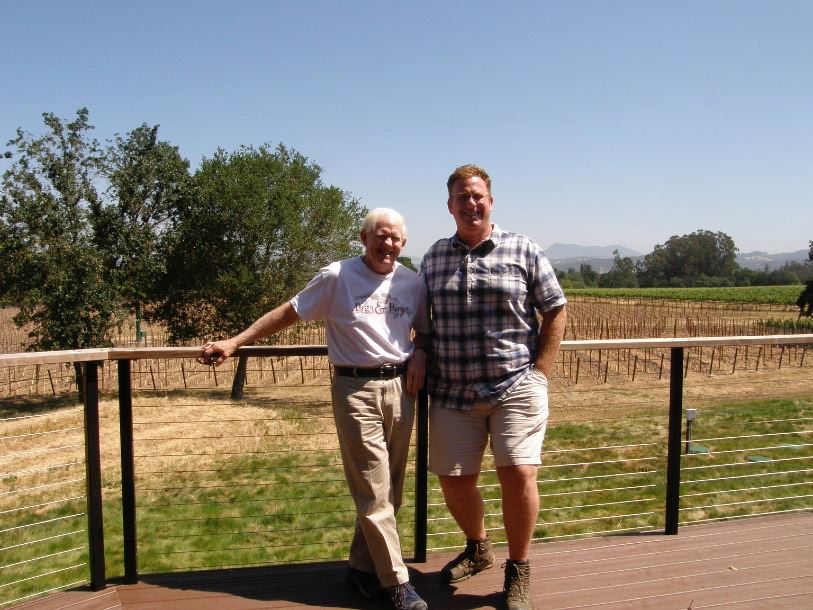 Conetech Perfecting 100% De-Alcoholising Wine Technology Conetech presented its latest technology at the World Bulk Wine Exhibition (WBWE). For many years, Conetech has employed its spinning cone column to reduce the ABV of wine to about 8%-11%. The company has continued to pursue technology to create low and no alcohol products. The latest technology, called GoLo, can create low or no alcohol products more efficiently and cheaper than the current spinning cone column. Zero alcohol beverages may have considerable commercial potential when combined with cannabis.
Sta. Rita Hills AVA Wine Tours Stagecoach Co. Wine Tours, established in 2001, offers daily wine tasting tours of Santa Barbara County's wineries and more specifically of interest to pinotphiles, the Sta. Rita Hills AVA. Expert tour hosts pick up parties at their accommodations in Santa Barbara County and take them on a fun and educational wine tour. Private tours and group tours are available. Stagecoach Co. Wine Tours has been a Trip Advisor Hall of Fame inductee and has received 5 stars on Yelp. Visit www.winetourssantaynez.com.
Cooper Mountain Vineyards Purchases Olenik Vineyard The 50-acre Olenik Vineyard in the Chehalem Mountains was first planted to Rex Hill's Jacob-Hart Vineyard in the early 1990s and a section was purchased by John Olenik in 2005. The vineyard is unique for the North Willamette Valley in that it has both volcanic and sedimentary soils. With the acquisition of Olenik Vineyard, Cooper Mountain Vineyards, now has a total of five vineyards and 152 planted acres. The winery, founded in 1978, celebrated its fortieth harvest in the 2018 vintage. Learn more at www.coopermountain.com.
The Prince Interview Wine Industry Advisor has published an Interview with me, "Turning the Tables on Rusty Gaffney," by Carl Giavanti of Carl Giavanti Consulting. This interview is one of a series by Carl titled, "Turning the Tables-Interviewing the Interviewers." Check it out: www.wineindustryadvisor.com/2018/12/17/ turning-tables-on-rusty-gaffney.