Merry Edwards: The Reine De Pinot

I am the "Prince of Pinot," but Merry (Meredith) Edwards is the "Queen of Pinot" (no relation). She has been crafting Pinot Noir in California dating back to the early 1970s when she began her career at Mount Eden Vineyards in the Santa Cruz Mountains. Her legacy will state that she was the first woman to make credible California Pinot Noir.
When Merry entered graduate school at UC Davis in the early 1970s, she found that the University did not fully back her entry into an industry and profession that was primarily male-dominated. Taking exception to the favoritism within the Department of Viticulture and Enology, she challenged the reluctance to allow all students regardless of sex equal access to employment opportunities.
Her Master's thesis made waves. She created a method for analyzing lead in wine and did a broad study of California vintages, discovering that lead migrated into wine from lead capsules that were in widespread use. Her results were suppressed for an entire year along with an inability to complete her thesis. The eventual repercussion was the termination of lead capsule use in the wine industry.
Merry was hired to succeed Peter Graff as winemaker at Mount Eden Vineyards in 1974 and she crafted some remarkable Pinot Noir wines during her short tenure there (1974-1976). Her career at Mount Eden was remarkable because there were few winemaking jobs offered to women at the time and only a handful of notable Pinot Noir wines were being produced in California. As points of historical reference, Joe Swan released his first Pinot Noir in 1973, Davis Bynum bottled his first Rochioli Vineyard Russian River Valley Pinot Noir in 1972, and Tom Dehlinger, Forrest Tanzer at Iron Horse and Marimar Torres were starting their own Pinot Noir programs in the Russian River Valley in the mid-1970s.
After leaving Mount Eden in 1977, Merry led the emergence and national prominence of Matanzas Creek Winery in Bennett Valley. She soon had her own label, Merry Vintners in the 1980s, and involvement with another winery, Domaine Laurier, both of which failed financially. Through the 1990s she consulted for numerous wineries including Liparita, Fritz, Lambert Bridge, B.R. Cohn and Pellegrini Family Vineyards.
A life-changing moment in Merry's professional career came in 1997 when she co-founded a business venture with friends, founding partner Bill Bourke, and her husband and partner Ken Coopersmith. They launched Merry Edwards Wines to produce Pinot Noir from select vineyards in the Russian River Valley and Sonoma Coast, and, for the first time, her own vineyards. She says, "I had always wanted to make wine from the ground up. If you have to buy grapes and try to make great wines out of purchased grapes, it's a lot harder than if you control your destiny and can make the wine from the ground up." The first release under the Merry Edwards label was 2,250 cases of Russian River Valley Pinot Noir, including some from Olivet Lane Vineyard, the winery's first single-vineyard offering.
Merry owned a 24-acre fruit orchard in the southern Russian River Valley (Sebastopol Hills) and the founding of Merry Edwards Wines allowed her to follow her dream and plant her own vineyard. The Meredith Estate Vineyard was planted at the former orchard in 1998 to Pinot Noir clones 115, 667, 777, Mt Eden and a Swan selection (photo of Meredith Estate Vineyard below). In 1999, Merry created Klopp Ranch from Ted Klopp's vineyard planted to clones selected by Merry. Also in 1999, the first of five vintages of Pinot Noir from Windsor Gardens Vineyard were produced. This beautiful site was bulldozed in 2004 due to urban sprawl.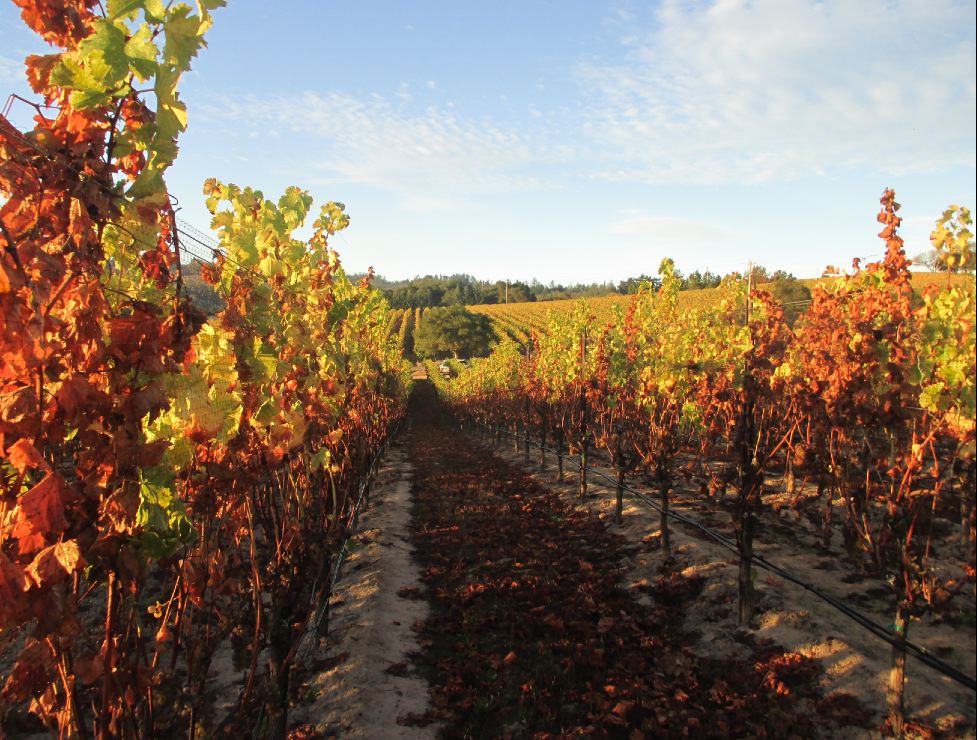 A second estate vineyard, the 9.5-acre Coopersmith Vineyard, was planted in Sebastopol near the intersection of Gravenstein Road and Graton Road in 2001 to the Mt Eden clone (UCD 37) and an "828" selection sourced from Oregon's Archery Summit. The "828" did not perform well and was subsequently budded over to other clones. After many years of working at other wineries, Merry built her own specially-designed winery on the same property in 2006-2007 along with a tasting venue. In 2006, a third estate vineyard, Georganne Vineyard, was added to the Merry Edwards family.
In 2012, Ken and Merry purchased a property in the Sebastopol Hills to plant as Richaven Vineyard. They also bought Maefield Vineyard in Forestville, now a Sauvignon Blanc vineyard and home to the winery's guesthouse. Warren's Hill Vineyard was developed in Green Valley in 2015. Additional Sauvignon Blanc acreage has been established at Meredith Estate Vineyard. As of the 2017 harvest, estate vineyards make up 60% of the winery's overall production, with the number still growing. All estate vineyards are sustainably farmed.
John Haeger and others have pointed out that Merry was one of the first California winemakers to value clonal selection, spent time in Burgundy to observe clonal research, and was the first lecturer on clonal selection at UC Davis. Her pioneering clonal research while at Mount Eden led to the now widely-planted Mount Eden clone (UCD 37).
Merry was inducted into the 2013 Vintners Hall of Fame. Only two other women have been so honored, American grape geneticist Carole Meredith and winemaker Zelma Long. She has been a champion of women winemakers and a spokesperson against discrimination in the winemaking field. She also has been a prominent promoter of Sonoma County and its wines, particularly the Pinot Noir wines of the Russian River Valley.
Merry Edwards Winery is one of the few California wineries to produce both Pinot Noir and Sauvignon Blanc. Her extensive list of appellation and vineyard-designated Pinot Noirs are in great demand from both consumers and restauranteurs. Year in and year out, Merry Edwards wines are one of the top ten most popular restaurant wine list brands.
Merry's favored style of Pinot Noir includes lavish, ripe, dark fruit flavors, powerful concentration, firm tannins, and lavish oak for aging (at least 60% new French oak). She uses a generous percentage of whole clusters. Acid additions are standard since grapes are picked very ripe. These are bold, unapologetic expressions of Pinot Noir, a style favored by many consumers.
Her Sauvignon Blanc style was honed over several years at Matanzas Creek and today is considered one of the best of this varietal offered in California. Merry started crafting Sauvignon Blanc under the Merry Edwards label to have a white wine to pour at winemaker dinners. The wine became so popular that it now makes up nearly 50% of the winery's total production. Merry has been one of the few California vintners to produce both Pinot Noir and Sauvignon Blanc.
The latest fall 2018 releases from Merry Edwards reviewed here represent the winery's 20th vintage and Merry's 45th harvest as a California winemaker. In October 2018, it was announced that Merry had elevated Associate Winemaker Heidi von der Mehden to the position of Winemaker. Heidi grew up in wine country and received a degree in chemistry from Santa Clara University in 1997 - the same year Merry Edwards Winery was founded. Heidi has spent a total of 18 years in the wine industry including work as Winemaker for Arrowood, Assistant Winemaker at Mauritson and experience at Kenwood Vineyards. She came to Merry Edwards in 2015, working closely alongside Merry. Heidi made the new Merry Edwards single-vineyard designate Bucher Vineyard Pinot Noir, starting in 2016 and participated in creating Vintage 20, a cuvée celebrating the 20th anniversary of the Merry Edwards brand in 2017. Heidi and Merry are pictured below.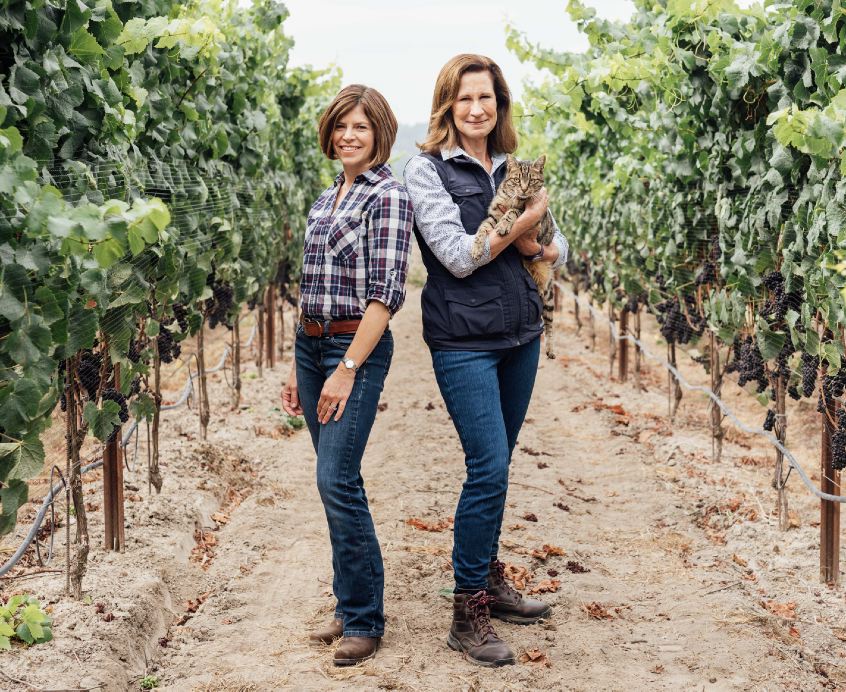 Merry Edwards wines are sold through a mailing list, online at www.merryedwards.com, and through retail and restaurant distribution. Tasting is available by appointment at the winery located at 2959 Gravenstein (116) Highway North in Sebastopol.