Whole Cluster Inspired Sonoma Coast Wines from Kutch Wines & RAEN Winery
"I like to use whole clusters. I find it adds an extra dimension to the palate and aromas of a wine."
Ted Lemon, Winemaker, Littorai
Regular readers of the PinotFile know that I have a special attraction to Pinot Noir crafted with a significant amount of whole cluster. In winemaking, there are no universal approaches and this is what makes wine so interesting, so variable in its expression and so endearing. Proponents of whole cluster fermentation so relish the seductive, spicy, rose petal aromatics, the added flavors, and the soft, silky textures that they often pursue 100% whole cluster inclusion during vinification. Aromatics are the most challenging component of Pinot Noir to capture and whole cluster fermentation can achieve haunting aromatics. Not only that, but older Pinot Noirs made with a percentage of whole cluster can be more aromatically alive and complex. Whole cluster wines. although containing more tannin, tend to be softer than de-stemmed wines due to the increase in pH that stems produce and the contribution of partial carbonic maceration from whole berries.
From a consumer perspective, some New World palates do not find Pinot Noir wines made with significant whole cluster inclusion to be appealing and prefer 100% de-stemmed wines. My counter-argument is many completely de-stemmed Pinot Noir wines taste the same. Opponents of whole cluster wines complain about the "veggie," herbal, green tobacco, snap pea flavors that potentially can arise and be subtle or obvious. The downside from a chemical winemaking perspective, as pointed out by winemaker Ted Lemon, is that stem inclusion increases the pH and decreases the TA compared to a completely de-stemmed wine. "You may, depending on region, vintage and ripeness at picking, have to acidify the resulting wine unless you are comfortable with very high pHs." (Ted Lemon uses a judicious percentage of whole cluster in his Pinot Noir wines). Finally, there is the question of terroir and whether stylistic practices mask it or reveal it.
My advice is to line up some 100% whole cluster Pinot Noir wines from Kutch or RAEN or other producers with some 100% de-stemmed Pinot Noir wines, all from the same region and vintage, and taste them blindly. Decide for your self!
Both Kutch and RAEN Pinot Noir wines are fermented whole cluster and aged in neutral (no new) oak.
RAEN
RAEN ("rain") is translated to Research in Agriculture and Enology Naturally. Winemakers Carlo and Dante Mondavi give credit to their grandfather Robert and father Tim who were icons in the California wine business. Tim's passion for Pinot Noir was translated into an inspiration for Carlo and Dante at an early age. The winery was launched with the 2013 vintage.
The winery's Pinot Noirs come from two estate vineyards in the Sonoma Coast and an unnamed 10-acre vineyard deemed "Sonoma Coast.". Freestone Occidental Bodega is the coolest daytime site. Situated at 750 feet elevation, clones 667, Calera and Pommard are planted in Goldridge sandy loam. The Fort Ross-Seaview Home Field Vineyard overlooks the Pacific Ocean north of Jenner. Grapes struggle here to ripen during the growing season. Clone 777 is planted at an elevation of 1,025-1,270 feet. Soils are well-drained iron-rich sandstone of the Franciscan series.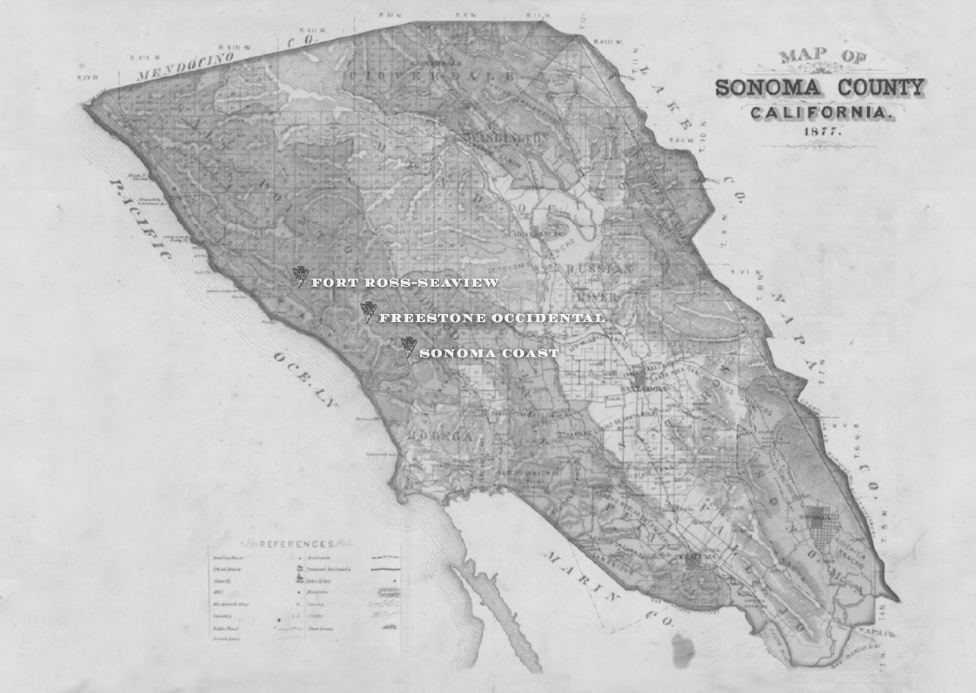 All of the 2017 grapes were picked, fermented and put into barrel before the tragic fires that swept through Sonoma, Napa and Mendocino. RAEN vineyards remained untouched.
2017 was an ideal growing season on the Sonoma Coast. Stormy winter rains replenished the soils, streams and lakes of California, ending five years of drought. The rains gave way to a beautiful spring and bud break returned to a more historical norm. This was followed by a cool, even growing season until mid-August when a series of heat waves arrived. These heat waves moved the final stages of ripening along rapidly. Overall, yields at RAEN were slightly lower than historical averages.
The vintners recommend cellaring the wines for two years or if opened now, decant or open one hour prior to pouring.
RAEN Pinot Noir is available through a mailing list and the RAEN Society Wine Club programs. Tasting is by appointment. A Fort Ross-Seaview Chardonnay from the 35-year-old Charles Ranch is also available. Visit www.raenwinery.com.

2017 RAEN Royal St. George Cuvée Sonoma Coast Pinot Noir
12.5% alc., $60. Named in honor of Dante and Carlo Mondavi's grandfather. A selection of the finest barrels giving a window into the cool westerly hills of the true Sonoma Coast. Clones are Pommard, "828," 667, Calera and rVR1. Goldridge soils. Whole cluster, native fermentation. Aged in neutral French oak barrels. Bottled without fining or filtration. · Moderately light garnet color in the glass. A whole cluster-driven nose featuring aromas of cherry, pine sap and burnt tobacco. Very sleek, seamless and sexy, with a mid weight core of black cherry fruit, accented with exotic spices. Good vibrancy and mellow tannins, finishing intense and long with a dark cherry aromatic theme. Score: 94

2017 RAEN Home Field Vineyard Fort Ross-Seaview Sonoma Coast Pinot Noir
13.0% alc., $80. The winery's most westerly site, 4.8 acres located just under two miles from the Pacific Ocean. Whole cluster, native fermentation. Aged in neutral French oak barrels. Bottled without fining or filtration. · Moderate garnet color in the glass. Shy, but pleasing aromas of cherry and dark red berries. Elegantly composed, with broad flavors of dark red and purple berries with just the right oak and spice seasoning. Honed tannins and defining acidity fuel the harmony. The finish is gracious and quenching. Score: 94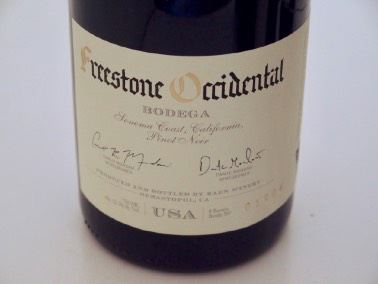 2017 RAEN Bodega Vineyard Freestone Occidental Sonoma Coast Pinot Noir
12.7% alc., 200 cases, $90. This vineyard sits just 4 miles from the coast. Surrounded by redwoods, pines, wildflowers and coastal oaks. Whole cluster, native barrel fermentation. Aged in neutral French oak barrels. Bottled without fining or filtration. · Moderately dark garnet color in the glass. Soaring aromas of fresh cherry, bramble and rose petal. Long in the mouth with a bevy of black cherry, boysenberry, earth and botanical flavors. Impeccably balanced with a seductive finish that seems eternal. Score: 95
Kutch Wines
I have written extensively in The PinotFile about the wines of Jamie Kutch. The wines have been on my annual All-American team several years including 2018. Kutch Wines was one of my 2017 Wineries of the Year: www.princeofpinot.com/article/2024/. The small production is sold through allocation to a mailing list at www.kutchwines.com.
As you can see from the reviews, the wines in this vintage were all excellent, but the Falstaff Vineyard stood out. Jamie's comments about this vineyard provide insight and he prefaces a description of the vineyard and growers as follows. "Sir John Falstaff was William Shakespeare's fictional character, a fat knight who was vain, boastful, cowardly and spent most of his time drinking at a bar while living on stolen or borrowed money. Despite these unsavory characteristics, many scholars claim that Falstaff was one of Shakespeare's greatest creations alongside Hamlet and Cleopatra. So, what is so special about a drunken, gluttonous, lazy old man? His appetite! Falstaff not only had a boundless appetite for food and wine but also for language, laughter, people and life. It is these qualities that I share with Shakespeare's grand character and hope to translate through the wine that shares his name."
Jamie gives considerable detail about Falstaff Vineyard, something few winemakers share. "Rudy and Judy Lougheed purchased their 6-acre Falstaff Road property in 1999 with the intention of growing grapes. Ron, a retired chemist, and Judy, a retired microbiologist were passionate wine lovers and had spent many weekends in wine country exploring and imbibing. They planted 5.75 acres to Pinot Noir less than a year after they purchased the property. At the time, there were no other vineyards on Falstaff Road, and now, two decades later there are three, with a fourth likely to be planted soon."
"The vineyard is located 8 miles inland from the Pacific Ocean, just outside the town of Sebastopol. Working with Jim Pratt of Cornerstone Certified Vineyards, they chose to plant three clones of Pinot Noir: "828," 115 and 777. The weather at the vineyard is considerably colder than Burgundy. Lougheed says, 'If you want grapes at 25º Brix, you need to go elsewhere. This is a marginal site and ripening is tricky." Falstaff is always the last picked Pinot Noir vineyard for me each season and historically the smallest yielding (< 1 ton-per-acre at times). We have consulted with soil and viticulture scientist Dr Paul Skinner and instituted techniques to increase crop size and maximize phenolic ripeness."
Jamie continues. "Ron and Judy Lougheed are the antitheses of Shakespeare's Falstaff. They are humble, thoughtful, and hard working. However, their appetite for growing high quality, great wine and enjoying it alongside mushrooms they have foraged and homemade Pinot Noir jam undeniably harkens back to their vineyard's namesake. I am incredibly fortunate to work with them and their very special fruit."
The growers: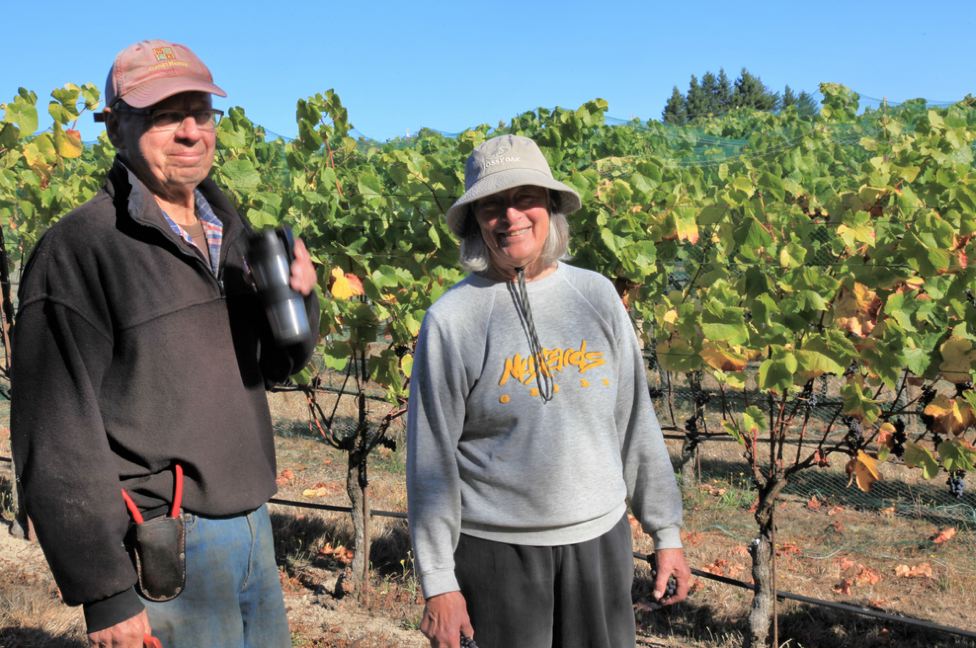 Jamie's comments on the 2017 vintage. "2017 was the most compressed vintage of my career. We picked all of our Pinot Noir in only 13 days. The season began with record-setting rainfall, which was much needed after almost five years of drought. This abundance of rain delayed bud break and got the season off to a late start. Soon enough, the skies across Sonoma County began to clear and sunny and warm conditions followed. As flowering started, a variety of weather conditions kept growers on their toes. Late lifting fog, wind and unusual heat spikes required careful attention and quick action in the vineyards. Canopy maintenance was also a top priority as the early rains increased the plants' vigor. Several heat spikes in June continued to drive canopy growth and limited cluster size and weight. What looked like a potentially large crop on the vines turned out to be average to just below average once the fruit was in the winery. August came and went somewhat predictably, but early September brought extreme heat. Temperatures hung in the upper 90s to 100 degrees setting off a fury of picking. McDougall Ranch was harvested August 28, Bohan Vineyard August 20, Bohan Vineyard Graveyard Block September 2, Signal Ridge Vineyard September 7, and Falstaff Vineyard September 9."