Recently Tasted California Pinot Noir and Chardonnay
Joseph Jewell Wines, Healdsburg, CA
Micah Joseph Wirth and Adrain Jewel Manspeaker pooled their middle names to found this winery beginning with the first commercial vintage in 2007. Micah grew up in Alexander Valley and learned winemaking under the direction of his winemaker father and was mentored at Gary Farrell Winery by winemaker Susan Reed. Adrian was raised in Humboldt County, studied winemaking and viticulture at UC Davis extension program. and learned his practical skills at C. Donatiello Winery and Peay Vineyards.
The winery features Pinot Noir and Chardonnay sourced from stellar vineyards in Humboldt County and Sonoma County. The "home" vineyard is the Starscape Vineyard (formerly known as Floodgate Vineyard), just down the road from the winery's tasting room in Forestville. The vineyard enjoys close company with legendary vineyards such as Kistler and Ritchie. Located at the crook where the Russian River turns west towards the Pacific Ocean, this special spot benefits from the coastal fog that provides cooler evening and early morning temperatures shaping the vibrant acidity the vineyard exhibits. Thirteen different clones of Pinot Noir and five clones of Chardonnay are planted. Joseph Jewell has worked with this vineyard since 2008.
A tasting room offering several tasting options and experiences is open Thursday-Monday in Forestville. The winery's Pinot Noir and Chardonnay are sold on the website at www.josephjewell.com.
I have been reviewing Joseph Jewell wines since the 2009 vintage and the following are among the best wines I have tasted from this winery. They are highly recommended.
Neely, Portola Valley, CA
Proprietor Dr Kirk Neely offers Pinot Noir and Chardonnay from the Spring Ridge Vineyard. The vineyard is situated within a large parcel owned by Kirk and his spouse Holly Myers at the northern boundary of the Santa Cruz Mountains. Jim and Bob Varner began planting the Spring Ridge Vineyard in 1980. They started with Chardonnay and Gewürztraminer, adding 7 acres of Pinot Noir clones 115 and 777 in 1997 and grafted over the Gewürztraminer to Pinot Noir clone 777 in 2006.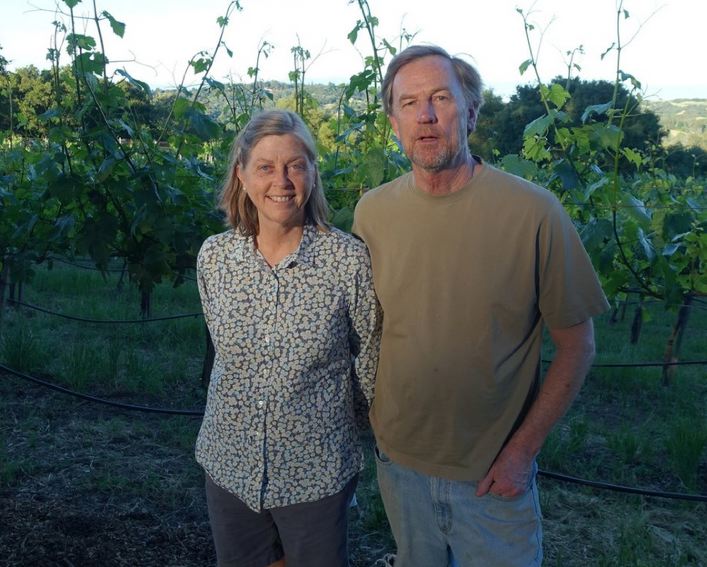 Bob became the winemaker for Varner Estate and Foxglove wines as well as Neely wines. Jim took over sales and marketing of the wines. Bob retired in 2015 and Shalini Sekhar became the winemaker. She has an impressive background, having worked at Stag's Leap Wine Cellars, Williams Selyem, Copain Custom Crush, Bluxome Street Winery, ROAR and made wines for Furthermore and Waits-Mast. In 2015, she was named Winemaker of the Year at the San Francisco International Wine Competition for her work with Furthermore.
The small bi-level indoor-outdoor winery and cellar located on the property was completed in 2000. Because the vineyard and winery are located in a Preserve in Portola Valley, the winery cannot have a tasting room, accept visitors, or conduct events, and thus remains largely hidden from the public eye. That said, the wines have received considerable notoriety.
Several distinct blocks have been identified: Hidden Block and Picnic Block for Pinot Noir and Home Block, Amphitheater Block and Bee Block for Chardonnay. A new phase of vineyard planting has begun.
The Neely wines are available on the winery website at www.neelywine.com. Three subscription wine club formats are also available.
2015 Neely Spring Ridge Vineyard Picnic Block Santa Cruz Mountains Pinot Noir
14.3% alc., $42. · Moderately light garnet color in the glass. Aromas of cherry, underbrush and tobacco lead to a savory midweight wine offering fruit flavors of black cherry and black raspberry with a flourish of oak in the background. Very botanical, with matched tannins and juicy acidity. More appealing fruit came to the forefront when tasted several hours later from a previously opened bottle. Score: 90
2015 Neely Spring Ridge Vineyard Upper Picnic Block Santa Cruz Mountains Pinot Noir
14.4% alc., $42. · Moderate garnet color in the glass. Aromas of fertile earth and toasty oak. Considerably more fruity on the palate in a mid weight plus style with vivid flavors of cherry and raspberry. Oak plays a supporting role and gracious tannins make for easy drinking. When tasted several hours later from a previously opened bottle, the fruit was more giving and the finish had gained pedigree. Score: 92

Samuel Louis Smith
A micro-negociant based in Salinas that is focused on some of the coolest and most compelling terroirs of the Central Coast. Coastal mountainous sites and organic winegrowing are the tenets of the brand. Established in 2014, Samuel Louis Smith original focused on the Sta. Rita Hills Pinot Noir, but the brand has shift its focus to Sta. Rita Hills Chardonnay, Monterey Pinot Noir and Santa Cruz Mountains Syrah.
Samuel trained with stints under Doug Margerum in Santa Barbara and Francois Villard in the Northern Rhône and is now the head winemaker at Morgan Winery. Samuel Louis Smith winery produces about 400 cases annually. Visit www.samuellouiswines.com to join the mailing list to acquire the wines.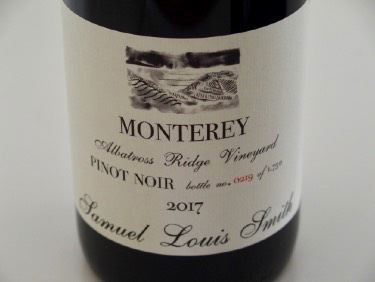 2017 Samuel Louis Smith Albatross Ridge Vineyard Monterey Pinot Noir
12.7% alc., pH 3.62, 146 cases, $44. Albatross Ridge is perched at the top of Laureles Grade at an elevation of 1,250 feet and seven miles from Monterey Bay. The site pushes the limit for winegrowing: windy is constant from the Carmel coast, degree days are minimal, and resulting yields are usually less than two tons-per-acre. 35% whole cluster. Native primary and secondary fermentation. Aged 11 months in French oak barrels, 35% new. · Moderate garnet color in the glass. Appealing aromas of black cherry and raspberry that sustain over time in the glass. The friendly mid weight core of black cherry and raspberry fruit flavors have impressive mouth filling intensity. A captivating wine full of good cheer, with superb balance and a lengthy finish. Score: 93
Screen Door Cellars, Calistoga, CA
Winemaker Bobby Donnell and his viticulturist spouse Shannon Donnell produce small amounts of Russian River Valley Pinot Noir, Pinot Noir Rosé and Chardonnay. The first vintage was 2012. Four of their Pinot Noir wines since 2013 have scored 94 or above in the PinotFile. The wines are sold on the website at www.screendoorcellars.com.
Sojourn Cellars, Sonoma, CA
Sojourn is a highly acclaimed winery specializing in Pinot Noir, Chardonnay and Cabernet Sauvignon. Fruit is sourced from vineyards in both Sonoma and Napa counties. Winemaker Erich Bradley directs farming operations and crafts the wines along with associate winemaker Randy Bennett.
I have reviewed vintages dating back to 2008, and always found the wines consistently excellent.
The 2017 vintage endured tragic wildfires on October 8-9. All of Sojourn's Chardonnay and Pinot Noir grapes were picked prior to the fires so there was no impact on the wines. The Sojourn Pinot Noirs in this vintage are all forward-drinking but lack the concentration of the previous two vintages.
The winery's Tasting Salon is open by appointment in downtown Sonoma. Visit www.sojourncellars.com.
Three Sticks, Sonoma, CA
Three Sticks is a boutique, family-owned winery led by Director of Winemaking, Bob Cabral known for his previous success at Williams Selyem. Founded in 2002, the winery is named for owner William S. Price III's surfing nickname. "Billy Three Sticks" as a name given to him in his youth as reference to the Roman numerals that follow his name. Three Sticks is part of the Price Family Vineyards & Estates (PFVE), a portfolio of premium vineyards and wineries owned by Bill Price - www.pfve.com.
Winemakers Ryan Prichard and Ashley Holland work closely with Bob Cabral in crafting the Three Sticks wines. The 2016 vintage Pinots reviewed are are very similar in style, with well-ripened fruit and a generous oak imprint, but vineyard differences still show through.
The Prices purchased the historic Vallejo-Casteñada Adobe (built in 1842) in the town of Sonoma and embarked on a two-year preservation project. The historic landmark is now home to the hospitality of Three Sticks. Tasting is by appointment: concierge@threestickswines.com.
The Three Sticks portfolio consists of Appellation Pinot Noir and Chardonnay, Single-Vineyard Designated Pinot Noir and Chardonnay, Cuvée Selections, and Adobe Selections (more reasonable wines for visitors to the Adobe). Grapes are sourced from the Sonoma Coast, Sonoma Mountain, Russian River Valley and Sonoma Valley appellations. Estate vineyards include Durell, Gap's Crown, Walala, Alana and William James.
The wines are available via personal allocations and through distribution to select restaurants and fine wine shops in 22 states. Visit www.threestickswines.com. Some large formats are available.
More Wines