Pinot Briefs —Newsletter 11.38
Sextant Wines Acquires Old Edna Township I have not visited Old Edna since 2006 when my wife and I spent two nights at the Suite Edna B&B operated by Pattea Torrence who had owned the Edna Valley property since 2002. This lovingly restored farmhouse dates to 1908. The original stagecoach road that linked San Luis Obispo and Pismo Beach runs through the property. I read today that Sextant Wines and proprietors Nancy and Craig Stoller arrived in Edna Valley in 2009 and operated a tasting room here. The Stollers had purchased the adjacent vineyard in 2007. They were able to acquire the entire Old Edna Township on January 7, 2019, and plan to preserve and renovate the property. They want to have people visit the property and stay in one of the guest houses on the property. Visit www.sextantwines.com or www.oldedna.com.
Moshin Vineyards Celebrates 30th Anniversary in the Russian River Valley Moshin Winery has been led by winemaker Rick Moshin since 1989. The winery will celebrate this milestone with a year's worth of events at its Westside Road estate. The winery is participating for the first time in the World of Pinot Noir and the International Pinot Noir Celebration as well as Healdsburg's Pigs & Pinot. On the last Sunday night of each month in 2019, Moshin's tasting room will host open-house receptions with some dates introducing the latest works of local Sonoma County artists. Moshin Vineyards specializes in single-vineyard and estate-blended Russian River Valley Pinot Noir, but also produces Chardonnay, Sauvignon blanc, Merlot and Zinfandel. Visit www.moshinvineyards.com.
Amcor's EASYPEEL Capsule A new capsule design uses a one-piece aluminum capsule engineered to open wine bottles along a clean line every time. Users place a knife from an opener at a point indicated on the capsule and peel back to create a clean and consistent opening. The result is aesthetically pleasing.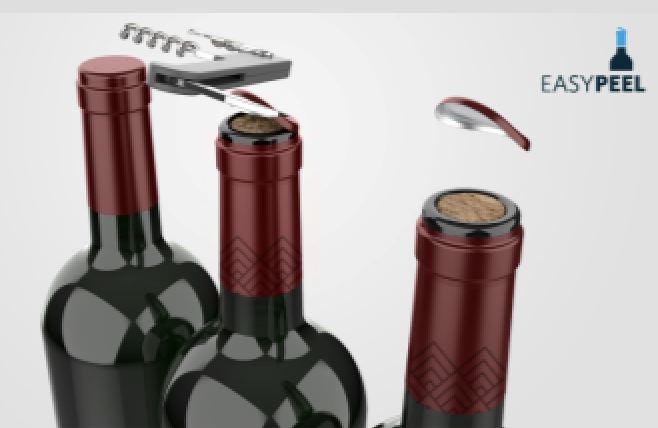 Pinot Noir Prices Tops At the North Bay Business Wine Industry Conference in 2018, it was reported that In Sonoma County, the wine grape variety Pinot Noir continues to drive the bus, with an average grape price of about $4,000 per ton.
Amalie Robert Estate Winery in the Willamette Valley 2018 Harvest Update Ernie Pink gives a detailed summary and a humorous up-close look at harvest and the 2018 vintage in his Amalie Robert Estate Farming Blog, aka FLOG, at www.amalierobert.blogspot.com. As you can see by the 16-Year Degree Day Comparison, 2018 was as Ernie says, "Dry, dry, dry as a popcorn flatulent." Not since the 2003 vintage (2,699 degree days) and the 2014 vintage (2,499 degree days) has the growing season been so intolerable.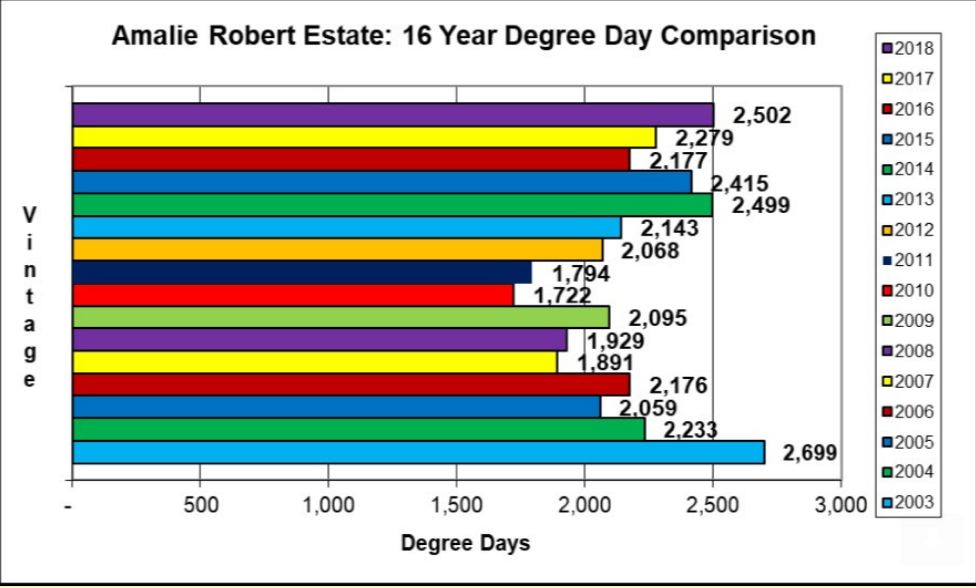 Oregon 2017 Wine Industry Census The Oregon Wine Board released its Oregon Vineyard and Winery Report in September of 2018. 2017 saw an increase of 44 wineries and an increase in vineyards from 1,144 in 2016 to 1,052 in 2017. The North Willamette Valley still leads with 637 vineyards, 19,705 acres planted, and 491 wineries. Production in tons for Pinot Noir in 2017 was 53,457, an increase of 16.6% with Pinot Gris second (13,786 tons, an increase of 1.4%) and Chardonnay third (an increase of 33.3% to 5,812 tons). Export sales were led by Canada (49 percent of exported Oregon wine) and the UK, with increasing exportation to Japan.
Greg Jones Interview at SipNorthwest.com Greg Jones, a climatologist and director of the Evenstad Center for Wine Education at Linfield College was interviewed recently at www.sipnorthwest.com/ greg-jones-climate-change-wine/. He pointed out that water availability is a growing issue in many regions. Heat stress is also concerning especially during fruit ripening. Another concern is the movement of diseased plant material into regions where the climate is now more conducive to spread. He described some interesting research to trick the vine to ripen fruit later by removing the majority of leaves before flowering. This has the potential to delay ripening into a cooler period of the summer.
The Prince Now on TastingBook.com TastingBook is the world's largest wine information source. There are over 11,000 wine professionals presented in TastingBook. tastingbook.com had over 55 million page views since 2016! Visit my Pro-page and tasting notes at www.tastingbook.com/pro/prince_pinot.
Pinot Palooza This consists of daylong events held in eight cities across Australia and New Zealand plus Hong Kong, Tokyo and Singapore and is considered the world's largest Pinot Noir festival. The touring event features a tasting of Pinot Noir from local producers as well as ones from New Zealand, America, France and Italy. In 2019, it will be held in May-December. Visit www.pinotpalooza.com.au.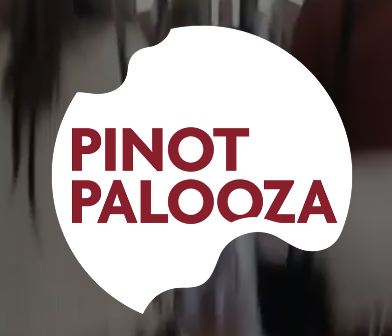 DTC Sales of Wine Hits New Record The winebusiness.com reported that in 2018, consumers spent $3 billion on DTC wine shipments reflecting a 12% annual growth. Over 6 million cases of wine were shipped in 2018, reflecting a 9% annual growth. The top winery regions by volume growth were Sonoma, Oregon and Washington. Sonoma County has overtaken Napa County with the most wine shipped by volume. 10% of off-premise retail wine is shipped direct to consumers.
Total U.S. Wine Market Tops $70 Billion According to the Wine Analytics Report, January 2019, the total U.S. wine market came to 408 million cases and has doubled in value since 2003. Of the 408 million total cases sold in 2018, a little more than 331 million were sold off-premises and 77 million were sold on-premise. Imports account for 26% of the total cases by volume and 33% of the market's total value. The trend of premiumization continued through 2018 and is expected to carry on through 2019.
U.S. Wine Consumption Through the Years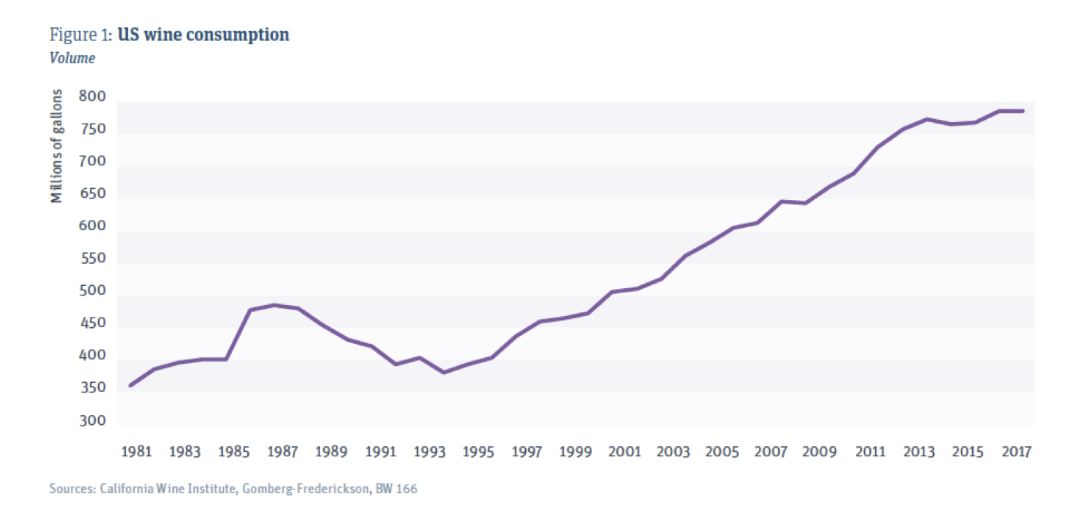 States That Drink the Most Wine States with the most wine consumption per capita include Idaho, Washington D.C., New Hampshire, New Mexico and Vermont. Source: National Institute on Alcohol Abuse and Alcoholism.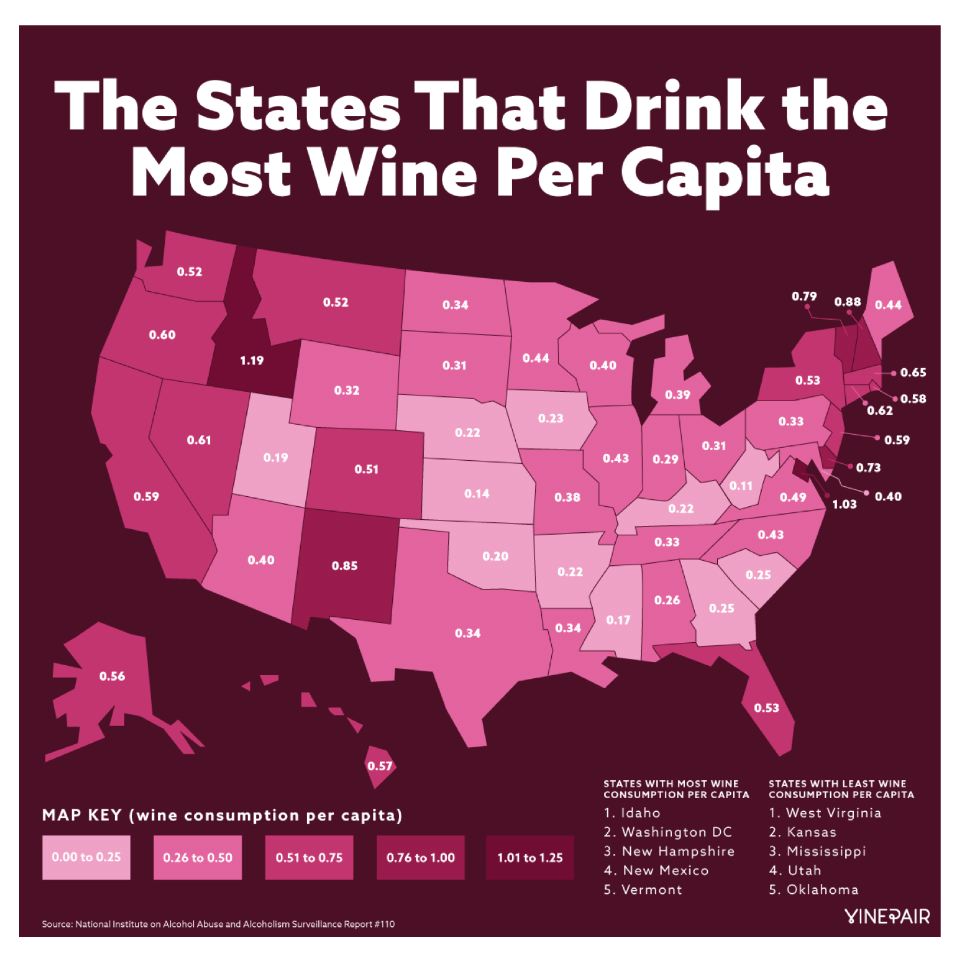 State of the Industry Report 2019 Silicon Valley Bank recently published its 2019 outlook. Forecasts included: (1) Millennials are not embracing wine consumption as many had predicted due at least in part to cannabis legalization and a cumulative negative health message surrounding alcohol (see charts below); (2) Baby boomers still lead in total wine purchases but are declining in numbers and per capita consumption; (3) Both volume and dollar sales are expected to end lower than 2018 and growth of the premium wine segment will be roughly flat from the 2018 sales growth estimate; (4) Bottled imports will take additional market share from U.S. producers; (5) overall retail pricing should be flat for premium wine; (6) Oregon will be the bright spot regionally as consumers continue to find good value in the region's offerings. Visit www.svb.com/wine-report/ for the full report.
On a related note, Dan Leese, co-founder and CEO of V2 Wine Group, spoke out about the increasing challenge for smaller producers to bring wines to consumers. The top nine suppliers have an almost 70 percent share of the U.S. wine volume. Meanwhile, there has been an explosion in wineries across the U.S. from 1,800 in 1985 to 9,872 in 2015.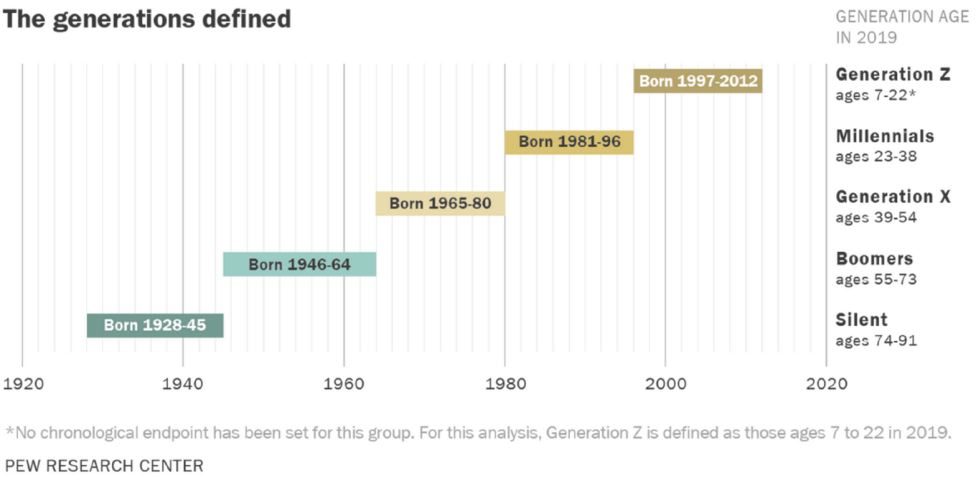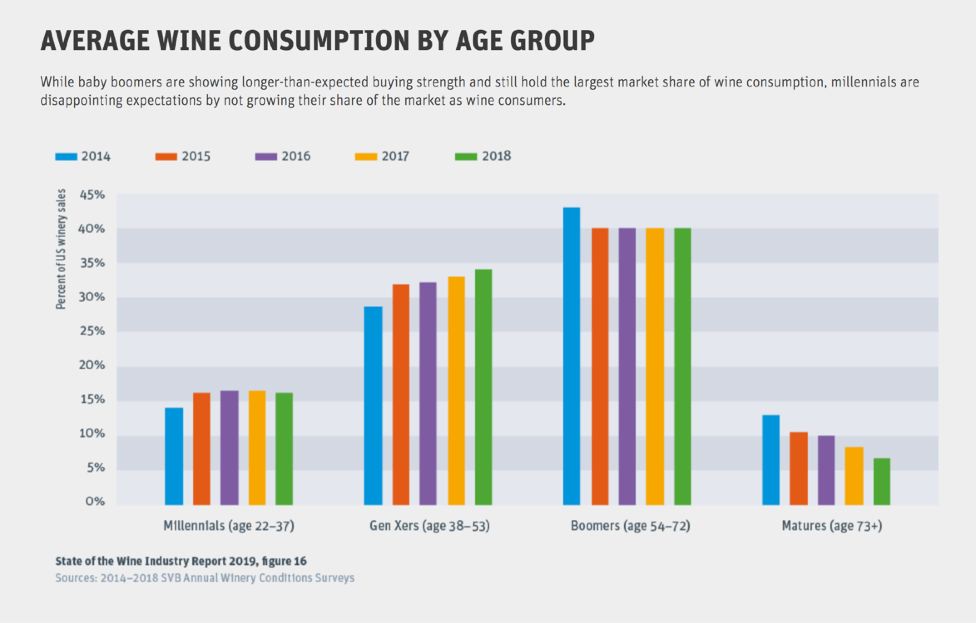 Burgundy Breaks All Price Records Burgundy hit record highs both in price and market share in 2018. The Burgundy 150 index, which tracks the price movements of the most active Burgundy wines in the secondary market (mainly Grand Crus), climbed 168.8% since 2010 according to Liv-ex. Two bottles of 1945 Romanée-Conti became the most expensive wines ever sold at auction and Burgundy's success has not been limited just to DRC. harpers.co.uk reported that "the price rises could be facing some headwinds as there are fewer buyers at these stratospheric prices."
Chef Dustin Valette to Open Two New Healdsburg Restaurants According to sonomamag.com, Valette and business partner and brother Aaron Garzini and tech executive Craig Ramsey are to open The Matheson (main floor 98-seat restaurant) and Roof 106 (an al fresco rooftop restaurant), a two-restaurant project on the Healdsburg Plaza. Visit www.thematheson.com.
Upcoming Events of Interest: San Francisco Chronicle Wine Competition Public Tasting, February 16, 2019, Fort Mason, San Francisco, advance tickets $70, www.winejudging.com. Anderson Valley White Wine Festival, February 23-24, 2019, Saturday Winemaker Dinners and Saturday and Sunday Winery Open Houses, www.avwines.com/white-wine-festival. Here's to Her, a feast and fete for women-owned wineries, February 12, 2019, Suite D, 21800 Schellville Rd, Sonoma, tickets $95-$350 at www.eventbrite.com.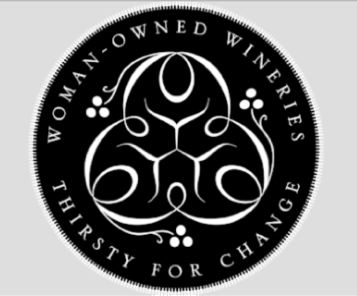 World of Pinot Noir, Bacara Resort, Santa Barbara, March 1-2, 2019, www.worldofpinotnoir.com. Sonoma Barrel Tasting 2019, March 1-3, 8-10, www.wineroad.com. La Paulée de New York, March 5-10, 2019, New York City, Burgundy growers, collectors and aficionados gather for a week of dinners, tastings and talks, capped by a massive BTOB fête fashioned after the annual La Paulée de Meursault in France, www.lapaulee.com.