Loring Wine Company

It is hard to believe that I first wrote about Brian Loring, the owner and winemaker at Loring Wine Company, seventeen years ago. Looking back, Brian attributes his early interest in Pinot Noir to time working in a Southern California wine store during college where he was able to experience fine red Burgundy. This led him to explore domestic Pinot Noir in the 1980s, but it wasn't until he tried the wines of Calera (see reviews of 2015 vintage in this issue) that he was completely hooked. His early job was software engineering, but his calling became Pinot Noir.
Brian's friendship with winemaker Norm Beko of Cottonwood Canyon Winery led him to a start in the wine business. While participating in the 1997 crush, he made two barrels of his own Pinot Noir and the Loring Wine Company (a homage to Josh Jensen and the Calera Wine Company) was launched.
Brian was one of the early successful boutique California Pinot Noir producers who entered the field cold so to speak, without any formal winemaking education. Besides Norm Beko, Brian attributes much of his inspiration and success to Adam Lee, the founder and winemaker of Siduri Winery. Brian inspired a number of others to enter the Pinot race, including Greg Piatigorski (Alcina Cellars, Iskaranu), Jamie Kutch (Kutch Wines), and Andrew Vingiello (A.P. Vin).
The success of Loring Wine company was predicated on Brian's insistence in acquiring top-notch Pinot Noir grapes from prestigious vineyards. He admitted to lacking experience as a winegrower, so he allowed vineyard owners to farm his blocks as they farmed the ones they used for their own labels. For years, Brian has featured photos of the vineyards designated on his labels.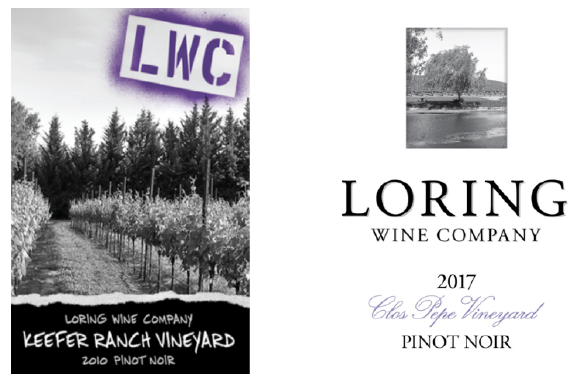 Brian's style initially was typical of many California Pinot Noirs, offering dark hues, and full-bodied, ripe, showy and sappy fruit with a generous French oak imprint. Over the years, Brian has refined his style, as he currently told me, "The wines have become generally lighter in style. Still relatively big, but not like they used to be. As a result, we're using much less new oak these days (only about 15%)."
The Pinot Noir grapes are fully de-stemmed, dry ice is added for cold soak, the grapes are inoculated with Assmanshausen yeast punched down once a day, and spend about 21 days in the fermenting bins. The wines are racked once post malolactic fermentation and bottled unfined and unfiltered after 10 months in barrel. As Brian says, "Your basic, low intervention stuff." The main change in grape sources over the past few years has been a move closer to home with no more Sonoma fruit. The reason is a combination of Keefer Ranch's sale, and the time it took to go up to the Russian River Valley to sample fruit during harvest. Since the Loring Wine Company Lompoc winery is still operated by Brian, his sister, two winery employees including assistant winemaker Rachel Silkowski (see the Say When wines reviewed in this issue), and his 85-year-old mother, it became too challenging to leave the winery for a few days a week to check fruit. Currently, all grapes are sourced from the Sta. Rita Hills and Santa Lucia Highlands. This provides more focus as well.
Loring Wine Company was one of the first to use screw caps on domestic Pinot Noir.
I chose Loring Wine company for the lead article in this issue because all the 2017 Pinot Noir and Chardonnay offerings were compelling. I agree with Brian, who said, "We really like the 2017s. Super soft and sexy."
Loring Wine Company wines are sold primarily through a mailing list The Loring Wine Company tasting room is on Industrial Hwy in Buellton, in the same parking lot as Industrial Eats and Alma Rosa's Tasting Room. Tasting is available Thursday from Monday. Winery visits are by appointment only and can be arranged through the website at www.loringwinecompany.com. All wines reviewed here were released on October 1, 2018.