Oregon Pinot Noir Finds Its Sweet Spot in Vintage 2016
2016 was a remarkable vintage. It is very rare to get concentration without being big and we got it in 2016.
Steve Lutz, Proprietor and Winemaker Lenné Estate
The 2016 vintage was early, yet delivered excellent fruit concentration, quality, superb natural acidity and nearly normal yields. A very warm spring caused bud break to kick off two to four weeks earlier than normal, giving way to moderate summer weather so that growing conditions were even through véraison. There were fewer heat spikes than in the 2014 and 2015 vintages. There were few disease, pest or bird challenges. Most vineyards in the Willamette Valley were finished with harvest by the end of September to early October. Laurent Montalieu, a noted Oregon vintner, said, "The 2016 vintage will go down in history as a benchmark year for Oregon."
The Growing Degree Days (GDD) system is used in California and Oregon wine growing regions reflect heat summation, a reflection of climate and weather. GDD is based on the hypothesis that grapevines do not grow if the temperature is below 50ºF. Days in the growing region are assigned degree days according to the amount that the day's average temperature exceeds the threshold. The formula for GDD is maximum temperature plus minimum temperature divided by two minus the base temperature of 50ºF. According to data from Amalie Robert Estate in the Willamette Valley reported at www.amalierobert.blogspot.com that reflect a 16-year GDD comparison, 2016 was the coolest of the last five Oregon vintages, trailing 2018 (the warmest), 2014, 2015, and 2017.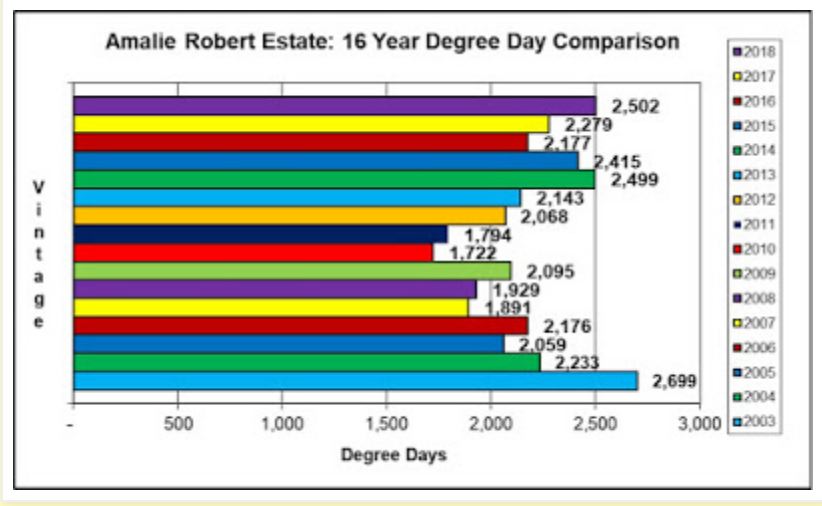 Heat summation as determined by the GDD system is not the full story with regards to vintage quality. Heat units do not take into account temperature extremes, day length, soil moisture, and timing of bud break and bloom. It is all very complicated! GDD is, however, a general measure of ripening and vintages with higher GDD such as 2003 will produce riper grapes, higher Brix and higher ABVs.
Wines from the 2017 vintage are just being released into the marketplace so comparisons of the finished wines from that vintage to the wonderful 2016 offerings are preliminary. The 2017 vintage had some of the highest yields ever encountered in the Willamette Valley, in some cases 30% to 50% above expectations. It was unusual in that the vintage brought the excellent quality of fruit as well as abundance. Overall, 2017 was a cool, classic Oregon vintage, allowing sugar ripeness to stay in tune with flavor development. Harvest began three weeks later than in 2016, delivering fruit with a good balance of sugars and acids. Eugenia Keegan, General Manager for Jackson Family Wines said, "The 2017 vintage continues a five-year run of outstanding quality and is perhaps the most classic representation of the Willamette Valley in many years. These Pinot Noirs will be known for their complexity, vibrancy and longevity."
In summary, Willamette Valley Pinot Noir from the 2016 vintage is a sure bet, so stock up. Wines from the 2017 vintage are fine also and deserve your attention, but overall they will not surpass 2016.
The Third-Annual Willamette: The Pinot Noir Auction, sponsored by the Willamette Valley Wineries Association (WVWA), was held on April 7, 2018, and featured 81 lots of Willamette Valley wine from the 2016 vintage (78 lots of Pinot Noir and three collaborative lots of Chardonnay). The wine, auctioned to the national and international trade, set a record of $737,000, exceeding the 2017 auction totals by 56%.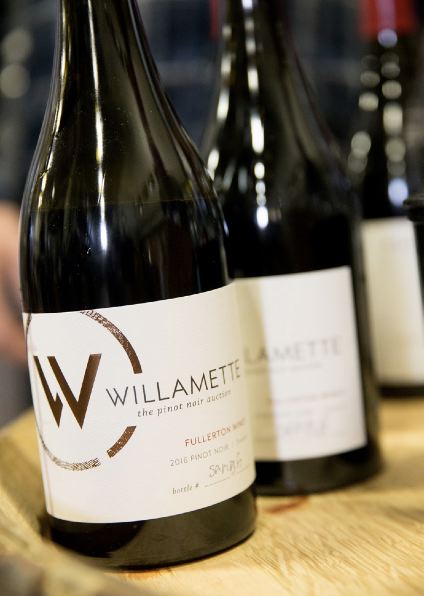 Sales of Oregon wines continue to grow. According to the Oregon Wine Board, retail store sales of Oregon's wines rose 12.4 percent in dollar value in 2018, well above overall industry growth of 1.5 percent and California's sales increase of 1.3 percent. Pinot Noir sales were up 15.1 percent compared to an industrywide 2.5 percent. Oregon Chardonnay dollar sales grew 14.6 percent. Oregon wines can demand higher prices because of perceived quality and with an average price of $16.29 a bottle, Oregon wines sell for more than twice the national average of $7.37.