Pinot Briefs —Newsletter 11.41

Merry Edwards Winery Purchased by Champagne Louis Roederer Merry Edwards sold her winery including her 79-acre property to Roederer. Roederer already owns sparkling wine producer Roederer Estate and Schraffenberger Cellars and still wine producer Domaine Anderson in Anderson Valley. Edwrds had owned her namesake winery for 22 years, but had already embarked on a succession plan, hiring winemaker Heidi von der Mehden to replace her.
Healdsburg's Gracianna Winery Under Water after the Flood The recent flooding in the Russian River Valley left the Gracianna Tasting Room practically submerged and devastated. The winery is located in a low-lying area on Westside Road just west of the Russian River. 4,400 cases of wine were stored in the cellar including large format bottles, library wines and the owner's personal collection. Wine that was untouched by water was saved and moved with the help of the McWilliams Family at Arista. The flood was the worst since 1995. Read the full story at www.pressdemocrat.com. Wineries in Sebastopol's The Barlow damaged by the flood include Pax, Friedeman Wines and McPhail. Kosta Browne was spared.
2019 Sonoma County Barrel Auction This year's Auction will be held May 3, giving trade buyers the chance to bid on lots ranging from 5 to 20 cases. The wines will ultimately reach the cellars of collectors and trade customers. The Auction traditionally honors Icons who are vintners who have played a significant role in the winemaking history of Sonoma County. this year's Icons are Margo Van Staaveren of Chateau St. Jean and Rod Berglund of Joseph Swan Vineyards. New this year are awards given to Innovators, forward-thinking visionaries in the Sonoma County wine business. Honorees include The Duncan Family of Silver Oak Cellars and Ron Rubin of Ron Rubin Winery.
Winemaker Adam Lee Looks to Concrete Aging for Pinot Noir A recent article in the Press Democrat profiled Adam and focused on his new Pinot Noir project, Clarice Wine Co. This unique winery approach enrolls a limited number of subscribers who pay $960 annually to receive a case of wine from the Santa Lucia Highlands three times a year. In return, they receive more interaction with Adam through a private online web forum. Adam has acquired concrete tanks to both ferment and age Pinot Noir in place of more expensive French oak barrels. Whether this new technique will break up the long-standing marriage of Pinot Noir and oak remains to be seen.
New Winemaker at White Rose Estate Oregon native Tresider Burns is the new winemaker at this Dundee Hills producer of Pinot Noir. After his enology training at Oregon State University, he was an assistant winemaker at Brittan Vineyards and also worked at Lemelson.
How Many Aroma Descriptors are Possible? An article by Dwight Furrow in the Edible Arts blog at www.foodandwineaesthetics.com, discussed the description of wine aromas with reference to Gordon Shepherd's book, Neuroenology: How the Rain Creates the Taste of Wine. Shepherd believes that most people can only identify three distinct aromas in wine, with many only able to detect one or two aromas. Furrow challenges this presumption because wine tasters do not base their aromatic description on one sniff of the wine. He reasons that experienced wine tasters can detect multiple aromas because they perform multiple inhalations over time. This is the way I review wine. That is why you will see up to five or six aroma descriptions in some wines I review.
More Understanding from Neuroenology Gordon Shepherd, a Yale neuroscientist, wrote Neuroenology: How the Brain Creates the Taste of Wine, and this book has spawned considerable discussion. An article appeared at www.foodandwine.com that pointed out Shepherd's argument that wine tasting actually stimulates the brain more than listening to music or working on a complicated math problem. Shepherd says, "Tasting wine engages more of our brain than any other human behavior."
Male & Female Judges Assign Same Ratings to the Same Wines A recently released study from a professor Manuel Malfeito Ferreira at the University of Lisbon and US financial analyst Jeff Bodington, published in The Journal of Wine Economics, concluded that men and women assign much the same ratings to the same wines. Ferreira was quoted, "The difference between men and women when it comes to appreciating and judging wine is minimal or absent." Bodington pointed out that the conclusion does not imply that genders have the same tastes or preferences when not judging. Read the article at https://www.meininger.de/en/wine-business-international/do-men-and-women-assign-different-winescores.
More and More Consumers Buy Wine Directly A recent article at, http://www.sfexaminer.com/wine-drinkers-opting-skip-stores-direct-shipping/ reported the results of the 2019 Direct to Consumer Wine Shipping Report sponsored by Sovos and Wines Vines Analytics. Direct to consumer (DTC) shipping increased 12 percent in 2018 from 2017. Consumers spent $3 billion to purchase wine that was shipped to them directly from the winery. This accounted for 10 percent of all off-premises sales of wine domestically. Oklahoma lifted its ban on DTC shipping in 2018 so there are only four states that still prohibit it (Utah, Kentucky, Mississippi and Alabama). California is the most common destination followed by Texas, New York, Washington State and Florida. Sonoma County now ships more wine by volume than Napa County, and the average Sonoma County bottle price is under $30 compared to Napa's average bottle price of over $67. Oregon and Washington State had increases in volume shipped of 19 percent and 18 percent respectively. 80 percent of the nearly 10,000 wineries in the U.S. doing most of the DTC shipping were small in size, producing under 5,000 cases a year. The top shipped varietals in descending order were Cabernet Sauvignon, Pinot Noir, red blends, Chardonnay and Zinfandel. Pinot Noir took over the second place in 2017. In 2018, Rosé shipments grew 24 percent in volume and 29 percent in value.
Nielsen Total U.S. Off Premise Sales by Varietal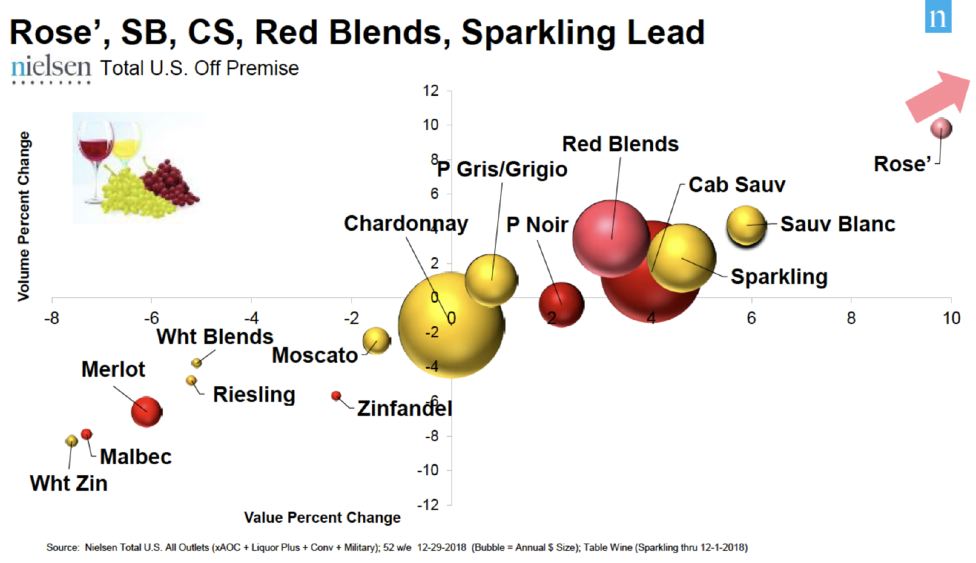 More Discussion on Wine Scoring I recently wrote a feature article in the PinotFile on the declining enthusiasm by the consumer for wine scores as an indicator of wine quality. David Morrison, who writes an excellent wine blog called The Wine Gourd at www.winegourdblogspot.com, posted on February 18, 2019, "If not scores or words to describe wine quality, then what?" He points out that wine-quality scores give the illusion of being mathematical without having any useful mathematical properties. He says, "The apparent precision of the numbers gives an illusion of accuracy." Practically speaking, quality scores are nothing more than a personal opinion used to rank wines. Morrison goes on to discuss some of the suggestions in the public arena that could replace scores and descriptions, none of which, in my opinion. have a chance of being adopted.
Willamette: The Pinot Noir Auction This trade-only event on April 5-6 is a 2-day series of special tastings and gatherings, culminating in a live auction. Attendees can bid on and acquire 85 one-of-a-kind- Pinot Noir lots from the 2017 vintage. There will also be six collaborative Chardonnay lots. All lots are produced in quantities of 5, 10 or 20 cases. The wines are eventually made available to consumers by the winning bidders. All proceeds from the auction support the marketing, branding and education efforts of the Willamette Valley Wineries Association. 73% of grapes grown in the Willamette Valley are Pinot Noir and 70% of wineries there produce less than 5,000 cases a year. 50% of grapes are estate grown.
England the Next Big Still Pinot Noir Region? Pinot Noir is now the UK's most widely planted grape according to WinesGB. Most of UK's Pinot Noir goes into producing English sparkling wine. As reported in www.thedrinksbusiness.com, Sam Linter of Bolney Wine Estate said that Pinot Noir could potentially become the UK's leading still wine. James Lambert, director of The Lyme Bay Winery, believes there will be an emphasis on still wine in the UK over the next decade.
Dogs Used to Detect TCA As reported in Wine Industry Insight, http://wineindustryinsight.com/? p=97617, in February 2019, TN Coopers, a Chilean-based company has been using specially trained canines to discover TCA and other wine-ruining chemicals that may have contaminated shipments of oak stave blanks from around the world. Their initiative is dubbed Natinga Project. Now TN Coopers is bringing some of their Natinga Project Dogs to an on-site winery tour in the U.S. Labrador retrievers, former drug-sniffing dogs, are being used to detect TCA and TBA.
Winery Loyalty Programs Trending Loyalty programs that reward customers for spending money on wine are replacing wine clubs at some California wineries. Accumulated points can be redeemed for private tastings and special events. Wineries using loyalty programs now include Jordan Vineyard and Winery, Francis Ford Coppola Winery, DeLoach Vineyards, and the portfolio of Foley Food & Wine Society.
Percentage Change in Per Capita Ethanol Consumption in the U.S., 1977-2016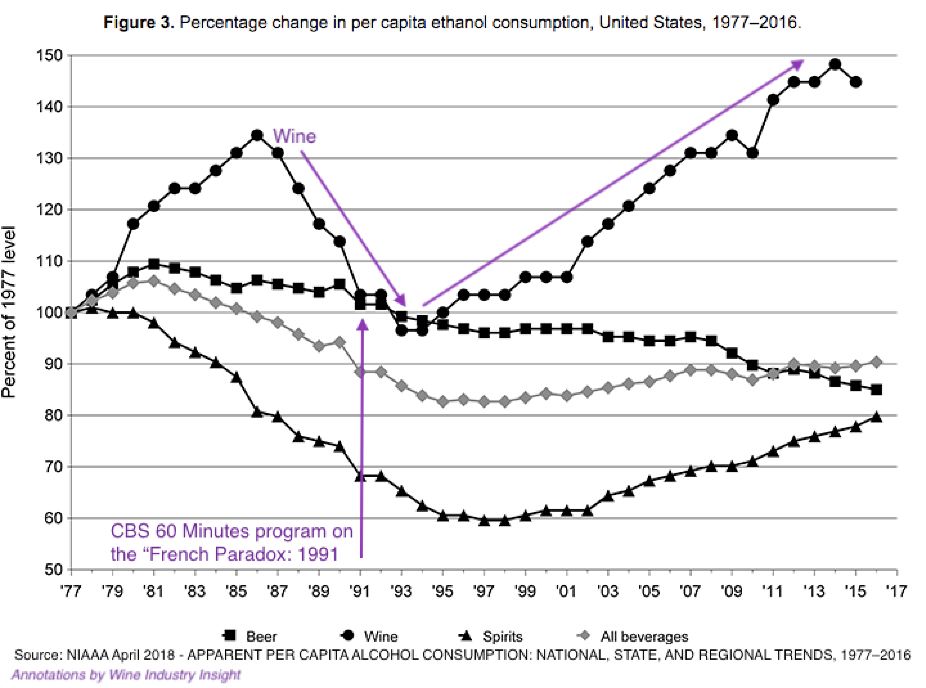 Vintage Wine Estates Purchases Laetitia Vineyard & Winery Vintage Wine Estates has been buying California Central Coast wineries recently, including Clayhouse Wines, Alloy Wine Works, and Qupé Winery. Records indicate the 1,986-acre real estate transaction alone totaled at least $22.3 million. The purchase also included a production facility, inventory, vineyards, tasting room and estate guest house. Current head winemaker Eric Hickey will stay on as part of the winemaking team.
Travel Personalization Platform for Santa Ynez Valley Visit the Santa Ynez Valley (visitsyv.com) has launched a new partnership with Utrip enabling visitors to create unique, personalized itineraries for their trips to the region. The experience is available at www.mytrip.visitsyv.com. With over 100 wineries in the Santa Ynez Valley, planning a trip can be daunting. With Utrip's technology, visitors can more easily find what most interests them to plan an itinerary that will ensure they get the most out of their visit.
Santa Barbara Futures Return Perhaps you remember several years ago when Doug Margerum, then the owner of the Wine Cask wine shop and restaurant, organized an annual features offering of Santa Barbara County wines offered through a catalog. Consumers were able to buy pre-release wines at a discounted price. Many brands became well known as a result such as Brewer-Clifton, Paul Lato and Tensley. Margerum is now organizing a Santa Barbara County Vintners Futures Tasting March 29-31 at the Alisal Guest Ranch and Resort in the Santa Ynez Valley. An all-inclusive weekend package or single event tickets are available. All profits will fund Vino de Suenõs, Santa Barbara Vintner's program that provides assistance to vineyard workers and their families. 84 wines from 40 wineries will be offered, with the wines representing unique cuvées that will not be commercially available. At the Grand Tasting on Saturday, the wines will be sold with a 3-bottle minimums at a 20 percent discount. The event will also feature a seminar on Saturday featuring the wines of Bien Nacido and Sanford & Benedict vineyards. For tickets to individual events, visit www.sbcountywines.com. For Alisal's weekend package, visit www.independent.com/futures19.
Winesong! 2019 The 35th Annual Winesong! weekend event on the Mendocino Coast will take place September 6-7, 2019. All proceeds are used to enhance equipment, facilities and services at the Mendocino Coast District Hospital. This two-day festival features special wines from Napa and Sonoma County, Oregon and beyond. Local breweries and cideries and regional culinary vendors also participate in in the name of charitable giving. The event will start on Friday, September 6, with A Pinot Noir Celebration that includes over 35 wineries pouring at the Little River Inn. On Saturday, September 7, the Winesong! Wine & Food Tasting will take place at Fort Bragg's Mendocino Coast Botanical Gardens from 11-2. The centerpiece of Winesong! is the Charity Auction, which will be held on Saturday, September 7, from 11-3 (Silent Auction) and 2-5 (Live Auction). General admission is $125 and includes festival seating round the Live Auction tent. Auction Reserve tickets are $225 and include reserved seating and reserved parking. A full list of events and ticket purchase information is at www.winesong.org/events/purchase-tickets/.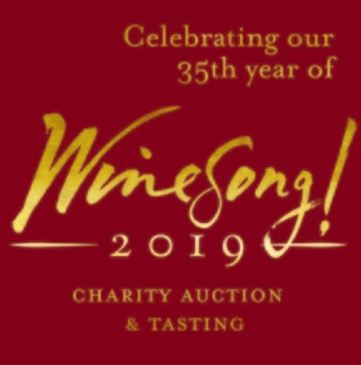 Wine History Project Since 2015, historians are preserving the history of San Luis Obispo vintners and winemakers and the history of Central Coast wine country. The Project collects and archives two centuries worth of, historical photographs, documents, news releases, recordings and videos. Beginning March 1, they offered an exhibit, "Wine Becomes Art," a display of original artwork and hand-etched wine bottles, and starting March 4, a "Corkscrew Development Exhibit." These exhibits and others are located at the Wine History Project offices at 3592 Broad Street, San Luis Obispo, CA and at the San Luis Museum of Art (SLOMA). For more information, visit www.winehistoryproject.org.
"What happened to those old 45's? They were such a part of our lives."