An Historical Perspective of the Winery Mailing List

In the last issue of the PinotFile, I was writing about the history of Williams Selyem Winery and stated, "The winery quickly achieved cult status and Ed (Selyem) found it challenging to allocate the wines. He created a mailing list, the first of its kind for domestic wineries, and the winery sold 85% of their wine directly to consumers on the list. An astute reader challenged me on this statement, informing me that Stony Hill Vineyard was, in fact, the first domestic (or at least California) winery to offer a mailing list exclusive to its customer base. This lead me to investigate the historical origins of California mailing lists.
I found a number of historical inaccuracies in my research. An article published online, 'Complete Napa Valley California Wine History from Early 1800s to Today' at www.winecellarinsider.com, stated that "The first California wine to be sold vis mailing lists was Grace Family in 1978." Lettie Teague, writing in www.foodandwine.com March 31 2015, said, "The mailing list phenomenon began some ten years ago with small-production wineries, mostly California, that are (mostly) selling cult Cabernets."
My research, aimed at setting the record straight, confirmed that Stony Hill Vineyard was the first California winery to offer a mailing list, dating to the early 1950s.
Stony Hill Vineyard
Fred McCrea (1896-1977) and his wife Eleanor (1908-1991) were looking for land on which to build a summer house in 1943. They were living in the Bay Area Peninsula at the time and frequently drove to the Napa Valley to peruse the area. That yer they acquired a 160-acre homesteaded goat farm in the hills above the Napa Valley at the base of Spring Mountain northwest of St. Helena.
After the war, in 1948, they began planting wine grapes, a few acres at a time, beginning with Chardonnay primarily due to their shared love of white Burgundy. The Chardonnay budwood was obtained from Wente's vineyard. Chardonnay was rarely planted in California then, with only 225 acres in production. Riesling, Pinot Blanc and Semillon were included to diversify the vineyard, and later Gewürztraminer was added. A major replanting of the Stony Hill Vineyard was undertaken beginning in 1986.
A winery was built in 1951 and bonded in 1952. The first commercial wines were released in 1952 under the Stony Hill Vineyard label, a name that was chose to reflect the rugged terrain of the property. The Chardonnays crafted by Fred were unique for the time because they were aged in French oak barrel, did not undergo malolactic fermentation, and were extremely age-worthy. Production in the early 1950s was between 100 and 200 cases of Chardonnay and about 150 cases of Riesling. The Stony Hill Chardonnay was first entered in the California State Fair in 1953 and won a gold medal at that competition in 1955 and 1960.
The McCreas sold some of their grapes and did not use all of their grapes in wine production until 1962, when the couple moved from the Peninsula to live full-time at Stony Hill Vineyard.
The first restaurant account for Stony Hill Vineyard was Trader Vic according to Eleanor. "Owner Victor Bergeron probably did more to put California wines on restaurant wine lists than any other person, because he believed in California wines long before most restaurants did. He sought them out, and he pushed them." Another early restaurant account was the Imperial Dynasty in Hanford, California. Eleanor recalled, "They called us up and wanted to have our wine, and they bought it continuously thereafter. It's a Chinese restaurant, but it has a French side to it also. I have never managed to get there, but it's the kind of place where people go out of their way to go to, and Hanford is surely out of the way (she laughs)."
I have been to the Imperial Dynasty many times over the years, and chef Richard Wing often featured Stony Hill wines in his prix fixe meals. Here is an example from April 12, 1987: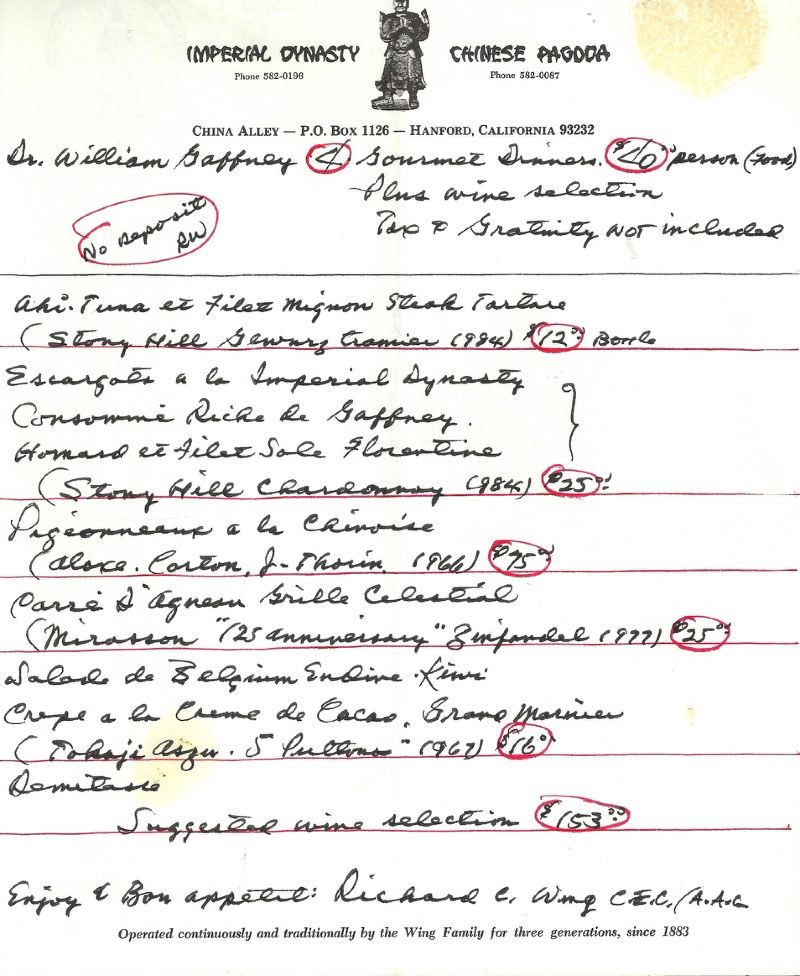 Stony Hill Vineyard wines attracted connoisseurs and the resulting demand led Stony Hill Chardonnay to become Napa's first cult wine. A mailing list for direct-to-consumer sales was first started in the early 1950s. The list started modestly when the McCreas entertained San Francisco Bay Area friends and served them their wine. The friends wanted to buy the wines and they, in turn, told their friends. By 1954, every bottle was sold through the winery's mailing list. Eleanor wrote the mailer including descriptions of the wines. A waiting list had to be added by about 1985 and by 1990 the wait to get on the mailing list was at least four years. The mailing list eventually spanned several generations of consumers, and the only people who were dropped from the list were those who failed to pay their bills, died or did not place an order for wine for two years.
A little-known fact is that Pinot Noir was planted in 1972 at Stony Hill, the winery's first experience with red wines. Only four rows of Pinot Noir were made into a barrel of Pinot Noir and a barrel of Pinot Noir Blanc, but was never sold commercially. The staff drank it.
In September 2017, the McCrea heirs sold their winery to the Hall Family of Long Meadow Ranch.
A proper epilogue for Stony Hill Vineyard was actually a preface written by Jack Davies, Managing Director of Schramsberg Vineyards, for a published interview of Eleanor McCrea conducted in 1990. "Stony Hill has done many things for all of us. Eleanor and Fred proved that lovely Chardonnay could be made in Napa. They helped prove that consumers would pay a fair price for a fine, personally-made wine. They proved that one didn't need every bell and whistle in the world to accomplish things. They proved that one could maintain personal integrity, enjoy life, and keep the checkbook balanced all at once. They proved that innovation and experimentation are open for everyone." I would add that they were also responsible for creating the winery mailing list that is now the model used by almost every California winery.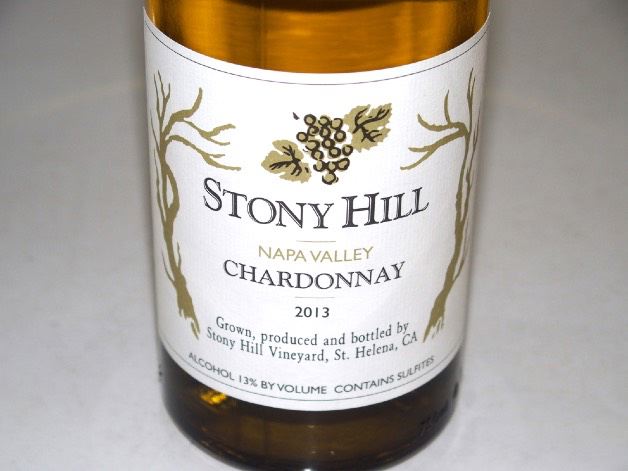 Main references:
Stony Hill Vineyards: the creation of a Napa Valley estate winery, an interview of Eleanor McCrea conducted by Lisa Jacobson in 1990 as part of The Wine Spectator California Winemen Oral History Series.
A Companion to California Wine: An Encyclopedia of Wine and Winemaking from the Mission Period to the Present, Charles L.Sullivan, 1998.
Williams Selyem: Not the First Mailing List But Still Unique
When I first signed up for the Williams Selyem mailing list in the very early 1990s, I received a personal letter from Ed Selyem. He described two releases per year, spring and fall, with three to four choices per release. The wine was sold in 30-day lots. At that time, there was usually no minimum purchases but there were maximums. 85% of production was sold directly to individuals through the mailing list and 15% to retailers and restaurants that helped the winery succeed.
Ed tried hard to devise an equitable distribution system and categorized everyone into 27 groups with allocations based on how long you were on the list and your past purchasing history. Some wines were produced in quantities that were less than the number of mailing list customers and were not offered to everyone.
A standing personal order could be submitted to avoid the disappointment of missing the small window of time that the wines sold out each spring and fall.
The wine offering mailings were accompanied by both Burt's tasting descriptions of each wine and Ed's "feelings" about the wines, recaps of older wines including aging potentials and tasting notes ("every vintage and bottling must be accurately described and apt enough for folks to distinguish and reconcile same with their personal palates and inventories"), a list of restaurants where Williams Selyem wines were served in California, a partial list of restaurants Williams Selyem wines were served in other states and international, a list of awards, press and notoriety given each release, and a local lodging list and current favorite local eating places.
By spring 1994, Williams Selyem released 2910 cases to 2372 customers along with sincere apologies to those who did not receive all the wine that they would enjoy. "Frankly, increased production with constant or increased quality has vineyard and personnel limitations." Production was predicted to increase to 5,000 cases for the 1993 vintage.
The mailing list conveyed a very personal connection between Burt and Ed and their customers. The mailer would begin, "Hello friends, friends in wine, valued customers and new folks." The mailers were filled with colorful information beyond wine descriptions. For example, "Can't consume a bottle of our wine in one day? Cork it up and taste it the next day. Still good but different and even better almost always." And, "Among the great correspondence we receive from you was one asking us to hurry our next release because they had missed the last one and their friends have stopped coming over." Even a hand-drawn map to the winery was included with one early mailer: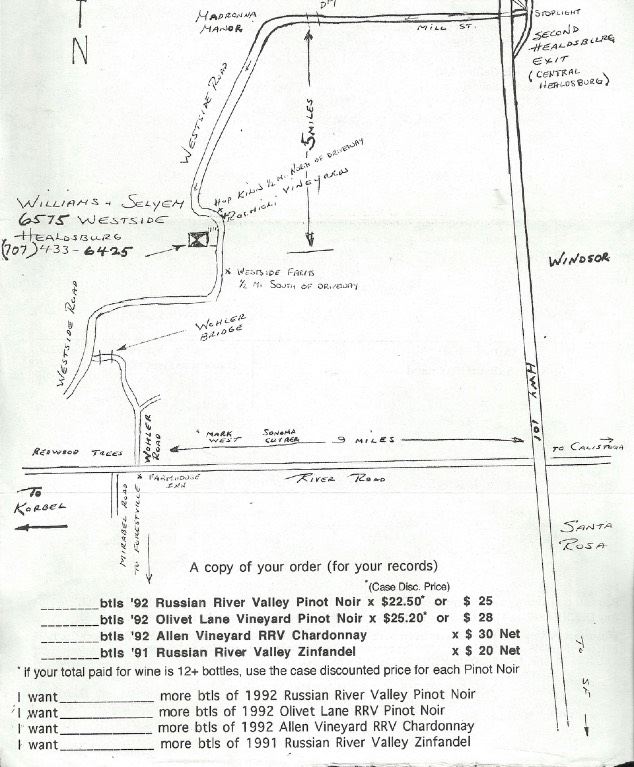 There is a funny story, first reported in The New York Times by Frank J. Prial in March 1997, regarding the Williams Selyem mailing list. Ed Bradley, a correspondent for CBS's "60 Minutes" and a wine enthusiast, was determined to get his name on the William Selyem mailing list. Bradley told Burt that if he didn't put him on the list, he would get Andy Rooney to do a commentary on people who keep lists. Burt said, "Well, we couldn't have that. So we put him on."