Moshin Vineyards & Winery

Moshin Vineyards is celebrating its 30th harvest year in 2019. The winery is known for Russian River Valley Pinot Noir from estate vineyards and the gravity-flow winery on Westside Road where the wines are produced The winery began in 1989 when Rick Moshin purchased a 10-acre vineyard located in the Middle Reach of the Russian River Valley. Rick was a math instructor with a thirst for Pinot Noir and that inspired him to retire to make great wine. He still monitors the pruning and training of the estate vineyards as well as the harvest. He believes in small-lot, handcrafted wines, following the teachings of mentors Gary Farrell and Davis Bynum.
There are four estate vineyards: Moshin Estate Vineyard (original 10-acre vineyard planted in the early 1980s to Dijon clones, acquired in 1989, and replanted in 2007-2009 to Martini, Swan, Mt. Eden and Wädenswil 2A clones), Calliope Vineyard (2.5 acres of Pommard 5, Wädenswil 2A, and Calera clones planted in Goldridge soil in 2005), Rosalina Vineyard (4.5 acres of Calera, Wädenswil 2A and Pommard 5 planted in Goldridge soil in 2007) and River Myst Haven Vineyard (2.5 acres of Martini and Swan clones planted in Goldridge soil in 2009). Each vineyard is set either near or adjacent to the Russian River and receives the benefits of its maritime influence that include ample morning fog and daily temperature swings of 35 degrees.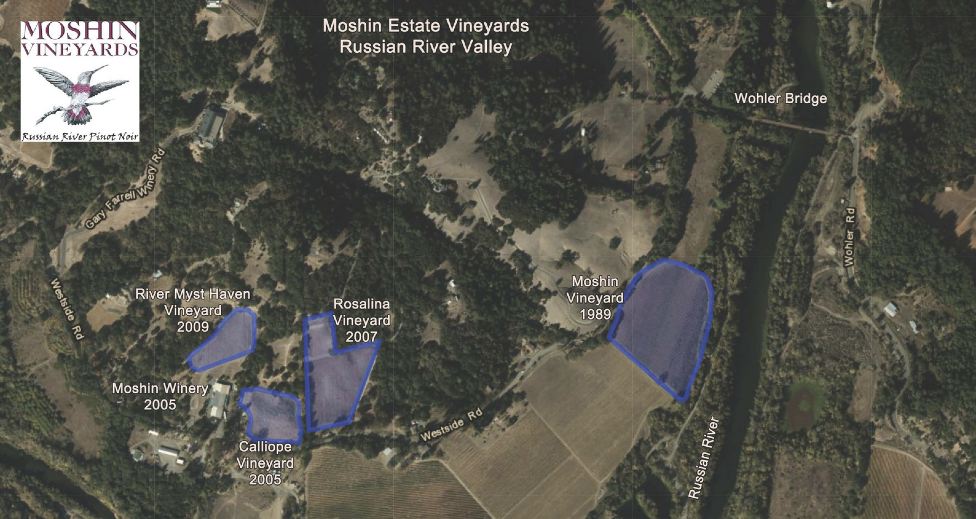 The winery was 20 years in the planning and is a four-tier, solar-powered, gravity-flow production facility built on five acres. The careful movement of Pinot Noir from crush pad to press to barrel to bottling room is possible without the use of pumps. In addition to Moshin, several prominent Russian River Valley Pinot Noir producers utilize the winemaking facility.
The tasting room at the winery is open daily and private seated tastings and winery tours are also available by appointment. Visit www.moshinvineyards.com.
This was my first opportunity to sample recent Moshin Pinot Noir and Chardonnay wines and I came away impressed. All the reviewed Moshin Pinot Noirs and Rosé were sourced from estate vineyards in the Middle Reach of the Russian River Valley. Two wines from the winery's sister brand, Westside Crossing, offer excellent value.