Pinot Briefs —Newsletter 11.43
Beck Family Estates Launches Abbott Claim in Willamette Valley This new Pinot Noir and Chardonnay project is located in the Yamhill-Carlton AVA and comprises 60 acres of vineyards and a winery co-designed by Antony Beck and winemaker Alban Debeaulieu, formerly of 00 Wines. The winery will be completed in May 2020 and the first wines released in early 2020. Abbott Claim honors the first homesteader of the site, John F. Abbott, who moved to Oregon from New York in 1855. Some of the land was previously owned by Ken Wright. The vineyard is expected to obtain full organic certification within three years. Winemaker Debeaulieu previously worked at Domaine Drouhin Oregon, White Rose Estate, Chapter 24 and 00 Wines. In 2017, Beck gave Debeaulieu the winemaker position at his winery Angela Estate as well as the lead on the Abbott Claim project.
Chardonnay Renaissance Continues in Oregon Many winemakers are touting Oregon Chardonnay, including Doug Tunnell of Brick House Vineyards. He says, "We can produce wines that have richness and texture but retain natural acidity, much like the Chardonnays of Burgundy." Wynne Peterson- Nedry, winemaker at RR and Ridgecrest Wines, touts Chardonnay as well, "We make amazing, fresh, bright Chardonnays and they keep getting better. There are, of course, pioneers who have been making it for years, but without people focusing on it as their primary wine of choice it hadn't gotten as much traction in the consumer and media world until recently." One of the most sought-after auction lots at this year's Willamette Pinot Noir Auction was a Chardonnay collaboration between Gran Moraine Winery and Eyrie Vineyards. The bad news is that Oregon's Pinot Gris is fast becoming comparatively uninteresting to the consumer and some winegrowers are grafting over Pinot Gris to Chardonnay.
What is Your Preference? Double or Triple Digit Pinot Noir? Exclusive bottlings of Willamette Valley Pinot Noir have now be offered frequently at $100 and more. Wineries such as Big Table Farm, Rose and Arrow, Domaine Serene, Antica Terra, White Rose Estate, and 00 Wines are raising the bar on pricing. Even $80 and $90 price tags are commonplace. The consumers interested in these wines are far and few between and I do not look to review them. Writer Ashlee Humphreys recently noted, "Consumers pay high, even extraordinary prices for high-status wines despite the availability of thousands of excellent, lower-priced alternatives." Will success spoil Oregon wine?
Proposal to Lower DUI Alcohol Limit in New York In New York State, the current legal limit is .08, but a bill now in the New York State Assembly would lower the legal limit to .05. If the proposal passes, New York would join Utah as the only other state to have a .05 BAC, the lowest in the nation.
Hirsch Vineyards Now on Instagram Hirsch Vineyards and Winery on the True Sonoma Coast was founded in 1980 and is family-owned and biodynamically farmed. A Tasting Room is now open in Healdsburg. Beautiful landscape photos capture the essence if West Sonoma Coast. Visit www.instagram.com/hirschvineyards/.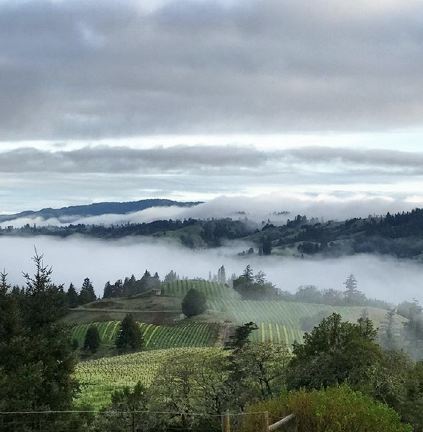 Second Largest Final Grape Crush Report for 2018 The California Department of Food and Agriculture's (CDFA) Final Grape Crush Report for 2018 showed the largest total tonnage since 2013. The 2018 crush totaled more than 4.5 million tons, an increase of over six percent from 2017.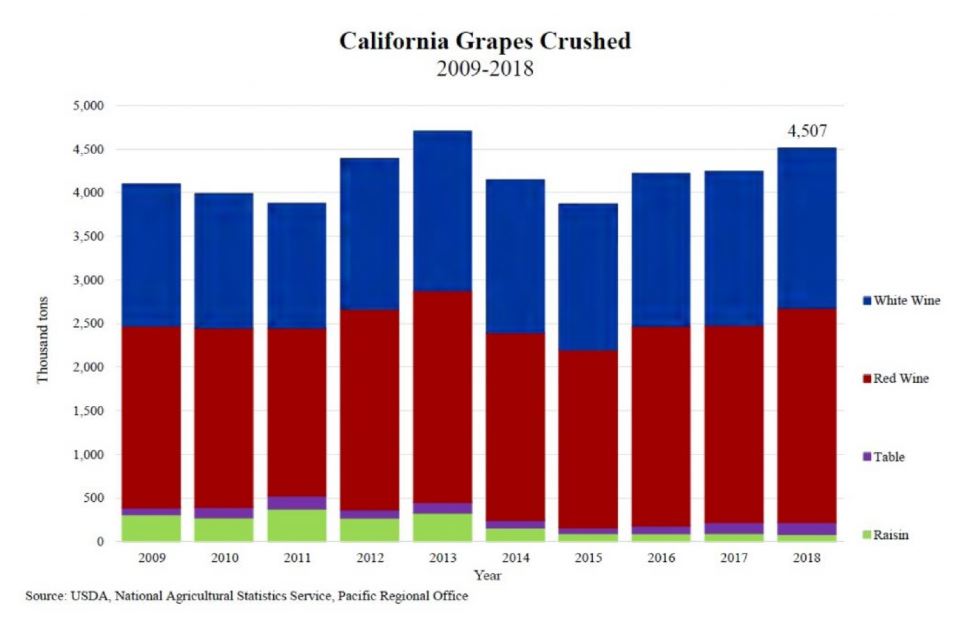 Chardonnay was the largest percentage of the overall tonnage volume, accounting for nearly 16 percent of the total.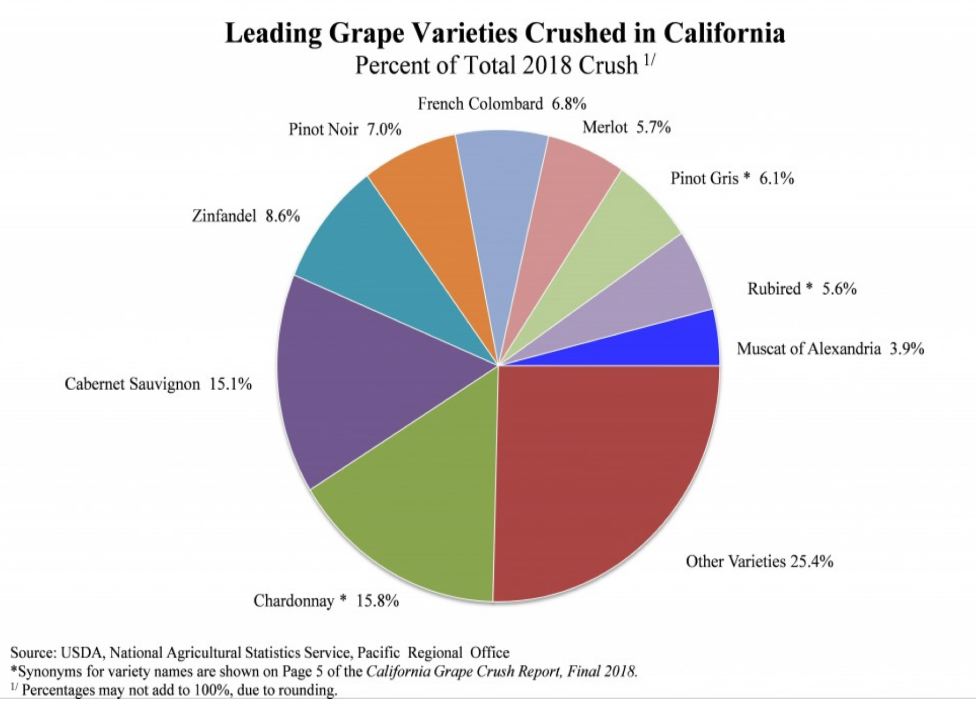 In the North Coast of California, farmworkers picked an all-time high 588,864 tons of grapes, a 26% increase from 2017, from vineyards in Sonoma, Napa, Mendocino and Lake counties during harvest. The average price of grapes set a record of $3,427 per ton, a 0.4% increase from the previous year. The most expensive grape variety in Sonoma County - Pinot Noir - had a yield of 58,005 tons, which was up 34% from 2017. The price for Pinot Noir decreased 2% from 2017 to $3,795 per ton.
California Winegrape Acreage up 6.3% in 2018 Cabernet Sauvignon and Chardonnay are #1, with Pinot Gris and Sauvignon Blanc #2 and 3 among white varietals, and Pinot Noir and Petite Sirah #2 and 3 among red varietals. Pinot Noir planting in California in 2018 was 44,175 bearing acres.
Amy Pohler's 'Wine Country' Movie Jason Schwartzman, Rachel Dratch, Tina Fey, Ana Gasteyer, Emily Spivey, Paula Pell, Maya Rudolph and Amy Poehler star in a movie that takes place with the backdrop of Napa and Sonoma County. This dark comedy premiers May 8 in select theaters and May 10 on Netflix. Director Amy Poehler had this idea after a trip three years ago to Napa Valley and Sonoma County where the group did "a bunch of girly stuff."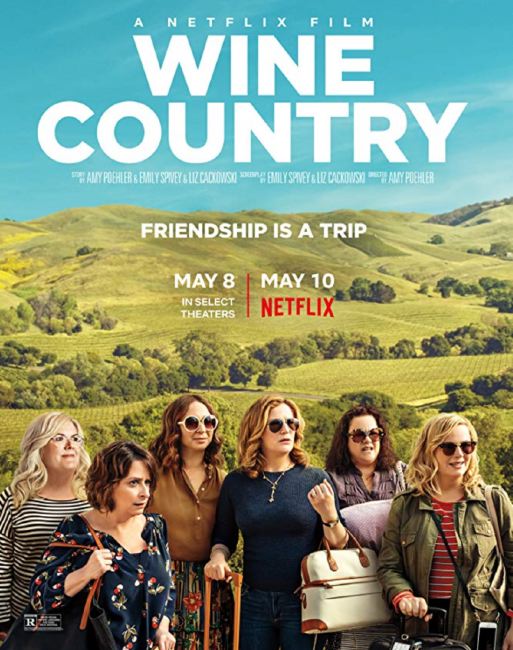 Taste of the Mountains Menlo Park Wine Walk The Santa Cruz Mountains Winegrowers Association and Station 1300 present Taste of the Mountains Wine Walk on Saturday, June 1, in downtown Menlo Park. Enjoy wines from the boutique wineries of the Santa Cruz Mountains poured in various designated tasting locations up and down Santa Cruz Avenue. Purchase your favorites from the bottle booth with 20% of the sales benefiting the Menlo Park Atherton Education Foundation (MPAEF). Participating Pinot Noir focused wineries featured in the PinotFile include Big Basin Vineyards, Lester Estate Wines, Mindego Ridge, and Neely Wine.
West of West Tastings The West Sonoma Coast Vintners will be in several cities hosting special wine tastings. May 5, 2019, in Boston, May 8, 2019, in New York City, May 19, 2019, in Atlanta, and May 22, 2019, in Nashville. Participating wineries include Ceritas, DuMOL, Ernest, Flowers, Freeman, Gros Ventre, Littorai, Occidental, Peay, Red Car, Senses, Small Vines, Wayfarer and Whistler. For information and tickets, visit www.citywinery.com.
Lynmar Estate Offers a New Season of Wine & Food Pinot & Pizza pairing is held under the shade of towering trees on the Estate. Each artisan pizza is prepared in a brick oven and features estate- grown vegetables and is paired with an array of Lynmar wines. The dates are May 19, June 16, July 14, August 18 and September 15. $85 per person. Wine & Food Lunch Pairing consists of a three-course wine and food pairing directed by Chef David Frakes and enjoyed while overlooking the vineyards and gardens. Offered Thursday through Sunday with a seating at 11:30 am. $95 per person. These events, held at one of Sonoma County's most beautiful hospitality centers, can be reserved at reserve@lynmarestate.com. The Lynmar Ambassadors program will be bringing Lynmar's proprietors, winemaker and vineyard manager to select homes and private clubs in 2019. If you are a Lynmar Advocate with five friends interested in joining the club community, you can arrange this unique opportunity. A Lynmar partner will help you host in style and share the Lynmar story. Contact anisya@lynmarestate.com. Lynmar Estate was voted the best tasting room in Sonoma County in the North Bay Bohemian Best of 2019 issue (tasting by reservation only).
Wide Disparity in State Wine Taxes: