On the Pinot Trail in Sonoma County
Welcome to the Hotel Sonoma County
Such a lovely place
Any time of the year you can find me here
I can check out any time I like
But I can never leave!
Rescripted from 'Hotel California,' The Eagles
I just spent three marvelous weeks in Sonoma County wine country, a region that lives up to its marketing byline that Sonoma County is where "Life Opens Up." I want to reprise my trip including winery visits.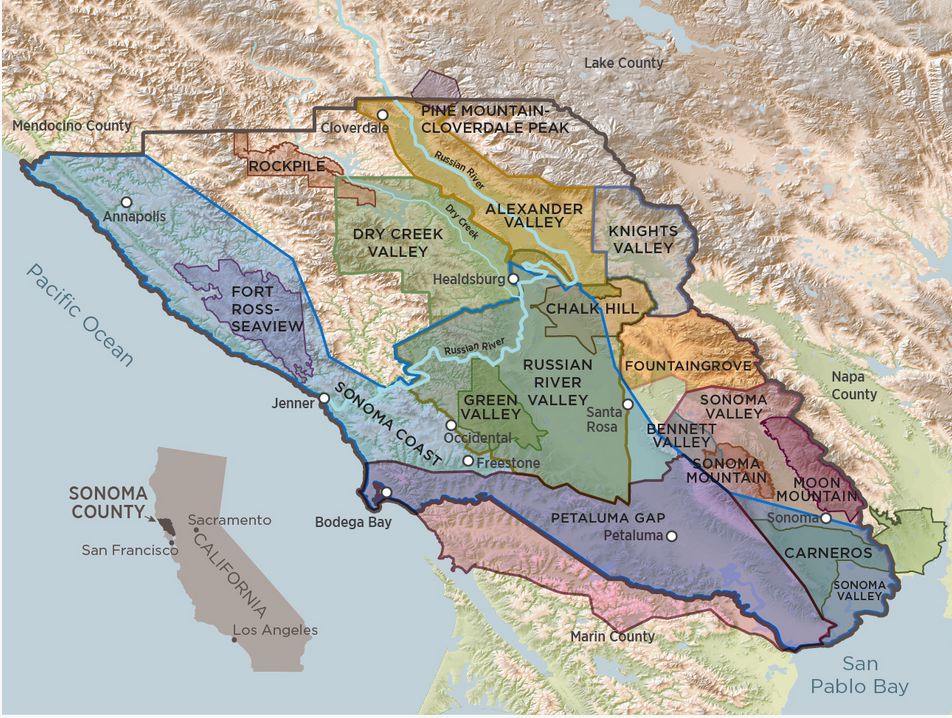 Sonoma County is home to 61,000 acres of vineyards, 1,300 grape growers (80 percent farm less than 100 acres) and more than 425 wineries, stretching 1,500 square miles from the Pacific Coast in the West to the Mayacamas Mountains to the East and Mendocino County in the North to Marin County in the South. It is the most accessible wine region in California, about a 45-minute drive from San Francisco and easily reached by air service to The Charles M. Schulz County Airport (STS) in Santa Rosa from Los Angles, Orange County, Portland, Seattle, San Diego, Phoenix, Dallas/Fort Worth, Denver and seasonally, Minneapolis/St. Paul and Las Vegas. It is less than a two-hour drive from three international airports in San Francisco, Oakland and Sacramento.
There are 18 appellations in Sonoma County and more than 60 varietals are grown there, but Pinot Noir and Chardonnay make up the vast majority of production. When it comes to Pinot Noir and Chardonnay, my focus, the appellations of interest include Bennett Valley (700 vineyard acres and 17 wineries), Carneros (6,481 vineyard acres and 22 wineries), Fort Ross-Seaview (515 vineyard acres and 5 wineries), Green Valley (2,860 vineyard acres and 10 wineries), Russian River Valley (13,896 vineyard acres and 94 wineries), Sonoma Coast (5,055 vineyard acres and 7 wineries) and Sonoma Mountain (667 vineyard acres and 3 wineries.
An additional AVA, the West Sonoma Coast AVA, is nearing approval. This region, known as the "true" Sonoma Coast, is 51-miles long and is home to some of California's best Pinot Noir vineyards. Winegrowers members of the West Sonoma County Vintners have been trying for several years to obtain approval for a West Sonoma Coast AVA to distinguish it from the very large Sonoma Coast AVA. The new West Sonoma Coast AVA would encompass the Fort Ross-Seaview AVA and Green Valley AVA as well as the Annapolis, Freestone, Occidental and Sebastopol Hills regions.
Many of the most desirable appellations for Pinot Noir and Chardonnay are foggy with significant maritime influence and well-draining Goldridge soils. That said, there is an immense amount of microclimate and soil variety, making Sonoma County flush with terroir riches. It is noteworthy that the Russian River Valley alone has more soil diversity than Burgundy, with a multitude of types in the Alluvial, Franciscan Complex, Volcanic and Wilson Grove series.
"The French have a word for it: terroir. The Americans have two words for it: Sonoma County."
Any trip to Sonoma County that focuses on Pinot Noir and Chardonnay is best served by a base in the Russian River Valley. This appellation, approved in 1983 and enlarged in 2005, is 15 miles wide and tall and contains 1/6 of the total vineyard acreage of Sonoma County. Some of the oldest grapevines in California are planted here, including the oldest Pinot Noir vines. Russian River Valley is the epicenter of Pinot Noir in Sonoma County and all other neighboring pinot-centric Sonoma County appellations can easily be reached by a short drive. The Russian River Valley has three main cities that span the appellation from north to south - Healdsburg, Santa Rosa and Sebastopol - and I found myself staying in all three cities during my recent trip.
It is only a three letter word, but fog is the defining characteristic of the Russian River Valley appellation. The regular ebb and flow of fog originates from the Pacific Ocean a few miles to the West and enters the Valley primarily through the Petaluma Wind Gap and secondarily along the channel created by the Russian River that empties into the Pacific Ocean at Jenner. The fog arrives in the late afternoon and evening, frequently dropping the temperature 30 degrees from its daytime high and then retreats the following morning. This maritime air conditioner extends the growing season and allows grapes to reach full flavor maturity while retaining natural acidity.
A four letter word, rain, has been on everyone's mind in Sonoma County. Rain totals in Santa Rosa by May 16 were 46", 131% of normal. The concern with the latest May rains is that vine bloom was beginning in some vineyards and the rain may markedly interfere with resulting yields. There will probably be no impact on quality, just on yield.
"Unless we can invent large umbrellas to put over the vineyards, there's nothing we can do"
In the pages to follow I will report on tastings done at several wineries I visited on my recent trip. I will add suggestions on lodging, restaurants and activities that can assist the reader in planning a trip to Sonoma County in the next issue. Please feel free to contact me at any time to help plan Sonoma County trips including arranging exclusive private tastings.
One final comment about Sonoma County. It is laughable that Sonoma County and Napa County have a contentious relationship much like Bordeaux and Burgundy in France. Napa has the richer, more refined elite populace with many grand estates, expensive Cabernet Sauvignon wines, tony resorts and a bit of arrogance, while "Sonomians" are more Bohemian (the local paper is The Bohemian), relish craft beer, enjoy and tout the commoner Zinfandel wine, and ply country roads with many bumps and potholes. Contrast Grateful Dead drummer Mickey Hart who is a longtime Sebastopol resident with pop music artist John Legend who collaborates with Raymond Vineyards in Napa to produce a Cabernet Sauvignon. I was surprised to learn that people that grow up in Napa County never or rarely go to Sonoma County, and vice versa, despite the short drive separating the two distinguished but disparate neighbors.