Sonoma: Sojourn Cellars, Talisman & En Garde

Like Healdsburg, the town of Sonoma has been overrun with tasting rooms. Since 2012, the number of tasting rooms on the Plaza has increased from 17 to 26. The Sonoma City Council recently voted for regulations limiting wine-tasting businesses in the downtown area to 25. There are currently about 34 wine rooms in the downtown area and all 34 would be grandfathered in, with the number reduced to 25 over time with attrition and relocation. Sojourn Cellars tasting salon is part of the grandfathered group. The Talisman tasting room is located nearby in the downtown area of Glen Ellen and the En Garde tasting room is located just before entering the downtown of Glen Ellen in Kenwood on Highway.
Sojourn Cellars
Sojourn Cellars has a long-established but recently renovated and very comfortable tasting salon in the Plaza area which I visited for the first time. I tasted the fall 2019 releases with Co-founder and Winemaker Erich Bradley and General Manager and Associate Winemaker Randy Bennett (on the right in the photo below). I have been tasting the consistently excellent wines for years (since 2004) but finally having visited the crew including Co-founder Craig Haserot at the salon, and gazed on the mural depicting the vines at Gap's Crown Vineyard, I felt fully engaged and impressed by the magic the wines and dedicated tasting staff offer. This is a professionally-run winery. For example, the tech sheets given to me to accompany each wine are complete in every detail and a blessing to wine writers who relish the complete story of each wine.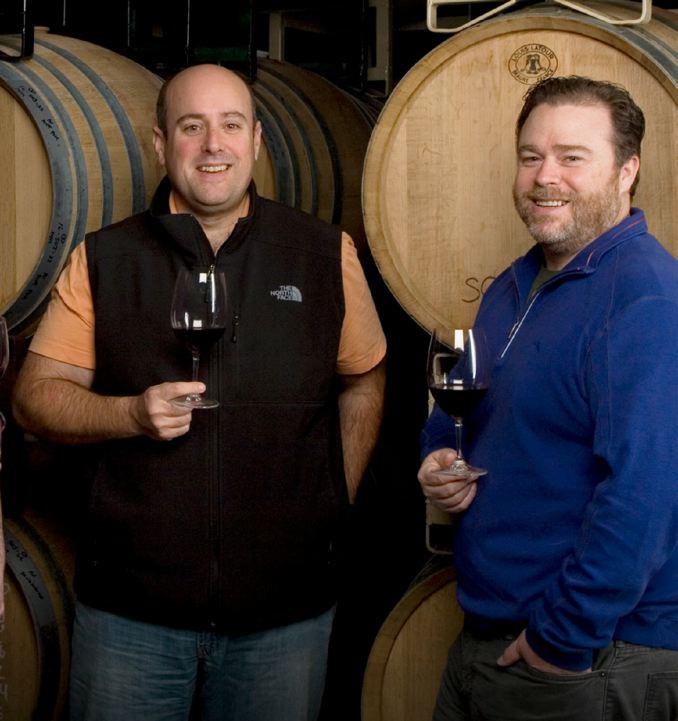 The full story of Sojourn Cellars can be read here: www.princeofpinot.com/article/328/. The tasting salon is open daily by appointment. Visit www.sojourncellars.com for further information and to view the latest short videos about the winemaking and vineyard sources.
The following wines were tasted in May at the Sojourn Cellars tasting salon and at home in my usual fashion. The map below depicts the location of vineyard sources.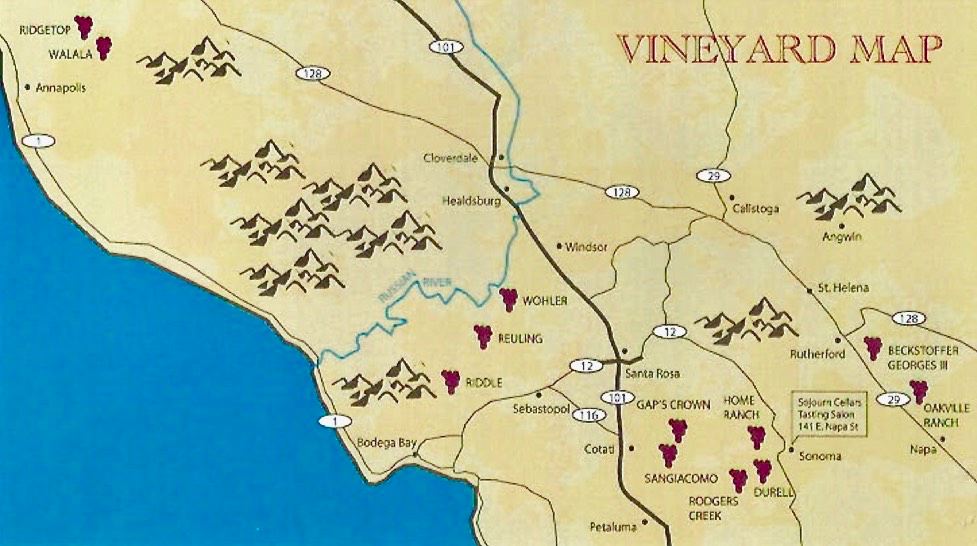 Fortunately, all the Sojourn Chardonnay and Pinot Noir grapes were picked prior to the tragic wildfires on October 8-9, 2017, and there was no impact on the wines.
Talisman
Winemaker Scott Rich and I have a friendship that goes back many years. I have always been intrigued with his Pinot Noirs since my first extensive encounter with them in 2006 when I sampled his wines dating back to 1997.
Scott learned his craft under Tony Soter in the early years of Etude. He is a versatile winemaker not confined to Pinot Noir and has made the Bordeaux-styled wines and oversaw the construction of a winery at Moraga Vineyards in Bel Air in Southern California. His desire for self-expression led him to launch his Talisman label along with his spouse, Marta, in 1992. He currently crafts his wines in a warehouse facility on Eighth Street in Sonoma.
Scott's vineyard sources are truly unique because he has a love for distinctive, challenging terroirs. His current production of about 5,000 cases of Pinot Noir is based on grapes sourced from extreme vineyards throughout Sonoma County as well as Napa Carneros and Yorkville Highlands.
Scott's 2014 vintage wines and older wines dating back to 1995 were reviewed in 2017 - www.princeofpinot.com/article/1980/ - and the 2015 vintage wines were reviewed in 2019 - www.princeofpinot.com/article/2179/.
I recently met Scott at his tasting room in Glen Ellen that is housed in the oldest building in the community. We had a novel tasting experience, sampling Etude Heirloom Pinot Noir wines from 1995 to 2001.
The history of Etude is interesting. An encounter in Tony Soter's cellar with Madam Lalou Bize-Leroy in 1980 led to Soter's decision to name his new winery Etude. Lalou was assessing Tony's first Carneros Pinot Noir and her comments were intended to imply that Tony needed to improve his winemaking approach. Etude is derived from the French word, "etude," meaning study and in music refers to a composition designed to improve the technique of the player. Tony remarked in Wine & Spirits in the Fall 2004 issue, "Pinot Noir is the best and most transparent wine vehicle with which to 'study' the craft and this has been a life long and humbling pursuit….I like to say I was in pursuit of the wisdom of ancestors I never had."
Tony launched Etude Wines in 1980 and released his first Carneros Pinot Noir in 1982. Etude was a proprietary label as Tony owned no vineyards. All the wines were sourced from carefully selected Carneros sites with primarily clay-heavy soils until estate vineyards in the northwestern corner of the Carneros AVA planted in rocky volcanic soils were established. Tony was one of the first to produce a Vin Gris of Pinot Noir in California and this remains a featured wine at Etude to this day.
The Etude Heirloom Pinot Noir was first released in 1995. It consisted of only 3 barrels and was the first unfiltered wine produced at Etude. The wines were initially crafted with 100% new oak, were unfiltered, and were meant to be age-worthy. Three wines were produced in 1995, using grapes were sourced from Hudson (Dijon Pommard clones), Hyde (Calera selection) and Domaine Chandon (DRC, Musigny and Romanée St. Vivant suitcase selections) vineyards. From 1996 onward, the Heirloom Pinot Noir was a barrel selection of wines from several vineyard sources. Barrels were chosen that would allow aging in 100% new oak without the wines being too oaky, and the wines were held for aging for up to 18 months.
Although "Heirloom" appeared on the label and Tony was interested in heirloom clones of Pinot Noir, the program was a case of marketing trumping reality for the wines were not always composed of heirloom clones. The grape sources varied each year, but the most consistent contribution came from Adastra Vineyard in Carneros. The blend was always unfined and unfiltered. Scott Rich was the assistant winemaker in 1995 when the heirloom wines were launched.
In 2005, Etude dedicated a 7-acre block of estate vineyard to 10 different selections of heirloom Pinot Noir to serve as a library as well as a source for Heirloom Pinot Noir to ensure that future vintages would be made from estate fruit.
This tasting was primarily an excuse for Scott and me to get together and b.s. about wine.
1995 Etude Hudson Vineyard Napa Carneros Heirloom Pinot Noir 20 cases. Moderate garnet color in the glass. Dark cherry veiled in dark chocolate aromas initially, progressing to musty closet and old suitcase. A hint of TCA. Mid weight flavors of dried cherry and pomegranate backed by minimal tannins. The fruit has a trace of charm but is barely holding on.
1995 Etude Hyde Vineyard Napa Carneros Heirloom Pinot Noir 20 cases. Produced from original plantings from Calera, since bulldozed. Moderately light garnet color in the glass. Aromas of dried rose petal and nutty oak. Still has some charm, offering flavors of cherry, strawberry and cranberry with nutty oak in the background. Melded tannins with some finishing length and tartness.
1997 Etude Heirloom Carneros Pinot Noir 16 barrels. Aromas of cherries in a wooden bowl, botanical notes and a hint of volatile acidity. The tannins are prominent and dominate the fading cherry and red berry fruits. Good acid drive with an astringent finish.
2001 Etude Heirloom Carneros Pinot Noir 39 barrels. Magnum. Moderate garnet color in the glass. Pleasant aromas of dried rose petal and black cherry with a woody tone. Still retaining some spirited dark red fruits and notable freshness. Round in the mouth, with a slightly astringent and short finish.
2002 Etude Heirloom Carneros Pinot Noir 30 barrels. Magnum. Moderately light garnet color in the glass. The nose offers primarily aromas of underbrush and savory herbs. Much better on the palate with mid weight flavors of dark red and purple fruits. The fruit core has a notable mid palate expansive presence, Still some freshness with moderate tannins and some finishing generosity. The best wine in the lineup. Confirms the wellknown belief that wine ages better in magnums.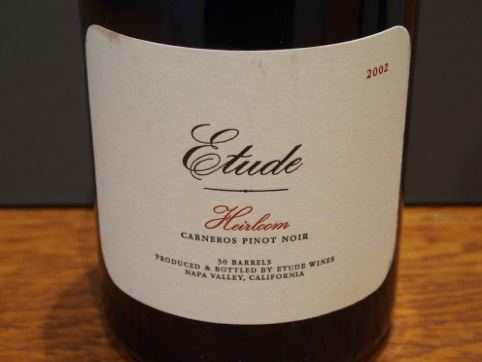 Tasting of Talisman wines is available at the winery's quaint Tasting Room in Glen Ellen Thursday through Monday afternoons. Appointments are encouraged. Visit the website at www.talismanwine.com.
En Garde
Proprietor and winemaker Csaba Szakal is a polite, cerebral and focused producer of Pinot Noir and Cabernet Sauvignon, but his background is not typical. He is a former computer programmer and a fourth-generation winemaker from Hungary, a country with a rich wine history dating back to at least Roman times, but best known for Tokaji. He began making wine in his garage before his first commercial release in 2001, a gold medal winning Cabernet Sauvignon. He gathered the support of his spouse, Sandy, and launched En Garde Winery in 2007. Vineyard-designated Pinot Noirs from the Russian River Valley appeared with the 2012 vintage.
I have sampled the En Garde Pinot Noirs since 2010 and observed first hand the gradual improvement in the wines. This is not surprising, for Csaba is fanatical about quality, beginning with a finicky compulsion in the vineyard and ending with dedicated attention to detail in the winery. Csaba initially received many accolades for his Napa Valley Cabernet Sauvignon, but now he says, "I take the Pinot thing more seriously."
Some of the striking 2016 vintage Pinot Noirs were previously reviewed here: www.princeofpinot.com/ article2159.com.
We tasted through his five 2018 Pinot Noirs from barrel. He will be offering a Pinot Noir from Roma's Vineyard in Anderson Valley, the Noble Family Estate Vineyard in the Petaluma Gap, a Los Carneros Sonoma Coast vineyard, and the Starkey Hill and Pleasant Hill vineyards in the Russian River Valley. Csaba ferments each clone separately so we tasted each individual clone from each vineyard. Although recently sulfured, it was easy to recognize the pedigree of the wines. The 2018 Starkey Hill Vineyard Pinot Noir was the standout. Mark this down and grab some of this 96-97 point wine when it is released. A well-known Russian River Valley producer backed out of their commitment to buy grapes from Starkey Hill so Csaba stepped in and bought more than usual so production will be generous in this vintage.
Tasting is available daily at the winery's stylish tasting room on Sonoma Highway in Kenwood. Visit the winery's website at www.engardewinery.com to join the mailing list or purchase wines. Three additional finished wines were tasted after my trip.
2016 En Garde Sonoma Coast Pinot Noir
14.3% alc., pH 3.49, TA 0.725, 175 cases, $50. Clone 115. Harvest Brix 24.3º. Aged 17 months in French oak barrels, 20% new. · Light garnet color in the glass. Nicely perfumed with aromas of macerated black cherries. The mid weight core of juicy black cherry fruit is infused with spice and energy as well as a touch of friendly oak. This wine has a welcoming "warmth" about it. Score: 91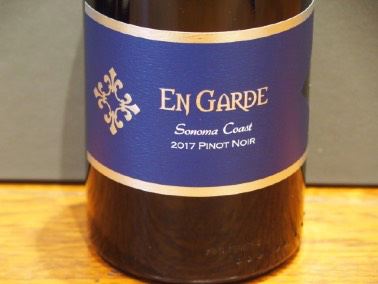 2017 En Garde Sonoma Coast Pinot Noir
13.6% alc., pH 3.45, TA 0.755, 125 cases, $50. Clones 115, 667 and 777. Harvest Brix 24.3º. Aged 18 months in French oak barrels, 20% new. · Moderately light garnet color in the glass. Pleasing aromas of dark red and blue fruits accented with oak. Silky and gracious, with a middleweight essence of black cherry. Plenty of pleasing juiciness and vibrancy with good oak integration and a driven, persistent finish. Score: 92
2017 En Garde Mendocino Ridge Vineyard Mendocino Ridge Chardonnay
14.4% alc., pH 3.57, TA 0.588, 110 cases, $45. Harvest Brix 24.6º. Aged 10 months in French oak barrels, 20% new, and stainless steel for 6 months. · Light golden yellow color in the glass. A complex nose satisfies with aromas of lemon oil, brown butter, warm croissant and waffle cone. Soft, suave and velvety in the mouth, with enticing flavors of lemon, pear, creme caramel and vanilla. Nicely composed and highly enjoyable, but I should point out that it is not an aciddriven style. Score: 92