Russian River Valley: Pisoni/Lucia, Cattleya, Benovia, Furthermore & Small Vines
Pisoni & Lucia
I met Jeff Pisoni, the winemaker for Pisoni Estate, Lucia and Lucy brands, and his spouse, Bibiana González Rave the winemaker of Alma de Cattleya and Cattleya brands at their new production facility in Rohnert Park. After years of making wine in a custom crush facility in Santa Rosa, they have found a home in a business complex. Outfitted with a crush pad, a modern lab and the latest winemaking tools, the winery is befitting the iconic Pisoni name.
"It takes a true romantic to plant Pinot Noir"
Most pinotphiles are well aware of the history of Pisoni Family Vineyards. Gary Pisoni, whose family has farmed vegetables in the Salinas Valley since 1952, had the notion of growing wine grapes in the Santa Lucia Highlands. Gary trusted his own instincts about what the land could provide. He encountered several objections, not the least of which was the cost. Gary countered to his father, "Have you ever been to a $250 lettuce tasting.?" His father relented and a legendary vineyard was born in 1982.
Gary persisted in drilling many wells through the densely-compacted granitic soil of the family's property and on the sixth try water did eventually gush up past the drilling rig. As a recent Pisoni newsletter proclaimed, "Possessed of the courage of their convictions and not a little quixotic spirit, sons Jeff and Mark continue to work alongside Gary toward the perfect Pinot Noir, block-by-small-named block." Planting in 2-acre increments goes on to this day, despite the challenges. Jeff notes, "Any grape, grown well, is hard to cultivate. It takes a true romantic to plant Pinot Noir, however."
The Pisoni family offers wines under three labels: Pisoni Estate, Lucia and Lucy. Lucy is the name of a single wine, a Pinot Noir Rosé, first offered in 2003, available through a mailing list and retail and restaurant distribution. The Lucia Pinot Noir and Chardonnay appellation and vineyard-designated wines first offered in 2000, are 100% estate grown and available by mailing list, and, because of a larger production, are easily available also through distribution channels. The Pisoni Estate Pinot Noir and Chardonnay are sold almost exclusively through a mailing list. Visit the websites for information and to join the mailing lists at www.LucyWines.com, www.LuciaVineyards.com and www.PisoniVineyards.com. Refer to the Pisoni Family Vineyards blog at www.pisoninotes.com for more information and fact sheets.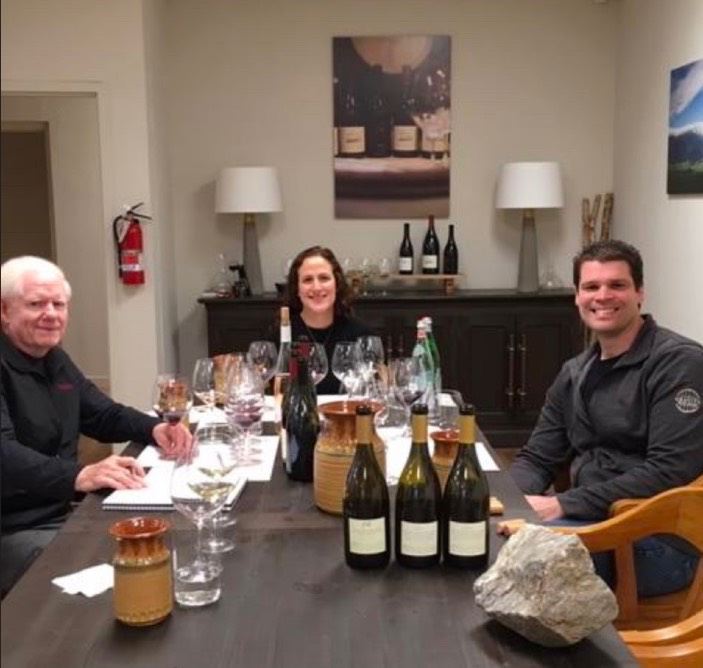 Lucy
Lucy Millman was a breast cancer survivor who spotted Lucy Rosé in a local store in 2006. Contacted with this discovery, the Pisoni family immediately donated to Lucy Millman's fund for The Susan G. Komen 3-Day®. Over a decade later, the Pisoni family continues to contribute to Lucy's fund as well as other charities. $1 of every bottle sold is donated to breast cancer aid and research.

13.8% alc., 1,041 cases, $19. Released March 2019. Attractive packaging with a curvy bottle. 50% saignée and 50% direct whole cluster press. Held for 3 months in neutral barrels. · Pale orange color in the glass. A fruity nose highlights strawberry, with added aromas of rose petal and nuttiness. Bright, dry and quenching on the palate, with flavors of blood orange, red berry and melon. Driven by spirited acidity and finishing with some notice. Score: 89
Lucia
Lucia wines are produced from the Pisoni, Garys' and Soberanes Vineyards of the Santa Lucia Highlands (refer to map below). The wines are fermented with native yeast, vinified by gravity flow, and aged in carefully selected French oak barrels.
The 2017 vintage provided welcome rain that was two-and-a-half times greater than each of the two preceding years. The warm, wet winter offered a healthy start to the grapevines and a prosperous bud break. The summer was warmer than average yet this was tempered by the Santa Lucia Highlands' coastal winds and cooling morning fog. A record-level heat wave arrived at the beginning of September, prompting the harvesting of some blocks the first week of the month. Other blocks were irrigated to maintain and support the ripening grapes. By October 6, a month after beginning harvest, the last batch of fruit was taken. Jeff says the wines are characterized by "freshness and richness."
All the 2017 Lucia wines were released March 19, 2019, except the Garys' Vineyard which will be released in September 2019.
2017 Lucia "SLH" Santa Lucia Highlands Pinot Noir
1,009 cases, $45. 47% Pisoni, 29% Garys' and 24% Soberanes. 15% whole cluster. Aged 11 months in French oak barrels, 58% new. · Moderate garnet color in the glass. Profuse aromas of dark cherries and berries along with exotic spices. Beautifully balanced in a mid weight style, offering flavors of black raspberry, cola and spice with a hint of friendly oak. Texturally interesting, with modest tannins and some finishing persistence. Plenty of umami in this excellent appellation wine. Score: 91
2017 Lucia Soberanes Vineyard Santa Lucia Highlands Pinot Noir
307 cases, $65. Tightly spaced vines over 33 acres of Pinot Noir, Chardonnay and Syrah. California and Burgundy heritage selections. 20% whole cluster. Aged 11 months in French oak barrels, 43% new. · Moderately dark garnet color in the glass. Aromas of dark berries and fertile earth lead to a middleweight-styled wine with a punch of earth-toned black cherry fruit infused with iron minerality. Well-mannered tannin structure and some finishing length. Score: 93

2017 Lucia Garys' Vineyard Santa Lucia Highlands Pinot Noir
14.3% alc., 750 cases, $65. · Dark garnet color in the glass. Soaring aromas of black cherry, spice and cinnamon toast. The core of chewy dark red and black cherry is delicious and really makes an impression off the bat. Bright acidity provides good energy, the tannins are mellow, the compliment of oak satisfies, and the finish is noticeably intense and lasting. Score: 94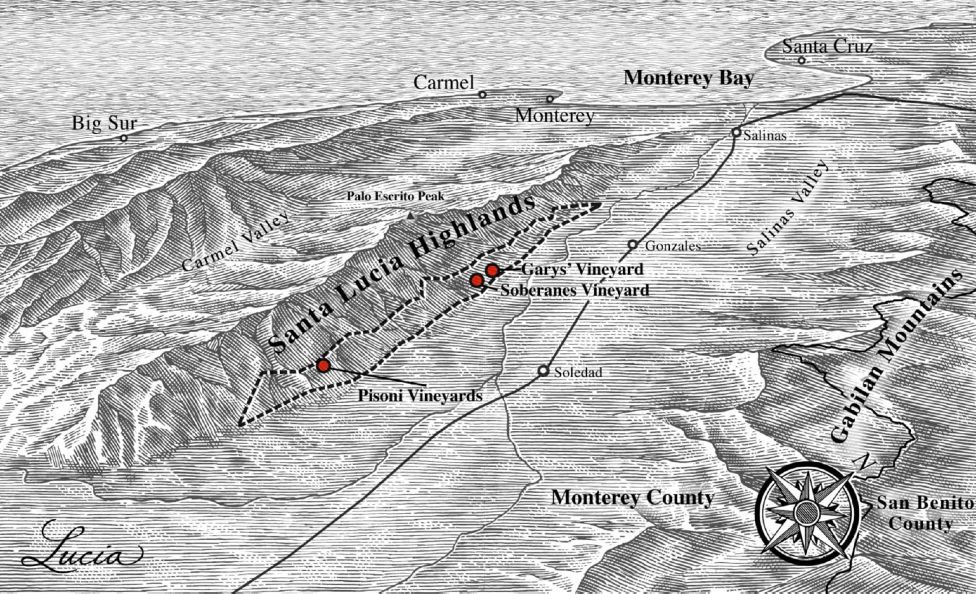 The Lucia Chardonnays are 100% estate grown. They are vinified with native yeast and undergo 100% malolactic fermentation. After aging in French oak, the wines are sent to stainless steel to achieve a delicate reduction. Seven clones, mostly Wente, are the basis of the wines.
2017 Lucia "SLH" Santa Lucia Highlands Chardonnay
14.1% alc., 512 cases, $45. Aged 11 months in French oak barrels, 24% new. · Light golden yellow color in the glass. Aromas of citrus fruits, white stone fruits and nutty oak. Bright and awash in well-ripened white stone fruit and pineapple flavors with a chalky tone on the satisfying uplifting finish. Score: 91
2017 Lucia Soberanes Vineyard Santa Lucia Highlands Chardonnay
14.1% alc., 199 cases, $65. Vineyard is granite-laden. Aged 15 months in French oak barrels, 50% new. · Mild golden yellow color in the glass. Aromas of lemon oil and petrichor lead to an acid-driven, bracing wine sporting crisp flavors of lemon-lime. Edgy and energetic, and a stellar food-friendly wine. Score: 93
Pisoni Estate
The Pisoni Estate Pinot Noir and Chardonnay will be released in September 2019. Each year the Pisoni family produces just one Pinot Noir and Chardonnay under the Pisoni Estate name. Production of the Pinot Noir is limited annually to between 500 and 800 cases, depending on yields. The Pinot Noir is fermented in large oak foudres, spends the first year aging in barrel, and the second in bottle until ready for release. The wines are carefully wrapped in logo-embossed tissue and packaged in wood boxes.
Something I learned from Jeff is important to repeat. Although some California wineries.vineyards claim to have the "Pisoni clone," the Pisoni family has never allowed any outsider other than through a partnership with Gary Franscioni to take cuttings from their Estate Vineyard. There have been instances where winegrowers have attempt to steal vine cuttings. Cuttings have been propagated at Pisoni Vineyard (100% Pisoni clone), Garys' Vineyard (100% Pisoni clone), Rosella's Vineyard (Dijon and Pisoni clones), Soberanes Vineyard (Dijon and Pisoni clones), and Sierra Mar Vineyard (Dijon and Pisoni clones).
I have such admiration for the Pisoni Estate Pinot Noir that I have purchased it annually for years. It is an iconic wine, unlike any other California Pinot Noir.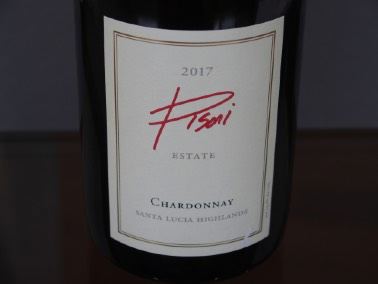 2017 Pisoni Estate Santa Lucia Highlands Chardonnay
14.1% alc., 85 cases, $80. The Chardonnay vines at Pisoni Estate are perched at 1300 feet elevation where the soils have more granite, schist and gravel and no clay. · Moderate golden yellow color with a very slight haze (unfiltered) in the glass. Engaging aromas of lemon oil, yellow apple, white peach, honey and nutty oak. Soft and sleek in the mouth, with flavors that echo the aromas. Oak finds a pleasing niche. Nicely integrated natural acidity, with a slight salinity, and a pleasing, chalky finish. A striking, texture-driven Chardonnay superb by any measure. Score: 96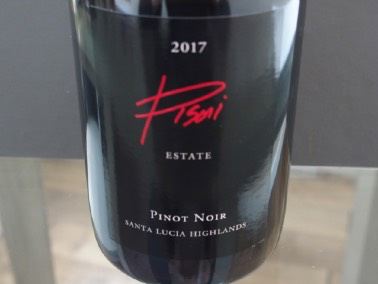 2017 Pisoni Estate Santa Lucia Highlands Pinot Noir
14.1% alc., 725 cases, $90. · Moderately dark garnet color in the glass. Lovely aromas of dark raspberry, blackest cherry, rose petal and toast. Very charming array of dark red and black fruits with an inviting touch of spice. Firm but not foreboding tannins support the fruit load nicely, producing only a trace of astringency on the finish. Silken in texture and rather elegant in this vintage yet fat enough in the mouth to satisfy fruit hedonists. Some of the black cherry fragrance returns to haunt the long, long finish. Needs more time in the cellar to fully assimilate the tannins, find full fruit expression, and reach an orgasmic level. Score: 95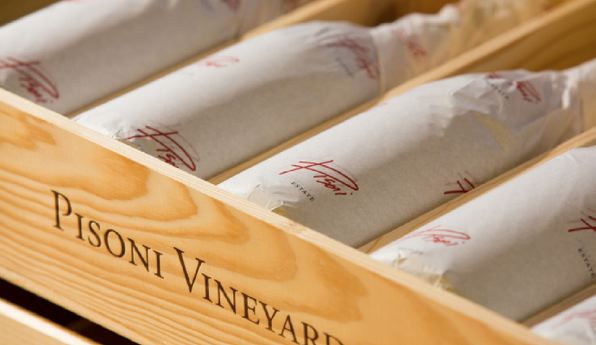 Cattleya
Bibiana González Ruiz is the proprietor and winemaker for Cattleya ("kat-ley-uh"). A native of Columbia, where vineyards are virtually non-existent, she has had a personal winemaking journey across several continents and languages, and today is considered one of California's most accomplished young winemakers. She has worked in Côte-Rotie, Alsace, Burgundy and Bordeaux and in California at La Crema, Peay Vineyards, Au Bon Climat, Qupé and Lynmar Estate. In 2012, she started her own label, Cattleya, and became the winemaker for Wayfarer and later Pahlmeyer. One wine critic, Antonio Galloni, tabbed her as "One of the most talented young winemakers in the United States."
Cattleya is an orchid and the national flower of Columbia. Bibiana says, "The symbol of the Cattleya flower reflects the uniqueness of a small and delicate flower that flourishes deep in the Colombian rainforests - dependent on its unique terroir to produce its exquisite shapes and colors. In addition, this icon continues to remind me every day of the roots where I come from and the values of integrity and honesty that I learned living in a country - at the time submerged in violence and drug trafficking."
2019 represents a year of new wines and updates for Cattleya. A new label design, a new website, and an emphasis on the cattleya orchid brand icon across all labels. The appellation wines will continue the precedent she set in Cuvée Number One, while the single vineyard or single block cuvée names are being changed in order to mark a transition for Cattleya from vineyard names to symbolic names that represent Bibiana's journey. The 2017 Russian River Valley Pinot Noir, Cuvée Number One, is so named because it represents Bibiana's first appellation blend under Cattleya Wines. The 2017 Sonoma Coast Chardonnay is called Cuvée Number Five, representing her fifth vineyard source for Cattleya Wines.
Learn more and sign up for the mailing list at www.cattleyawines.com. The Alma de Cattleya and Cattleya wines were released in March 2019 and the Cattleya Belly of the Whale Carneros Pinot Noir will be released in September 2019.
Alma de Cattleya
These wines are 100% varietal (not blends) and sourced only from Sonoma County.They represent excellent value and are the perfect accompaniment to everyday meals and relaxing moments. The website for these wines is www.AdCWines.com.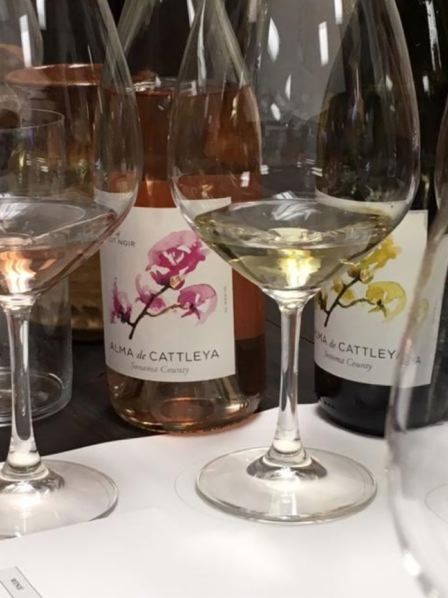 2018 Alma de Cattleya Sonoma County Rosé of Pinot Noir
14.1% alc., pH 3.32, TA 0.57, 500 cases, $20, DIAM cork closure. Pommard and dijon 115. Made by whole cluster pressing with the intention of specifically making rosé. Inoculated with a selection of French yeasts, no malolactic fermentation, aged 6 months in the cellar. · Light pink color in the glass. The nose offers a combination of rose petal, cherry and botanical aromas. Infused with flavors of strawberry, cherry and herbs and driven by a modicum of acidity. Score: 88

2017 Alma de Cattleya Sonoma County Chardonnay
14.1% alc., pH 3.32, TA 0.62, 600 cases $24, DIAM cork closure. Clones are a combination of Old Wente, 78, 15 and 4 from ten different vineyard blocks. After pressing, the juice is settled overnight and then transferred to stainless steel tanks and barrels (15% of the volume ferments) for alcoholic fermentation. The juice is inoculated with French yeast and undergoes partial malolactic fermentation. Aged 15 months before bottling. · Light golden yellow color in the glass. Pleasant aromas of lemon, baking spices and a hint of oak. Suave in the mouth with bright acidity, offering flavors of lemon, pineapple and melon. Nicely balanced and easy to like. A special value. Score: 90
2017 Alma de Cattleya Sonoma County Pinot Noir
14.1% alc., pH 3.64, TA 0.59, 1,600 cases, $28, DIAM closure. A blend of four vineyards and eight clones including Dijon Pommard and Calera. 100% de-stemmed fruit, short cold soak, fermented with a combination of native and proprietary yeasts. Aged 16 months in French oak barrels, 15% new. · Moderately light garnet color in the glass. The nose is highlighted with aromas of cherry, savory herbs and underbrush. A savory, light to mid weight styled wine with flavors of cherry and herbs. Easygoing, with modest tannins. Score: 88
Cattleya
Benovia Winery
I have reviewed Benovia Pinot Noir wines from every vintage since their first commercial release in 2006. I like to describe the wines as big teddy bears that are easy to cozy up to. They are bold expressions of Pinot Noir, yet are infused with gracious tannins and redeeming acidity making them easily accessible upon release.
The wines are vinified in a winery dedicated to Pinot Noir by veteran Sonoma County winemaker Michael Sullivan. He prefers de-stemming grapes, although some bottlings in select vintages may have up to 30% whole cluster inclusion. Indigenous yeast fermentations follow a cold soak and aging occurs in French oak barrels for 16 months in a moderate amount of new oak (about 30%-40%).
Most of the current vintage wines are produced from Estate grown grapes (Martaella, Tilton Hill, and Cohn vineyards). Grower vineyards include Three Sisters in the Fort Ross-Seaview AVA and Zio Tony Ranch (labeled La Pommeraie) in the Green Valley of the Russian River Valley, both Martinelli owned and farmed vineyards. The Bella Una Pinot Noir is a winemaker's selection of barrels that best express the vintage.
Except for the Russian River Valley Pinot Noir and the Three Sisters Chardonnay, the 2017 vintage wines reviewed here are pre-release so I do not have detailed production information. Prices usually run from $42 for the Russian River Valley Pinot Noir to $60-$75 for the vineyard-designated Pinot Noirs and topping out at $80 for the Bella Una bottling. The Chardonnays start at $38 for the Russian River Valley bottling to $52 for the vineyard designates.
The Benovia Winery hospitality center is adjacent to the winery and surrounded by the vines of Martaella Vineyard. A very personable hospitality team is available to receive wine enthusiasts by appointment. Visit the website at www.benoviawinery.com. Benovia has released its first sparkling wine, a 2015 Russian River Valley Blanc De Noir, a 50/50 blend of Pinot Noir and Chardonnay made in the traditional méthode champenoise. A 2017 "Liberation" Pinot Noir is a one-time offering with a percentage of sales being donated to a D-Day Squadron charitable fund that is helping to transport veterans, students and WWII-era aircraft to the 75th celebration in Normandy including the "Spirit of Benovia" C-54 this year.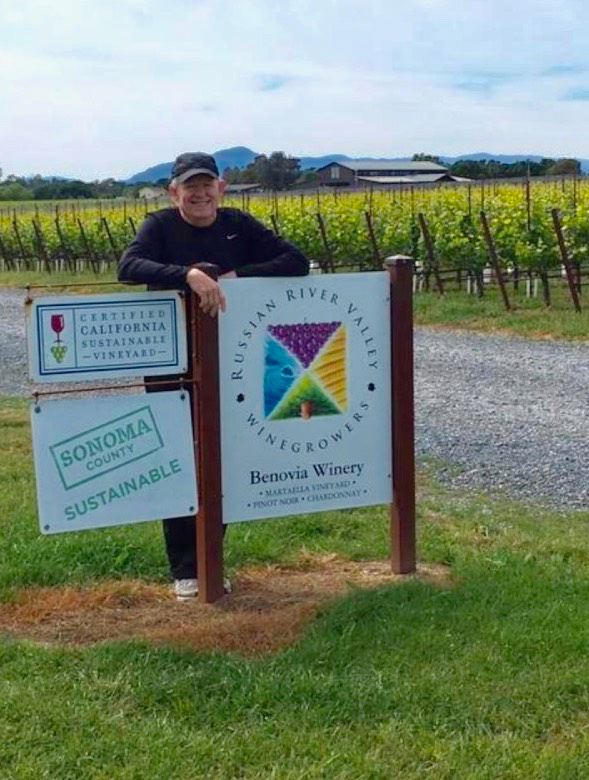 The 2017 vintage wines from Benovia are a darkly colored, ripe, fruit-driven style with modest tannins and well-managed oak. If there is one criticism to be leveled, and this is always difficult given the consistent excellence of Mike Sullivan's Pinot Noirs, it is that all the Russian River bottlings taste very similar in this vintage but that may be a reflection of their immaturity.
Furthermore
Co-proprietor Chad Richard was on site in Sebastopol when I visited on a recent Mother's Day. Dressed in a tee shirt and jeans, one would never know that he is a tech mogul who has launched several tech companies and worked for Apple and Yelp. Still working in the tech world, he has a house in Occidental and is at the winery (the former Graton Ridge Cellars acquired in 2015) frequently, welcoming guests to his laid back tasting room and grounds. People have remarked that being at Furthermore is like sipping wine in a best friend's backyard.
Furthermore specializes in Pinot Noir made with grapes made from two estate vineyards (Graton Ridge Vineyard) where the winery and tasting room are located) and Nevina's in Occidental, as well as sourced from all over California, including the Russian River Valley, Sonoma Coast, Santa Lucia Highlands and Sta. Rita Hills. The wines have shown consistency if not brilliance at times and have won many gold medal awards at the San Francisco Chronicle Wine Competition since the first release in 2006. The winemaker is Erica Stancliff.
I recently tasted several releases here: www.princeofpinot.com/article/2170/. The Furthermore wines are available online, at the tasting room and through a mailing list. The tasting room is open daily. Two guest houses are available for rent, one on the Furthermore Winery property and one in Occidental.
2016 Furthermore Russian River Valley Pinot Noir
14.5% alc., pH 3.71, 416 cases, $40. Release June 15, 2019. Aged 10 months in French oak barrels, 20% new. · Moderate garnet color in the glass. Ripe Bing cherry aroma framed by toasty oak. Sleek in the mouth and silken in texture with a mid weight core of black cherry fruit overlain with oak. The mouthfeel is the best feature of this wine that has Russian River Valley typicality, but the fruit is a tad too ripe and too embellished with oak. Score: 88
2015 Furthermore Sierra Mar Vineyard Santa Lucia Highlands Pinot Noir
13.9% alc., 101 cases, $50. Pommard and Pisoni clones. Harvest Brix 26.1º. · Moderately light garnet color in the glass. A light to mid weighted style that has seductive elegance. Aromas and flavors of red cherry and red berry with a hint of spice and a good grip of acidity on the bountiful finish. The barrel management is spot on. Score: 91
2015 Furthermore Rosella's Vineyard Santa Lucia Highlands Pinot Noir
14.6% alc., 101 cases, $55. Pisoni and "828" clones. Harvest Brix 26.8º. · Moderate garnet color in the glass. Aromas of black grape, dark rose petal and molasses. The chewy fruit veers to the roasted side. Nicely composed, with gentile tannins and gracious acidity, progressing to a modest finish. More darkly fruited than is typical for Rosella's Vineyard and not an identifiable reflection of this vineyard because of the ultra ripeness. Score: 89
Small Vines
We visited Paul and Katherine Sloan at Small Vines in Sebastopol in early December of 2018 - www.princeofpinot.com/article/2126/ - but we had such an enjoyable time, we took Katherine up on an invitation to re-visit on this trip. Since selfies are so popular now, I decided to include one of myself and my spouse Patti at Small Vines.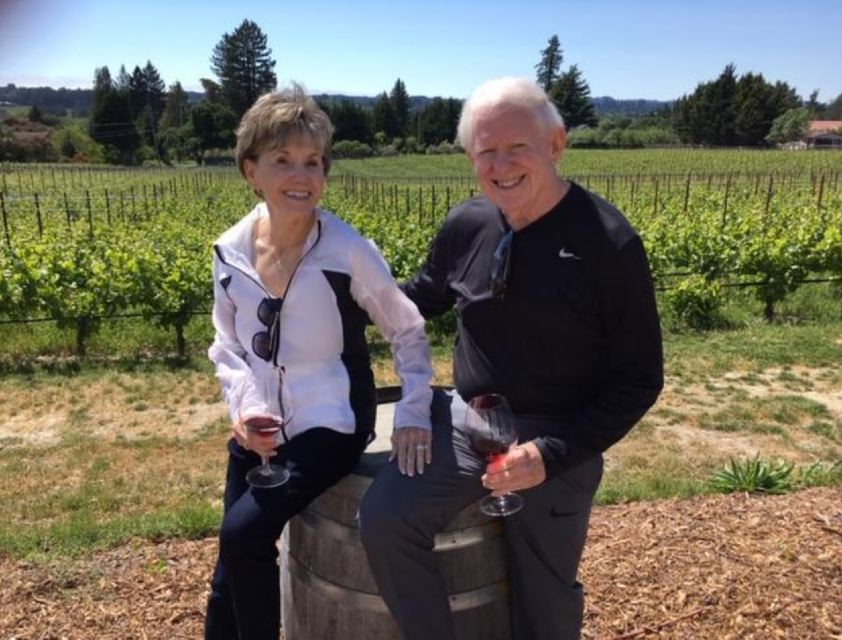 The Small Vines winery is an uncrowded (appointment only) and modern facility in a beautiful, pastoral setting, unlike many larger custom crush facilities. It is a winemaker's winery. For ten years, Small Vines and consulting winemaker Byron Kosuge have been working together and are now offering custom crush facilities at the Small Vines winemaking facility inside an historic building. In the early 1920s, Leland Barlow built a state-of-the-art for its time apple cold storage building on the historic Barlow Family Homestead in Sebastopol. This poured concrete structure was transformed into a small-lot winemaking facility and opened just prior to the 2017 harvest. The Small Vines tasting room is adjacent to the winery overlooking the estate vineyard.
Byron Kosuge and Paul Sloan collaborate on the Small Vines Pinot Noir and Chardonnay wines. Paul is a noted viticulturist in Sonoma County but also has become immersed in winemaking. Byron, a UC Davis graduate, has been making wine for over 30 years. In addition to Small Vines, he works with several artisan brands including Miura, McIntyre Vineyards, Alder Springs Vineyard and McEvoy Ranch.
On the most recent visit, Katherine offered a vertical tasting of wines from the TBH Vineyard that surrounds the Sloan's home and winery. A Pinot Noir and Chardonnay from the TBH Vineyard were first offered in the 2014 vintage. The vineyard was planted in 2009 by the Sloans Small Vines Viticulture company. Its location in the Sonoma Coast AVA exposes it to heavy coastal influences. Vines are planted in a high-density fashion (2722-3630 vines per acre) in Goldridge sandy loam soil. In the background of the photo above, you can see the high-density, small vine plantings at the TBH Vineyard. In the photo below is an example of the typical small clusters from this vineyard.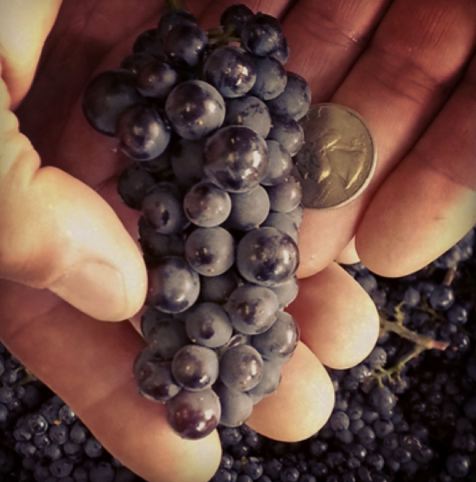 For Chardonnay, Hyde Wente and Kistler Mt. Eden Wente selections are planted. The wines are whole cluster pressed and barrel fermented with native yeast and native ML with minimal batonnage. Aging is carried out in French oak barrels with a small percentage of new oak. The wines are bottled unfined and unfiltered. These wines are ideal for those seeking out Chardonnay that is not heavily embellished with oak accruements and more acid-driven. The 2016 vintage was $72.
The TBH Pinot Noir is based on Calera, Swan, Pommard, and Dijon 943 and 459 clones. Yields are typically low at about 1 lb per vine. A significant amount of whole cluster is used, the wines are native yeast fermented, and aged 15 months on fine lees in French oak barrels, about 25% new. Only free-run juice is used. These wines are relatively low in alcohol and will appeal to those seeking juiciness and energy in Pinot Noir. The wines are bottled unfined and unfiltered. The 2016 vintage was $82.
All TBH wines are a fastidious shoot by shoot selection.
Small Vines wines are sold primarily through a mailing list. A tasting, conducted by Paul or Katherine, is available by appointment. Visit www.smallvines.com.