Clarice Wine Company: An Innovative Approach to Crafting and Marketing Wine

As a young man, Adam Lee was employed as a wine buyer for Nieman Marcus in Texas when he met his spouse Diana who shared a passion for wine. He originally intended to be a wine writer but was advised to work a harvest and make wine first. The couple moved to the Russian River Valley in 1993 and Adam started a wine publication called Vintages, Vines and Wines. That pursuit was short-lived as the winemaking process quickly grabbed his interest. Adam and Diana soon pooled their $24,000 savings and founded Siduri Wines in 1994.
The first Siduri vintage, in 1994, consisted of 107 cases of Pinot Noir from a small vineyard in the Anderson Valley. On a whim, he left a bottle of his first Pinot Noir with Robert Parker, Jr., who was staying in Napa Valley. Parker would award a high score to the wine and the Lees were in business to stay.
Adam was one of the first young winemakers to strike out on his own to produce Pinot Noir in California. He quickly achieved renown and became a mentor for several other Pinot Noir specialists to follow including Brian Loring (Loring Wine Company) and Andrew Vignello (A.P. Vin). He also became a consultant for a number of Pinot Noir producers including ROAR in the Santa Lucia Highlands.
Adam's ambitious venture led him to produce more distinct Pinot Noir offerings than any other winery in California, made from vineyards stretching from Oregon's Chehalem Mountains in the northern Willamette Valley to the Sta. Rita Hills in California's southern Central Coast. He now has 25 vintages of making Pinot Noir under his belt.
The price of the winery's meteoric success put considerable pressure on the Lees who managed most of the marketing and sales for the winery along with making the wines. With three children, it was challenging to balance work and family. In 2015, Siduri Wines was sold to Jackson Family Wines, freeing the Lees from the business side of the winery but allowing Adam to continue as consulting winemaker. The sale did not dull Adam's inquisitive nature and gave him time to launch several new projects.
The most notable of these new projects is Clarice Wine Company, an innovative idea combining a subscription-based Pinot Noir wine offering with opportunity for the active involvement of the subscriber group in an educational experience. Adam does not particularly like to sell wine but he does enjoy the friendships, camaraderie and sharing of knowledge and experiences that wine engenders. Accordingly, he has created a completely new experience creating an extended wine family at odds with the common mailing list or wine club.
625 consumer subscribers pay $960 a year ($160 monthly from March through August) for a future's case of Clarice Santa Lucia Highlands Pinot Noir. In return, beyond the outstanding wine, subscribers receive access to a website where Lee gets to engage his love for wine journalism and pen articles that appeal to wine geeks. Informative articles are also included by others in the wine writing community. The website has a private forum to allow for the exchange of information. Adam hosts a few parties each year where members can meet his growers and taste barrel samples, as well as hosting tastings of wines from other grower friends or from a vineyard or appellation that Adam admires combined with discounted wine pricing for subscribers. All in all, Clarice is an expansion of consumer involvement and education, and a sensible step in that direction.
I first wrote about Clarice Wine company in 2018 here: www.princeofpinot.com/article/2040/.
I recently met with Adam to discuss his new venture and taste his three Pinot Noirs from the 2017 and 2018 vintages. He has selected two iconic vineyards for Clarice - Garys' Vineyard and Rosella's Vineyard. This choice stems from his long-time working relationship with growers Gary and Mark Pisoni and Gary Franscioni. Adam began purchasing fruit from Garys' Vineyard since the initial vintage in 1999, and Rosella's Vineyard since its initial commercial harvest in 2001.
The Clarice wines represent a completely new approach to Pinot Noir for Adam. Instead of looking at individual blocks and clones of Pinot Noir, he began to look at the vineyard as one complete entity. This made the most sense with vineyards such as Garys' and Rosella's with which he had considerable familiarity and where the vines had matured.
Adam purchases grapes from selected areas of both vineyards by the acre rather than by the ton. This allows him to work with Gary and Mark to determine farming and yield preferences. The two sections of each vineyard are considered one site, and the grapes are picked at one time regardless of ripeness. The two sections of grapes in Garys' and Rosella's vineyards typically ripen a day to 10 days apart, but they are picked at the same time so that some grapes are riper and others are less ripe. The hope is that the resulting wines will be more complex. This approach is similar to what is done for field blends in vineyards. Currently, this is an unusual approach in the Santa Lucia Highlands.
Adam is picking grapes sooner in the growing season for the Clarice wines and the resulting alcohols are about 14% or a little less. The long hang time for vines in the Santa Lucia Highlands and the increasing maturity in the Garys' and Rosella's vineyards allow for phenolic ripeness at lower Brix and the retention of natural acidity. A high percentage of whole clusters (60%-80%) are placed in the bottom of the stainless steel fermenting tanks and the de-stemmed berries added to the top. This whole cluster inclusion ensures a healthy tannic structure that predicts age ability. Indigenous yeast and indigenous malolactic bacteria are used for all of the ferments. The wines are bottled without fining or filtration.
There are a few openings available to join the subscriber list at Clarice Wine Company. To read more details, visit www.claricewinecompany.com.
I mentioned other projects that Adam is involved in as well. Adam has spent time in the ChËteauneuf-de-Pape region of France. Here, Grenache is vinified in concrete vats. Adam reasoned the same could be accomplished with Pinot Noir if thicker-skinned clones such as "828", Martini and 23 were used (all similar in skin thickness to Grenache). More tannins could be extracted from the skins to balance the loss of tannins from oak barrels. In addition, a longer maceration is employed. This winemaking process avoids the potential drawbacks of neutral barrels that require frequent cleaning and maintenance. In collaboration with the Jackson Family, Adam has started "Root & Rubble," with an inaugural offering from the 2018 vintage ($39). Clone "828" from the Barbieri Vineyard in the Russian River Valley was vinified and aged in square concrete vessels. I sampled an as yet unlabeled bottle of the wine. Dark red color in the glass. Suave in the mouth, featuring red fruits with a touch of spice and rose petal and a savory underpinning. Juicy and easily approachable in a very friendly style. Drink this wine now if you prefer your Pinot Noir al dente.
Almost all French winemakers have veered to Oregon for various winemaking collaborations. Adam also plans to work with a prominent vigneron from ChËteauneuf-de-Pape to produce a California Pinot Noir. Stay tuned.
2017 Vintage Wines
The fact that these wines were even better when tasted from bottles that had been opened 4 days prior is a testament to balance, quality and age ability. These were are objectives that Adam met in these wines.

2017 Clarice Santa Lucia Highlands Pinot Noir
14.44% alc., pH 3.41, TA 0.72. Screw cap. 85.7% Rosella's Vineyard and 14.3% Garys' Vineyard. 57% whole cluster fermented. Aged in French oak barrels, 42.8% new. Combines the structure of Garys' Vineyard with the fruit-forward character of Rosella's Vineyard. · Moderately light garnet color in the glass. Lovely perfume of cherry, blueberry, rose petal, mushroom and dusty oak. Suave in the mouth with good energy, offering mid weight flavors of black cherry and spice. The explosion of fruit raises the senses. Nicely composed with a memorable finish. Re-tasted 4 days after opening the bottle with similar results and the finish again making an impression. I agree with Adam on this wine in that it is not a lesser appellation wine but rather a different expression of the Santa Lucia Highlands. Score: 94

2017 Clarice Rosella's Vineyard Santa Lucia Highlands Pinot Noir
14.6% alc., pH 3.39, TA 0.72. Screw cap. 58% whole cluster fermented. Aged in French oak barrels, 83.3% new. · Moderately light garnet color in the glass Deep aromas of red cherry and berry, cola, spice and sweet pipe smoke. A terrific wine with a plethora of dark red and blue fruits and a savory thread in a soft, sleek and satisfying package. The wine has impressive energy, merged tannins and a very lengthy finish. Wonderful now, but will age beautifully. Still grand when tasted 4 days later from a previously opened and re-corked bottle. Score: 94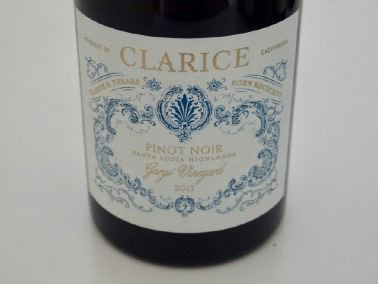 2017 Clarice Garys' Vineyard Santa Lucia Highlands Pinot Noir
14.3% alc., pH 3.45, TA 0.69. Screw cap. 54% whole cluster fermented. Aged in French oak barrels, 66.6% new. · Moderate garnet color in the glass. Enticing aromas of dark cherry and spice box. A tad richer and more structured than the Rosella's bottling. Exquisitely composed with a wide range of dark fruit flavors and a touch of spice. There is a good acidic vibe and the finish is amazingly long. When tasted from a previously opened bottle after 4 days, the wine was still superb but will be even more rewarding in a few years. Score: 96
2018 Vintage Wines (tasted from finished wine barrel samples)
These wines were still fresh and delightful when tasted from 375 ml bottles that had been opened 5 days prior. As noted for the 2017 vintage wines, this is a testament to the high quality and age ability of these wines.
2018 was more like the "normal vintages" prior to 2010. In the Santa Lucia Highlands, temperatures never hit 100 degrees and only rarely touched 90 degrees. Instead of leaving a large amount of fruit on the vine and only thinning at veraison as in 2017, Adam had the growers follow their usually thinning process which called for removing fruit in multiple passes. Harvest was two weeks later than in 2017 and yields were notably higher.

2018 Clarice Santa Lucia Highlands Pinot Noir
13.98% alc., pH 3.70, TA 0.62,. 62.5% Garys' Vineyard and 37.5% Rosella's Vineyard. 77.9% whole cluster fermented. Aged in French oak barrels, 37.5% new. · Moderate garnet color in the glass. Aromas of dark cherry and berry with exotic spices. A mid weight assortment of dark fruits saturate the mid palate and carry over through a generous finish. A tad more tannin than the 2017 bottling presumably due to the increased whole cluster but when tasted on the fifth day after opening, the tannins had modulated. Score: 94

2018 Clarice Rosella's Vineyard Santa Lucia Highlands Pinot Noir
14.05% alc., pH 3.64, TA 0.64. 80.8% whole cluster fermented. Aged in French oak barrels, 72.7% new. · Moderate garnet color in the glass. The most appealing and seductive aromatic profile among the 2017 and 2018 wines. Whole cluster inspired aromas of dark cherry, burnt tobacco, pine sap and spice. Engaging core of mid weight plus dark red fruits framed by fine-grain tannins. This wine is bursting with fruit goodness, yet there is a compatible contribution of tannins to hold the wine in perfect balance. Absolutely glorious when tasted from a previously opened and re-corked bottle 5 days later. The finish seems to stick like glue to the palate. Score: 97

2018 Clarice Garys' Vineyard Santa Lucia Highlands Pinot Noir
14.08% alc., pH 3.64, TA 0.59. 76.2% whole cluster fermented. Aged in French oak barrels, 72.7% new. · Moderately dark garnet color in the glass. Deep, dark and mysterious aromas of black fruits with an earthy tone. A little more fruit concentration and structure than the Rosella's and not as welcoming at this stage. Still, the flamboyant fruit has charm, the suede tannins add textural seduction and the finish goes on and on and on. Still stellar when tasted from a previously opened and re-corked bottle 5 days after opening. Cellaring will be beneficial, but this will always be the baddest boy in the three wine lineup. Score: 95